Cheesy Italian chicken burgers are juicy and so flavorful with just a few simple ingredients. They are topped with melty mozzarella cheese and great for a delicious, easy dinner!
This post is sponsored by the American Dairy Association Mideast. As always, all thoughts and opinions are my own.
I am back from my blogging conference in Chicago and looking forward to some summer fun with the kids.
M is doing an afternoon engineering camp this week and J is starting some swim lessons as a refresher. We also have a nanny that's with us in the mornings so that I can get through some of my work deadlines.
And hopefully we'll have some fun afternoons splashing at the pool or running around the backyard. Yay for summer!
And speaking of summer, let's talk summer food.
Y'all know I love me some veggie burgers, turkey burgers and chicken burgers, right?
I've shared a few chicken burgers with you already:
And today it's my cheesy Italian chicken burgers, which are so juicy and flavorful from the sun-dried tomatoes, Parmesan cheese, garlic and Italian seasoning.
Just a few ingredients, but man, they pack a punch!
(Also, that's a bowl of my summer quinoa salad with arugula and berries in the background that I recently shared with you.)
I'm also so happy to be partnering with the American Dairy Association Mideast to bring you this recipe.
Because June is Dairy Month and I wanted to celebrate that! 🎉
I was fortunate enough to get to travel with them through Ohio a couple of years ago and watch the story of milk, from visiting a dairy farm and feeding a baby calf to seeing cheese be made to enjoying some homemade ice cream.
Here's a few photos from that trip: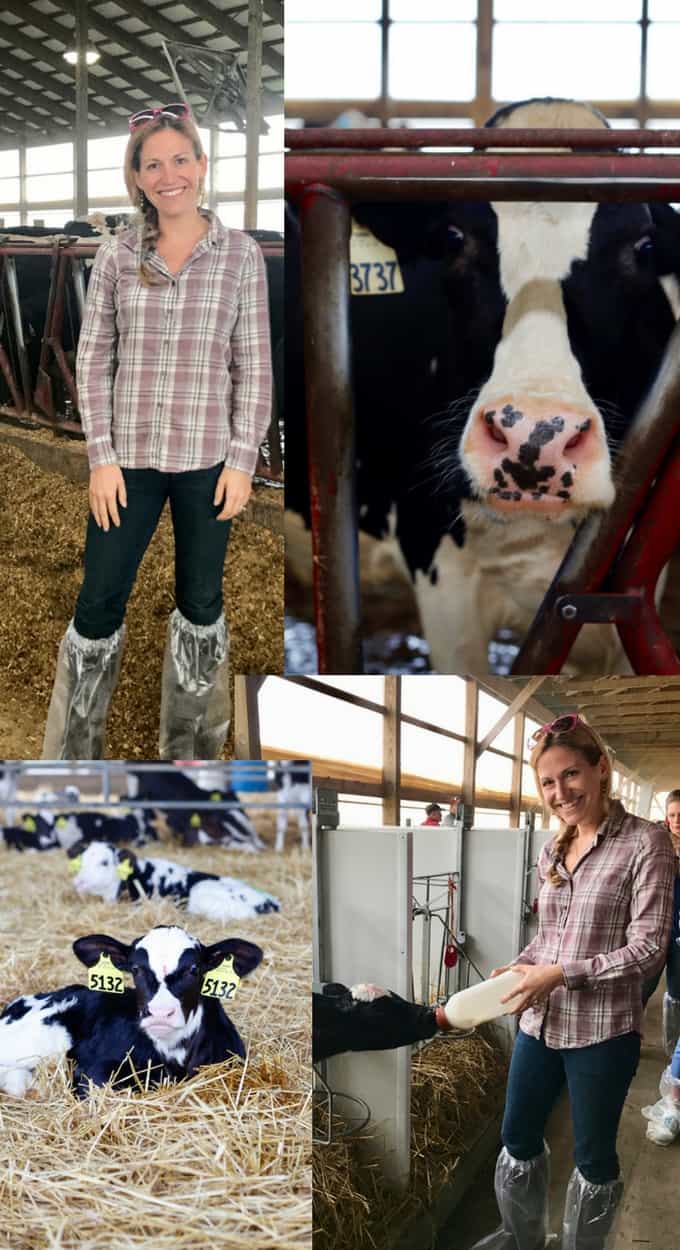 I actually got to see fresh mozzarella cheese, just like what I used for these burgers, being made during our visit.
It was the coolest! I loved walking through and seeing the cheese at different stages and the HUGE vats that they mix and make it in.
Over the course of the whole trip, we got to see cheese go from the farm — where we met some dairy cows — to the table. (Plenty of yummy eats during that trip too! 😋)
You can see the farm to fridge journey too in this video.
I remember being so impressed that milk goes from the dairy farm to our fridge in just 48 hours. So fresh!
And of course I love that a serving of milk, cheese or yogurt has 8 grams of protein and 9 essential nutrients. 🙌
So we are doubling up on the cheesy goodness with these Italian chicken burgers.
The burger patties themselves have Parmesan cheese mixed in for serious flavor and then they are topped with some gorgeous fresh melty mozzarella cheese.
Cheese pull heaven as you devour these!
My daughter, who is 8 and our little burger queen, said these were the "best burgers ever."
I mean, wow!
Granted, she has a flair for the dramatic, but the girl also knows and loves her burgers, so I think that just goes to show how juicy, flavorful and amazing these chicken burgers are!…