Harvest farro salad is full of roasted sweet potatoes, diced apple, pecans and dried cranberries and finished off with balsamic vinegar and olive oil for a delicious side salad that's perfect for cooler weather.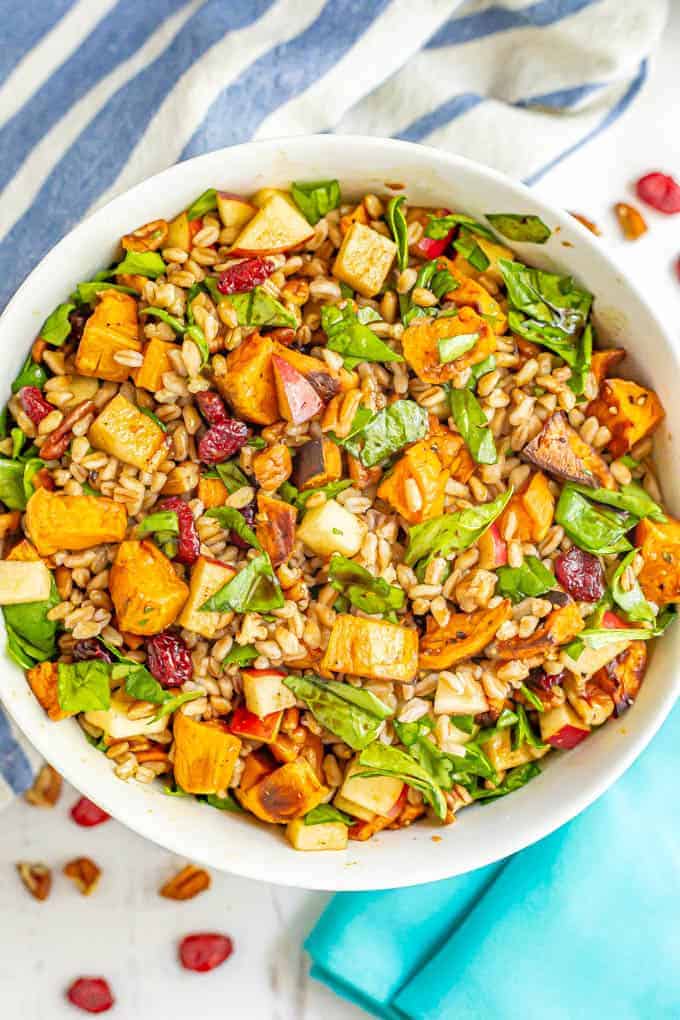 We are going to have a scorcher here in N.C. today and that seems unfair since it's mid-September. I'm over the mid-90s temperatures and ready for some cooler weather.
And sweaters. And boots. And all the cozies!
But whatever the weather is doing outside, I can bring a few autumn vibes indoors. Specifically, in the kitchen, if you didn't see where I was going with that. 😉
Today's recipe for this harvest farro salad is chock full of some of my favorite fall flavors!
First, we've got farro, which is one of my very favorite grains. It's slightly chewy, very sturdy and hearty and just so delicious!
We mix it with some roasted sweet potatoes, fresh greens, nutty pecans, crunchy apples, sweet and tart dried cranberries and then finish it all off with a simple balsamic vinaigrette.
Swoon!
(I have many of these same great flavors together in my one-pot easy harvest chicken skillet, which you should definitely check out as well.)
Bonus: This is great served warm, as soon as it's mixed and ready, but it's also delicious at room temperature. So you can let it hang out for a while and it'll be just as good when you're ready to sit down and eat.
Of course, I also have some fun toppings or add-ins that you can toss into this salad, too. They are absolutely optional, however, and I'm always 100% satisfied with this salad just as it is.
It's fall in a bowl, y'all! ❤️…