Whole wheat peanut butter banana muffins are soft, tender and perfectly sweet. These muffins are naturally sweetened, can be made dairy-free, gluten-free and vegan and are perfect for a healthy breakfast, snack or school lunch!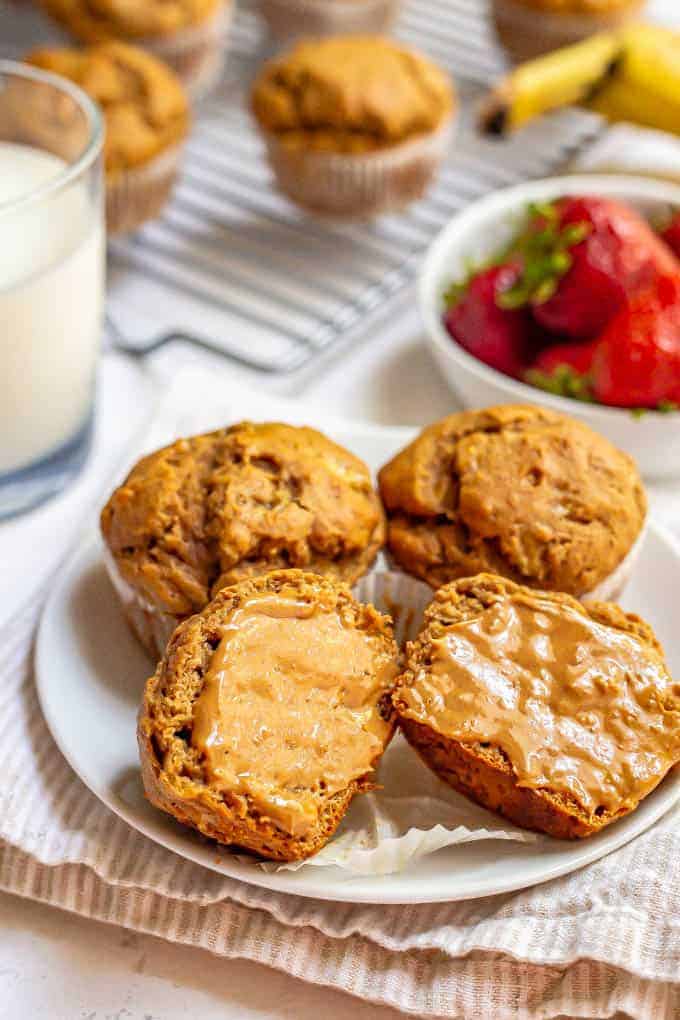 This post is sponsored by Bob's Red Mill. As always, all thoughts and opinions are my own.
We are back from a lovely long weekend at the beach, a last-minute get-away before the kiddos start school.
Which happens tomorrow. 😳
We've got a "meet the teacher" visit this morning, which I'm thankful for because they are both going to a new school this year and are maybe feeling a little nervous.
It also happens to be the school that I went to growing up, and J, my youngest, is starting kindergarten with the same teacher I had in kindergarten. 💕
So I know they will love it, know they will be well cared for and know it's such a good move for us. But it's still the first day of school at a new school.
And it's also my baby boy going to kindergarten. Cue the tears and all the emotions!
Anyway, having that beach time together, all the play and fun, was a great way to distract ourselves and cap off the summer.
Fingers crossed for this transition and that we have some happy kids tomorrow afternoon at pick-up. 🤞
But let's move on to the FOOD, also a good distraction. 😉
I recently shared peanut butter banana baked oatmeal, a breakfast favorite around here (whether served warm or cold) and today I'm taking those same favorite flavors and putting them in muffin form.
(Because you know we are all about some healthy muffin recipes in this house!)
These whole wheat peanut butter banana muffins smell amazing, first of all, and taste so delicious too!
They are soft and tender and just perfectly sweet.
They are also loaded with peanut butter flavor, naturally sweetened with the banana and honey and 100% whole wheat.
(Read on if you're interested in making these vegan and/or gluten-free. Both very easy to do. 👍)
They make a great healthy breakfast for kids and adults, and also work great as a lunchbox addition for school lunch. I usually add some yogurt and fruit to round out their lunch.
I love, too, that they are so portable. I can grab one if it's an on-the-go kinda day or if I just need a little snack to take with me as I'm running around.
They'd be great as a post-workout snack too!…