Easy chicken recipes in under 30 minutes
These easy chicken recipes in under 30 minutes are perfect for dinner on a busy weeknight! From one-pan meals to burgers, one-pot pastas to healthy salads, you're sure to find some new favorites!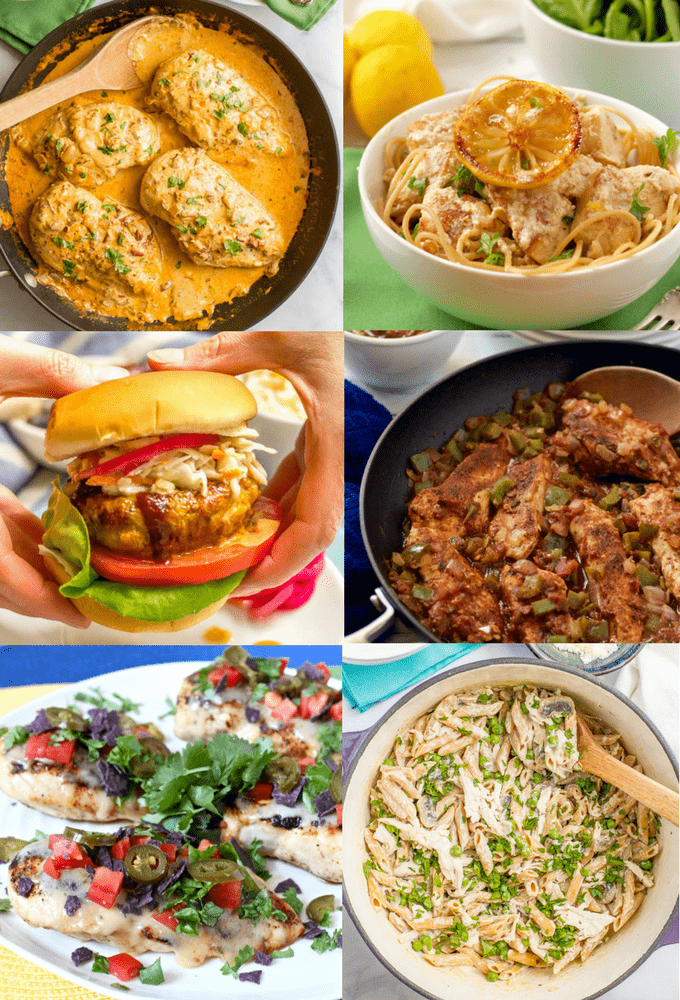 Quick, easy and mostly healthy is pretty much the name of the game for dinner at my house.
I love a home cooked meal and we eat a ton of chicken, which means I've come up with and found a lot of easy chicken recipes over the years.
And this collection highlights some of my easy chicken recipes in under 30 minutes, when you want something delicious but need it on the table pretty quickly.
Is that every single night for you too?
We've got everything from skillet chicken dishes to chicken pasta and from soups and salads with chicken to chicken meatballs and burgers.
All the chicken love!
Many of these recipes use boneless, skinless chicken breasts (though you could substitute chicken thighs if you prefer) while others use ground chicken and some rely on pre-cooked chicken, such as a rotisserie chicken you pick up at the store or some leftover grilled or baked chicken.
Lots of these 30 minute chicken dinners are complete meals but others will need some simple side dishes to round them out.
And if 30 minutes is too long, I totally get it and I've got you covered.
Check out my collection of easy chicken recipes in under 15 minutes. Or browse my slow cooker chicken recipes and have dinner waiting for you!
Here's a few of our favorite easy chicken recipes in under 30 minutes:
I hope you find some new favorite dinners for your family!
Happy cooking!
XO,
Kathryn
P.S. Check out all of my quick chicken recipes and if super simple is needed, browse my easy chicken recipes with few ingredients collection.