Easy Vegetarian Recipes
Easy vegetarian recipes include main-dish meals that are hearty and satisfying and can stand alone for lunch or dinner (with a few savory breakfast options as well). Everything from one-pot veggie pastas to stuffed squash to chili to veggie burgers and hearty grain bowls and salads, there are meatless options here for everyone!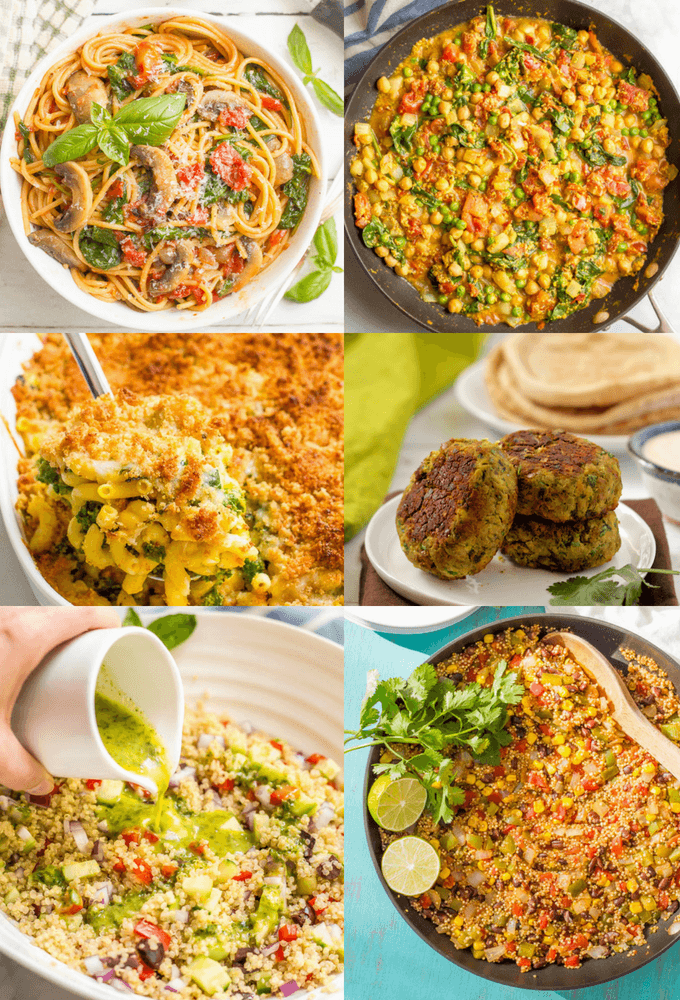 Check out my VIDEO of 4 favorite vegetarian recipes!
I am a veggie lover through and through. 💚💚💚
I adore getting in as many vegetables as I can, throughout the day really, and I often make easy vegetarian dinners a couple of times a week. (Hello meatless Monday, I'm looking at you!)
So over the years, I've created tons of great veggie-based meals that can stand on their own for lunch or dinner and be hearty and satisfying.
And that are also mostly quick and easy, because I work as a health and nutrition editor and we've got a busy family so cooking on a weeknight needs to be low-key.
My one-pot vegetarian spaghetti has been a hugely popular recipe here on the blog and you guys can't seem to get enough of my grain bowls and salads. I know the feeling. 😉
I wanted to round up some of these in an easy-to-browse category that features main dish vegetarian meals that are easy to make and rely on everyday ingredients.
(You can see ALL my vegetarian-based recipes, including muffins and side dishes and such, in my more general Vegetarian archives page.)
We've got everything from one-pot skillets and salads to stuffed squash and chili to veggie burgers and grain bowls, as well as a few hearty and savory breakfast recipes.
Here are a few of our favorite go-to easy vegetarian recipes:
I hope you'll browse through all the recipes below and find some new favorites for your family! (And be sure to Pin or save this and check back, as new recipes will be added frequently!)
Happy cooking!
XO,
Kathryn
P.S. Many of the salads below that would be great for lunch can be bulked up for a dinner by adding beans, a fried or soft-boiled egg or your favorite vegetarian protein. 👍