Healthy chicken fajita casserole with brown rice and a cheesy topping is an easy recipe that's great for a hands-off weeknight family dinner (or to prep ahead and serve to a crowd)!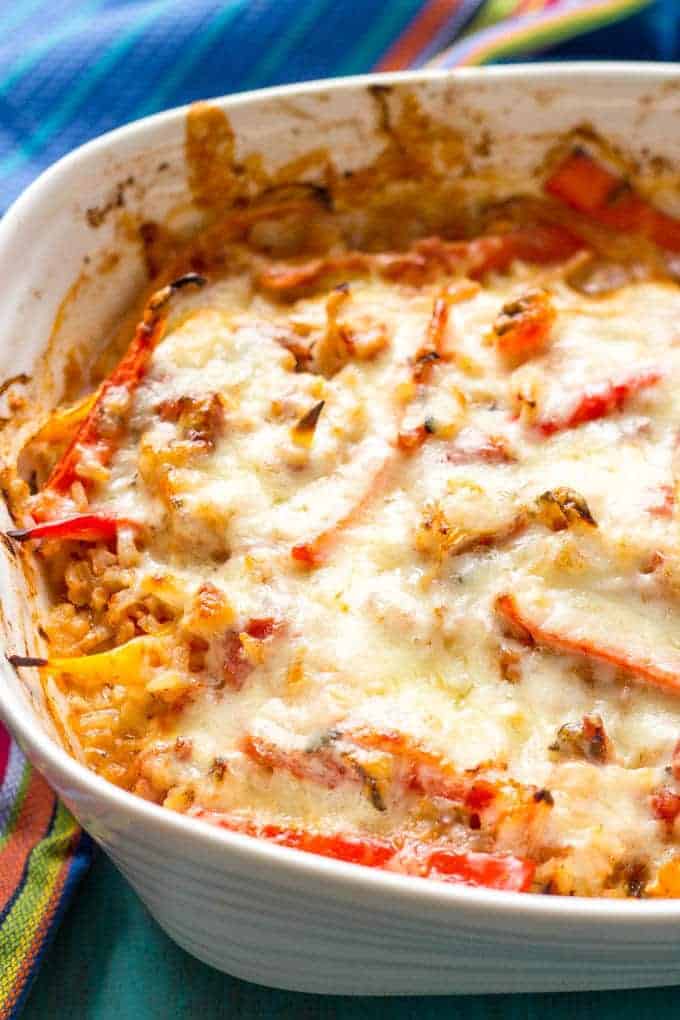 Here's 5 fun highlights from my weekend:
We got new pine needles in the yard. It makes me inexplicably happy. #littlethings
My husband made his annual red beans and rice — an Emeril Lagasse recipe — for the playoff football games on Saturday. The house smelled amazing and it was OH SO DELICIOUS. You'll have seen some of this if you follow me on Instagram, which you totally should. 😉
My parents kept the kids overnight on Saturday night and I got to sleep in on Sunday with no one bursting in my room telling me how hungry their little tummy was!
Hubby and I sat down to a breakfast of just us on Sunday morning. I made us fried eggs over sautéed spinach on toasted English muffins. (With hot sauce of course.) We talked. We sat. We sipped a mimosa. It was kind of glorious!
I had an Aveda pampering party on Sunday afternoon with some girl friends. I felt so spoiled!
But now it's back to real life. The rest of my family has today off of school and work for the Martin Luther King Jr. Day holiday. Not me. I still have a regular work day for my day job as a health and nutrition editor, so I'm gonna keep this short today and get right to the food, mkay?
This healthy chicken fajita casserole is an easy way to make oven baked fajitas. Everything is mixed together and put in the oven for a super hands-off dinner. It's great for a weeknight but you can also prep this ahead and bake when you're ready, so it'd be great to serve to a crowd. Plus it looks pretty with all those colors 👌
(If you are serving a bigger crowd, you can double the recipe and still use a 9×13 pan or use two casserole dishes.)
No sizzling skillet to deliver to the table, but all the great fajita flavors are here and accounted for. 👍
Some notes on this healthy chicken fajita casserole:
The rice for this recipe needs to be already cooked, so please plan accordingly. (Here's how I do my perfect steamed brown rice.)
I like the long strips of onions, peppers and chicken — like you would see with regular fajitas — but you can dice them if you prefer more bite-size pieces.
I use all cheddar cheese here but you could substitute some Monterey or Pepper Jack cheeses as well.
You could add a can of black beans (rinsed and well-drained) if you wanted to bulk this up a little bit.
You could also add in some diced green chilies if you have those on hand.
You can spice it up with some jalapeño peppers or a pinch of cayenne pepper. And of course, serve with hot sauce!
It helps to let the casserole sit for 5-10 minutes after it bakes to absorb some of the juices. (If yours has lots of juices, which can happen depending on how much moisture the veggies release, just use a slotted spoon to scoop it out and serve it.)
For serving, you can have it alone – this is gluten free as is — or you can use tortillas (like regular fajitas are served with) or even serve it over some baby spinach like a fajita salad. I usually do this. 👍
Add any of your favorite fajita toppings: shredded lettuce, salsa, sour cream or Greek yogurt, avocado slices, etc.
Love these flavors? You may also like my easy skillet salsa chicken, a one-pan stovetop dish that's ready in 25 minutes. 🙌
Have a great week friends and be sure to check back on Wednesday for a fun appetizer recipe and a collaboration with some other food bloggers on good eats for the big football game!
XO,
Kathryn
Healthy chicken fajita casserole
6 people
adjust servings
Oven baked chicken fajitas with brown rice and a cheesy topping is an easy recipe that's great for a hands-off weeknight family dinner.
Ingredients
2

cups cooked brown rice (from about 3/4 cup uncooked)

1 1/2

pounds boneless, skinless chicken breasts cut into thin strips (about 1/2-inch thickness)

1

large bell pepper, sliced

1

small onion, sliced

1

(14.5 oz.) can diced tomatoes (I use fire-roasted), well drained

1

tablespoon extra-virgin olive oil

1 1/2

teaspoons ground cumin

1/2

teaspoon dried oregano

1/2

teaspoon salt

1/4

teaspoon cayenne pepper (optional)

1/4

teaspoon black pepper

1/8

teaspoon garlic powder

1/8

teaspoon onion powder

1-2

cups shredded cheddar cheese

shredded lettuce, salsa, sour cream or Greek yogurt, avocado slices, or any of your favorite fajita toppings!
Instructions
Preheat oven to 400. Spray a 9x13 or 2-quart casserole dish with cooking spray and set aside.

Combine all ingredients, except for the cheese, in a large bowl and stir well to combine (or just mix it together in the casserole dish if you want).

Transfer mixture to casserole dish and bake, uncovered for 20 minutes.

Sprinkle the top with cheese and bake another 10 minutes, until cheese is melted and chicken is cooked through.
Recipe Notes
(from about 3/4 cup uncooked)
cut into thin strips (about 1/2-inch thickness)
(optional)

Recipe Notes

The rice for this recipe needs to be already cooked, so please plan accordingly.

I use all cheddar cheese here but you could substitute some Monterey or Pepper Jack cheeses as well.

You can spice it up with some jalapeño peppers or a pinch of cayenne pepper. And of course, serve with hot sauce!

It helps to let the casserole sit for 5-10 minutes after it bakes to absorb some of the juices. (If yours has lots of juices, which can happen depending on how much moisture the veggies release, just use a slotted spoon to serve this.)