Cooking at home is one of the healthiest things you can do for your family. And it doesn't have to be hard or time-consuming. I've got inspiration and ideas -- plus recipes! -- to help you get started making more homecooked meals. Let's get back to the kitchen and make some yummy food!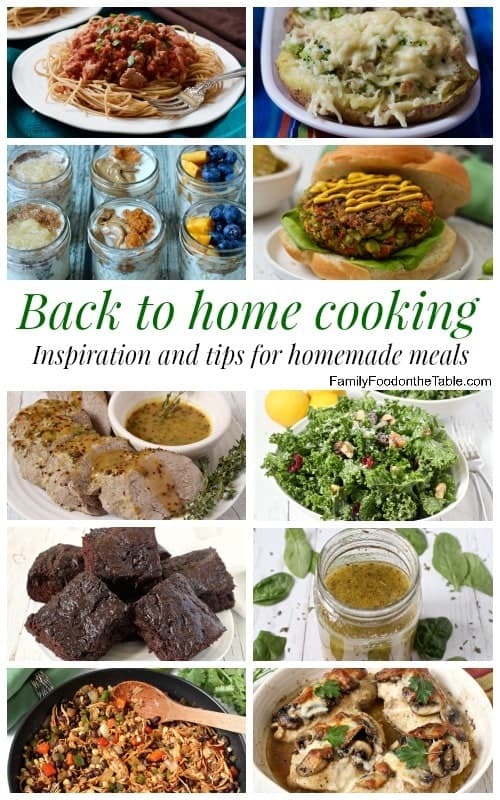 I know that not everyone will take as much pleasure in cooking as I do. I get it. We work hard all day, we've got kids to tend to, demanding schedules, and the knowledge that we have to get up and go at it again tomorrow.
Some nights you just feel tired, you just feel like you need a break. I'm with you.
For me, getting in the kitchen and mixing up something tasty can be a bit of a break. Even when I'm exhausted, I know I want something I've made versus ordering something in or picking something up. I know I'll feel better after eating homemade food than after getting something cheap on the go.
And that's why I try so hard to have plenty of fast, easy, fuss-free recipes to turn to on one of those hectic nights. A dinner you can throw together in a few minutes or stick in the oven or crock pot and not have to fuss over. Home cooking with real food in a real life way. I'm all about it.
Another huge thing that helps me is planning ahead. When I have a schedule of our meals, I can shop for the ingredients and know more or less what I need to do to get that dinner ready. Maybe it's partly prep ahead or maybe it comes together in 15 minutes and I don't need to think about it until dinner time. Having a meal plan makes it infinitely easier for me to cook at home regularly.
So with that, here's my top reasons to cook at home more (following by a last tip) to help inspire you to make homecooked meals a regular event at your house!
You control the ingredients. You know exactly what's going into your food. I'm an avid reader of ingredient lists on packaged foods and it can be downright scary to see all of the crazy stuff they put in our food these days. Some of it might be harmless, but if it's a word with 20+ letters that I can't possibly pronounce, I feel like I'm probably better off without it.
It's healthier to make your own food. Anything you make at home - even if it's fried - is going to be better for you than ordering that same dish in a restaurant. It also provides some portion control. If you buy bags of cookies and sweets, then you'll always have those in your pantry. If you switch to making it yourself, you decide when to have a special snack or dessert. I have serious portion control problems, so this is helpful for me!
It's less expensive to cook at home. Groceries can be expensive, definitely. But they still come in cheaper than paying for your meals at a restaurant and even many fast-food places. It can be intimidating to get started because you may feel like you need to buy a lot of ingredients. Start with simple ingredients and build your pantry staples up over time.
You get to call the shots. You don't have to feel bad about butchering what's on the menu to suit your needs. (Anyone else besides me order like Sally in When Harry Met Sally? I make so many changes sometimes, it becomes a whole new menu item.) But in your own kitchen, you can add your favorite seasonings, cook it exactly to your liking and top it with your preferred condiments. No apologizing to the waiter.
It's fun and it's satisfying. It feels good to make your own food, to serve yourself something from your kitchen and to feed the ones you love. It doesn't have to be a chore. And if it feels like one on some nights, don't worry, that's totally natural. Just re-read 1-4 and go with a fast and easy meal. Or take a break and get back to cooking the next night.
Last tip: Start small. I didn't make all of our food right from the get go. I started with dinner a few nights a week. Then most nights of the week. Then I started making some of our snacks myself, then some of our condiments, like dressings and sauces. Start small and add on as you can and as you want to - any little bit of home cooking helps and the more comfortable you get in the kitchen, the more you'll find yourself back there, creating delicious food for your family.
Feeling inspired and need some recipe ideas to get started? Here are some of my easiest weeknight dinners:
Southwestern chicken skillet - an all-in-one meal ready in 15 minutes

Crunchy Parmesan baked chicken - who can resist cheesy, crunchy chicken?
BBQ cheddar turkey meatloaf - just mix all of the ingredients, shape into a loaf and bake
Creamy shredded chicken tacos - ready in 10 minutes and unbelievably flavorful
Easy balsamic chicken - a great go-to using basic pantry ingredients

Slow cooker honey mustard chicken -requires just 5 minutes of prep and can be used in so many ways
Easiest ever chicken and veggie stir fry - it really is
Pesto chicken polenta stacks - just 4 ingredients and this dinner is ready in 10 minutes
Honey butter chicken - totally
hands-off and sure to be a hit
Spice rubbed pork chops - ready in 20 minutes with big, bold flavor
Easy creamy skillet chicken - the sauce is just 2 ingredients
Southwestern chicken chopped salad and Asian chicken chopped salad - no cooking, just chopping
I've also got lots of quick and easy sides like my fast "baked" potatoes, farro salad with veggies, shortcut grains and veggies, zucchini and squash saute with thyme and super simple spinach salad. Plus, plenty of recipes for breakfast, appetizers, snacks and desserts!
And I have more great recipes planned for you in the future. Be sure to sign up for my free email newsletter so you never miss a thing!
**I'd love to hear from you in the comments below! What are your top reasons for cooking at home? Do you wish you did it more often? What are your main challenges?**