Whole wheat blueberry waffles are studded with plenty of blueberries and a dash of fresh orange zest then drizzled with an orange maple syrup for a delicious breakfast!

My waffle maker was a long time coming and a rather hard road to get here.
When we were engaged, my husband and I did the usual "wander aimlessly around Crate & Barrel and stare at all the pretty things" routine before settling in to hash out our registry there and a few other places.
One of the appliances he suggested was a waffle maker. At the time, I hardly ate waffles, didn't care much about them and certainly didn't see myself making waffles very often.
"We'll just go out to brunch when you want waffles," I said. And so a waffle maker never made it on our registry.
(Quick side note: Neither did a stand mixer. He begged me to register for one, as much as I cook and bake, but I was adamantly against it, saying I'd never needed one thus far in my life. I could mix by hand or by hand mixer like my grandmother before me. I can be stubborn, if you couldn't tell.)
I have since caved on the waffle maker. (Up next, stand mixer, I am sure. 😬)
So I ate crow and asked my husband to buy me a waffle maker for Christmas last year. You can bet he gladly did, knowing the delicious breakfasts that would be coming his way.
He bought me THIS Breville waffle maker and I'm completely in love! Highly recommend.
If it's a bit too steep in price for you, this one is similar and gets good reviews and is more economical. And this one is the #1 best seller and also more affordable.
And now we are waffle obsessed! I make a batch at least once a weekend and have loved experimenting with new flavors and combinations. So many options!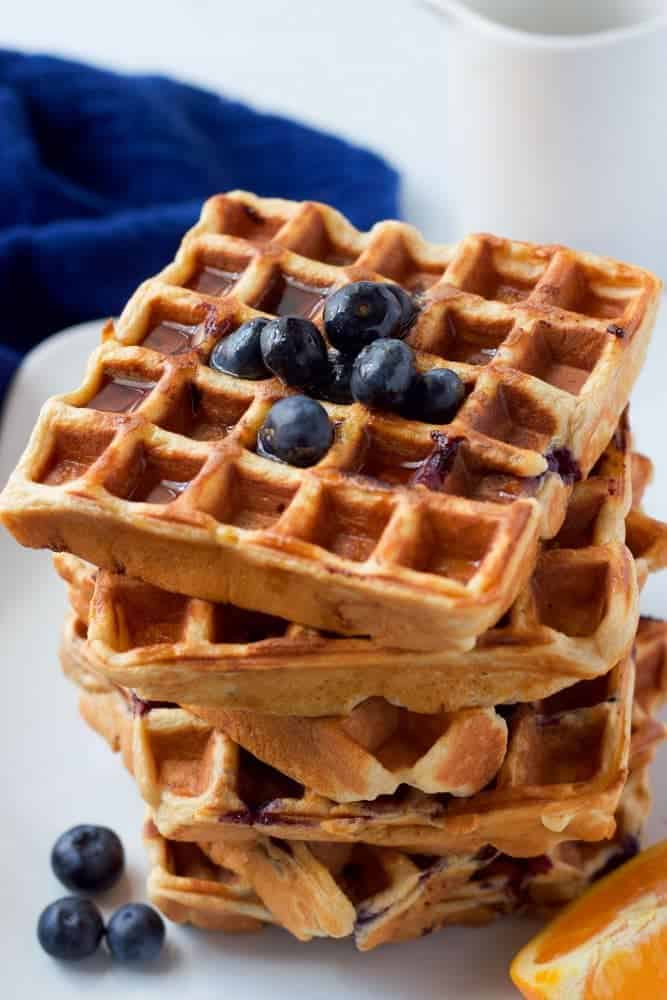 We have been loving on these whole wheat blueberry waffles especially.
I add some orange zest to the batter and then warm some maple syrup and fresh orange juice in a pan over the stove to drizzle all over these when they are ready.
The blueberries just burst in your mouth with big fruit flavor — enhanced by that orange zest — and the warm maple syrup smells sinful as it oozes into every nook and cranny.
And they are completely whole wheat and use Greek yogurt instead of butter or oil, so they're a much healthier version of waffles.
And yet still so indulgent…
Something about the sticky sweet syrup running all over your plate, cutting into a thick, perfectly cooked waffle that's a bit browned and crisp on the outside while being fluffy and tender on the inside…
Well, it's a good way to start your weekend.
Notes on whole wheat blueberry waffles:
I use white whole wheat flour, but regular all purpose flour is fine too. Or you could use a mixture of whole wheat and all-purpose flour if you prefer.
The recipe calls for sugar, but it's a small amount and you can certainly substitute maple syrup if you want these to be naturally sweetened.
Make sure to incorporate the Greek yogurt in well with the other wet ingredients, so you don't have a clump that leaves a sour spot in your waffles. (You can definitely mix the wet ingredients separately and then add them in.)
We usually go through these in a single morning. But sometimes I make a double batch and that's always a good idea because they are very freezer-friendly.
How to store leftover whole wheat blueberry waffles:
- Leftover waffles will keep in the refrigerator for up to 5 days. Store covered, such as wrapped in plastic wrap.
- These waffles also freeze great! I store them in a freezer ziptop bag -- be sure to label and date it -- for up to 6 months.
- Let them thaw overnight in the fridge overnight.
- Pop them in the toaster in the morning to help them warm up and get crispy again. So delicious!
- You can also use them directly from the freezer. Either toast them 1-2 times until warmed through and crispy, or microwave them for 20 seconds and then toast then.
I've taken a few successful jaunts into savory waffles as well - so stay tuned!
And next up, I can't wait to try making other foods in the waffle maker. Like falafel waffles, or hash browns, or pizza or brownies. The possibilities are endless.
How did I live without a waffle maker for so long?!
Happy waffle making. Enjoy!
XO,
Kathryn
Yield: 6 large waffles
Whole wheat blueberry waffles
Whole wheat waffles are studded with blueberries and orange zest and drizzled with an orange maple syrup for a delicious breakfast!
Ingredients
For the waffles:
1 ½ cups white whole wheat flour
2 tablespoons sugar
2 teaspoons baking powder
½ teaspoon salt
1 large egg
1 ½ cups lukewarm milk
⅓ cup plain Greek yogurt (I use nonfat)
1 teaspoon vanilla
zest of 1 orange
1 cup fresh blueberries
For the orange maple syrup:
½ pure maple syrup
¼ cup fresh orange juice
Instructions
To make the waffles, preheat your waffle iron.
Combine flour, sugar, baking powder and salt in a medium bowl.
Make a well in the center and add the egg, milk, Greek yogurt, vanilla and orange zest. Stir the wet ingredients together in the middle and then mix into the dry ingredients until combined. You may have a few lumps, which is fine. Be careful not to over mix.
Fold in the blueberries.
Spray the waffle iron with cooking spray. (See notes.)
Cook according to the directions in your waffle maker. (Mine uses ½ cup of batter for each waffle and cooks it automatically on the "Classic" setting.)
Meanwhile, to make the syrup, bring the maple syrup and orange juice to a boil in a small pot. Reduce heat and let simmer for 5-7 minutes. Serve warm. (I also recommend transferring it to a small pitcher or bowl so it doesn't stick to the pot as it cools.)
Notes
I get 6 very large waffles using my waffle iron. You may have more if yours makes smaller waffles.
I have a non-stick waffle iron and when making regular plain waffles, I don't need to spray it. I do with these, however, as the blueberries can stick a bit.
Nutrition Information:
Yield:
6
Serving Size:
1
Amount Per Serving:
Calories:

206
Total Fat:

3g
Saturated Fat:

1g
Trans Fat:

0g
Unsaturated Fat:

1g
Cholesterol:

37mg
Sodium:

388mg
Carbohydrates:

39g
Fiber:

4g
Sugar:

11g
Protein:

9g