This healthier caramelized onion dip is lightened up but still super rich and creamy and perfect for dipping! Everyone goes crazy for this easy appetizer!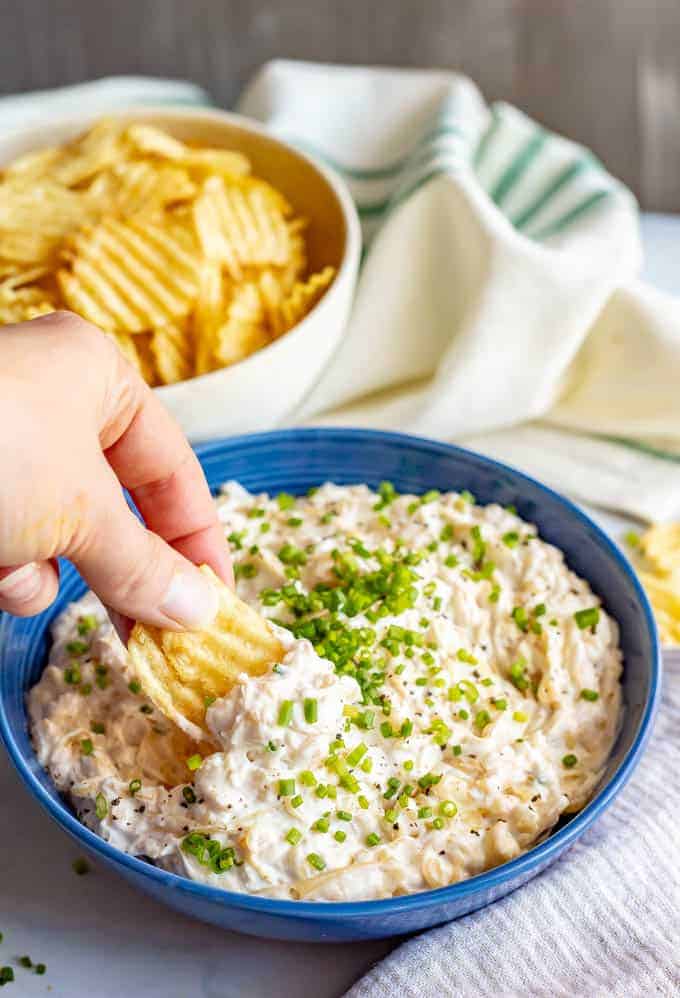 For me the holidays really kick off today!
Sure, I've been shopping (hello, Amazon and front door delivery, I love you so), baking cookies and holiday goodies, and I've been planning and doing Christmas cards and all of that.
But today my in-laws come in for a visit, tomorrow my son has his last-ever preschool holiday performance and this weekend my husband and I go for our annual Christmas symphony show.
And there's many more festivities to come in the next few weeks.
I am so ready and so excited! ❤️
So let's get on with it and get on to the food…
This healthier caramelized onion dip is such a fun one for snacking or parties.
It's so rich and creamy — you'd never know it was lightened up! — and it's perfect for dipping with some potato chips or veggies.
Celery and carrots are my favorite with this, but any veggie dippers would work.
And some good thick potato chips are the perfect salty bite to go with the sweet and creamy dip. 👌
Definitely a game day favorite!
Here's some other game day faves if you need extra snacks:
Also, I just gotta share this quick behind-the-scenes moment…
I typically make and photograph recipes in the early afternoon, so I can take advantage of the natural light coming into one of our front rooms.
So J, who is 5 and in pre-K, is always home from preschool and with me.
(He usually likes to try and take a few pictures himself. 📷❤️)
So on the afternoon that I was making this, I added the onions to my pan and was getting them started.
He was in the living room near the kitchen, playing with Legos.
He calls to me, "Mommy? Can you stop cooking that because I can smell that smell and I don't like that smell."
😂😂😂
Gotta love that honesty, right?!
But back to this creamy dip, which actually smells divine by the time the onions cook down and it finishes…
You'll love the underlying sweetness from the caramelized onions, the creaminess from the cream cheese and the tanginess from the Greek yogurt.
Such a good balance!
I gotta say, too, It's crazy how much the onions cook down….