This warm and creamy pesto pasta with spring vegetables is an easy one-pot pasta recipe with peas, asparagus, and ricotta and Parmesan cheeses. It's great as a light vegetarian meal or as a side dish at dinner!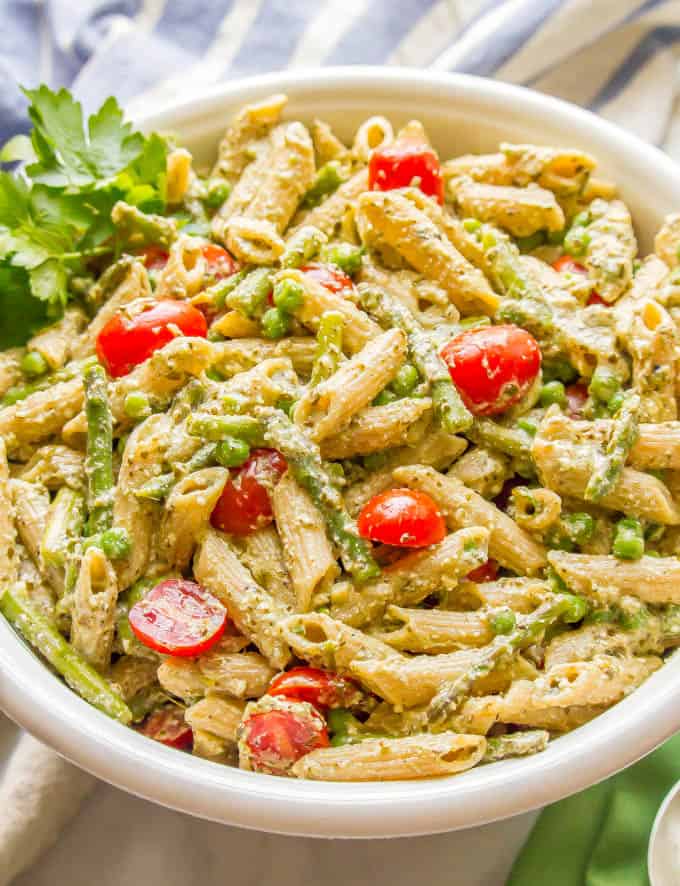 I'm flat-out pooped after the go-go-go day I had yesterday.
Fortunately, it was all good things, so I can't complain too much.
I got to see a seminar my daughter's first grade class did in the morning, then she had a half-day and was home with us for the afternoon. And as soon as we were back from swim lessons, I headed to a "sip and see" for my friend's new baby boy.
Being surrounded by some of my favorite women for an evening in with a brand new baby (and some wine for the "sip" part)… well, that's a pretty fabulous evening in my book. 💕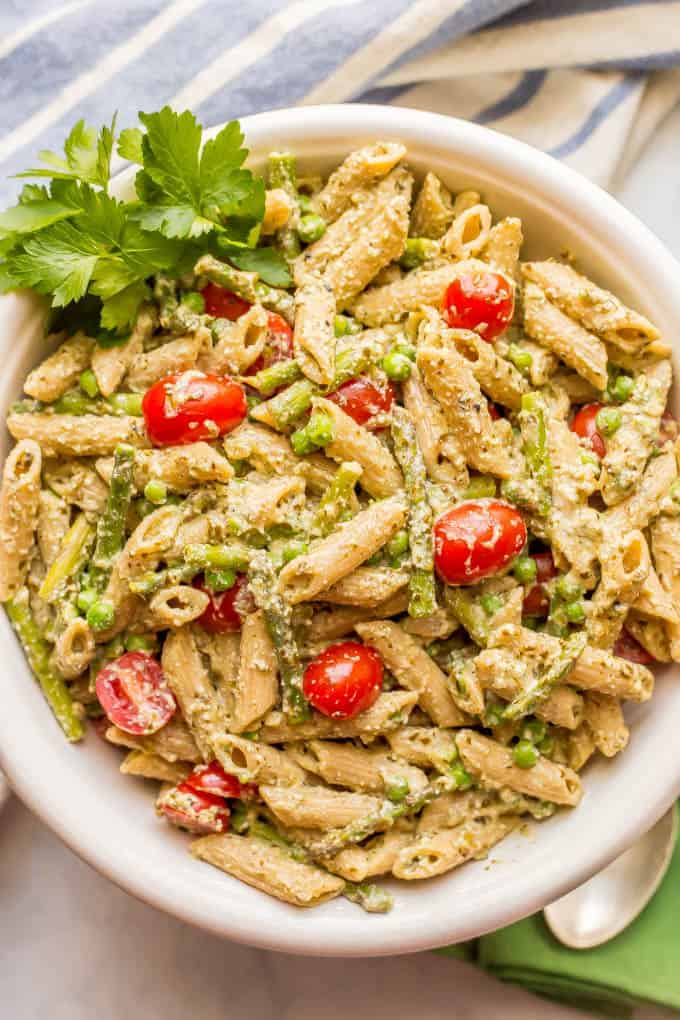 And today's recipe brings happiness in the form of some serious spring vibes.
My asparagus and peas with basil is an easy veggie side that's always part of my springtime meals.
And I love making my spring rice pilaf with asparagus and peas and my one-pot quinoa with peas and Parmesan.
Some of those same exact flavors and combinations are showing up today too in this creamy pesto pasta with spring vegetables. 💚💚💚
The pasta and veggies are coated in a creamy pesto sauce that comes together right in the same pan for easy clean-up.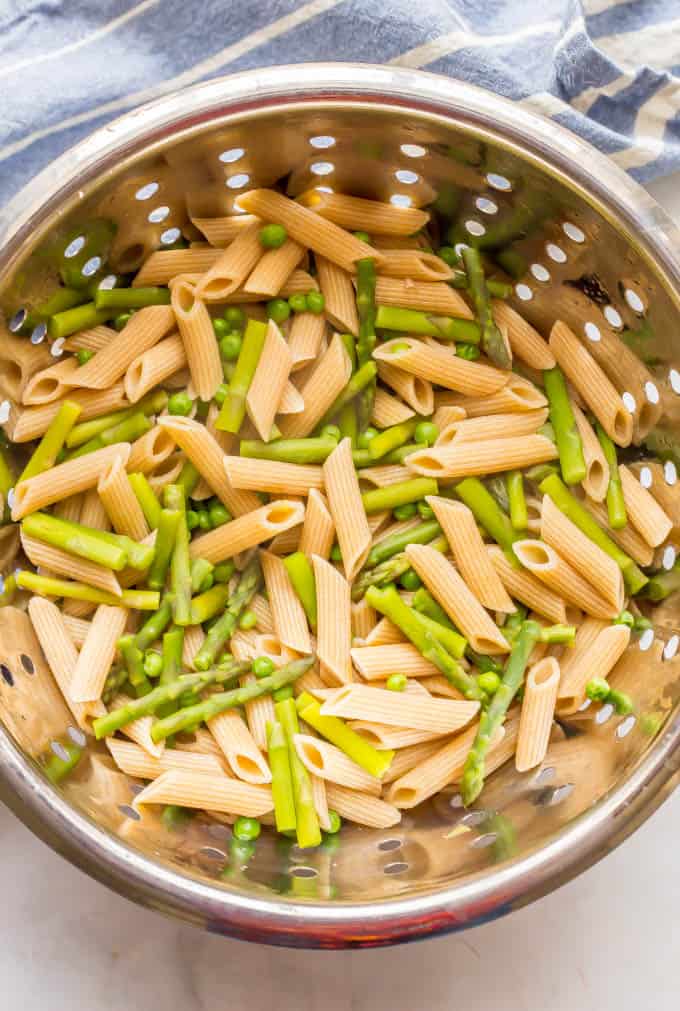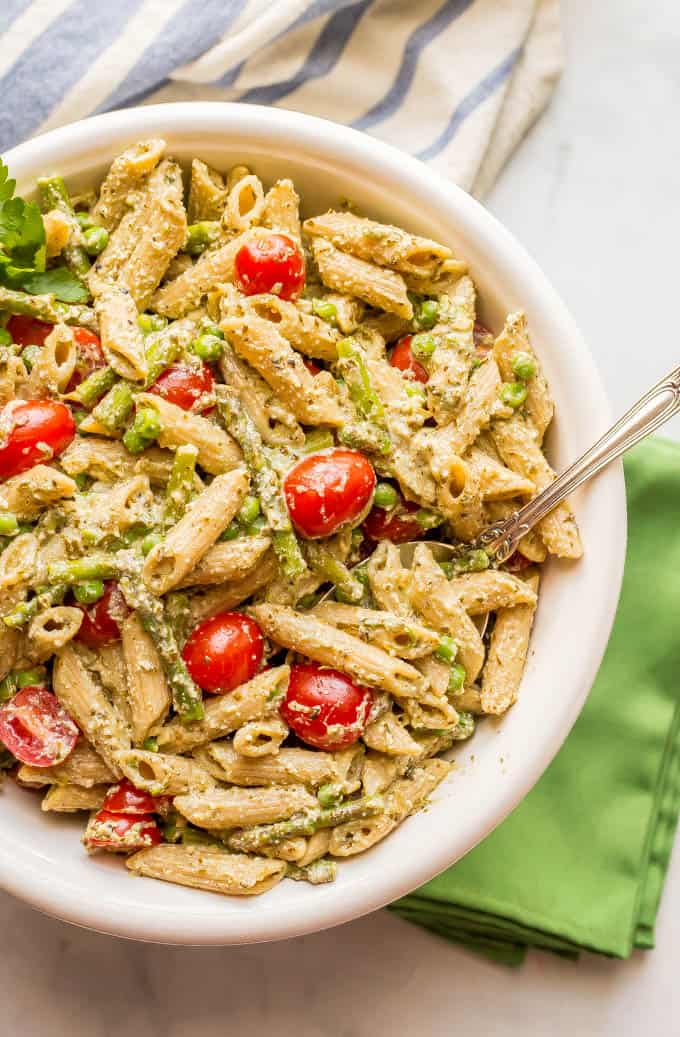 It's bright, fresh and full of spring veggie favorites!
I've kept the recipe below pretty simple but I love adding some extra pops of flavor at the end to really bring out all of the flavors.
Yes, it is my mission in life to bring more toppings to pretty much every single dish….