Healthy curry chicken salad is perfectly creamy with just the right level of spice and sweetness. Serve as a sandwich, wrap, salad or with crackers for a delicious, healthy lunch!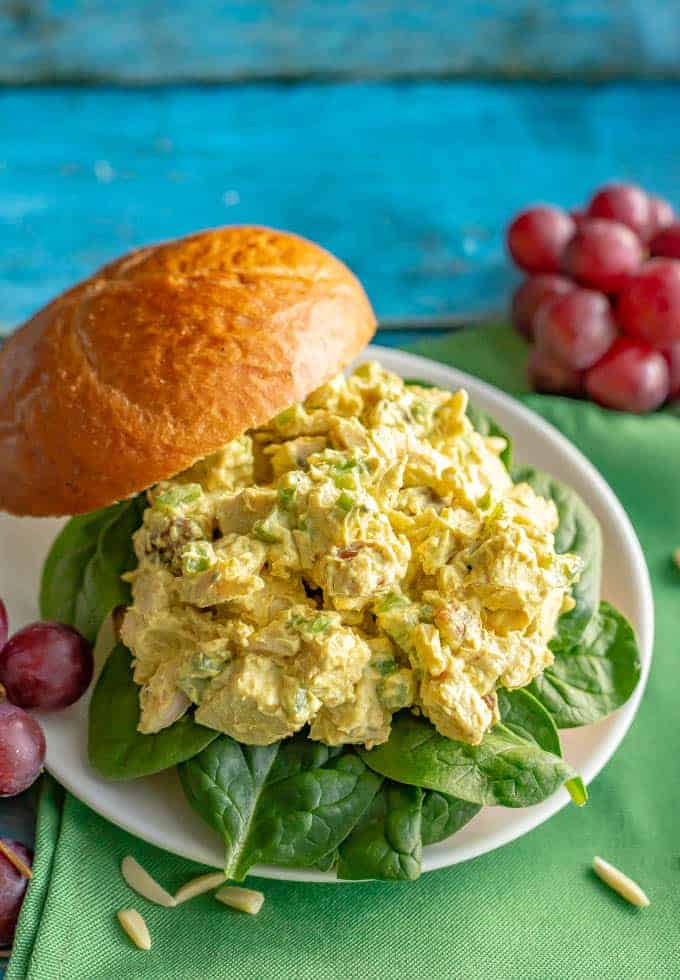 A quick hello from the beach!
We're in Florida to spend spring break at the beach with my in-laws. So I'm keeping it short today and getting back to reading my book and putting my toes in the sand. ☀️🏖
So you guys know I love curried versions of all the foods, right? 😂
I've made curried egg salad, curried wild rice salad with raisins and pecans (served chilled) and curried brown rice salad, also served chilled.
I also just shared my curried ground turkey and peas recipe, which is great for a quick and easy dinner with big flavor!
I'm also a chicken salad fanatic. I grew up on my mom's classic chicken salad (which I should really share here!) and I also love basil chicken salad with walnuts for a fun twist.
So of course it was only a matter of time before I brought you healthy curry chicken salad!
This is one of those dishes that calls to me at delis, restaurants, even airport stands.
But all too often, it's just not quite right. Usually it's way too creamy or overloaded with mayo. Or has too many add-ins. Or not enough curry flavor.
Plus, I'm a bit of a control freak and I like knowing what's going into my food.
So now when the craving strikes, I make this curried chicken salad at home. And hide it in the fridge so I don't have to share! 😂
It's soooo yummy!
It's the perfect level of creaminess and has the just right amount of curry and spice. Plus, it's got raisins for sweetness and slivered almonds for crunch. 👌
It's also lightened up because I'm using part light mayonnaise and part nonfat Greek yogurt. They balance each other so well.
This salad is everything I want come lunchtime. And I've got some substitutions and ideas for you on how to make it your perfect curried chicken salad too….