Healthy lunch wraps includes tons of ideas for classic wraps, peanut butter wraps, hummus wraps and more! Great for easy school lunchbox ideas for the kids or to take to the office.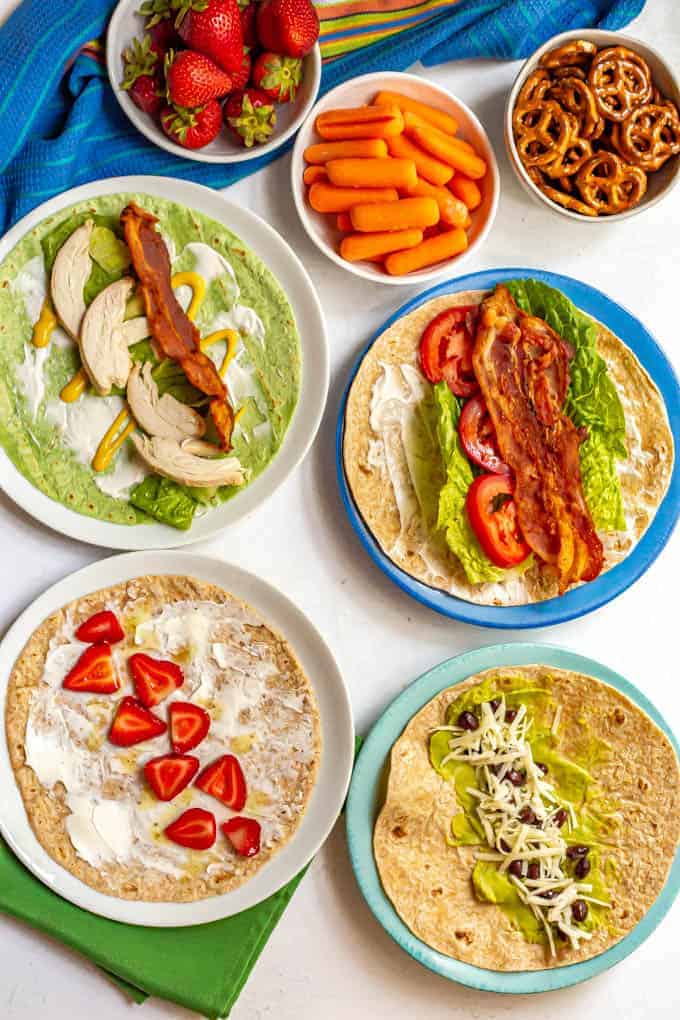 So, school starts for us next week.
EEEK!
I am both very excited and a little freaked. (Which is maybe why we all came down to the beach for a long weekend as a last get-away. 🌊☀️)
Here's the deal…
(Warning: mini life update to follow. Scroll down if you just want the lunch wrap ideas. It won't hurt my feelings.)
My youngest is starting kindergarten so that brings a whole host of emotions. I am a little teary about it but also excited for him.
And it will be glorious to have them both gone for most of the day. Does that sound terrible?!
Previously he was just in a morning preschool program so I had him home most of the day while I'm working. He's such a good kid but it was still sometimes hard to juggle.
We're also starting at a new school this year. Any school would have been new to my son but my daughter will be starting 3rd grade and switching from her previous elementary school.
They'll be going to the school I went to growing up and I'm all kinds of happy about that. 💖
I 100% know in my heart that this is the right move. But of course I'm still a bit nervous to see how it goes these first few weeks and to make sure they adjust OK.
(Full disclosure, my daughter has some anxiety issues so I'm mostly concerned about her. My son is pretty happy-go-lucky so I think he'll adjust just fine.)
Anyway, bringing it back, the point being that I am in full back-to-school mode. Shopping, planning, prepping. All the things.
And back-to-school usually means a mini panic about packing school lunches.
Somehow, it always seems overwhelming at the beginning of the school year.
Partly it's getting back into the routine, partly it's adjusting to what they each do and do not like currently, and partly it's wanting to start them off strong and pack something healthy and delicious that they'll just love every day.
Is that too much to ask?!
I'm sure I'll be over that sometime shortly after Labor Day, but while I'm feeling the motivation, I wanted to share a HUGE round-up of ideas for healthy lunch wraps.
These roll-up lunches are inspired by school lunch boxes everywhere, but they'd also work for office lunches or anytime you need to pack up some food for on the go.
Everyone can enjoy these!…