This 30-minute healthy southwest turkey chili with corn and black beans makes a great, easy dinner for a chilly night. Add your favorite toppings and get ready to dig in!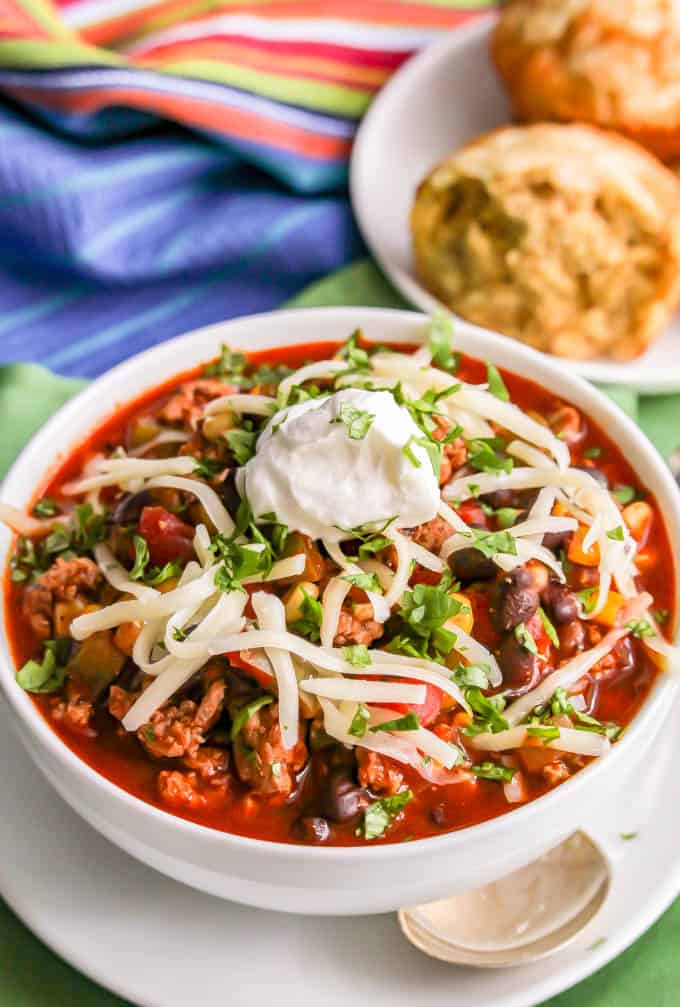 I did something a little surprising this week…
I had my hair appointment Monday night (total #momlife move that I have to go get it done after my kids are in bed). I got my regular highlights to lighten up my hair and then I went for it.
An idea I've had for months, have forgotten about and come back to, and decided to pull the trigger.
I have a single small but beautiful strand of purple in my hair now. It's a "peekaboo" style, so I can cover it up or show it off, depending on my mood.
Purple has been my absolute favorite color for, oh, forever, and like I said, I thought about doing this months and months ago.
I figured, it's October, Halloween is coming, and why not?!
I'm so glad I did – I seriously love it! As my friend/hairdresser predicted, I may just get a few more the next time I go! 💜💜💜
But enough about hair, let's talk about this beauty! 👇
One of my favorite parts about fall, football season and cold winter nights is saddling up to a big bowl of chili. So far on the blog I've shared my:
Today, it's my healthy southwest turkey chili with corn and black beans, which has been a favorite of mine and my husband's since before we had kids.
(Fun fact: It's also one of the very first recipes I created all on my own. I just couldn't find what I was looking for with other recipes for a southwest turkey chili with beans and corn, so I set to work on making my own dreams come true. 🤣)
I've made this recipe dozens of times, have fiddled with it over the years and just keep coming back to this version. It's full of ground turkey, black beans and corn, and tons of great southwestern spices and seasonings.
It's not spicy, so it's great for families or for a crowd, and it's got great colors, textures and flavors that'll have you coming back for more. 😍…