Quick and easy cauliflower fried rice with chicken is a delicious, colorful and flavorful low-carb dinner that comes together in just 20 minutes!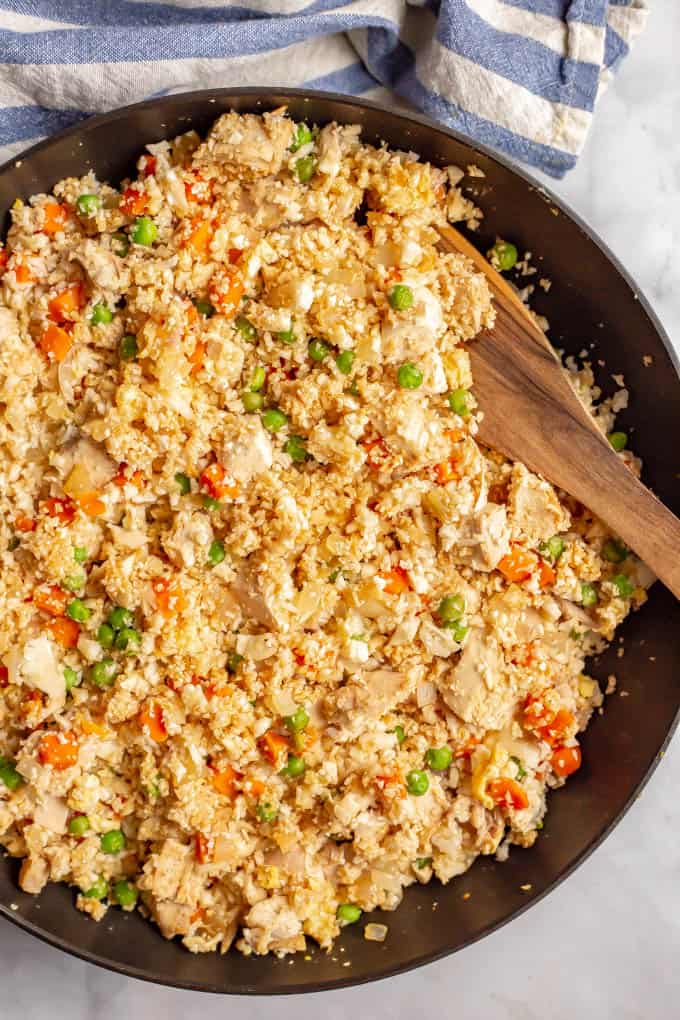 We had a long, lazy weekend here and the rest of my family is still enjoying it. (The kids are off of school and my husband's workplace is closed for Martin Luther King Jr. Day. I, sadly, still have to work.)
But, after such a relaxing weekend, I'm totally OK with it.
I'm also feeling super refreshed because
My husband and I started watching Marie Kondo and have been tidying up ALL the things!
The kiddos had a spend-the-night with my parents over the weekend so we had a quiet night — and morning — to ourselves, which is always so lovely.
I got tons of good sleep. 😴 So I'm ready to tackle this week!
Let's do this!
Last week, I shared my easy cauliflower rice, which is great as a low-carb side dish. (Especially if you are doing a low-carb, paleo or whole 30 type of diet.)
And while I don't follow any of those eating styles, I love the stuff and love subbing it in for regular rice.
It's a great way to get in some more veggies!
Today's recipe for quick and easy cauliflower fried rice with chicken is one of my favorite ways to use cauliflower rice and to make it into the main dish.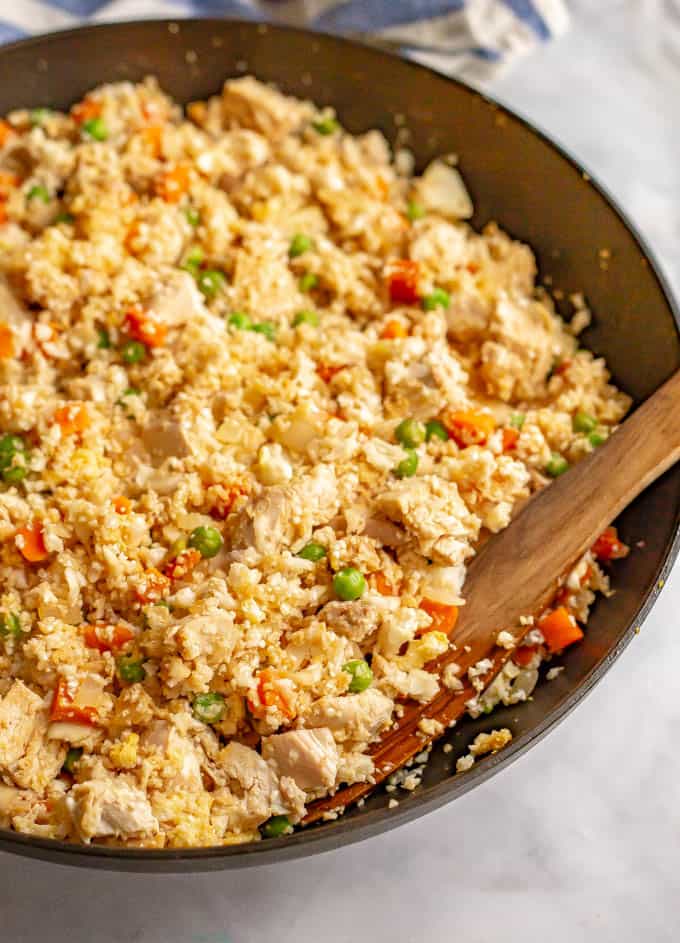 We've got the cauliflower, peas and carrots, eggs (optional, but I love them in my fried rice) and some chicken all mixed in together.
It comes together in just 20 minutes and is so flavorful and satisfying!
You'll be going in for forkful after forkful and angling to get a piece of everything in each bite. (I love that!)
Or maybe you're diving in with chopsticks if you're cool like that. I am not.
Regardless, this quick and easy dinner is perfect for a busy weeknight and it's one everyone digs into. Plus, it's so healthy, you can't help but feel good about it!…