Easy baked chicken thighs use a few basic seasonings and are ready in just 30 minutes for a delicious main course that's so juicy and flavorful!
We had a quiet, at-home Memorial Day at the beginning of this week, but we sure made it fun – and delicious!
There was board games and puzzles and reading, Legos and building projects, bike rides and homemade ice cream, Mario Kart playing, and a dinner feast on the porch with bacon cheeseburgers, corn on the cob, coleslaw, oven fries and watermelon. 🇺🇸🍉🎉
The kiddos also finished up school this week, and I'm thankful the at-home learning is over, along with all the technical difficulties and paperwork that went with it. It's TBD if we will miss having that bit of structure or schedule though…
This coming weekend we will celebrate my sweet chocolate lab Dixie, who is turning 11. She's pretty much the best dog in the world (no, I'm not biased, why do you ask?) and we just adore her. ❤️
(Yup, I've put her on notice that she's just gonna have to live forever. All of these walks while staying at home are surely helping with that, right?)
Anyway, let's move on to the food!
Today's recipe for these easy baked chicken thighs are one of my go-to chicken dinners.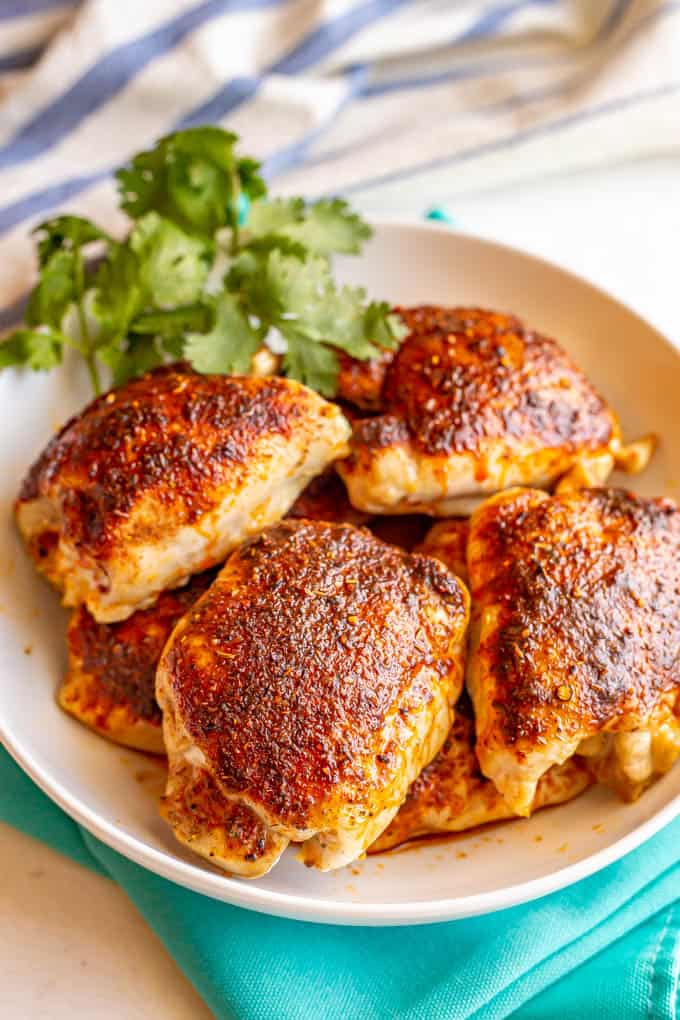 Although, I must admit, I wasn't always a big fan of chicken thighs. I didn't get what all the fuss was about and thought the people who said they are so much more flavorful than chicken breasts were just loony.
I don't even know what happened, if my taste buds changed after my second pregnancy, if I finally made them in a delicious way, not sure.
But I'm a total convert.
And these easy baked chicken thighs will make a convert of you too. They are crazy simple – just two seasonings plus some olive oil, salt and pepper – but they make for the most juicy, tender, flavorful chicken.
Plus, they are super versatile! You can pair then with any side dish (I've got a few ideas below) and you can use them for wraps, grain bowls, or any recipe where you need some cooked chicken.
That is, if you don't just devour them all as soon as they're ready. Cause you're gonna want to. 😍…