Skillet lemon chicken has tender strips of chicken breasts in a delicious lemon sauce. Plus, it's just 5 basic ingredients and ready in 15 minutes!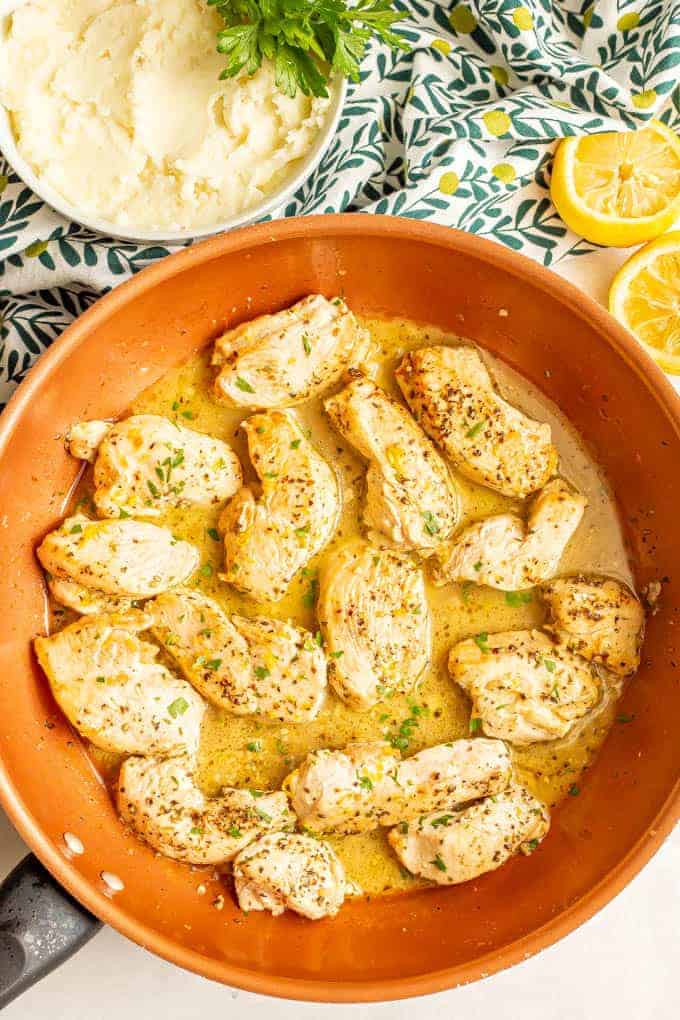 Earlier this week I shared baked lemon chicken, which is seared on the stove then finished in the oven with a buttery lemon sauce.
We love some lemon chicken ALL the ways in my house.
Today, we're making dinner even faster and easier with this skillet lemon chicken.
This recipe is 5 basic ingredients (OK, with a few gimme's like salt and pepper) and ready in 15 minutes!
I have a thing for 15-minute chicken dinners. Check out my honey garlic chicken, quick chicken curry and southwest chicken skillet for more quick chicken recipes.
Let's celebrate the lemon today though. 🍋💛
I've always got at least a couple of lemons in the fridge. They stay good for a long time and are a great way to add a bit of freshness to dishes before serving.
Those bright lemon flavors are taking center stage today though.
The lemon zest and fresh lemon juice gets combined with some oil and butter, a bit of chicken broth to create a simple but scrumptious sauce for these chicken strips.
So much yum! So let's get cooking….