A savory oatmeal bowl with sautéed mushrooms and spinach, topped with a fried egg for an easy but rich and luxurious breakfast!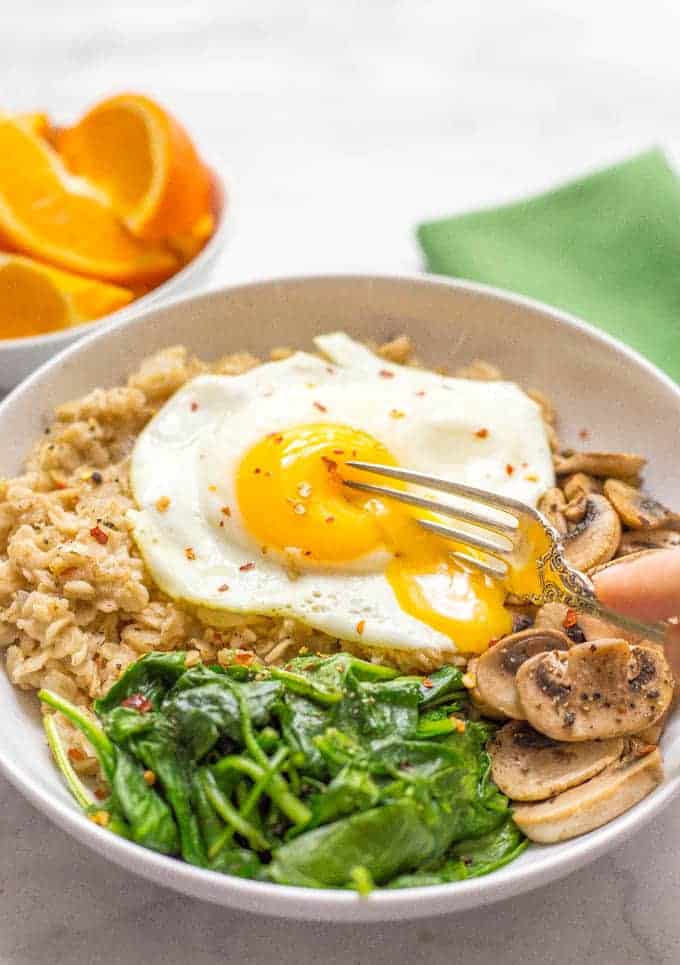 Hello from the beach!
We woke up yesterday, checked the traffic and decided to drive down to South Carolina so we'd be in the path of totality for the solar eclipse today.
And to be clear, I feel so COOL!
I'm not impulsive at all (and just to call myself out, I had two "to-do" lists – if we go, if we don't) so it feels kinda fun to have cut loose and come down here for a couple of days! ❤️
But on to the food!
You probably know by now that I ADORE breakfast.
We make tons of muffins around here, plus overnight oatmeal jars (including these fun chocolate overnight oats) and granola is a staple in our house.
But did you know that I really adore savory breakfasts?
It's true. Some mornings I go with sweet but more often than not I get a salty craving in the morning and it must be satisfied. Preferably 5 minutes ago. (No one ever accused me of being patient!)
So I'm really excited for this month's Recipe Redux theme, which is all about savory breakfasts. (I can't wait to see what my fellow healthy food bloggers and nutritionist friends have come up with – check it all out below!)
I literally brainstormed about a dozen ideas of what I would feature here today. Cause I have so many savory breakfasts I love and even more that I want to try out.
In the end, I went with this simple but simply divine savory oatmeal bowl with mushrooms, spinach and fried egg.
And you probably know that we are oatmeal crazy in this house. Oatmeal in ALL the ways ALL the time!
(And while my family goes sweet with their regular morning oatmeal, I always add salt, maybe hot sauce, sometimes even soy sauce to my oatmeal for a savory version.)
I also adore a mushroom + spinach combo (check out my healthy bagel toppings) and I do NOT say no to a fried egg. 🍳🍳🍳
…