Check out these healthy Valentine's Day snacks for kids of all ages that are easy to make but fun and festive! These 33 ideas will take you from breakfast all the way through to dessert!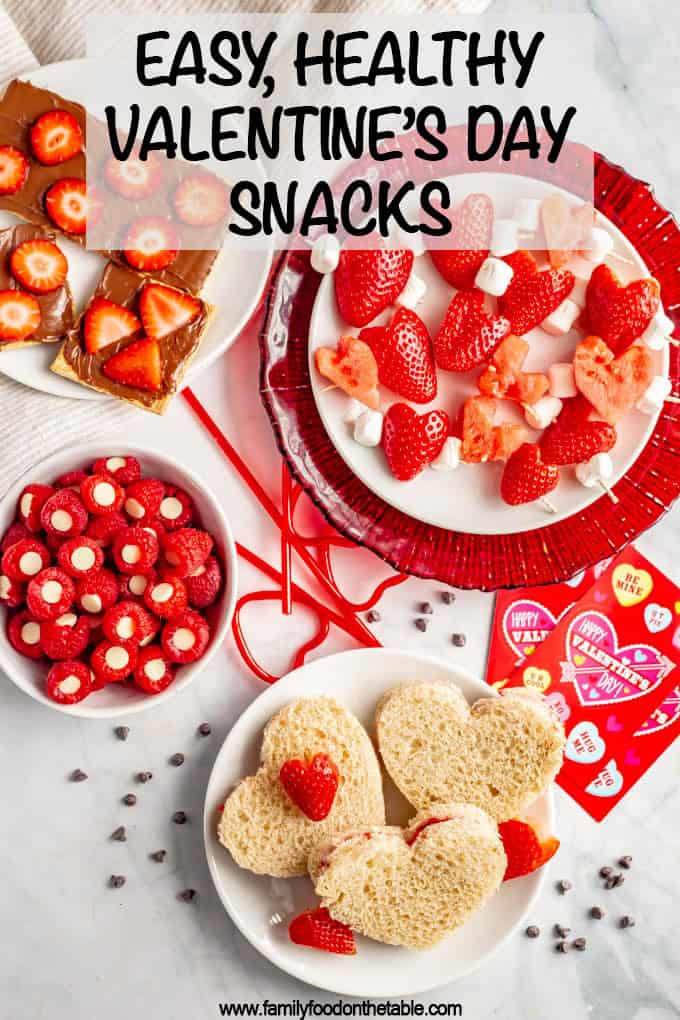 Happy Valentine's Day!
Oh, how my thoughts about this holiday have changed over the years…
As a kid, it was a fun holiday that meant heart-shaped candy, red balloons and lots of Valentine cards to share with friends.
In high school, I remember we could buy carnation flowers for friends – and for crushes! – that were delivered during class. It was a fund-raiser of some sort but so fun! I even had a pink sweater that I wore for Valentine's Day multiple years in a row.
In college, Valentine's Day become a little less important. And after college, even more so.
I met and started dating my now husband very soon after college. I remember making chocolate-covered strawberries for us to have for dessert on our first Valentine's Day together.
After that, I don't think we even bothered with cards. (And still don't.) It was just another Hallmark holiday that we didn't pay much mind to.
But since having kids – and since they are old enough to get it and to be involved – it's become a really fun holiday again!
We do Valentine cards for friends at school, we cut out hearts and decorate them, we hang garlands or float balloons around the house. I have a Valentine's bingo game that we play.
Plus, we love making tons of cute and healthy Valentine's Day snacks for kids!
You know me, I want some healthier Valentine's treats. Not just more sugar!
So today I wanted to share with you some of our favorite goodies to celebrate with and tons of other ideas for getting fun and festive on this semi-holiday.
And we're talking ALL-DAY fun here! Everything from breakfast, to snacks to dinner and dessert ideas are included.
Disclaimer: I'm not very crafty or creative, so these are going to be fairly simple ideas. More along the lines of something you can pull together in 5 minutes rather than a cutesy food project you need to slave and sweat over for an hour. (Or buy a bunch of specialty products for.)
Just putting that out there. 😉
Fun + healthy Valentine's Day breakfast ideas:
– Strawberry yogurt (store bought or make your own) with granola and strawberries and maybe even mini chocolate chips for a festive layered parfait
– Make egg in a hole using a heart shaped cookie cutter for the hole in the bread 🍳
– Blend up a red or pink smoothie (such as strawberry banana, cherry chocolate, mixed berry, etc.)
– Pancake tacos – smear pancakes with a thin layer of Nutella, add chopped strawberries and bananas, then fold up to eat like a taco 🌮…