Cheesy baked breakfast sliders are loaded with crispy bacon, soft scrambled eggs and plenty of cheese for a fun and tasty breakfast everyone will love!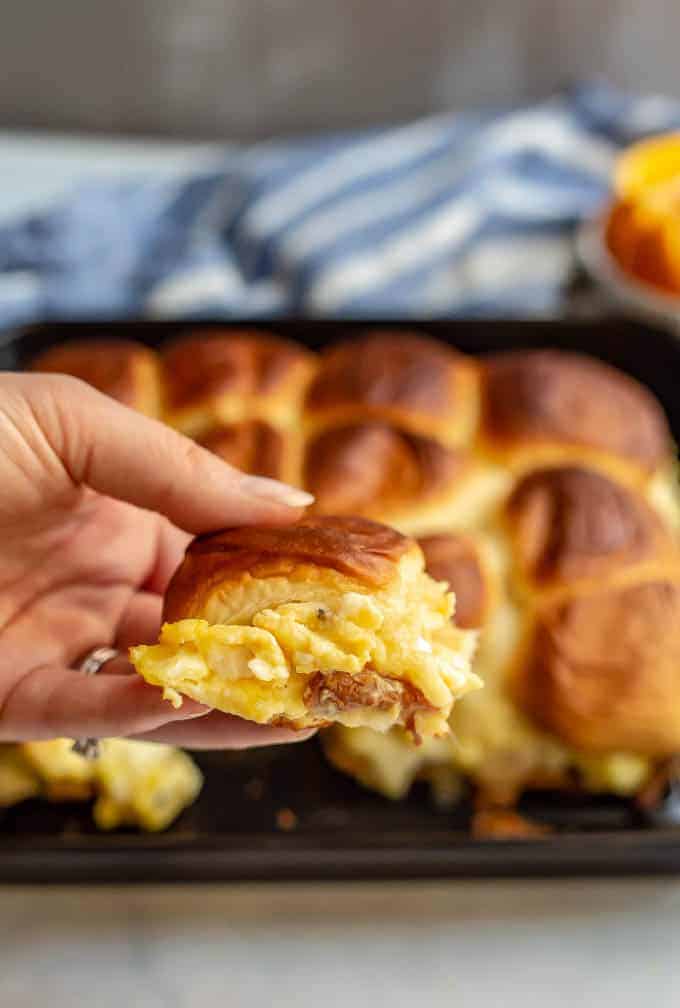 I just had the most fun holiday weekend ever!
Here's the breakdown of the highlights…
My in-laws came to visit and have an early Christmas with us and the kids. Presents galore!
We saw a holiday lights show outdoors and it was perfectly chilly. Bonus: free hot cocoa!
My husband and I always go to see the Charlotte symphony Christmas show. My in-laws joined us this time and that made it even more special this year! ❤️
The kids each had their first basketball games of the season this weekend. Loved it!
And although I've got a few more days of work this week and despite the fact that I'm ready to be completely off for the year, I'm gonna buckle down, chug along and try to wrap things up as quickly as possible.
So let's move right along to the food!
Today's recipe for these cheesy baked breakfast sliders are such a fun one!
I've made these for brunch parties before and they are always a huge hit!
Who wouldn't love a little bacon, egg and cheese sandwich, right?
These soft rolls are filled with crispy bacon, super soft scrambled eggs and lots of melty cheese, plus a browned buttery top, for a seriously delicious breakfast bite!
They're finger foods for the morning time and seriously so good!
They'd be a great breakfast for holiday guests, too. Pair these sliders with some fresh fruit — or my mixed greens salad with fruit — and you are all set!
They also work well for meal prepping.
They reheat great in the microwave. The rolls come out soft – not the crustier browned top when they are freshly baked – but they are every bit as crave-worthy.
And you can freeze any extras to pull out another time. 🙌…