A full month of ideas for easy, homemade family-friendly dinners. Includes a free printable PDF calendar with each day's menu idea for easy planning.
Earlier this year, I started a new feature here on Family Food on the Table with my February meal plan followed by the March meal plan, April meal plan, May meal plan and then the June meal plan, each one giving you an entire month's worth of recipe ideas for easy, healthy family dinners.
I myself love to menu plan and schedule out our meals.
It does not feel like a chore at all, and I really do enjoy it. I think it's the type A scheduler in me coming out in full force. 😬
If you're interested, I've got a whole post of my official guide to meal planning, with all my tips and tricks.
And previously, I've shared a list of 30 easy healthy family dinner ideas that could work for any month of the year.
But today, I'm trying to make it easy on YOU by giving you another full month's worth of ideas for healthy family dinner ideas.
This will carry you through the entire month of July.
I've included the photo of the meal plan here if you want to pin it, but there's a free printable PDF link at the bottom as well, so you can easily save and print.
So let's dive right in.
Notes on this July meal plan:
Each day has its own recipe idea, complete with sides if needed to make a full meal. (Some things like tacos are more all-inclusive, though you could add sides if you like.)
You can make easy swaps to suit your family's tastes. Use whatever vegetables are your favorite to steam, make mashed potatoes instead of baked potatoes, choose white or brown rice, etc. Customize to your heart's content.
Saturdays are blank. This is intentional and meant to be reserved for either using up any leftovers from the week or ordering dinner in or going out to eat. Cause we all need a break!
Speaking of, you can totally use some cheater swaps.
See how chicken tenders are on the menu? You can make your own - baked, fried, Air Fryer, etc. - or you can pick up some from your supermarket deli. Or get a frozen version.
Or you could buy the packaged mashed potatoes instead of making them from scratch. Ditto on the salads - we love buying those Caesar salad kits at the grocery store. Easy and delicious.
It's all about what works for you.
Also, the calendar and meal plan are ideas for prompts to get you started.
If you also need specific recipes, I've got some included below. You can also grab recipes from your own collection, your favorite cookbooks, or from Pinterest or Google.
(Many of the recipes below are from my site, but I've also included recipes from others.)
Oh, and I included these ideas in order from July 1 on the calendar to June 31, with the date listed too, which will hopefully make things easier to find throughout the month.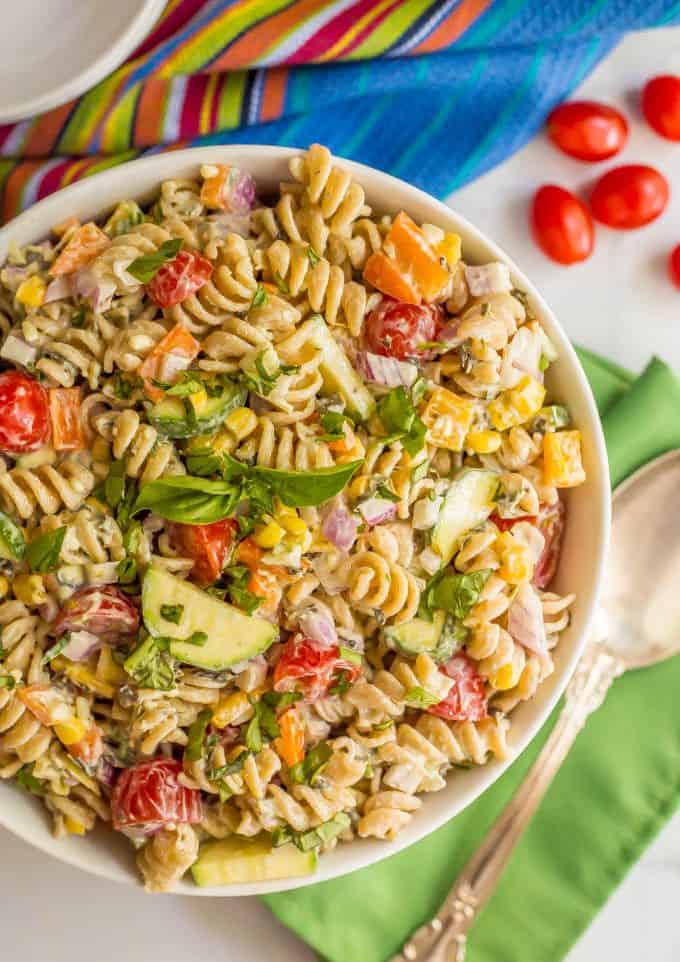 Recipes for July meal plan:
5 - Mediterranean chopped salad
6 - Turkey tacos and homemade taco seasoning
7 - Individual breakfast casseroles
8 - Slow cooker tequila chicken
11 - Slow cooker pulled pork or Instant Pot pulled pork
12 - Quinoa and hummus stuffed zucchini
14 - One pot pasta with sausage, spinach and peas
15 - Ranch seasoned pork chops
16 - Teriyaki chicken pineapple kabobs
18 - Ground turkey spaghetti or Instant Pot spaghetti
19 - 20-minute coconut chicken curry
20 - Crunchy baked chicken tenders
21 - Easy baked chicken thighs
22 - Seafood salad
23 - Spicy pork burgers with mango salsa
25 - Balsamic pork tenderloin with thyme
26 - Southwest chicken and veggies sheet pan
27 - Tuna patties
28 - Green beans with mustard butter sauce
OK then, hopefully are you all set now!
Last thing, I would really appreciate your feedback.
If this monthly meal plan is helpful, please leave me a comment below.
Or if there's things you wish I would change or add or do differently, let me know that, too! I want this to be a helpful resource, so let me know how I can make it even more helpful.
I hope you have a wonderful - and delicious - month!
(You can download and print the July calendar from that link, or save this page to come back to. Whatever is easy for you.)
Happy cooking!
XO,
Kathryn
P.S. Here's the August meal plan if you want to get ahead a little!