A healthier version of the family favorite, this spaghetti dinner features a simple, and simply divine, homemade sauce.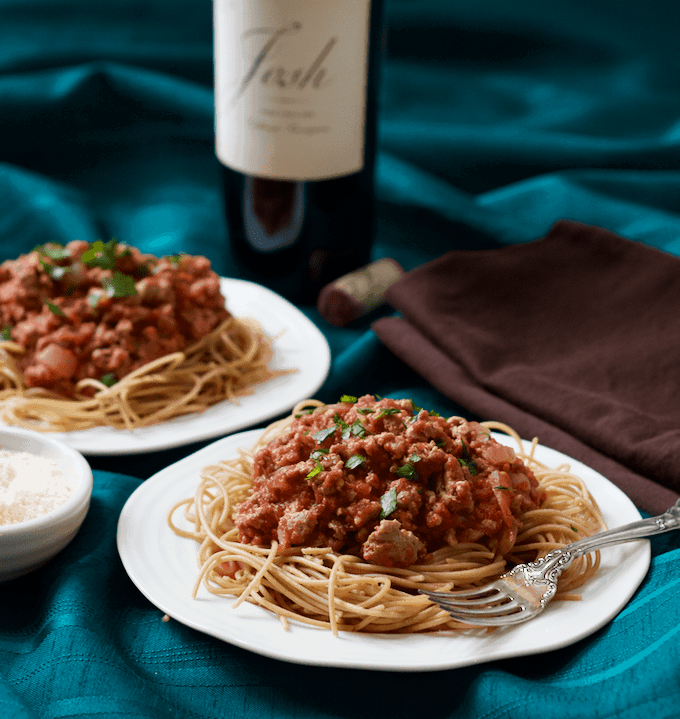 Spaghetti night. Oh, how I love thee. You are guaranteed to make my belly happy and my face smeared with red. Sometimes my shirt even joins the celebration. I'm not shy when it comes to this family favorite.
I'm like my toddler that way. 😂
I love that I can whip up this meal in about 30 minutes, but it can easily hang out for longer if you're in the middle of something or need to step away to handle a 3-year-old's meltdown about her favorite pjs being dirty.
Sometimes these types of major life crises come up and dinner just has to wait. This dinner is happy to oblige. And when you're ready, it will be waiting and warm and oh so satisfying.
(You can also make Instant Pot spaghetti if you want an all-in-one spaghetti dinner that's even more hands off.)
Here's my recipe for simple homemade spaghetti sauce. I promise, it's easy and fast - you can have it ready in as little as 20 minutes if you're trying to get dinner on the table or it can hang out and simmer for an hour. I like it when my food is low-maintenance. Makes going homemade so much easier.
I use lean ground turkey (the 7% fat kind) for our spaghetti (like I do for my tacos) but you can definitely sub in ground beef or a mix of ground meats if you prefer.
Similarly, we always use whole wheat pasta but regular spaghetti noodles are fine too. You can use thin spaghetti if you like, just be sure to adjust the cooking time according to the package instructions..
I almost always serve this dinner with my simple spinach salad. Spaghetti and salad just go together in my book. Unless I'm eating my summer spaghetti, which is overflowing with veggies and takes up the whole plate.
Spaghetti's for dinner, with your own homemade sauce. Prepare to swoon.
And if you need a way to add more spaghetti nights to your dinner rotation, like I do, check out this chicken and veggie spaghetti pie.
(And if you're more a meatball type, I've got you covered with my easy baked meatballs!)
Enjoy!
XO,
Kathryn
Yield: 4 servings
Spaghetti dinner with homemade sauce
A healthier spaghetti dinner with ground turkey, whole wheat noodles and a simple, and simply divine, homemade sauce.
Ingredients
1 pound whole wheat spaghetti
1 pound ground turkey (see notes)
2-3 cups of spaghetti sauce*
Optional toppings: grated Parmesan cheese, chopped fresh parsley or basil
Instructions
Bring your water to a boil, salt it very generously and add your spaghetti noodles. Check your package for cooking time (usually about 7-9 minutes). Cook until al dente, which means its tender but still has a little bit of a bite to it, and drain.

Meanwhile, brown your ground turkey in a large pan over medium heat. I don't use olive oil - find I don't even need it.

Once the turkey is cooked through, add enough spaghetti sauce to your liking and stir well to combine and heat through. We like our spaghetti extra saucy and use 3 cups. Probably because the homemade sauce is so, so good!

Serve the turkey and sauce over the spaghetti noodles. Pile it high on your plate, then pile it a little higher and sprinkle with desired toppings. Dive in!
Notes
* Use homemade spaghetti sauce - it's fast and easy!
I use a package that is 1.25 pounds of ground turkey and we like the 7% fat variety. If you use a higher fat content (such as the 15%), you may need to drain some of the oil from the browned turkey before adding in your sauce. Alternatively, you could sub ground beef or a mix of ground meats. Just don't leave too much grease in the pan; it'll weigh down your sauce.

Make ahead: You can certainly make the spaghetti sauce ahead of time and can even cook the turkey ahead. Then just warm the meat and sauce mixture up in a saute pan while you're cooking your spaghetti noodles. And then this is ready in 15 minutes (boiling water + cooking noodles time). Ta-da!
Nutrition Information:
Yield:
4
Serving Size:
1
Amount Per Serving:
Calories:

665
Total Fat:

28g
Saturated Fat:

7g
Trans Fat:

0g
Unsaturated Fat:

17g
Cholesterol:

129mg
Sodium:

1855mg
Carbohydrates:

64g
Fiber:

12g
Sugar:

20g
Protein:

41g