These easy spicy pork burgers have a hint of heat and a cool, refreshing mango salsa to pile up on top. These flavorful burgers are great summer fare for dinner or cookouts!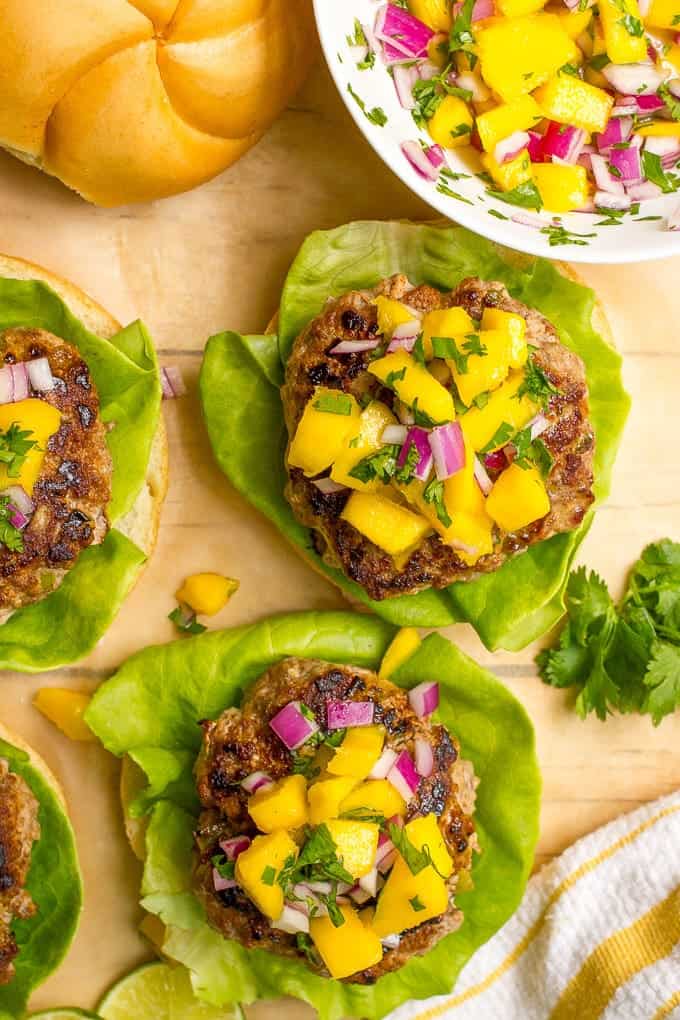 Anyone else been into trying ALL different kinds of burgers this summer?
Confession time again: I don't do ground beef burgers. Haven't had one in years.
It's nothing against the burger. Who doesn't love a burger?
I eat a veggie burger almost daily for lunch (here are my simplified veggie burgers that are a cinch to put together), and I adore a good black bean burger, turkey burger and of course, my cheddar chicken burgers with all those little cubes of cheese in the mix!
Just not so much on the beef burger.
Pork burgers, though, that's absolutely on my approved list 😉
And I've been crushing on these slightly spicy pork burgers with an easy mango salsa all summer.
They have such a great depth of flavor and an earthy note from all the spices, as well as a hint of spiciness from the jalapeño peppers, contrasted by the bright lime juice and the refreshing, sweet mango salsa on top -- all of which makes the balance of these burgers completely on point. 👌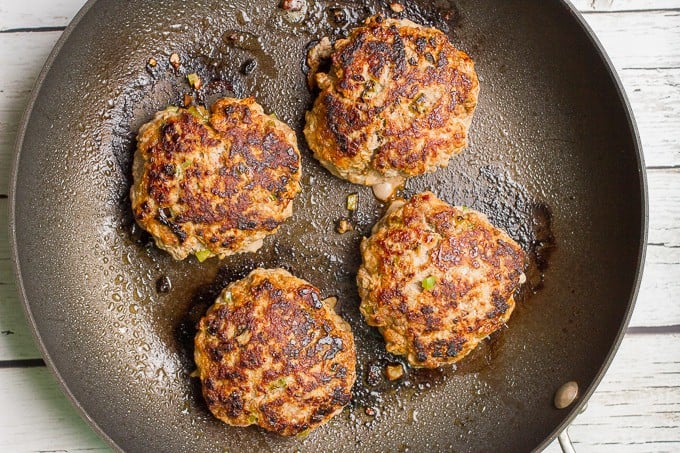 Surprisingly, even M loved these burgers. She didn't even complain about them being too spicy for her mouth like she did with the spicy pork fried rice!
J mostly picked at the bun - he's still not great with a sandwich/burger concept and eating it all together instead of peeling all the pieces apart. Toddlers are funny that way.
Hubby and I have gobbled them down though. Several times.
(Psst, before I forget, did you see my new logo up at the top there?! What do you think? I'm so excited to have a more polished look here at Family Food on the Table!)
A few notes on these pork burgers:
The recipe below makes 6 large burgers. You can double the recipe if needed to feed a crowd. You could also use the recipe as stated and make 9-10 smaller size sliders for a party. (You could also halve the recipe, but I just keep the extras and freeze them!)

Yes, these burgers do freeze well. It's probably best to freeze the patties uncooked, but I always cook them off first so it's one less thing to do the next time. To rewarm a cooked burger, I usually defrost them in the fridge overnight, warm briefly in the microwave to take the chill off and then sear quickly in the pan or broil for a minute so it still has a crispy edge but doesn't get overcooked.
I generally cook these burgers in a skillet but you can also fire up the grill if you prefer.
Serve these on your favorite buns (my kids and hubby go this route) or wrap it up in a lettuce wrap - that's how I generally eat my burgers. 😉
I hope you have a wonderful weekend - and I hope it includes some burgers!
And if you want something to go with these burgers, there's cheddar, corn and bacon potato salad or my healthier 7 layer salad. And it would be great with my creamy BLT pasta salad that I shared as a guest post over on the blog I Wash, You Dry today.
Enjoy!
Yield: 6 big burgers
Spicy pork burgers with mango salsa
Easy pork burgers with a hint of spice and a cool, refreshing mango salsa!
Ingredients
For the pork burgers:
2 lbs. ground pork
2 medium jalapeno peppers, seeds and membranes removed, minced
1 small shallot, minced
2 cloves garlic, minced
1 tablespoon brown sugar
1 tablespoon fresh lime juice
1 tablespoon low-sodium soy sauce
1 ½ teaspoons ground allspice
1 teaspoon kosher salt (less if using regular soy sauce)
½ teaspoon dried thyme
½ teaspoon red pepper flakes
½ teaspoon ground cinnamon
2 teaspoons olive oil (or canola oil), for cooking
For the mango salsa:
1 large mango, peeled and roughly chopped
¼ cup finely chopped red onion
2 tablespoons fresh lime juice
2 tablespoons chopped fresh cilantro
½ teaspoon kosher salt
For serving:
Burger buns, lettuce, tomato, red onion slices, etc.
Instructions
Make the burgers: Combine all burger ingredients, except for the olive oil, in a large bowl. Be careful not to overmix. (I use a fork to get it started and then use my hands to get all the ingredients well combined.)

Form 6 equal-size burger patties, each about 1 inch thick.

Heat a large skillet over medium high heat. Add the olive oil and heat.

Cook burgers over medium high heat 5-6 minutes per side, until browned and cooked through. (See notes.)

Meanwhile, make the salsa. Combine mango and remaining ingredients in a small bowl and mix well. Taste and adjust seasoning.

Serve with buns, mango salsa and other desired burger toppings.
Notes
You don't want to overcrowd your pan when cooking the burgers, so use two skillets or cook in two batches if needed. If you do cook in two batches, make sure to wipe out the pan (carefully) before the second batch so any browned bits don't get burned on to your burgers.

You can also cook these on the grill, if you prefer.

Extra burgers can be frozen (raw or cooked) for up to 3 months.
Nutrition Information:
Yield:
6
Serving Size:
1
Amount Per Serving:
Calories:

556
Total Fat:

34g
Saturated Fat:

12g
Trans Fat:

0g
Unsaturated Fat:

19g
Cholesterol:

142mg
Sodium:

770mg
Carbohydrates:

21g
Fiber:

3g
Sugar:

13g
Protein:

41g