A (slightly) healthier 7 layer salad with mixed lettuces, frozen peas and a killer creamy dressing (plus cheese and bacon of course!)

Do y'all already know the goodness that is the 7 layer salad?
It's a classic and something I grew up with.
Funny, though, I didn't really like it as a kid. It was my brother's favorite (maybe that's why I didn't like it - ha!) and one of the few ways he would eat some veggies.
But I've made some swaps to healthify my mom's recipe a bit and wow, is it ever addictive!!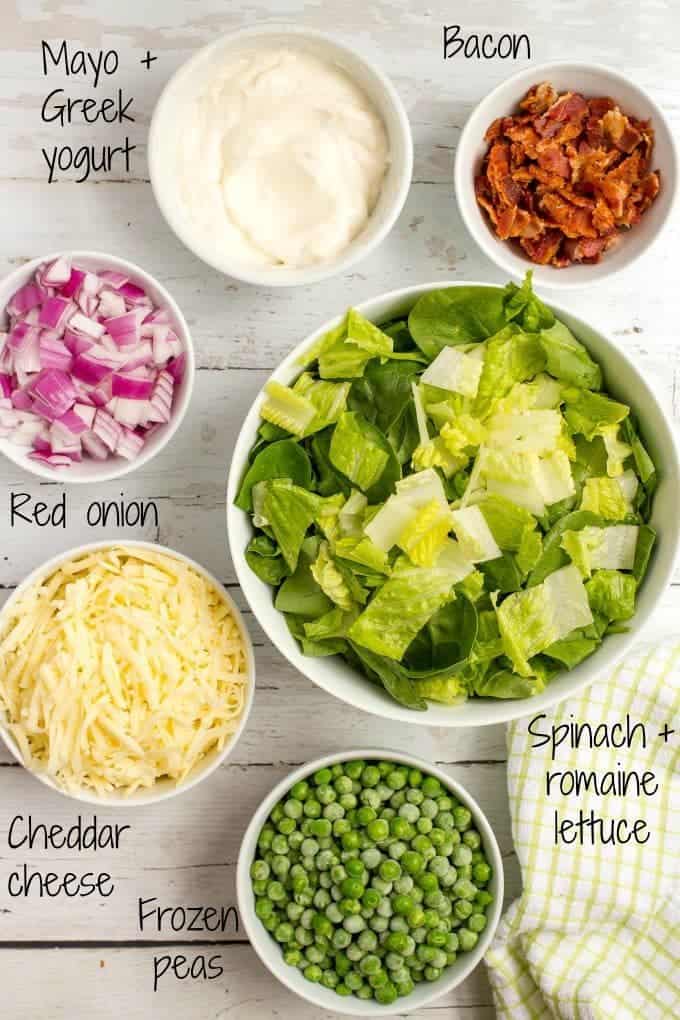 Here's what I changed:
My mom's original recipe used iceberg lettuce. Zero nutrition there, so I subbed half romaine and half spinach for some crunch and some leafy green goodness.

I used half mayonnaise and half Greek yogurt. (Low-fat and non-fat, respectively.) It's every bit as creamy but with some added flavor and protein.
I reduced the amount of cheese. You won't notice.
I used cooked real bacon instead of the jarred bacon bits my mom used back when we were kids. You could also use turkey bacon if that's your style. (Or see the bottom of this post for my other swap.)
It's super easy to make, too. You just cook the bacon, prep your other ingredients and then layer it on up in a big ole bowl.
And I promise you, this healthier version doesn't taste one bit lightened up. It's super creamy, super rich and absolutely loaded up with flavor. And texture. Oh, that crunch! I can't get enough!
Plus, it's such a show stopper. I mean, who wouldn't be proud to share this with friends and family?
You can absolutely make this 7 layer salad ahead of time, too. It kept for me in the fridge for 4 days before we finished it off. The "dressing" is so thick that it just sits up on top and all the layers stay separate and crunchy and fresh.
Which makes it perfect for taking to picnics and BBQ parties all summer long!
If you don't have a proper glass serving bowl, here are a few on Amazon that would be beautiful for this salad: a basic wide salad bowl, one with a wavy pretty edge and a Sur la Table large trifle bowl.
I only had a smaller trifle bowl, as seen here, but I had enough to make 3 mason jar salads for lunches for the week. Husband was super happy to have these to take to work.
Just dump the whole salad from the jar onto a plate or bowl and devour!
I loved being able to introduce my kiddos to this 7 layer salad, too! M (age 5) loved it - couldn't scoop it up fast enough. J (2 ½), who is normally my pea lover, was just so-so on it -- mostly picked out the bacon.😂 Will definitely keep trying.
And yes, I know, we Southerners have a weird habit of adding sugar to our vegetables (exhibit A: marinated veggie salad). I promise, it's a good idea. A spoonful of sugar helps the medicine go down, right?!
And for those of you looking to really change this up, you can absolutely substitute some rotisserie or grilled chicken for the bacon. It's not the same, and not the classic version, but still delicious and my preferred way to eat it - makes a whole meal!
Hope you make this for your July 4th weekend or any upcoming summertime gathering with friends and family. They will love you for it!
Have a safe and fun holiday friends!
XO,
Kathryn
Yield: 8-10 servings
Healthier 7 layer salad
A (slightly) healthier 7 layer salad, the classic Southern side dish!
Ingredients
1 medium head of romaine, ends trimmed and leaves chopped
2 big handfuls of fresh spinach or baby spinach
1 red onion, chopped
1 10-oz bag frozen peas, slightly thawed
½ cup mayonnaise (I use low-fat)
½ cup plain Greek yogurt (I use non-fat)
1 ½ tablespoons granulated sugar
6 oz. shredded cheddar cheese
5-6 slices bacon, cooked and crumbled
salt and pepper to taste
Instructions
To prep: Fry your bacon (in a large skillet over medium heat until browned and crisp on both sides), wash and chop your romaine lettuce and shred your cheese.

Add the romaine and spinach to the bottom of your bowl and season lightly with salt and pepper.

Top with red onion, then peas. Season lightly with salt and pepper.

In a separate small bowl, mix together the mayonnaise and Greek yogurt and sugar until well combined. Spread over the peas and season lightly with salt and pepper.

Top with cheddar cheese and bacon.

Serve or cover and keep in the refrigerator.
Nutrition Information:
Yield:
8
Serving Size:
1
Amount Per Serving:
Calories:

288
Total Fat:

21g
Saturated Fat:

7g
Trans Fat:

0g
Unsaturated Fat:

13g
Cholesterol:

36mg
Sodium:

460mg
Carbohydrates:

13g
Fiber:

4g
Sugar:

6g
Protein:

13g
Disclaimer: This post contains affiliate links. If you purchase a product through an affiliate link, your cost will be the same but I receive a small commission. Your support is greatly appreciated!