An easy summer salad with cucumbers, blueberries, pecans and feta cheese, topped with a delicious balsamic blueberry vinaigrette!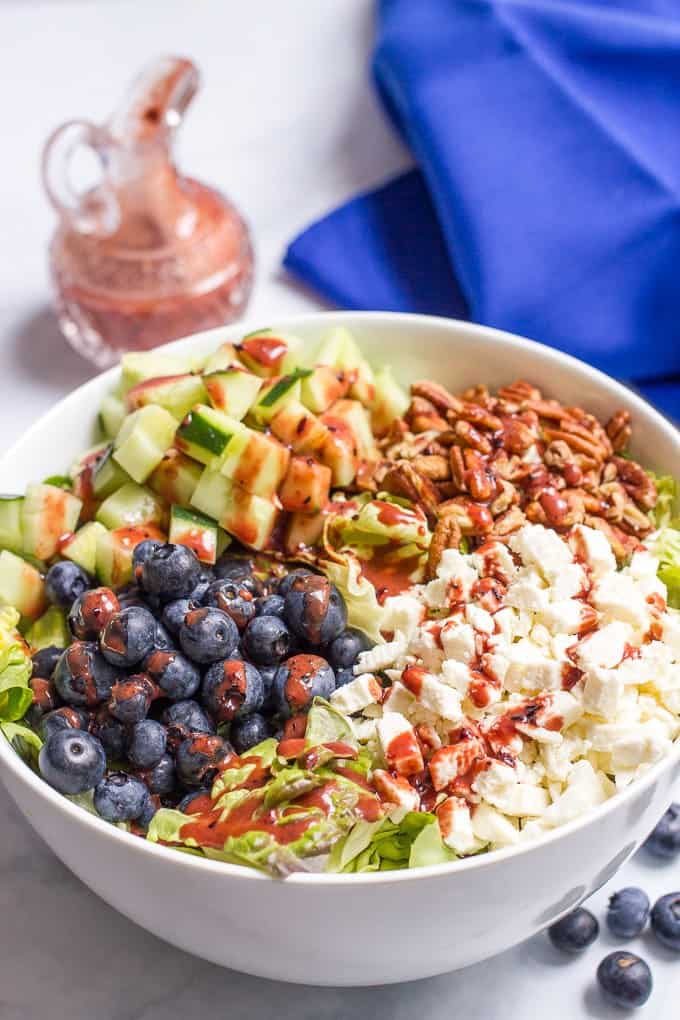 I hope you guys are having a great week!
Hubby and I went to a baseball game last night, which is a favorite summer treat - feels so all American 😉 Our new stadium uptown is right in the middle of the city and the view is pretty sweet, which just adds to the experience. It wasn't a particularly good game, but that was kinda beside the point, you know?
But on to the food...
If you've seen my spring-time favorite arugula salad with strawberries, pistachios and goat cheese, then you know I love a salad with in-season fruits.
(I even have a whole category of healthy summer salads - I'm obsessed!)
And because I've also been blueberry obsessed the last couple of months (see my healthy blueberry cake and whole wheat blueberry waffles just to name a few), I had to put blueberries on my easy summer salad. 👌
But not just in the salad. All over the top, too. 💙💙💙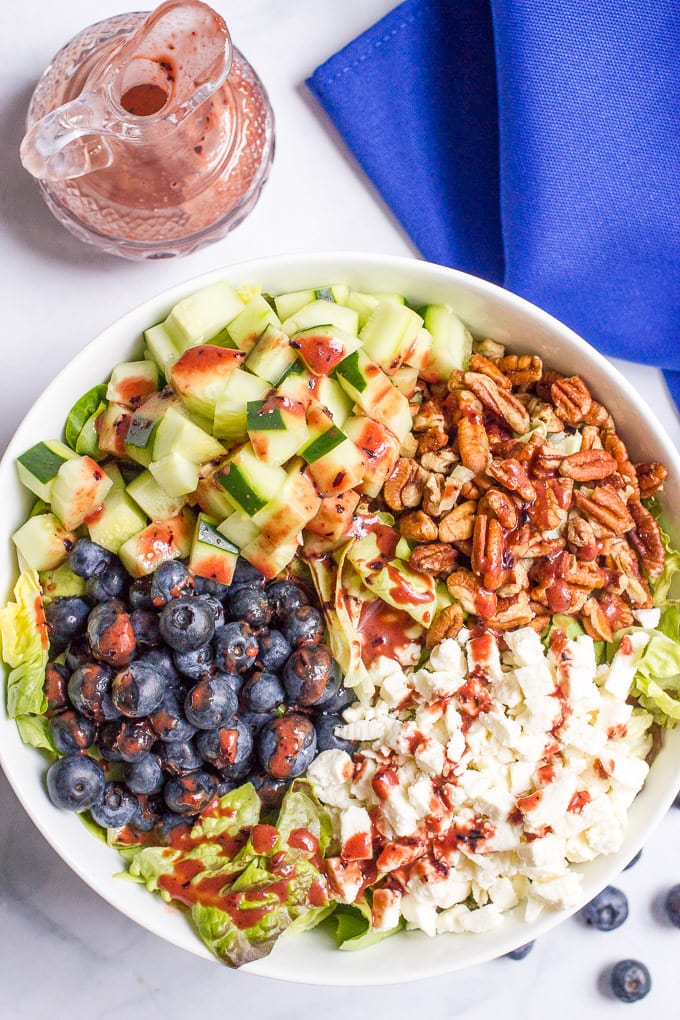 My balsamic blueberry vinaigrette is the star salad dressing here today and wow, does it really tie everything together!
This salad is just exploding with flavors and textures, all perfectly balanced.
We've got the soft but crunchy butter lettuce, crisp cucumbers, sweet fresh blueberries, rich pecans and salty feta cheese crumbles.
And that bright, tangy blueberry vinaigrette drizzled all over the place.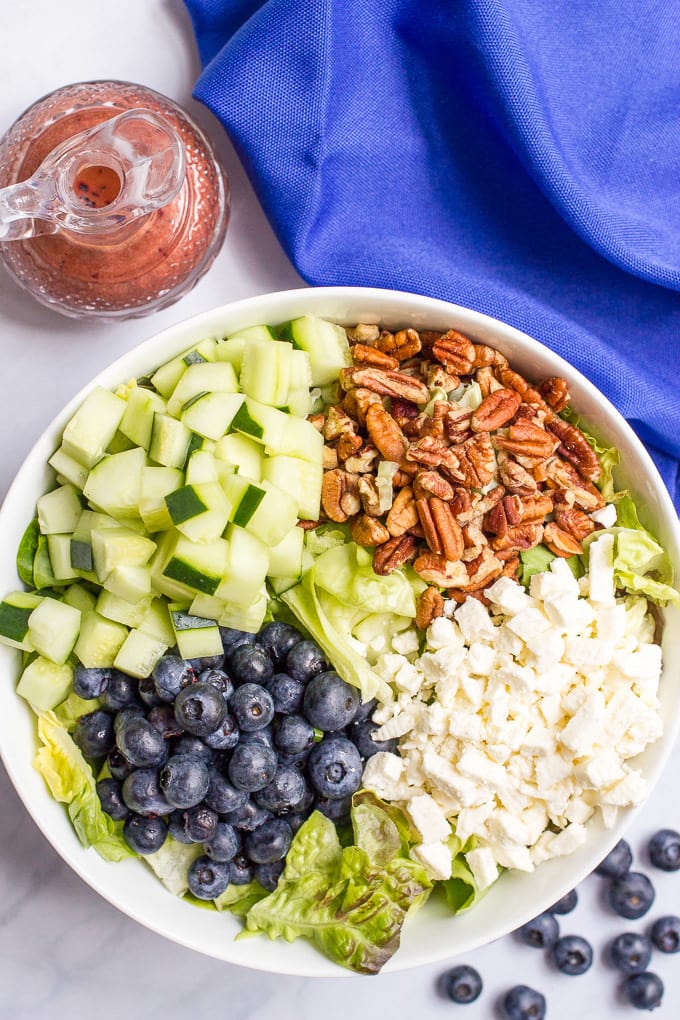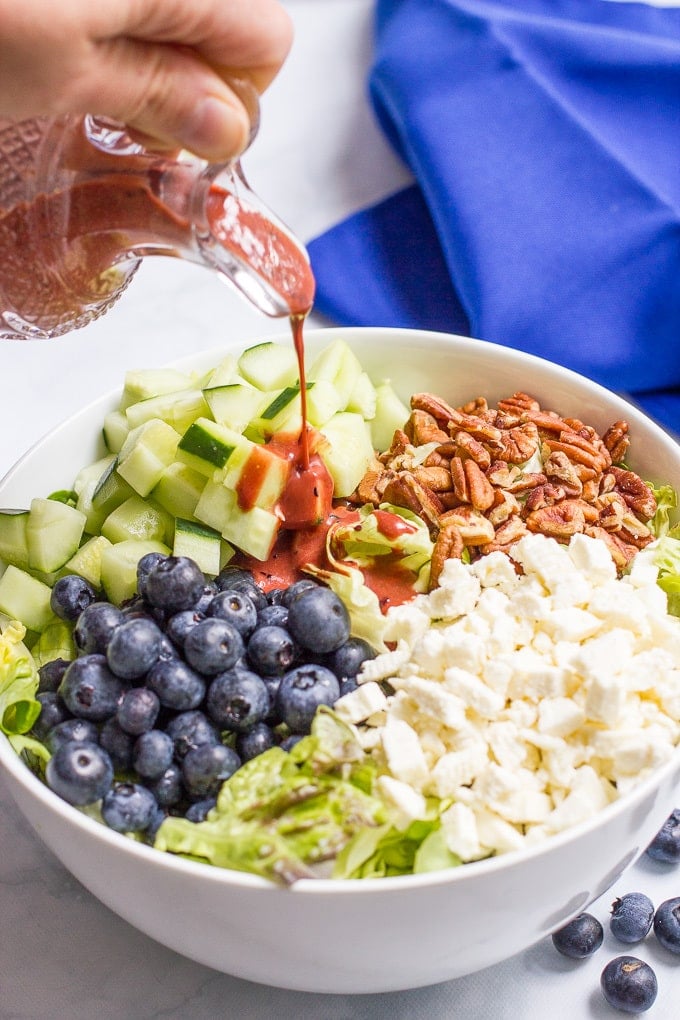 It's definitely one of those salads where you will work really hard to get a little bit of everything onto your fork so you can enjoy it all together in each bite.
(Oh, and if you're wondering about my stripey cucumber, I just use the peeler to do strips all around to leave a little green on there. It's pretty and tasty, too!)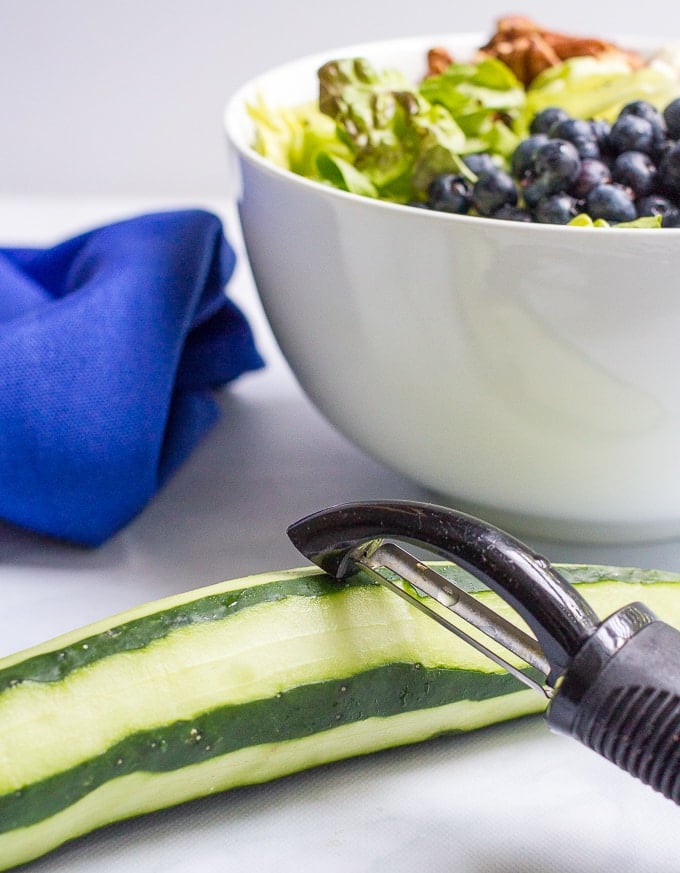 You could serve this with anything coming off the grill - burgers, chicken, fish, pork, steak, kabobs - and you could even slice up some grilled chicken to put on top of this salad if you want to make a meal of it.
Quick notes about this easy summer salad:
It makes enough for 2-3 servings. It's an easy one to double though if you're serving more people.

You won't need the full amount of the balsamic blueberry vinaigrette if you're just making this for 2-3 people. I'd make the full dressing recipe anyway, though, because it's good drizzled on, oh, EVERYTHING!
As mentioned, I like to leave a little peel on my cucumbers. I also like to take out some of the inner seeds after I've cut it. You could substitute a hot house or seedless cucumber if you prefer.
I like pecans here, but you can substitute walnuts or your favorite nut.
You also can substitute crumbled goat cheese for the feta if you prefer.
Cheers to all the fresh fruits and veggies of summer (particularly the blueberries) and to recipes that don't require cooking in the heat 😉
Enjoy!
Yield: 2-3 servings
Easy summer salad with blueberries
An easy summer salad with cucumbers, blueberries, pecans and feta cheese!
Ingredients
1 (5-6 oz.) bag butter lettuce
1 medium cucumber, peeled and diced
⅓ cup fresh blueberries
⅓ cup chopped pecans
⅓ cup crumbled feta cheese
Instructions
Add the lettuce, cucumber, blueberries, pecans and feta cheese to a large bowl.

Drizzle with vinaigrette, toss and serve immediately.
Nutrition Information:
Yield:
2
Serving Size:
1
Amount Per Serving:
Calories:

279
Total Fat:

22g
Saturated Fat:

5g
Trans Fat:

0g
Unsaturated Fat:

15g
Cholesterol:

22mg
Sodium:

383mg
Carbohydrates:

17g
Fiber:

4g
Sugar:

11g
Protein:

7g