Check out these 17 ideas for healthy pool dinners (or lunches) that are easy and portable and perfect for summer evenings! Everything from pasta salads to sliders to sandwiches and wraps to snack boards, plus tons of recipes to try. You'll be set for a delicious summer of fun!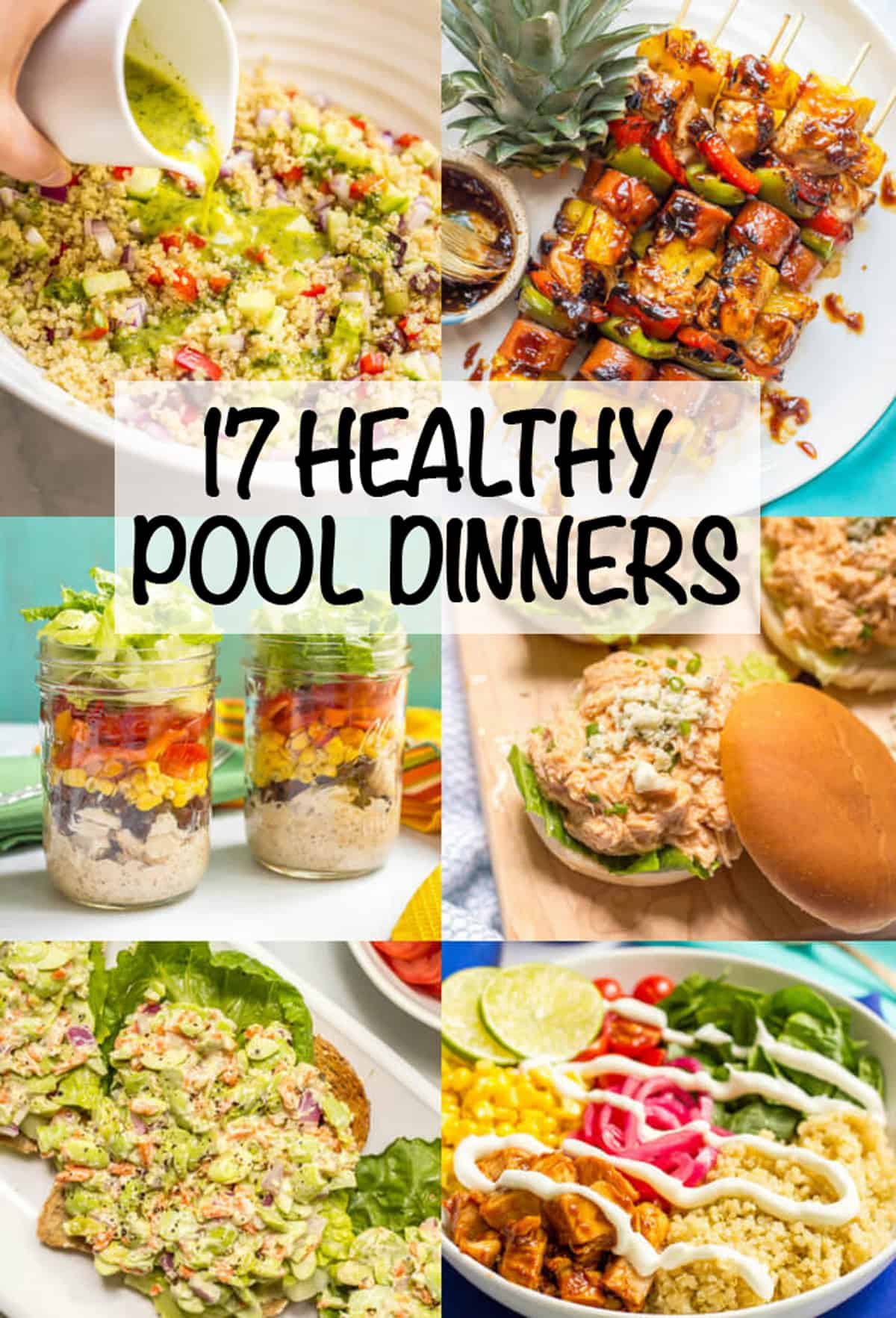 Today I'm celebrating the end of school, the start of summer and the long afternoons spent at the pool that are stretched out before me. ☀️🏊‍♀️💦
And this year, I'm gonna be prepared with some healthy pool dinners I can pack for us.
Cause you know how I feel about homemade food. (ALL the feels, in case you are new to this blog and didn't know!) I'm not big on the concession stand and I want to pack us up something delicious to take with instead.
So I created this list and round-up of recipes for some easy, make-ahead and portable healthy pool dinners we can pack and take to the pool with us.
They don't require reheating and they are complete lunches or dinners that will fill you up without weighing you down. We are eating in our bathing suits after all! 👙
So without further ado, I bring you my list of ideas and below that you'll find links to some specific recipes that would be great for eating at the pool. And of course, these are also all appropriate for packing up to take as beach dinners or for eating at the park.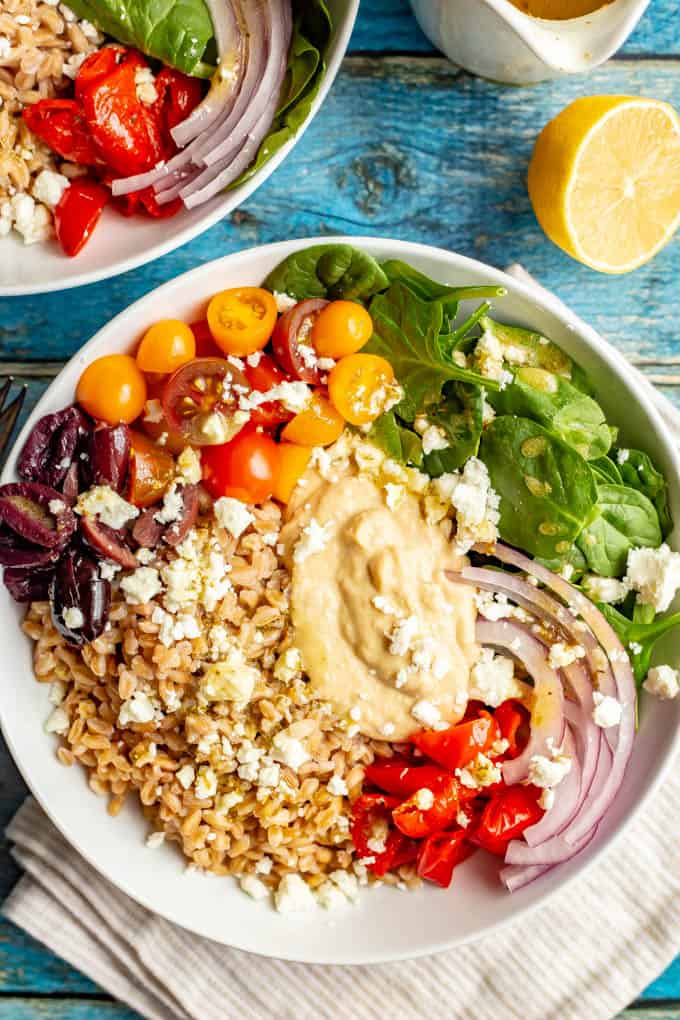 (And if you're all in the summer vibes like me, also check out these 10 easy no-recipe summer dinner ideas for easy dinners you can just throw together last minute any night.)
17 Ideas for Healthy Pool Dinners:
Grain bowls — quinoa/farro/barley with chicken/beans/tofu and veggies and a dressing or sauce packed separately for topping the grain bowls
Grilled chicken for serving on burger buns or sliders or in wraps with your favorite toppings
Chopped (lettuce) salad — chicken or vegetarian, dressing on the side
Pasta salad — such as a BLT pasta salad, chicken orzo salad, Caprese pasta salad, tortellini salad, etc.
Quinoa salad — Mediterranean, Asian, Italian style, etc.
Chicken salad for sandwiches, wraps or as a salad with some leafy lettuce (or make tuna salad or egg salad)
Roasted veggie or chicken/turkey/ham wraps or roll-ups
Make-ahead baked sliders — such as buffalo chicken, pesto chicken, ham and cheese, etc.
Snack board dinner — hummus or dips with crackers, cheese, rotisserie chicken or deli/cured meats, chopped veggies, nuts, dried fruit, etc.
Chicken and veggie plate with Ranch or other dressings for dipping (can add a loaf of bakery bread for a carb on the side)
Mason jar salads — your salad ingredients layered in a mason jar for easy transport
Spring rolls or egg rolls with a sauce for dipping (or make the mix and bring mini phyllo shells to stuff and snack on all night)
Cold taco salad served with tortilla chips or scooper chips like Fritos
Cold grilled cheese or panini sandwiches, with chips or pretzels and crudités and dip
Quiche - works great at room temperature
Kabobs - make ahead and serve cold with ketchup or a dip (and don't forget fruit kabobs for a fun dessert!)
Finally, if you have a thermos to keep food warm, you could also pack some mac and cheese, chili or keep taco meat warm to serve with chips or flour tortillas
So there you have it! Tons of ideas to last you through the summer.
And if you want to check out some specific recipes for these ideas, I've got you covered.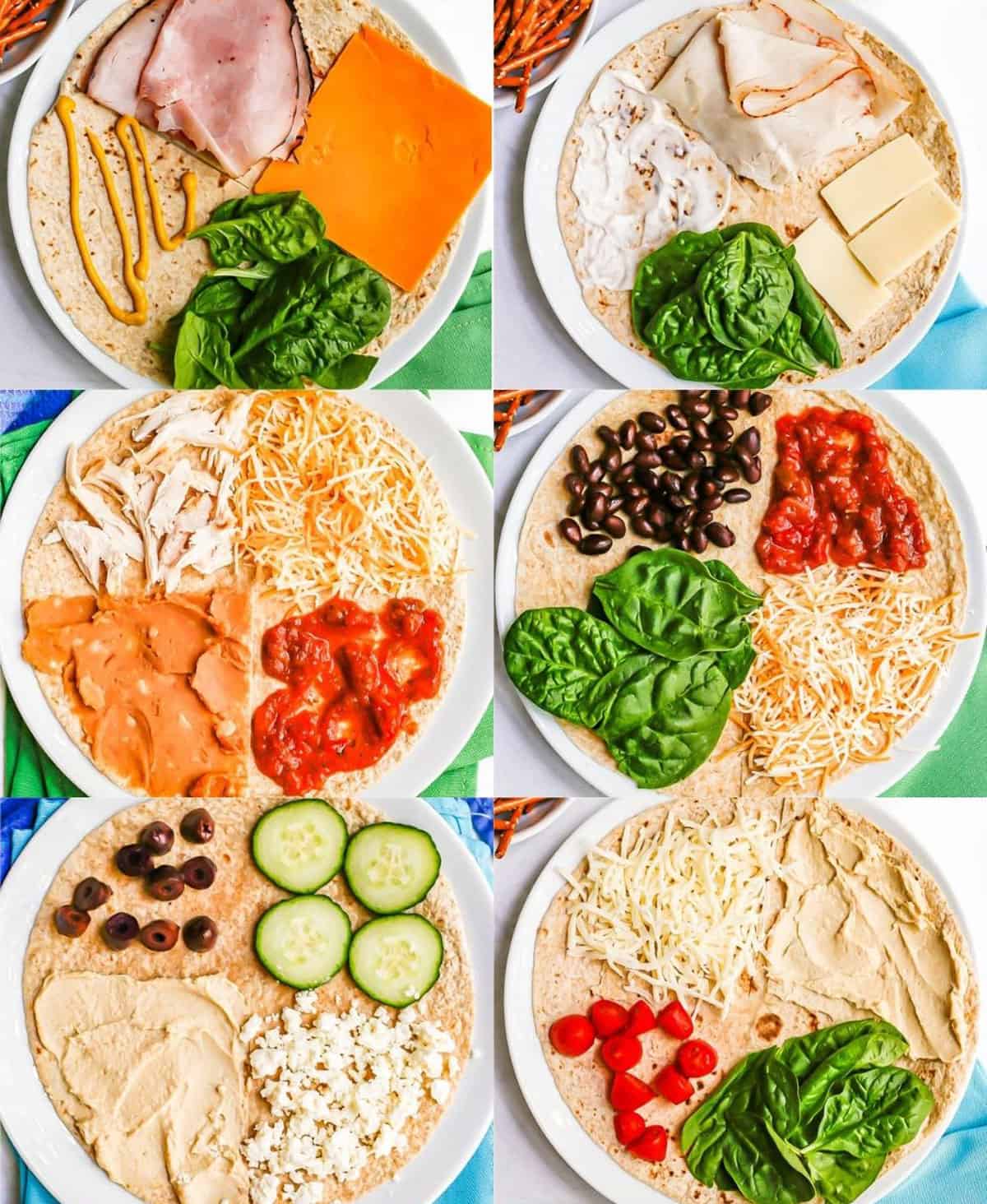 Recipes to Try
WRAPS & SLIDERS
BOWLS
GRAIN/PASTA SALADS
SALADS
And of course, don't forget to pack plenty of water, sunscreen and snacks.
I hope you have an amazing summer!
XO,
Kathryn
P.S. You may also want to check out my chicken recipes in under 15 minutes if you're heading home from the pool and want to make a super fast dinner!