Spicy chicken patties are a really simple, easy recipe and can be used for wraps, salads, sliders, with a sauce or alongside some eggs with breakfast. Paleo, gluten-free and whole 30-approved, these patties will become a new favorite!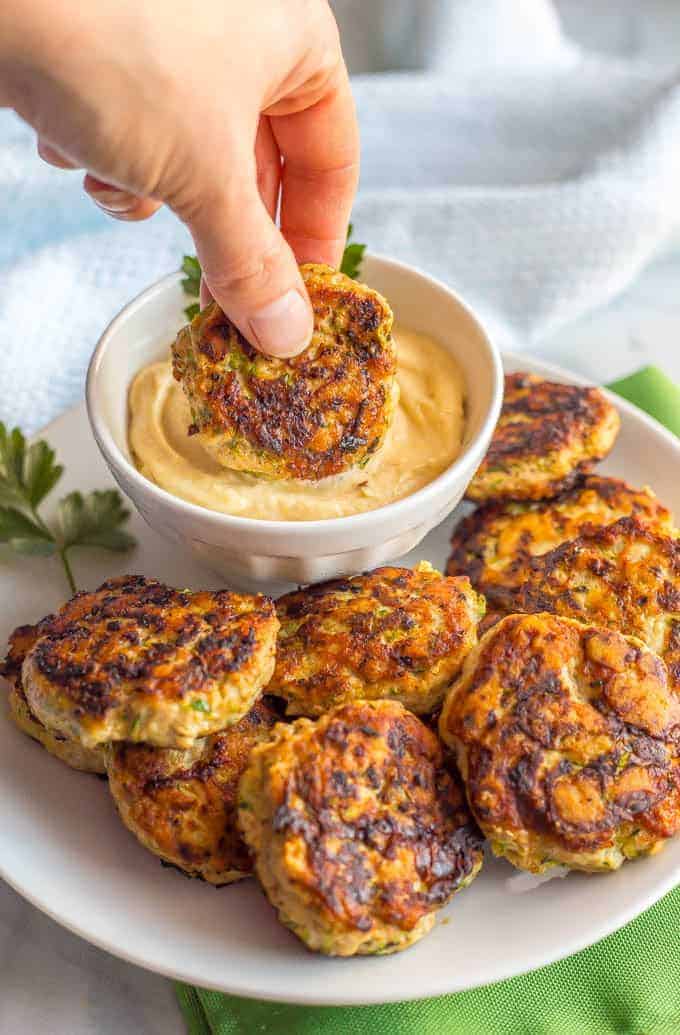 I'm freshly back from Costa Rica and wow, you guys…
We had a seriously amazing time. My husband and I were celebrating our 10-year anniversary and just loved every minute!
We had some beach time, rode ATVs and did an amazing canopy zip line tour followed by a waterfall hike, traveled inland to the Arenal Volcano area (and hiked to the volcano), horseback riding through the rainforest, hot springs and so much more.
It was a quick trip but we packed so much in, it felt luxuriously long! 💕
We got back late last night and while I'm not exactly ready to dive into work this week, I'm putting on my big girl underwear and pushing through… so on we go!
Today's recipe for these spicy chicken patties is for all of you who are doing a paleo, gluten-free or whole 30 diet this year.
I am not one of you, but I did briefly consider doing whole 30 this January. A friend was doing it and I knew I'd have the support.
But I also knew I'd have the Costa Rica trip in the middle of it. So that seemed like a terrible idea. 😂
But I have made some tweaks this month and gotten back to my cleaner eating ways after the holidays.
And I wanted to share with you one of my easy favorites that is super versatile.
These spicy chicken patties are based on my 5-ingredient zucchini turkey burgers and are an easy addition to a paleo lunch, part of a gluten-free dinner and even a fun whole30 breakfast. (See below for ALL the ways you can serve them. 😊)
They are just ground chicken, zucchini and some spices — no bread/flour or egg needed — and they come out so juicy and flavorful!
And just to note, these are just a tad bit spicy. It's a subtle heat at the end that gives them a lovely little kick. 🌶
You can adjust the amount of cayenne to suit your tastes or leave it out altogether.
(If I'm making these for the kids, I skip the cayenne and just serve mine with hot sauce or sriracha sauce. Love the spicy!)
Ways to serve these spicy chicken patties:
You can serve these with your favorite dip: honey mustard, a creamy Dijon and Greek yogurt mix, BBQ sauce, hummus or Ranch dressing.
These patties are also great for lettuce wraps, regular wraps and in pita pockets.
You can serve these as sliders and add your favorite toppings: cheese, lettuce and tomato, ketchup, pickles, etc.
They also make a great protein option atop a grain bowl.
These salads also go great over a salad as a lunch or dinnertime protein.
They work great with breakfast too! I love these spicy chicken patties as a healthier alternative to sausage patties, with some scrambled eggs and veggies in the morning.
(The patties above are on a bowl of my massaged winter kale salad with pomegranates, feta and walnuts. Hello lunch! 😍)
I hope you give these paleo spicy chicken patties a try! They are sure to help keep your meals interesting, which is the best way to stick to any healthy eating plan.
Happy cooking!
XO,
Kathryn
P.S. Check out my new VIDEO and watch me make this recipe!
Yield: 10-12 patties
Spicy chicken patties
Spicy chicken patties are a really simple, easy recipe and can be used for wraps, salads, sliders, with a sauce or alongside some eggs with breakfast.
Ingredients
1 lb. lean ground chicken (I use 90% lean)
1 medium zucchini, grated and squeezed well of excess moisture (should be about 1/2 cup after squeezed out)
1 clove garlic, minced
3/4 teaspoon kosher salt
1/2 teaspoon black pepper
1/4 teaspoon onion powder
1/4 teaspoon cayenne pepper (optional; see notes)
1 1/2 tablespoons canola oil or coconut oil
Instructions
Combine all ingredients (except oil) and stir until just combined. The mixture will be wet.
Form into small patties, about 1 1/2 inches wide, and place on a plate. It should be about 1/4 cup of the mixture for each patty.
Heat oil in a large skillet over medium-high heat.
Add patties, working in batches if necessary, and cook over medium-high heat for 5-6 minutes, then flip and finish cooking, another 4-5 minutes, until chicken is cooked through. Add extra oil or turn down heat if they are cooking too quickly or if you are doing more than 1 batch.
Serve and enjoy!
Notes
I use ground chicken but you could substitute ground turkey if you prefer.
I use the small size of my grater to grate the zucchini so the spreads are fairly small and get well incorporated into the patty mix.
These are just a tad bit spicy, with a subtle heat at the end. You can adjust the amount of cayenne to suit your tastes or leave it out altogether.
Ways to serve these chicken patties: with a dip (BBQ sauce, honey mustard, hummus, Ranch, etc.), in a lettuce or regular wrap or pita pockets, as sliders with toppings, on a salad or with eggs for breakfast.
Recommended Products
As an Amazon Associate and member of other affiliate programs, I earn from qualifying purchases.
Nutrition Information:
Yield:
12
Serving Size:
1 patty
Amount Per Serving:
Calories:

88
Total Fat:

6g
Saturated Fat:

1g
Cholesterol:

39mg
Sodium:

157mg
Fiber:

0g
Sugar:

1g
Protein:

8g