Vegetarian Greek grain bowls are loaded with wholesome grains and veggies and topped with an easy red wine vinaigrette for a beautiful and delicious lunch or light dinner!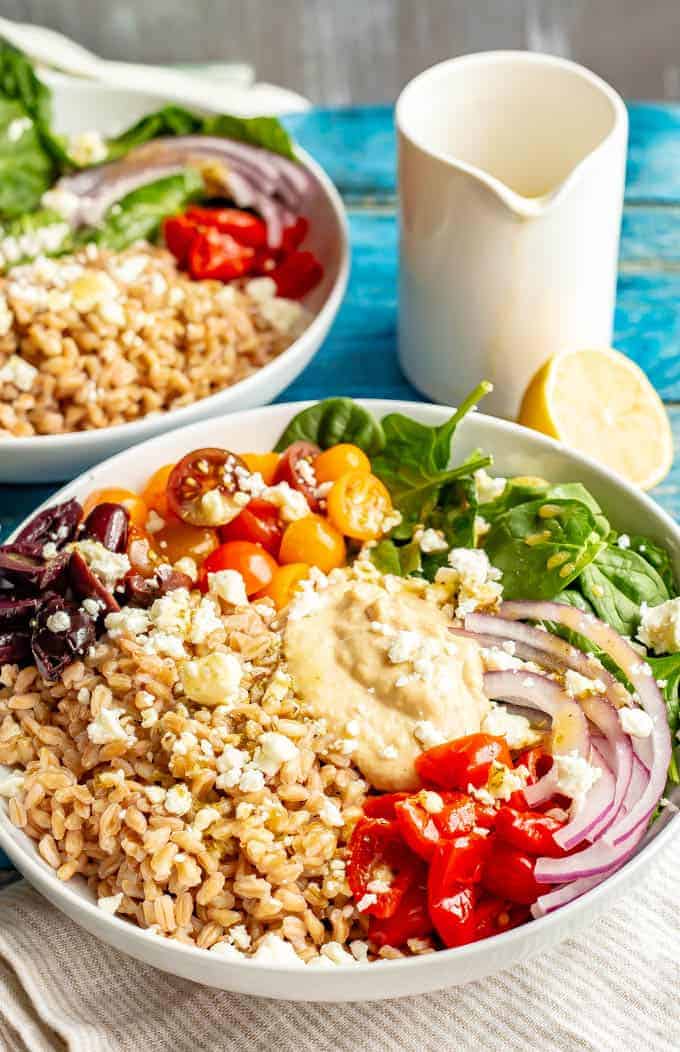 Happy New Year!
Did you ring in 2019 with a bang? With a fun cocktail? With friends and family?
We were very low-key, as we tend to be on New Year's Eve. We watched a movie with the kids, gave them an apple cider "toast" before bed and used some poppers to make it festive.
My husband and I did manage to make it to midnight, so that was a win! 😂
And we made New Years Day a super chill one, staying in our PJs most of the day, reading, watching movies and just enjoying some down time. ❤️
And now, we're back in the work and school groove – or trying to get there. So I'm back to bringing you some new healthy, delicious recipes!
I'm a tad bit obsessed with today's recipe, which is why I picked it as the first one of the year! Let's start off with a bang!
These vegetarian Greek grain bowls are so freaking delicious!
Y'all know I'm a tad bit obsessed with these flavors, right?
(Check out my Mediterranean quinoa salad, Mediterranean chopped salad and my crock pot Mediterranean chicken.)
And now we're taking some of those favorite ingredients, favorite flavors, favorite textures and making a gorgeous grain bowl!
These Greek bowls start with a layer of farro (read on for substitutions) and get loaded up with fresh tomatoes, chopped fresh spinach, sliced red onions, sweet peppers, briny olives, crumbly feta cheese and a drizzle of red wine vinaigrette.
And if you've got it, a dollop of hummus as well.
Swoon! 😍
(I've also got other protein topping options below if you want to sub out the hummus.)
Basically, these Mediterranean-style grain bowls are a flavor explosion in your mouth with all kinds of textures, colors and contrasts to make your mouth sing!
And to keep your fork diving in for more, more, more!
As if that wasn't enough, these grain bowls are also a great one to meal prep!
You can serve them with the farro warm, immediately, but they are equally as delicious the next day straight from the fridge.
I try to hold off on drizzling them with vinaigrette if I know I'm making some for another day's lunch, but even if you've already added the dressing, these bowls will stand up and hold for 2-3 days.
So basically, there's no reason NOT to immediately go make this!
(And if you are bowl-obsessed like I am, check out these bean and rice bowls. So colorful, tasty and fun!)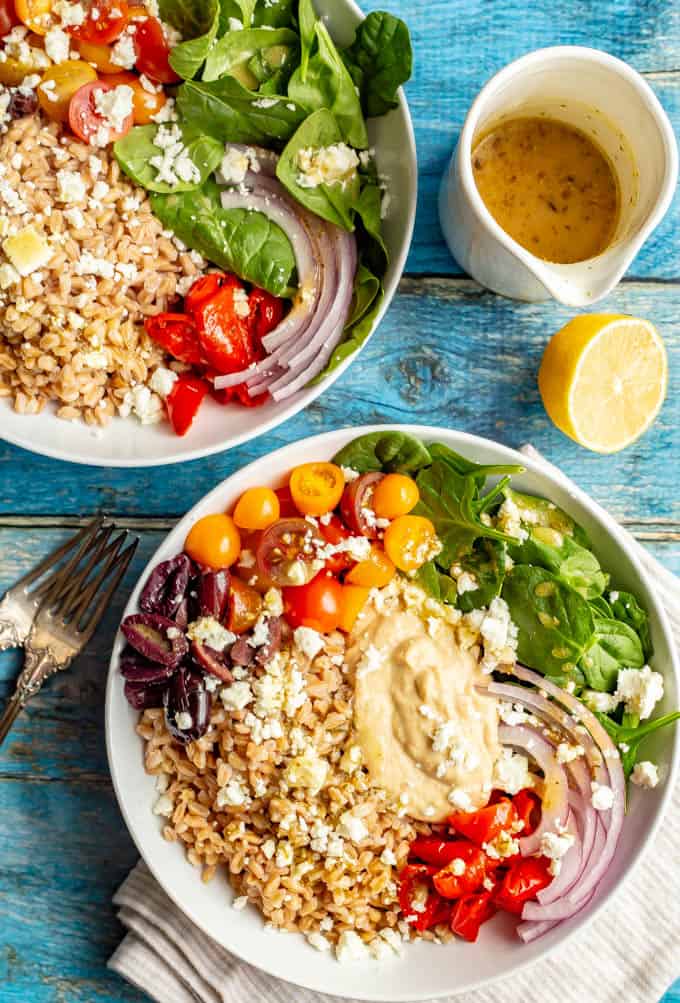 Now, I've got some notes, tips and substitutions coming up below on how to make these vegetarian grain bowls. Just tryin' to be helpful.
If you want to jump on down to the recipe, simply scroll right on through the rest of the text. The recipe card is near the bottom of the page, above the comments section.
Notes and substitutions for vegetarian Greek grain bowls:
I used a quick-cooking farro here — it's from Trader Joe's and ready in 10 minutes. Love the stuff.
You could use regular farro or substitute barley, quinoa or freekeh. Even orzo would be great here too. (And changing the base grain can make this recipe gluten-free.) You'll need about 1.5 cups raw of whatever grain/pasta you are using. Just make sure to cook your grain according to the package directions.
You can find peppadew peppers either in the olive bar section of the grocery store or canned.
Or you can substitute roasted red peppers or even a fresh red bell pepper for the peppadew peppers.
Feel free to add some cucumber slices to this. Adds a great fresh taste and crunch if you have some on hand.
The dressing below is super easy to shake up, but you could use a store-bought lemon or red wine vinaigrette if you prefer.
(Oh and if you're vegan, just skip the cheese. 👍)
Finally, I've included hummus as an optional topping in the recipe below.
I love the creaminess from the hummus and the boost of protein it adds.
However, you can skip that and use all sorts of other protein options for these bowls.
Make it your own!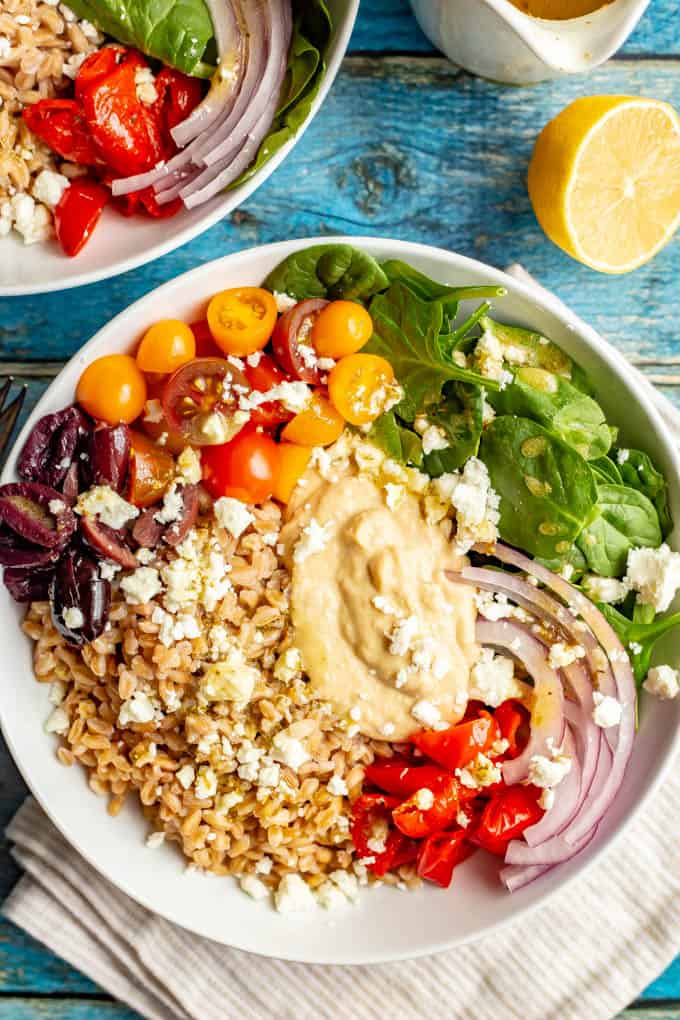 Protein add-ons for vegetarian grain bowls:
– Use chickpeas or cannellini beans for a vegetarian/vegan option. You could even use crispy Air Fryer chickpeas here for extra flavor and texture.
– Chopped rotisserie chicken or leftover grilled/baked chicken is an excellent add-on. I frequently do this for my husband.
– My spicy chicken patties would be great here too.
– Roasted or grilled salmon or shrimp would also be yummy on these bowls.
Or you can just leave off the protein altogether. The bowls are delicious even without it.
However you tweak it, however you serve it, I hope you give these loaded vegetarian Greek grain bowls a try.
I think you'll be obsessed right along with me!
Here's to 2019 my friends! Let's make it a delicious one!
XO,
Kathryn
P.S. Check out these other vegetarian favorites:
– Southwest vegetarian quinoa skillet
– Easy baked falafel (these would be great on top of these bowls too!)
– Quick and easy vegetarian curry
Yield: 4 servings
Vegetarian Greek grain bowls
Vegetarian Greek grain bowls are loaded with wholesome grains and veggies and topped with an easy red wine vinaigrette for a beautiful and delicious lunch or light dinner!

Prep Time 5 minutes

Cook Time 10 minutes

Total Time 15 minutes
Ingredients
1 (8.8 oz.) bag quick cook farro (see notes)
3 cups baby spinach
1 cup cherry tomatoes, halved
1/3 cup kalamata olives, pitted and halved
1/3 cup peppadew peppers, chopped
1/3 cup feta cheese, crumbled
1/3 cup red onion, cut into thin slices or diced
Optional: 1 cup hummus, divided
For the red wine vinaigrette:
1 tablespoon red wine vinegar
1 tablespoon fresh lemon juice (about 1/2 lemon)
3 tablespoons extra-virgin olive oil
1 teaspoon Dijon mustard
1/2 teaspoon dried oregano
Pinch of salt and pepper
Instructions
Cook farro according to package directions. Let cool slightly.
Meanwhile, prepare the remaining ingredients.
To make the vinaigrette, add all of the ingredients to a small jar or container with a lid. Cover and shake well to combine.
Divide farro and veggies among four bowls. Top each bowl with 1/4 cup hummus, if using. Drizzle with the vinaigrette and serve.
Notes
I used a quick-cooking farro here — it's from Trader Joe's and ready in 10 minutes. You could use regular farro or substitute freakeh, barley, quinoa or orzo. You'll need about 1.5 cups raw and just make sure to cook your grain according to the package directions.

You can find peppadew peppers either in the olive bar section of the grocery store or canned. Or you can substitute roasted red peppers or even a fresh red bell pepper for the peppadew peppers.

The dressing is super easy to shake up, but you could use a store-bought lemon or red wine vinaigrette if you prefer.

If you don't want to use the hummus but do want to add some protein, you could top these bowls with chickpeas or cannelini beans. (Or use chopped rotisserie chicken or roasted salmon or shrimp for a non-vegetarian option.)