These 10 easy summer dinner ideas offer inspiration to keep dinnertime simple and stress-free, no recipe needed. Also includes tons of specific ideas for browsing.
It's my kids' last week of school and we are ready for summertime! I can't believe it's here, this year flew by so quickly, but bring it on!
Speaking of summer, we're talking summer food and summer living today.
Previously I've shared these 17 healthy pool dinners that are perfect for packing up and taking to the pool. It helps extend our afternoons so I don't have to come home, shoo the kids into the shower, and then try and delve into making dinner.
Nope, I can just prep it ahead and pack it with us. (Our concession stand is not the greatest, so I prefer to take our food with us.)
If you're going for a picnic or a lake day or a hike this summer, that list will surely be helpful.
Today though, I'm taking a different approach to summer cooking with these easy no-recipe meals.
This is for the days when you want to pull together dinner quickly but don't know what to make and don't feel like a big production. Or exploring a new recipe.
Nope, just a list of easy ideas that are endlessly customizable and versatile, allowing you to use what you have on hand. And what your family will actually eat.
Oh, and if your family is like mine and seems to survive summer with all-day snacking, check out these 20+ healthy summer snacks. It's got both sweet and savory ideas.
OK, let's move along to our list for today.
Below are the 10 easy no-recipe summer dinner ideas, each one with suggestions and specific recipes to browse in case you want more guidance.
(Some days it can be freeing not to follow a recipe. Other days I'm like, "Just tell me exactly what to do so I don't have to think about it myself." Anyone else?)
And feel free to pin one of the collages or photos from this post so you can come back to this list and these ideas another time.
So without further ado…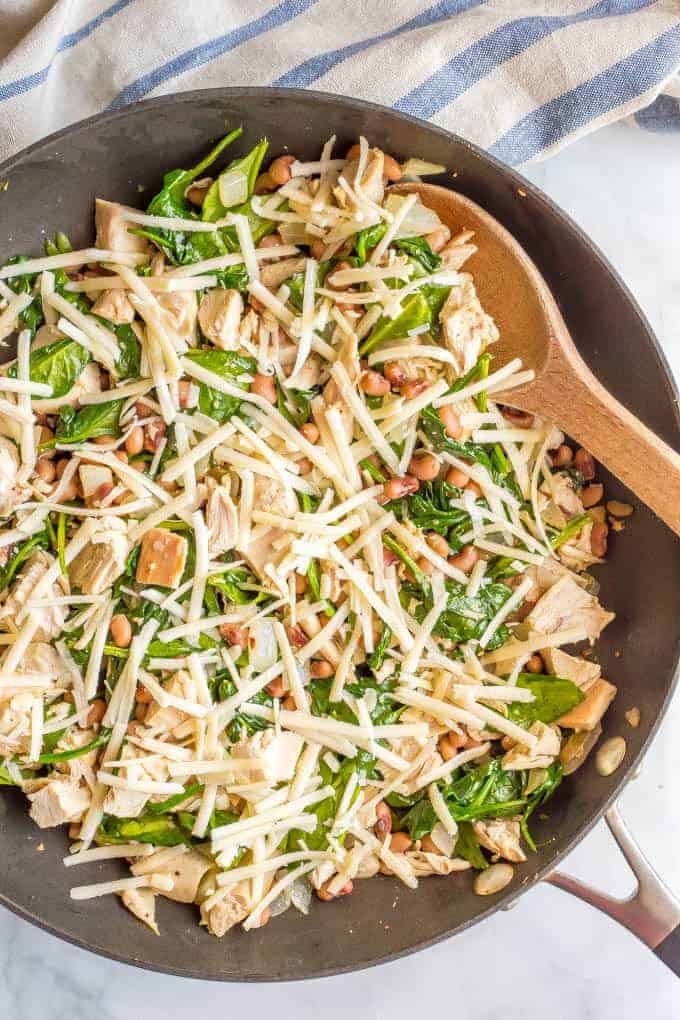 10 easy no-recipe summer dinner ideas
1. Chicken, Beans and Greens
We call this a "one pot wonder" in my family, and there are endless variations.
Just sauté some veggies and rotisserie chicken (with onion and garlic and any other veggies, such as zucchini, that you'd like to include), add in some canned beans (black, pinto, cannellini, etc.) and then wilt in some baby spinach. Season however you like and serve with any cheese or any toppings you desire.
Recipes: Our original family version of this is this leftover chicken with field peas and spinach. I also have made a turkey and white bean skillet with leftover Thanksgiving turkey. And of course you could do a southwest or Mexican style version as well. This southwest chicken skillet is along the same lines.
2. Snack Board Dinner
You can go as simple or as elaborate as you like.
Arrange some cheese and crackers, fresh veggies, nuts and fruit on a board. Add dips and snacks like hummus, chicken salad, veggie salads, chicken or veggie roll-ups, etc. Ta-da! A meal is made.
If you want to spruce it up, include some spring rolls or stuffed mushrooms or satay skewers, any of your favorite apps. You could even just get some frozen apps from the store to use.
Recipes you could consider including on your board: Healthy chicken salad for some protein, black bean and mango salad for some color and freshness (goes great with tortilla chips), healthy homemade hummus or a cold chili cheese dip for scooping with tortilla chips or veggie spears.
3. Big Green Salad
Nothing speaks summer dinner like a giant salad.
Start with your favorite green - spring mix, baby spinach, arugula, kale, etc. - and then add on a protein, maybe some beans, some fresh veggies and serve with a delicious dressing.
You can assemble the whole thing or put everything out in separate bowls to let people make their own.
Also, feel free to swap grains as the base of your salad instead of greens if you want to bulk it up a bit.
Recipes: Southwest chopped salad with chicken and a creamy cilantro lime dressing is a family recipe I've been making and devouring for years. Sooo good.
Asian chicken chopped salad is similarly addictive, thanks to the easy, homemade soy ginger dressing. Swoon worthy!
Mediterranean chopped salad is a light and fresh favorite, and you can definitely add some chicken or chickpeas to make it a full meal.
Healthier 7-layer salad is one of my faves and the presentation is just killer. I add rotisserie chicken or leftover grilled chicken to make it a main dish.
4. Burgers and Fries
Make your own burgers at home - beef, turkey, chicken, pork or veggie - or buy some fresh or frozen burgers at the store to use.
Pick up your favorite type of frozen fries - classic, wedge, sweet potato, etc. - and throw those in the oven while the burgers are on the grill.
Add a vegetable, or get a bagged salad mix to use, and you are all set!
Also, you can make this same meal and use kabobs instead of burgers. Food on a stick is always fun, whether it's summer or not.
Recipes: BBQ turkey burgers with slaw, fiesta turkey burgers (with ALL the toppings), spicy pork burgers with mango salsa and cheddar chicken burgers are some of our favorites.
Or go vegetarian with these easy chickpea burgers or easy veggie burgers. Or make this veggie burger scramble for a deconstructed burger in a skillet.
5. Build Your Own Burritos
Grab some wraps and start to layer.
Add your favorite protein - leftover grilled or some rotisserie chicken works great here. Add some beans and rice, if desired. Layer in some veggies - fresh greens, sautéed onions and peppers, diced zucchini - as well as some salsa and cheese. Add sour cream or Greek yogurt, guac or avocado and any other favorite toppings.
Everyone gets to assemble their own and make their perfect burrito!
Recipes: Bean and rice burritos are our vegetarian fave. (You could also add chicken to those.) You can also make homemade salsa and pickled red onions for your burritos.
6. Pasta Salad
Pasta salads and pasta-veggie-chicken mixes are great ways to throw something together last minute and using what you have in your pantry.
For hot versions, mix pasta with some marinara sauce, some sautéed veggies and some chicken. Ta da!
For cold versions, make a pasta salad with veggies and your favorite dressing, like Italian. Mix in a protein if you like and play around with the endless variations!
This can be great to make-ahead, too, for lunch or dinner. Or if you're planning a picnic or need something to take with.
Recipes: Classic spaghetti salad is a recipe from my mom and one of my summertime favorites. (It's vegetarian though and is really more of a side dish or a lunch, just FYI.) Lemony orzo chicken salad is a great summer dish, as is southwestern orzo salad. You could add chicken or shrimp to that to boost it up if you'd like.
And summer veggie pasta salad is full of fresh summer veggies and coated in a spinach artichoke dressing.
Mediterranean quinoa salad is another flavorful one, or make these BBQ chicken quinoa salad bowls. So delicious and fun! Oh, and chicken quinoa salad with salsa hummus is perfect for hot weather and can easily be packed up for a day at the lake or a night at the pool.
And stay tuned because I have a yummy summer pasta salad coming up for you next week!
You can sign up for my free e-newsletter to get all of my new recipes delivered straight to your inbox so you never miss a thing. I'll even send you my free e-cookbook, Healthy Weeknight Dinners, as a thank you!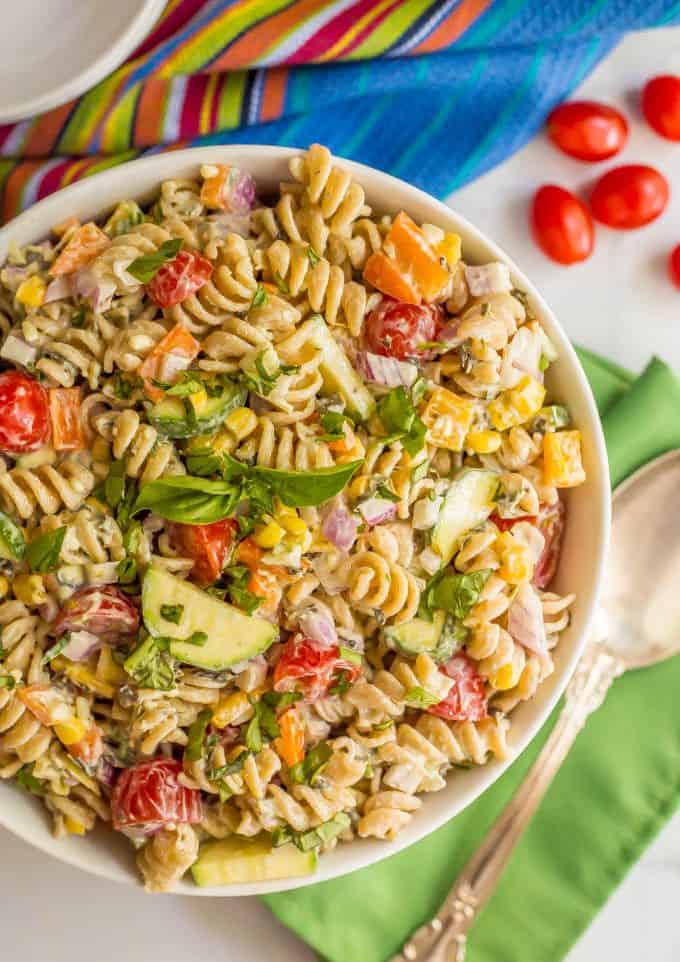 7. Stir Fry
A stir fry is a great way to use whatever you have on hand in terms of proteins and veggies. Sauté it all up, add a stir fry sauce, serve with steamed rice and call it a day. They are so easy and so fast!
For a simple twist, use the same ingredients and basic idea and make fried rice instead.
Recipes: This easiest ever chicken stir fry has been a staple in my kitchen for decades. We also love honey garlic chicken stir fry and pork and broccoli slaw stir fry.
Use crispy soy marinated tofu for a vegetarian protein if you like for your stir fry.
8. Breakfast for Dinner
Breakfast for dinner is a busy mom's ace in the hole.
It's easy, can require little planning of forethought and always goes over well.
This same idea works for an easy summer dinner when you don't want to make a big production.
It can be as easy as scrambled eggs with bacon and toast. Or make breakfast potatoes and fried eggs and sausage. Or grits bowls. Or go with omelets. Or make an egg scramble with whatever veggies you want to throw in.
Even quiche can be a great summer meal because you can eat it warm or room temperature. So many options, it's gonna be a new regular thing.
Recipes: Cheesy baked eggs are a favorite around here. (And the extras store great in the fridge or freezer for another morning later in the week.) Pair with some bacon or sausage patties and toast or biscuits.
This savory oatmeal bowl or cheesy grits breakfast bowl with eggs, sausage and spinach would also be a hit at dinnertime. You can also use those ideas as jumping off points and customize your bowls however you like.
Sausage and egg casserole and breakfast pizza are more all-in-one types of dishes to serve. Breakfast nachos or breakfast tacos are other fun ones to serve.
And as mentioned, quiche is a great option. Veggie lovers quiche or this southwest chicken and veggie frittata would be great.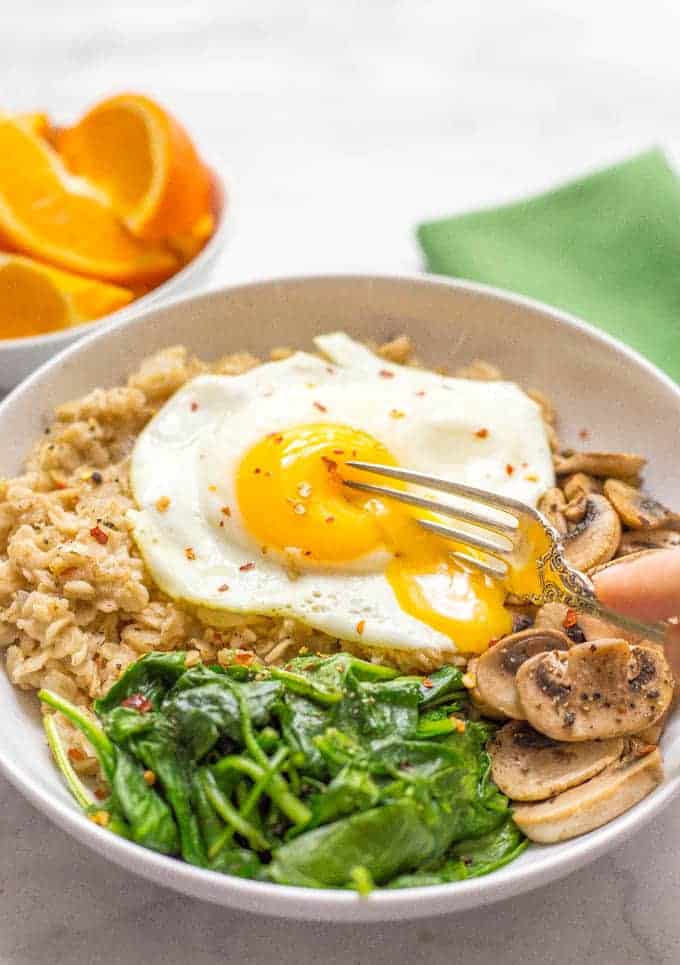 9. Loaded Baked Potatoes
Potatoes might very well be my love language, I adore them so. And baked potatoes especially.
And because I am sneaky and make microwave baked potatoes, I can have them any time I want. (Also, that's a great trick in the summer when you don't want the oven on for an hour to cook your potatoes.)
The stuffing part of the loaded baked potato can be done a ton of different ways. Make it taco-themed or use chili, use ham and cheese, chicken and broccoli or do a veggie loaded potato. You can even use things like chicken paprikash or sloppy Joe's in your baked potatoes.
Recipes: Loaded chili stuffed baked potatoes are my favorite way to use leftover chili for a new meal another night. And taco stuffed sweet potatoes are a fun twist on taco night.
These fast cheesy chicken and broccoli stuffed baked potatoes are piled high with the filling and made quick thanks to a shortcut.
10. Baked Sliders
Sliders are the perfect bite-size nosh and they are crazy versatile. You can use chicken, turkey, ham, steak, whatever you've got.
They make a great family-friendly dinner and also work great for game day eats or just a fun lunch meal.
You can even make sliders and not bake them, just serve as mini sandwiches. This would work great if you're trying to travel with then and serve them cold or at room temp.
Recipes: Pepperoni pizza sliders are a kid favorite in my house (duh 😂) and for grown-ups I love baked pesto chicken sliders, which are just 5 ingredients. And for groups, these BBQ chicken sliders are always a hit with all ages.
You can also make sliders using this slow cooker pulled pork. Add some slaw and a pickle and oh my goodness, forget about it!
Or go with a classic ham and cheese or any of your favorite deli-style combos. The sky is the limit!
And there you have it!
I kinda feel like with all the easy summer dinner ideas and examples given here, you could go all summer long without ever planing recipes for dinner.
Just mix and match from this list and use different versions to make it the easiest, breeziest summer available!
Doesn't that sound splendid?
(You can also check out my monthly meal plans if you want more inspiration or specific daily dinner ideas.)
And if you have other ideas or favorites you love to make in the summer, please leave a comment below and share. (Or tag me on Instagram.) We can all use more ideas and inspiration!
Happy not-really-cooking and enjoy!
XO,
Kathryn