This veggie-packed pork stir fry with broccoli slaw is ready in just 25 minutes for a fast, healthy, delicious dinner! It's low-carb and gluten-free too.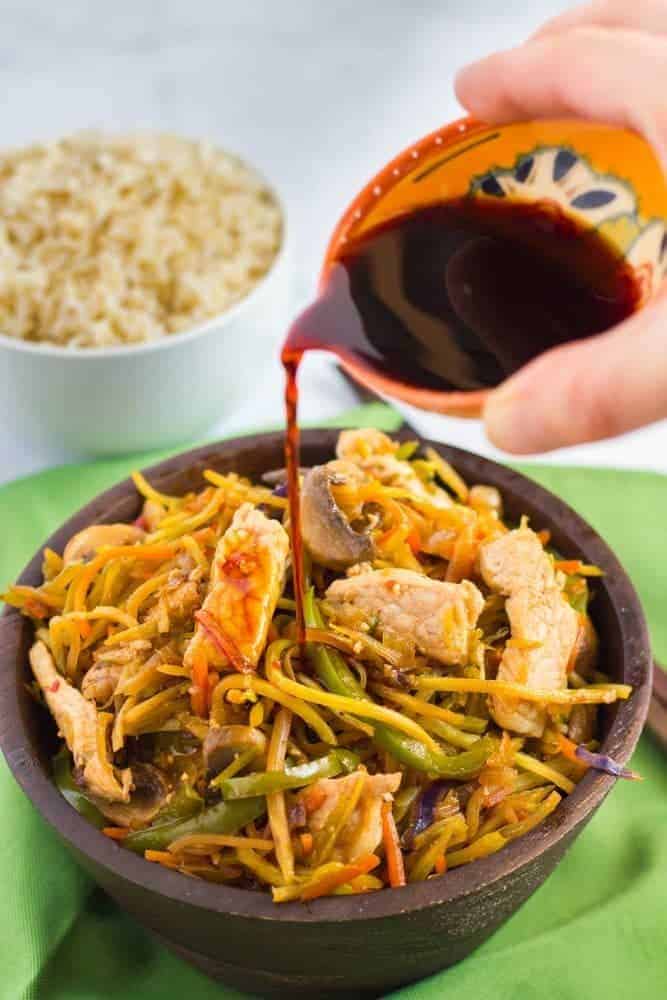 First off, I hope all you mamas out there had a wonderful Mothers Day!
I got to cook up a breakfast feast for my own mom, who is pretty much the best thing since way before sliced bread, including finally making her my blueberry waffles and I had a great day with my two little ones.
They helped me (finally) plant our garden and my husband took them to the playground in the afternoon so I could catch up on some magazine time. 😊
And now on to today's crazy good dinner recipe...
Do you ever spy a new-to-you item in the grocery store and think, "Why haven't I ever bought that? That looks delicious, easy and I'm putting it in my cart right now."
That's how I came to love pork cutlets. I was waiting at the meat counter one day and there they were, packaged up in the refrigerated section just underneath the display counter.
Hmm, I thought, those are cute little cutlets of pork, ready and waiting for me to use them. And they're so thin, they'll cook up super quick.
Yes, my friends, they are now a staple around here. And this pork stir fry with broccoli slaw is one of my favorite ways to use them!
Which is oh so appropriate because broccoli slaw is one of my other favorite real foods but shortcut ingredients to buy.
It's just shredded broccoli and carrots and I just have to open the bag. I use it in this quinoa salad and a myriad of other recipes that will be coming your way. 😊
Real-life break in...
M, my sweet baby girl, is turning 5 next week. Five. Five seems big. Five seems old. Seems way past baby days and into little girl years. Five seems a bit scary and definitely a touch sad.
Luckily, she's about the smartest, sweetest, cutest kid in the world (except those moments where she's making me a crazy person because we are SO cut from the same cloth!) and I cannot wait to see what surprises she has in store for us next.
Still, I might need a couple kleenexes this coming week...
Oh, and lots of easy dinners because all of the planning and parties and presents and running around has my days even more full than normal. Full of fun, so no complaints, but I need dinner to be fuss-free so I can fuss over her a little extra. While she's still just 4. 😉
So if I claimed that this was the easiest ever stir fry (and it really still is), this new pork version is a close second.
You sauté the veggies until tender, remove those from the pan and sear the pork, then stir everything together with the saucy ingredients to get it all coated.
Ta-da, dinner is ready! And in just 25 minutes!
Tender, perfect cuts of juicy pork, loads of veggies and the unbeatable umami flavor from the soy sauce. Plus a little kick on the end if you opt to use the spicy chili sauce, which I highly recommend.
Quick notes on pork stir fry with broccoli slaw:
I use pork cutlets, but if you can't find those in your grocery store, just slice up pork chops into thin strips.
I buy pre-made broccoli slaw but you can make your own but shredding up some broccoli and carrots in a food processor.
Feel free to change up the veggies and use your favorites.
This recipe is low-carb and gluten-free as is. Just use tamari in place of the soy sauce for gluten free.
You can skip the hot chili sauce if you don't want this spicy. Or you could use some sriracha instead.
You can also bulk up the meal by serving it over some steamed brown rice. Or use a long, thin noodle like angel hair or thin spaghetti. (Or my easy cauliflower rice to keep it low-carb.)
See, you'll have serious stir fry deliciousness in no time at all! Take out has nothing on us!
Enjoy!
XO,
Kathryn
Yield: 4 servings
Pork and broccoli slaw stir fry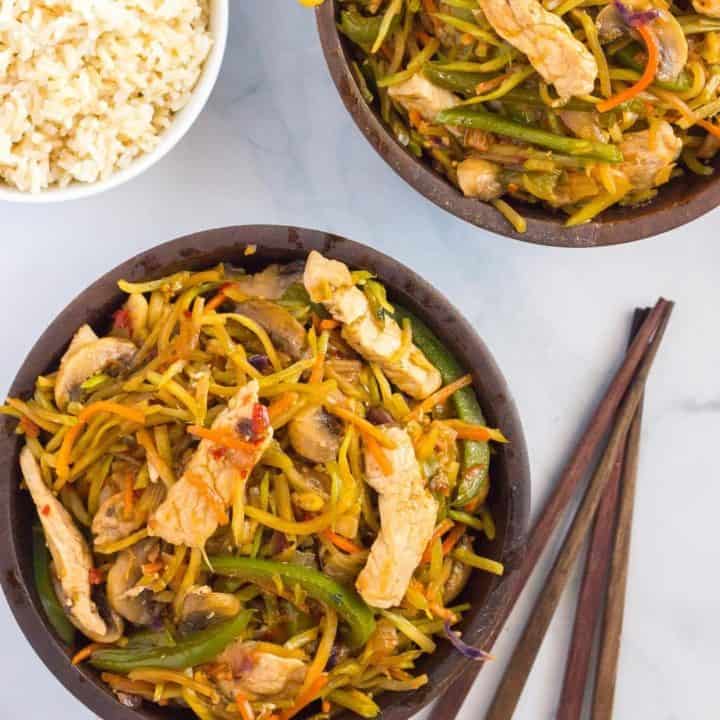 This veggie-packed pork stir fry with broccoli slaw is ready in just 25 minutes for a fast, healthy, delicious dinner!
Ingredients
1 tablespoon extra-virgin olive oil
1 lb. thin pork cutlets, cut into ½ inch strips
½ medium onion, chopped
1 small green bell pepper, sliced into thin strips
1 8 oz. package mushrooms, sliced (white button or cremini work well)
1 12 oz. bag of broccoli slaw
½ teaspoon kosher salt
¼ teaspoon black pepper
2 cloves garlic, minced
¼ cup soy sauce (or tamari, if gluten-free)
½ - 1 tablespoon hot chili sauce (optional; adjust for heat)
For serving: Perfectly cooked brown rice
Instructions
Heat olive oil in a large pan over medium-high heat.
Add onion and peppers. Saute for 4-5 minutes, stirring occasionally,
Add the mushrooms and broccoli slaw and saute for 4-5 minutes, stirring occasionally, until the broccoli slaw is wilted and tender.
Remove the veggies to a bowl and add the pork strips to the pan. Sprinkle with salt and pepper. Saute the pork for 2-3 minutes, flipping to cook both sides.
Add the garlic to the pan and saute for 30 more seconds.
Return the veggies to the pan and stir to get all of the ingredients mixed together.
Reduce heat to medium low, then add soy sauce and chili sauce, if using. Stir to combine everything with the sauce and let simmer for 1-2 minutes.
Serve hot over rice, if desired.
Notes
You can leave out the chili sauce if you prefer less heat, but it adds a really good depth of flavor. (You can also add it at the table if you want to make the stir fry not spicy for kids.)
You can make this a low-carb dinner and serve it as is without the rice. The broccoli slaw makes it seem like you've got noodles almost.
I like the leftovers warmed up and rolled into a wrap for an easy lunch.
If you love this recipe, check out my spicy pork fried rice - another veggie-loaded dinner that's ready in just 25 minutes!