This cheesy baked eggs casserole is perfect for brunch and meal prep and makes mornings so easy! Slice into squares and enjoy or use to make breakfast sandwiches!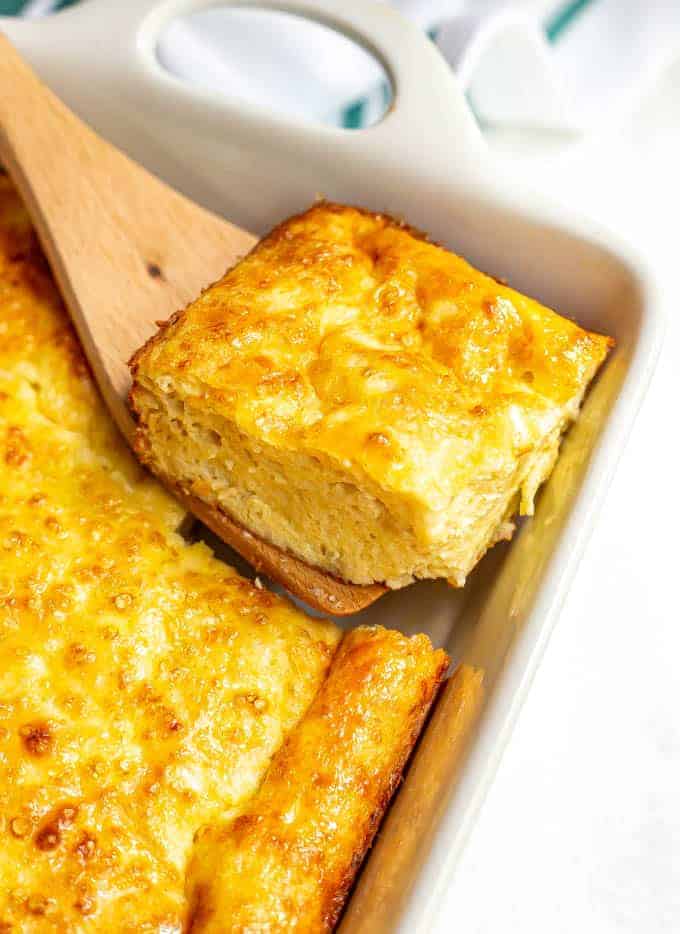 This post was sponsored by Cabot. As always, all thoughts and opinions are my own.
We had a fun and busy weekend with parties, school events and some garden work.
I've decided I'm not meant to grow tomatoes. At least not at this house with the garden plot I have available to me in our backyard.
And while this is endlessly disappointing, both as a tomato lover and as a Southern woman who feels obligated to grow tomatoes, I've decided to make peace with it.
And to plant some other veggies next year. Live and learn, eh?
Enough about garden failures though, let's move on to some kitchen success!
Today I'm sharing my cheesy baked eggs, which are a morning sanity saver!
It's a great one to make-ahead on the weekends so that your morning routine goes a little more smoothly.
(Sorry, I can't help with lost homework or missing shoes. 😜)
They are loaded with two kinds of cheese and they bake up beautifully! They're creamy, soft and fluffy but hold together great for slicing and eating.
It's a perfect way to have eggs ready to go in the morning without any fuss!
Plus, these are really quick and easy to put together.
This egg bake recipe is just 5 ingredients (and that's including the salt!) and 10 minutes to prep. 🙌
We love it on its own, served with any toppings (read on for ideas on those) to sit and eat with a fork.
You can also make a delicious breakfast sandwich with these eggs. Just cut them into squares, layer them with bacon and any other fillings (baby spinach is good here) and put them into an English muffin, bagel or roll. (They'd be great in these easy homemade biscuits, too!)
Or make breakfast burritos with these eggs instead of scrambled eggs.
Delicious breakfast eats – that's now portable too!
(If you are an egg lover like me, you should definitely check out this collection of the 12 best egg recipes, which includes this one and many other breakfast, brunch and lunch favorites.)
I'm so thrilled, too, to be partnering with Cabot to bring you this recipe.
They make my absolute favorite cheese in the world. ❤️
The Vermont Sharp white cheddar cheese is my go-to/must-have/always on hand cheese. I use it in all of my cooking when I need sliced or shredded cheese and it's my favorite to snack on as well. We generally have at least 2 blocks of it in the fridge at all times. Sometimes 4. Currently it's 6 because I have several cheesy dishes planned this week. 😬
But y'all, they have so many other fun kinds of cheese too! Their Monterey Jack and Pepper Jack are delicious and their Cracker Cuts are great for school lunches, parties and just having ready to go for a quick bite.
Oh, and there's an Everything Bagel cheddar flavor that I want to get my hands on to try too!
They also make delicious Greek yogurt. Their full-fat kind is what I used for all of my homemade baby food when my kiddos were little.
I also really love that Cabot is a co-op, meaning the 800 farm families throughout New England who raise the cows who make the milk that's used for the cheese and other products… they own the company. ❤️ Happy to support that!
OK, though, let's take this cheese love and make some yummy breakfast!
I've got some notes, tips and substitutions coming up below. Just tryin' to be helpful.
If you want to jump on down to the recipe, simply scroll right on through the rest of the text. The recipe card is near the bottom of the page, above the comments section.
Notes on making baked eggs:
This recipe uses cottage cheese and shredded cheese. You can blend your cottage cheese if you want the eggs really smooth. As is, it breaks down and incorporates really well while baking.
Regular or reduced fat cottage cheese is fine in this recipe.
I use Cabot's Vermont Sharp cheddar cheese, which is a white cheddar, and I shred it myself. It's my absolute favorite and I *always* have at least one block in the fridge.
However, you could substitute a different cheddar or one of their pre-shredded cheeses instead if you prefer. You could even mix this up with a cheese blend if you would like.
I use white whole wheat flour, but all-purpose flour is fine too. A gluten-free flour blend should also work just fine here if you'd like to try that.
I should mention, too, that this should bake in a 9×13 pan. It takes 50-60 minutes to bake at that size and it makes a great size for enjoying or making into breakfast sandwiches.
However, I've also used an 8×12 pan, including for these photos. (It's prettier than my 9×13.) This worked fine too and the eggs took 60-65 minutes in my oven using that size pan. They are of course a bit thicker this way, but we didn't mind one bit!
(You could also do a half-batch of this recipe if you'd rather and use an 8×8 inch pan.)
Now you know, I'm absolutely going to share with you some topping ideas so you can dress these up if you'd like!
Toppings for cheesy baked eggs:
– Salsa or pico de gallo
– Sliced avocado or a dollop of guac
– Sour cream or Greek yogurt
– Chopped fresh cilantro or chopped fresh dill
– Chopped chives or green onions
– Hot sauce or sriracha 🌶
You could also add a fun sauce, like pesto or tomato jam, to go with these eggs.
Toppings just make everything better, don't you think?!
Now, let's get down to eating.
Serving suggestions for baked eggs casserole:
– You can slice and serve these baked egg squares with any desired toppings and eat them up with a fork. This is the go-to for our kids.
– Breakfast sandwiches are another fun way to serve these (and my favorite). Layer an English muffin with some Canadian bacon or regular bacon topped with a slice of the baked eggs. You can even add a slice of cheese on top if you want them super duper cheesy!
– Or use bagels to make a sandwich with these eggs and any other fillings.
– Make a wrap or breakfast taco with these eggs, broken up a little to fill in your shell.
And if you are making these for brunch and need to round out your meal, try my mixed greens salad with fruit and champagne brunch punch. 🍾
Since this makes a big batch, I also wanted to share some storage tips for the leftovers.
How to store leftover baked eggs:
You can keep the leftover baked egg squares in the refrigerator, in a plastic zip-top bag or covered container, for up to 5 days.
You can also freeze the extras. Place the squares in a freezer-safe zip-top bag, that's labelled, and freeze for up to 3 months. (You can get 4 large squares into a standard quart-size freezer bag.)
You can also assemble your sandwiches and then refrigerate or freeze those. I wrap each sandwich in aluminum foil, then label and date it, and keep in the freezer for up to 3 months.
You can add a layer of plastic wrap or put the aluminum foil wrapped sandwiches in a plastic bag for extra protection from freezer burn if you'd like.
Thaw them in the fridge overnight then heat in the microwave in the morning (without the aluminum foil) and you are ready to go!
Whether it's for back-to-school season, brunch or meal prep, I hope you give these cheesy baked eggs a try.
Enjoy!
XO,
Kathryn
P.S. Stay tuned, because I've got a fun twist on these baked eggs coming up next week that are every bit as delicious. (Update: check out these Mexican baked eggs for a tasty variation.)
You can also sign up for free e-newsletter to get all of my new recipes delivered straight to your inbox. I'll even send you my free e-cookbook, Healthy Weeknight Dinners, as a thank you!
Yield: 18 servings
Cheesy baked eggs
Cheesy baked eggs casserole is perfect for brunch and meal prep and makes mornings so easy! Slice into squares and enjoy or use to make breakfast sandwiches!

Prep Time 10 minutes

Cook Time 50 minutes

Total Time 1 hour
Ingredients
12 large eggs
3 cups shredded Cabot white cheddar cheese
16 oz. cottage cheese (low-fat is fine)
1/2 cup white wheat flour or all purpose flour
1 teaspoon kosher salt
Instructions
Preheat oven to 350. Spray a 9x13 glass pan with cooking spray and set aside.
In a large bowl, whisk eggs until well mixed. Add the shredded cheese, cottage cheese, flour and salt and whisk until well combined.
Pour the egg mixture into the prepared pan.
Bake at 350 for 50 minutes to 1 hour, until the top is set and golden brown.
Let sit for 5 minutes before cutting into squares and serving. (See notes below for topping ideas and serving suggestions.)
Store leftovers in the fridge for up to 4-5 days or in the freezer for up to 3 months.
Notes
This recipe uses cottage cheese and shredded cheese. You can blend your cottage cheese if you want the eggs really smooth. As is, it breaks down and incorporates really well while baking.

Regular or reduced fat cottage cheese is fine in this recipe.

I use Cabot's Vermont Sharp cheddar cheese, which is a white cheddar, and I shred it myself. However, you could substitute a different cheddar or one of their pre-shredded cheeses instead if you prefer. You could even mix this up with a cheese blend if you would like.

I use white whole wheat flour, but all-purpose flour is fine too. A gluten-free flour blend should also work just fine here if you'd like to try that.

You can serve this as squares or use it to make a breakfast sandwich.

Topping ideas:

Salsa or pico de gallo

Sliced avocado or a dollop of guac

Sour cream or Greek yogurt

Chopped fresh cilantro or chopped fresh dill

Chopped chives or green onions

Hot sauce or sriracha
Nutrition Information:
Yield:
18
Serving Size:
1
Amount Per Serving: Calories: 193Total Fat: 11gSaturated Fat: 5gTrans Fat: 0gUnsaturated Fat: 4gCholesterol: 148mgSodium: 390mgCarbohydrates: 10gFiber: 0gSugar: 1gProtein: 13g