This collection of the 12 best egg recipes includes everything from go-to breakfasts like cheesy baked eggs, egg muffins and breakfast burritos to company-worthy quiches and casseroles to favorites like deviled eggs and egg salad.
Eggs are kinda my fave.
I have at least 2 cartons of eggs in my fridge at all times. They may not both be full, but I get a little twitchy if I don't at least have a dozen eggs on hand.
And I don't even make eggs daily! I start work at 6:30 a.m. so I don't have time to make the kids scrambled eggs during the week.
And while I know they don't take long, nor does a fried egg, it's just a bit too much effort for me when we've got school and work and all the things happening.
Come weekends, though, a huge pan of scrambled eggs is absolutely happening. Usually with plenty of microwave bacon and a batch of my easy homemade biscuits.
Breakfast is kinda my fave, too.
And eggs are a big part of that, though I certainly don't restrict them to the mornings.
No, no, eggs are super versatile and great any time of day!
(Not to mention all the baking I do, which requires on-hand eggs. They really are a true kitchen staple!)
So today I'm celebrating ALL the deliciousness of eggs with this round-up of the 12 best egg recipes.
These are the ones I turn to again and again. Several came from my own mom, in fact, and have been part of my life for a long time.
Others are newer and have become fast favorites.
And yes, some of these are more "occasion" egg recipes. Not the kind of thing you'd make just any ole weekend, but are perfect for keeping in your back pocket for guests or holidays, when you need to fancy up your breakfast or brunch routine a bit.
Oh, and also, I divided these up into basic breakfast, brunch and lunch categories, so you can find what you're looking for a little easier.
I hope you'll browse these delicious egg recipes and find some new favorites for your house!
Go-to Egg Breakfast Recipes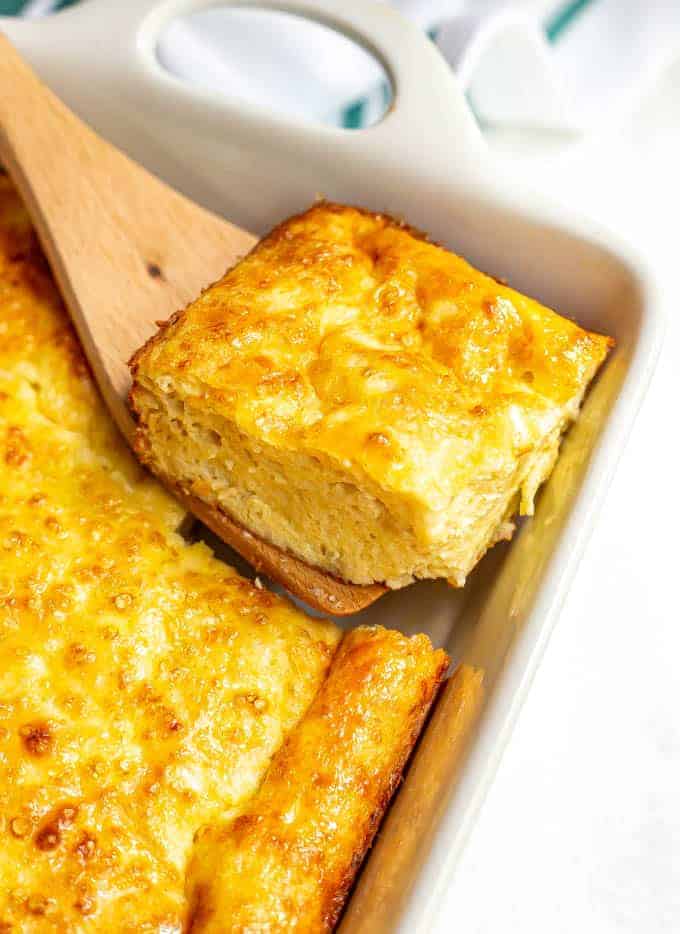 Cheesy Baked Eggs
This cheesy baked eggs casserole is perfect for brunch and meal prep and makes mornings so easy! Slice into squares and enjoy or use to make breakfast sandwiches!
You can also try these Mexican baked eggs for an easy, flavorful twist.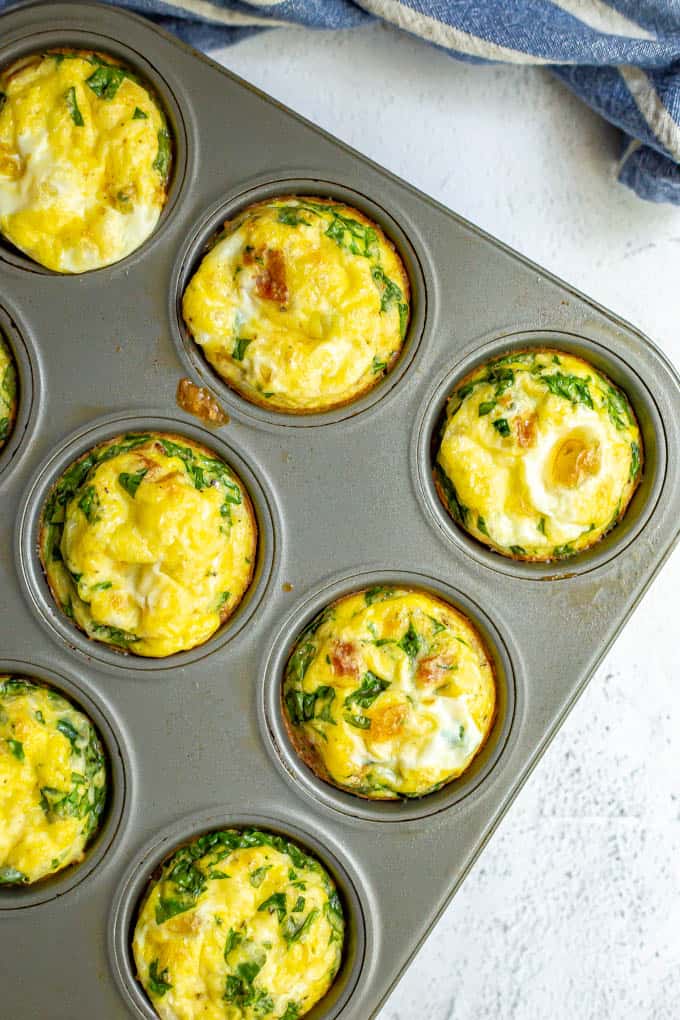 Breakfast egg muffins are loaded with bacon, spinach and cheese and baked in the oven for a delicious warm breakfast that's perfect for brunch or for meal prep.
They freeze and reheat great and I've included 2 different ways you can prepare them.
Baked hard boiled eggs are super easy to make, completely hands off and they come out perfect!
Adjust the cook time to your desired degree of doneness and have hard boiled eggs on hand to use for toasts, egg salad, deviled eggs, salads, snacking, grain bowls and more.
An easy homemade egg McMuffin copycat recipe that's ready in less than 5 minutes with my fun microwave hack.
It's perfect for a quick, healthy breakfast and way easier than getting in the car to go to the drive-through.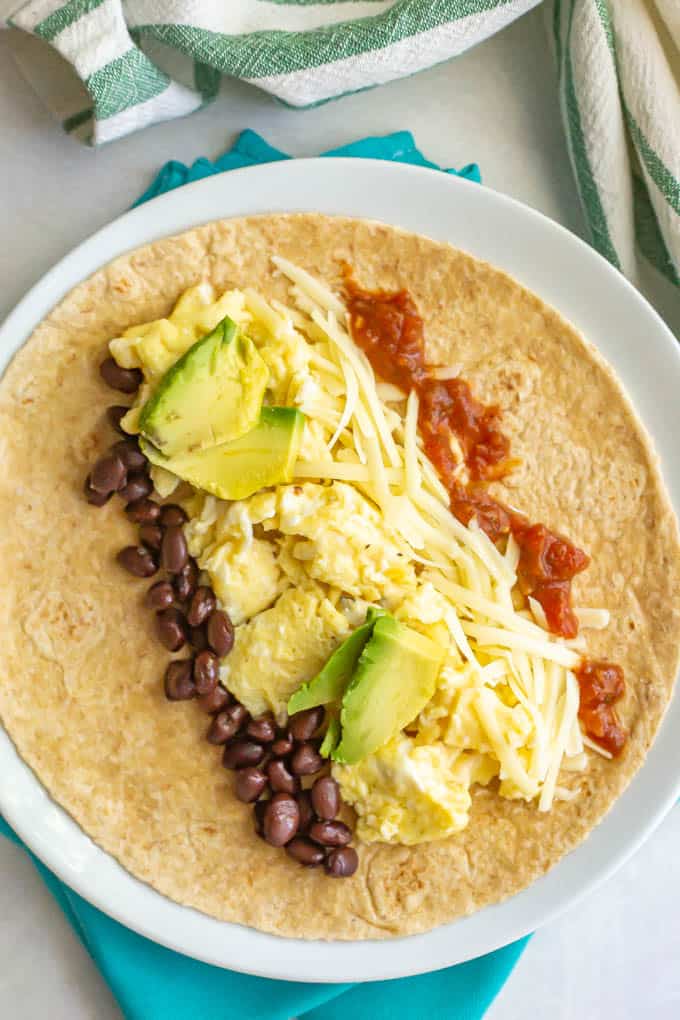 Freezer breakfast burritos with scrambled eggs, black beans, cheese and salsa are a warm, filling and delicious breakfast that can be made in advance and reheated as needed.
Add extra fillings or toppings to suit your tastes and enjoy a stress-free breakfast in the mornings!
Psst, you might also want to check out these 5 easy make-ahead egg breakfasts for more day-to-day egg recipes.
Brunch Egg Recipes
This colorful veggie quiche is loaded with a variety of veggies and cheese in a pie crust and baked until golden for a delicious and easy breakfast or brunch quiche.
Or check out this veggie frittata for a similar recipe that doesn't use a pie crust.
This easy tomato breakfast tart with basil and two cheeses has sliced tomatoes on top for a unique and beautiful brunch presentation.
It makes a great brunch recipe for company and also works great for a breakfast-for-dinner night!
Oh, and you can use regular store-bought tomatoes any time of year or swap in some heirloom tomatoes in the summer if you can get them.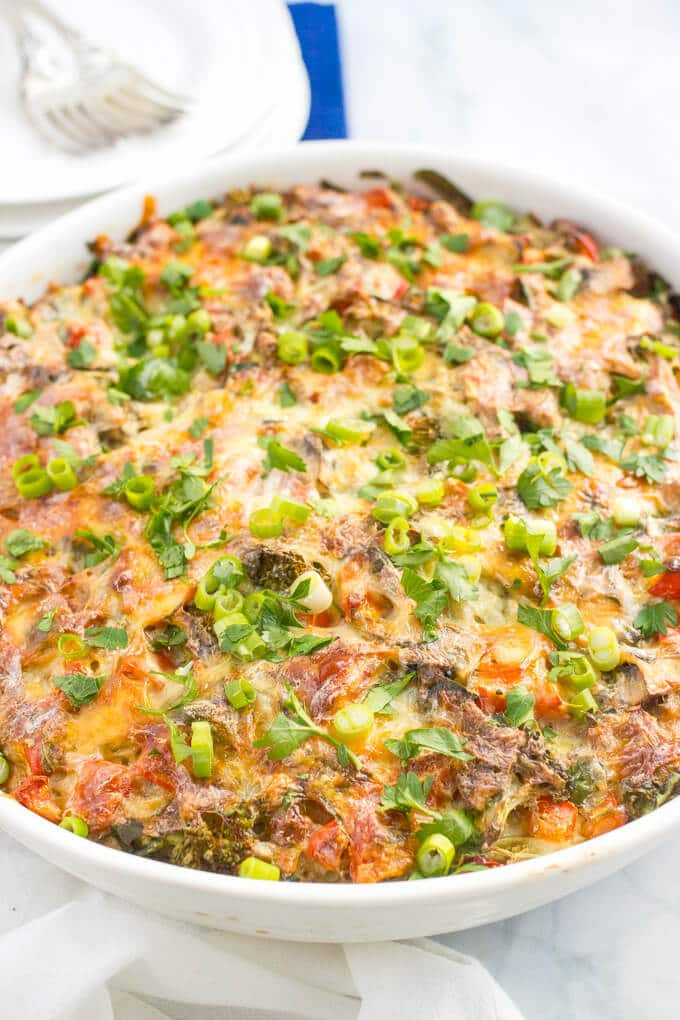 Healthy Sausage Breakfast Casserole
This make-ahead healthy sausage breakfast casserole uses turkey sausage and lots of veggies for a lightened-up version of the classic breakfast casserole.
It's perfect for entertaining, holidays and brunch for a group!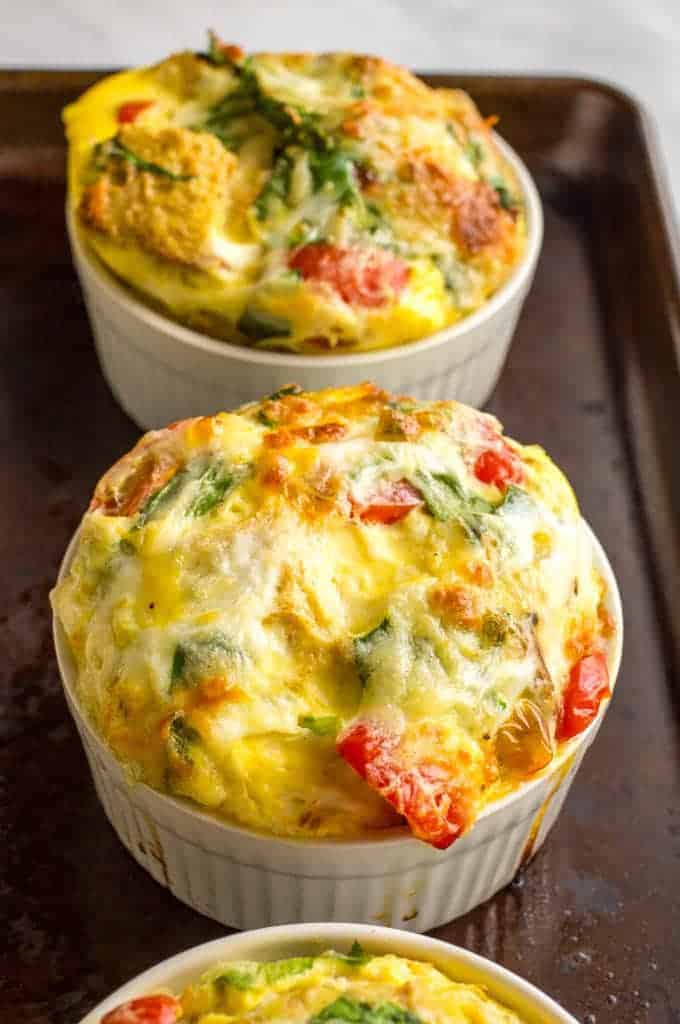 Individual Breakfast Casseroles
Individual breakfast casseroles with eggs, bread, veggies and cheese are made in ramekins and can be customized to suit everyone's tastes.
Some can be dairy-free, others gluten-free and others light on the veggies for any picky eaters. They're so versatile!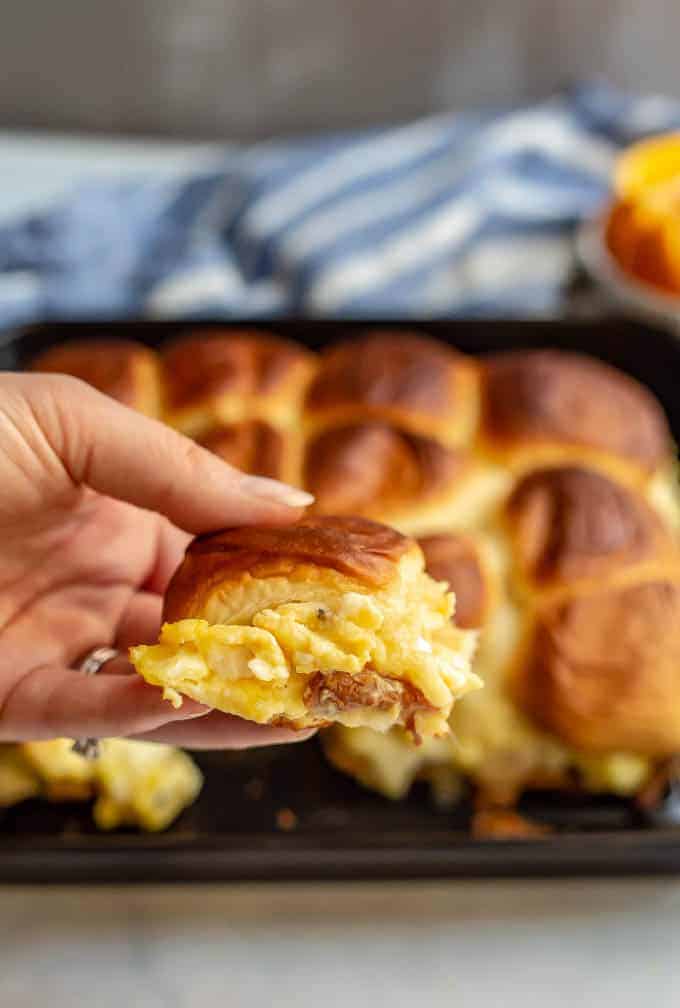 Cheesy Baked Breakfast Sliders
Cheesy baked breakfast sliders are loaded with crispy bacon, soft scrambled eggs and plenty of cheese for a fun and tasty breakfast everyone will love!
These especially work great for a crowd, and are both kid- and adult-friendly.
Lunch and Other Egg Recipes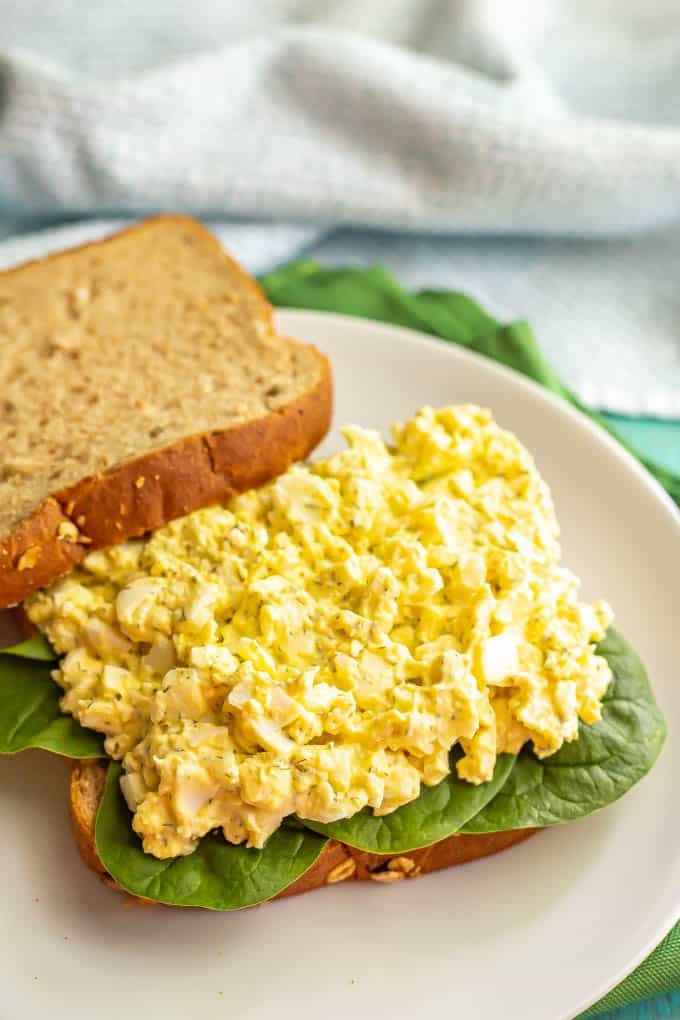 This classic egg salad is just 3 ingredients and comes out perfect creamy, well seasoned and delicious. Use for sandwiches, wraps or salads.
It's also great served as a BLT egg salad sandwich - my husband's favorite way to enjoy it!
Also try this curried egg salad for a fun twist, It's an easy, creamy, delicious lunch that's perfect for sandwiches, wraps or lettuce wraps, or with crackers and veggies.
It's just 5 ingredients and ready in about 30 minutes — a great one to make ahead for the week!
My mom's classic Southern deviled eggs have been part of family gatherings, holidays and special occasions all my life.
This recipe is simple to make, deliciously creamy and the traditional Southern style I grew up with. (And I've got some fun topping ideas you can try!)
----------------------------------------------------------------------------------------------
There you have it! Some of the very best egg recipes for all occasions.
Whatever would we do without the incredible, edible egg? (Remember those commercials?)
So if you are an egg lover like me, I hope you give some of these recipes a try. (If you do, tag me on Instagram or leave a comment below; I love hearing from you!)
And if you have other favorite egg recipes you want to share, please leave a comment below! We can all use more egg love in our lives, right?!
Enjoy!
XO,
Kathryn