My mom's classic Southern deviled eggs have been part of family gatherings, holidays and special occasions all my life. This recipe is simple to make, deliciously creamy and the traditional Southern style I grew up with. (And I've got some fun topping ideas you can try!)
Can you believe it's officially spring?! 🌷💐🌿
We've had a bit of a cold snap (though nothing compared to those of you still with snow) so it doesn't quite feel like it yet, but I'm happy it's here all the same.
Today, I'm excited to share with you an old family favorite.
This is my mom's classic Southern deviled eggs. And I've been eating them ALL my life.
These traditional deviled eggs were part of nearly every Thanksgiving, Christmas and Easter spread we had growing up, as well as most picnics and BBQs.
They are easy to make – I was always in there beside my mom, and often my grandmother too, helping to mix and stuff the eggs – and they turn out fabulous every single time.
The pickle relish in this recipe makes these more of a Southern style, as does using Duke's mayonnaise if you are a traditionalist.
(My Aunt's version also adds a pinch of sugar or Splenda. We like to add sugar to all manner of foods, but I don't think it's necessary here and didn't include it in the recipe card below.)
I think deviled eggs with relish have a great texture and a hint of sweetness that makes them extra irresistible.
I will say, I had to measure carefully as I was creating this recipe for you.
Both the recipe card from my mom and my Aunt's recipe that she gave me do NOT include exact amounts. My mom just listed the ingredients and wrote, "Amounts depend on the # of eggs – you know!"
Cause we've made them so much, we do just know the consistency and taste when we get it there.
But I wanted to be a bit more specific for you.
You can feel free to invoke that spirit though and add a little more of this, that or the other as you make these to get them just the way you like.
Oh, and if you don't particularly care for deviled eggs with pickle relish, you can leave it out. I've done that when I didn't have any on hand and they were still delicious. Even a bit smoother, which some people may prefer.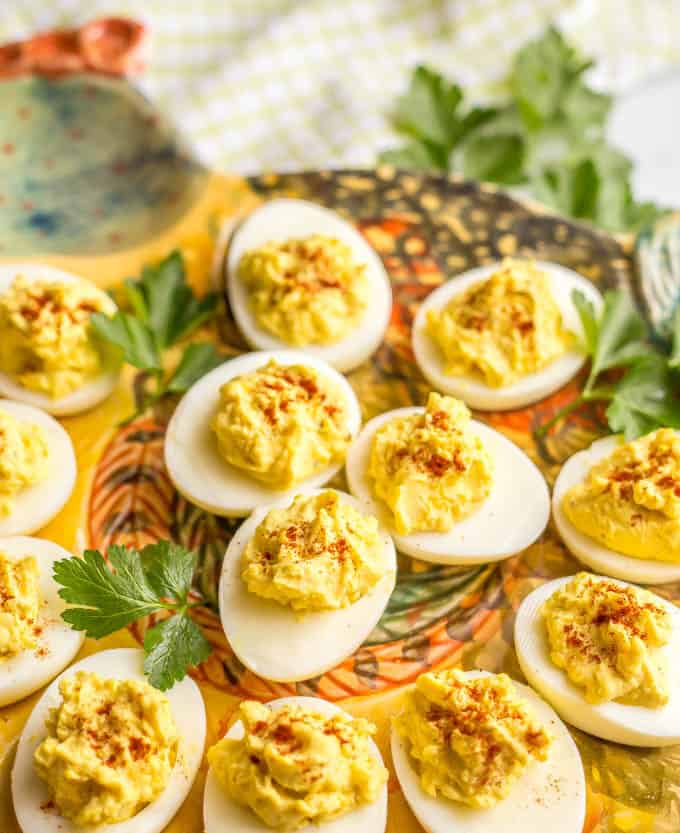 I also wanted to answer a few common questions about Mom's classic Southern deviled eggs in case some of you aren't as intimately familiar with them as we are.
I made sure to consult my mom and I even checked with my Aunt on these as well, because I knew she would have opinions too.
All good Southern women do.
And we don't always agree on the "right way" to do things.
Shocking, right? 😉
Common questions about traditional deviled eggs
What's the best way to peel hard-boiled eggs?
We are mostly old school. My mom and I let them cool a bit, tap them all over to crack them, then peel them under running water.
They say it helps not to use super fresh eggs. It has to do with the acidity level in the whites of the egg. Eggs bought at the grocery store are at least 30 days old, so they should be fine.
My aunt's method is to drain the water from the pot they cooked in, then swish them around in the pan to crack them. She adds ice water, let's them sit for about 5 minutes and then peels them.
There's also a few other hacks you can try. Here's an article with 5 egg hacks (including videos) if you want to check it out.
By the way, you can also do baked hard boiled eggs instead of boiling them.
What are the best occasions to serve deviled eggs?
Anytime! Deviled eggs are especially great for holidays (Easter, Thanksgiving and Christmas especially) as well as picnics and potlucks, BBQs and funerals. They work for brunch spreads as well as dinner spreads, so they're perfect no matter what time of day you have your big meal.
How many deviled eggs should I make?
My mom recommends cooking at least 1 full egg per person and probably a few extra.
What are the best toppings for deviled eggs?
You know I love toppings! Some fun ideas for deviled egg toppings: Sprinkle of paprika, chopped parsley, snipped chives, capers, pimientos, caviar or cooked, crumbled bacon.
And my grandmother used to serve these with an olive slice on top. 👌
How far in advance can you make deviled eggs?
You can make deviled eggs up to one day in advance.
How long do deviled eggs keep in the refrigerator?
Deviled eggs will keep for up to two days in the refrigerator. Store them in a single layer in a covered container.
What can you do with leftover deviled eggs?
Leftover deviled eggs can be used for appetizers, on salads or chopped down and used to make egg salad for sandwiches (like my egg salad BLT sandwich).
I also serve them on my Thanksgiving leftovers chef salad if we have extras after the big meal.
There you go, folks.
Decades of deviled egg wisdom for you, distilled down, plus a recipe with actual ingredient amounts. 🙌
I hope you give these a try and make them part of your family traditions.
Enjoy!
XO,
Kathryn
P.S. That sweet little chicken plate in the photos? That was my grandmother's, who we called Jamma. My aunt has her other deviled egg plate and she sent me this one to keep. ❤️
You can also check out some other holiday brunch recipes if you're looking to round out your spread.
Yield: 24 deviled eggs
Mom's classic Southern deviled eggs
My mom's classic Southern deviled eggs are simple to make, deliciously creamy and perfect for holidays, family gatherings and special occasions!

Prep Time 10 minutes

Cook Time 20 minutes

Total Time 30 minutes
Ingredients
1 dozen large eggs
1 tablespoon yellow mustard
1/4 to 1/3 cup mayonnaise (reduced fat is OK)
3-4 tablespoons sweet pickle cubes, drained (optional, see notes)
1/4 teaspoon kosher salt
1/4 teaspoon black pepper
Optional toppings:
Sprinkle of paprika, hot sauce or sriracha, chopped fresh parsley, snipped fresh chives, capers, pimientos, sprinkle of cayenne, caviar, cooked, crumbled bacon or an olive slice
Instructions
Place eggs in the bottom of a large pot and cover with cold water.
Bring water to a boil over high heat. Turn off heat, cover the pan and let the eggs sit for 20 minutes.
Drain the eggs and rinse them with cold water. (Alternatively you can do baked hard boiled eggs in the oven or make Instant Pot hard boiled eggs if you prefer.)
Peel the cooled eggs then cut in half lengthwise. Scoop out the yellow yolks and place them in a small bowl. Plate egg white halves on serving plate.
Use a fork to mash the egg yolks. Add the remaining ingredients and mix well. Season the mixture to taste with extra salt and pepper as needed.
Fill each egg half with the yolk mixture, mounding it up a little. Sprinkle with any desired toppings and serve.
Notes
Relish: I use a sweet pickle relish, also sometimes called sweet salad cubes, for this recipe. It adds great flavor. However, some people prefer to skip it. I haven't tried this recipe with a dill pickle relish, so I can't say how that flavor would be.

Make ahead: You can make deviled eggs up to one day in advance. Store, covered, in the refrigerator, until ready to serve.

Leftovers: Leftover deviled eggs will keep for up to two days in the refrigerator. Store them in a single layer in a covered container.

Toppings: Fun topping ideas for deviled eggs: Sprinkle of paprika, hot sauce or sriracha, chopped fresh parsley, snipped fresh chives, capers, pimientos, sprinkle of cayenne, caviar, cooked, crumbled bacon or an olive slice.
Nutrition Information:
Yield:
24
Serving Size:
1 deviled egg
Amount Per Serving: Calories: 56Total Fat: 5gSaturated Fat: 1gCholesterol: 94mgSodium: 66mgFiber: 0gSugar: 0gProtein: 3g