Individual breakfast casseroles with eggs, bread, veggies and cheese are made in ramekins and can be customized to suit everyone's tastes. They're great for a crowd!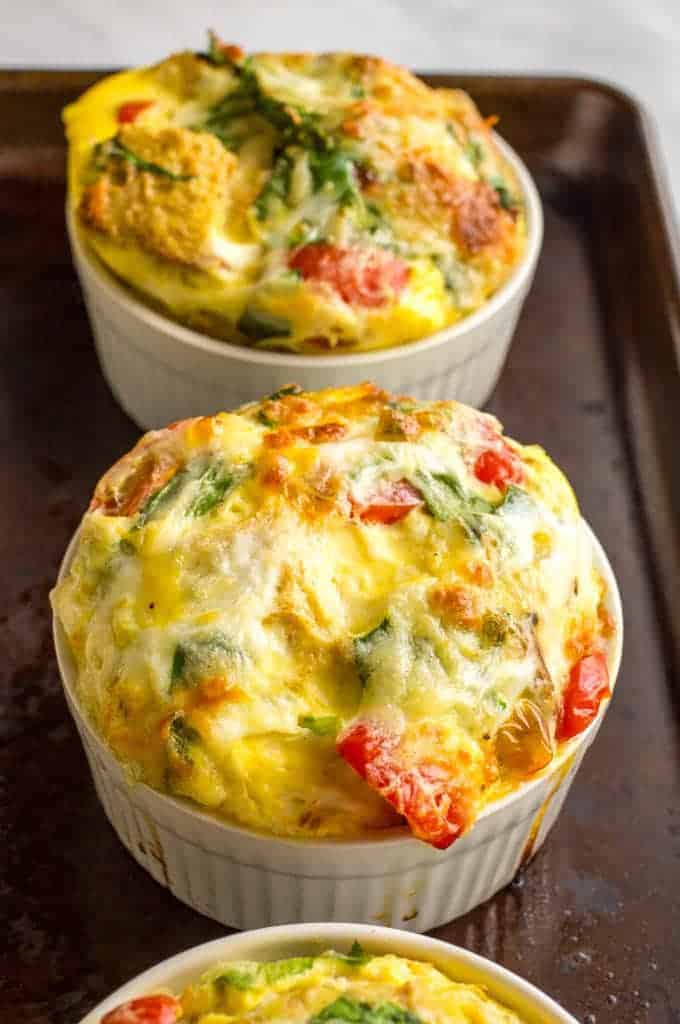 Hi friends! Have you recovered from Cinco de Mayo? Did you blow it out and drink all the margaritas and eat all the yummy food?
We were in for the night but I did make a festive dinner for my husband and I on Friday night and of course we sipped on some fun drinks. The rest of the weekend was low-key, with a kids birthday party and a neighborhood BBQ thrown in for a little fun ❤️
But let's get right down to it today.
AKA, tell me about the FOOD already lady!
The first time I made these individual breakfast casseroles was for my Mom for Mother's Day a few years ago. I served them with my whole wheat blueberry waffles (with a hint of orange), chicken sausages and a fruit salad. (Though next time I want to try this boozy fruit salad and these glazed chicken sausage pineapple bites – yum!)
Her verdict that morning?
"This is the best breakfast I've ever had." 😃
And they love to eat out for brunch, so that's really saying something!
I made them again at Christmas, that year or the next, and served them with my healthy sausage balls and our family favorite cranberry apple salad.
A delicious Christmas morning indeed! ❤️
So yes, I have played with these individual breakfast casseroles a lot over the years! I love that they are so versatile and customizable so that I can make them work for everyone in our family!
✔️ I could make them for M when she was younger and had a milk allergy. I would just use her soy milk and her non-dairy cheese.
✔️ I can make them for my Mom who has an egg allergy. I substitute Egg Beaters for her ramekin.
✔️ I can make them for my Dad, who is picky about vegetables, and just include his favorites.
✔️ I can make them for my mother-in-law, who doesn't eat gluten, and use her gluten-free bread or leave it out altogether.
See what I mean? This is perfect for serving a group and making sure everyone gets just what they want! 💕
Notes on making individual breakfast casseroles:
The individual part of these casseroles is the key! You can add or leave out any of the solids. Gluten-free or low-carb? Skip the bread! The casseroles will be smaller but will still cook through.
You can also use your favorite veggies here in place of or in addition to the tomatoes and spinach. If you want to use zucchini, peppers or something else that's a bit harder, you can sauté them in a pan quickly or steam them for a few minutes to soften them before placing them in the ramekins.
I wrote the recipe for mozzarella cheese below but we've also used goat cheese here. And cheddar or any other shredded cheese could certainly work too.
I normally use whole wheat bread (since that's what we usually have on hand) but I've made it before with a harder French bread before and that worked great too.
You can substitute egg beaters for the egg mixture (all or part of it), if you prefer. (I've done this for my Mom's ramekin because she has an egg allergy.)
Oh, and I use 4" ramekins like these. The full recipe makes 6 large ramekins – these are big servings! You can adjust to how many you need or try a smaller size and keep an eye on the baking time.
I hope you give this a try and I hope you love these mini breakfast casseroles as much as I do!
And I'd love to hear if you do make them – tag me on Instagram or leave me a comment below and let me know what variations you tried.
And to all the mamas, I hope you have a fantastic Mother's Day! 💕
XO,
Kathryn
Yield: 6 servings
Individual breakfast casseroles
Individual breakfast casseroles with eggs, bread, veggies and cheese are made in ramekins and can be customized to suit everyone's tastes!

Prep Time 15 minutes

Cook Time 30 minutes

Total Time 45 minutes
Ingredients
For the ramekins:
Cooking spray
3 slices whole wheat bread, cubed
1 pint cherry tomatoes, halved
1 1/2 cups chopped fresh spinach
1 to 1 1/2 cups shredded mozzarella cheese
For the egg mixture:
12 large eggs
1 cup milk (2%, skim or your favorite)
1 teaspoon ground mustard
1 teaspoon kosher salt
1/2 teaspoon black pepper
Instructions
Preheat the oven to 350.
Spray 6 ramekins (4" diameter size) with cooking spray. Place on a baking sheet and set aside.
Place torn pieces of bread in bottom of each ramekin and then top with desired toppings: tomatoes, spinach and mozzarella cheese are suggested here but you can absolutely substitute!
Next, make the egg mixture. Beat the eggs in a large bowl with milk, mustard, salt and pepper, until well combined.
Use a measuring cup or ladle to divide egg mixture evenly among the 6 ramekins. You'll need about 3/4 cup of the egg mixture for each ramekin.
Place the baking sheet with the ramekins in the oven and bake at 350 for 30-35 minutes, until set. Let sit for 5 minutes before serving. (You can serve in the ramekins or use a knife to loosen the egg casseroles from each ramekin and serve on a plate.)
Notes
I have lots of notes in the post above about how you can adapt this recipe and make various substitutions to make these gluten-free, dairy-free, etc. There are tons of options here!
Recommended Products
As an Amazon Associate and member of other affiliate programs, I earn from qualifying purchases.
Nutrition Information:
Yield:
6
Serving Size:
1 casserole
Amount Per Serving: Calories: 297Total Fat: 15gSaturated Fat: 6gTrans Fat: 0gUnsaturated Fat: 8gCholesterol: 390mgSodium: 761mgCarbohydrates: 16gFiber: 2gSugar: 5gProtein: 23g