These easy baked pesto chicken sliders are just 5 main ingredients but full of flavor! They are great for a party or game day appetizer and always go fast!
We are approaching such a busy weekend and I'm so excited!
I had a girls group dinner last night, have a wine date with a couple friends tonight, then tomorrow night my family will be over at my parent's house for a joint birthday party dinner for me and my dad.
Saturday we have J's soccer game, he has a birthday party, our swim club has an afternoon Halloween party, our neighbors are having an afternoon Diwali party and that night, my husband and I are going to the symphony while the kids have a spend-the-night with their grandparents. ❤️
Saturday is my birthday, as well, and I think that's going to be a fun way to spend it!
(Plus, I get to sleep in Sunday morning since the kids won't be home. Thanks for that birthday present, mom and dad!)
But first, we gotta get through the rest of this week. And I've got a fun recipe to share with you today!
These baked pesto chicken sliders are going to be your new favorite appetizer!
They are so easy to make, with just 5 basic ingredients plus a buttery topping that I highly recommend you use.
And they are so flavorful!
You've got melty mozzarella cheese, a bit of chopped fresh spinach and tender pesto chicken pieces packed into a roll that with a buttery, crusty, browned top. 😍
I mean, you can't go wrong!
These baked chicken sliders are great for game day and also make a fabulous party appetizer. They are hand-held and just so scrumptious.
(Oh, and they smell SOOO good while they are baking!)
I've served them alongside a big cheese board that had dips, crackers, veggies and dried fruit and that was all we needed for the night! 🙌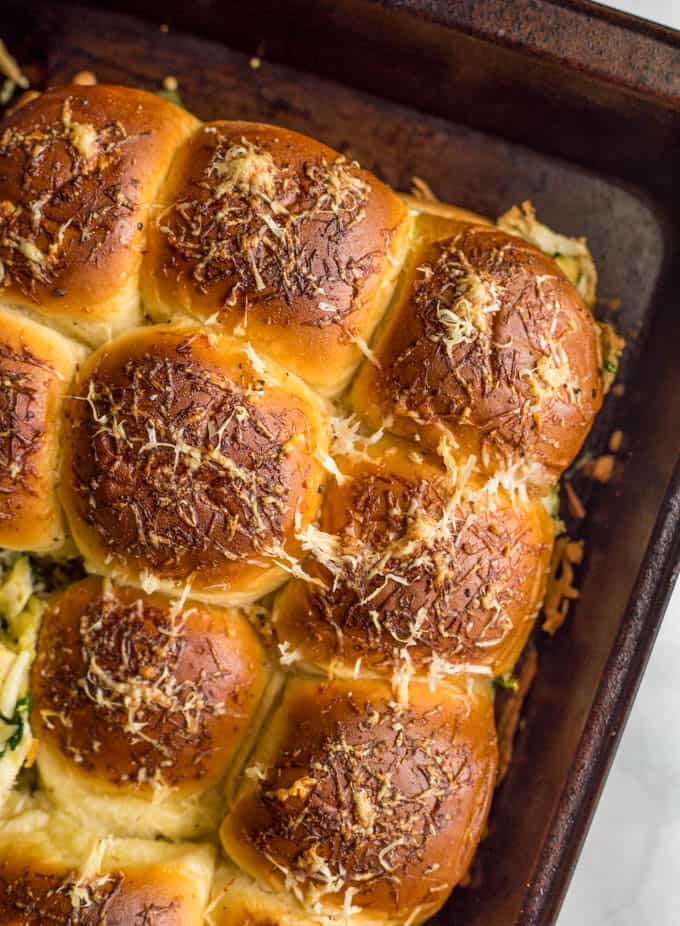 Just in case you are wondering…
What is pesto?
It's a green sauce, originally from Italy, that's made with fresh basil, pine nuts, garlic, Parmesan cheese and olive oil.
Everything is blended together until it's smooth and dreamy. 💚
(There are plenty of variations, of course, but those are the original, classic pesto ingredients)
Pesto can be served with pasta, over grilled chicken or meats, in sandwiches or wraps, on toasted bread – so many things!
Tips on how to store pesto:
Pesto needs to be stored in the refrigerator once it's opened (if it's store-bought) or once it's made (if it's homemade).
To help keep it preserved as long as possible, make sure there is a layer of olive oil on the top and keep it in an airtight container. It will keep for a few weeks in the fridge.
Pesto also freezes well! You can freeze it in small airtight containers. Be sure to put a small layer of olive oil at the top and leave a little room in the container for it to expand as it freezes.
You can also freeze it in ice cube trays. Fill each one with a spoonful of pesto, top with a thin layer of olive oil and put in the freezer. Once frozen, remove the pesto cubes and store in a freezer-safe ziptop bag. So easy!
OK, and now back to this awesome appetizer!
Notes on these easy baked pesto chicken sliders:
I use a rotisserie chicken to make this recipe extra easy but you could also use some roasted or grilled chicken breasts that are chopped up or shredded.
Feel free to use a homemade or store-bought pesto, whatever you've got! (Here's an easy homemade basil pesto recipe if you want to try making it.)
I use 1 cup of mozzarella cheese to keep these on the lighter side but you could increase that to 1 1/2 or 2 cups if you want these to be super cheesy.
You can prep this ahead of time. Just wait until you're ready to bake it before brushing on the butter-garlic topping.
Whether for a holiday party, game day eats or shoot, even an easy dinner, I hope you give these baked pesto chicken sliders a try!
Enjoy!
XO,
Kathryn
P.S. Need some other yummy appetizers? Check these out: