Breakfast nachos are a great way to start the day! (And also delicious for dinner!)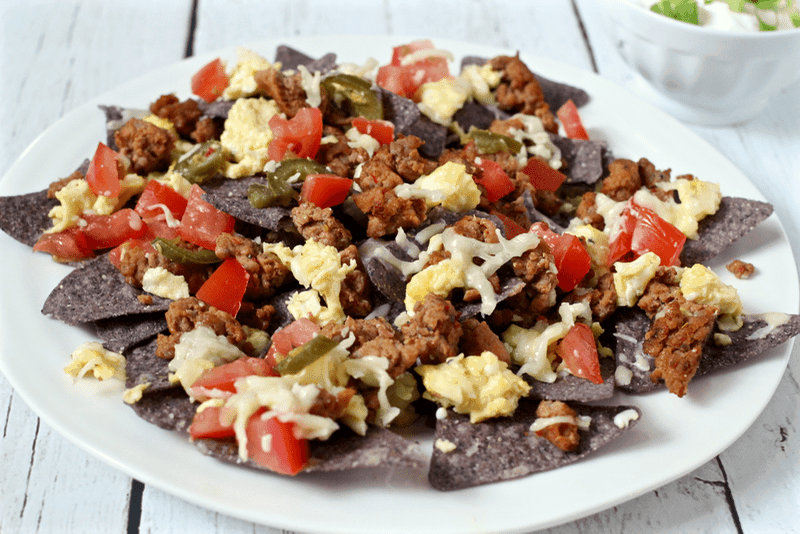 I love the nachos/tacos/burritos for breakfast idea. So on board!
There's something about remaking dinner foods for breakfast that's every bit as appealing to me as having breakfast for dinner.
Which, actually, is another way to eat this.
Our mornings tend to be a little hectic. I start work at 5 or 6, then the kids are up and have to get to school, my husband has to help with them and get ready for work.
It's all chaos until they're out the door and I'm back to my deadlines in peace and quiet. (Cause our dog doesn't bark. Pretty much ever.)
So nachos for breakfast aren't so much a weekday splurge around here.
We're more of an overnight oatmeal jars and oatmeal squares sorta family during the week. Easy, make-ahead, ready and waiting.
But I've definitely got this rocking on the weekends.
I mean, really, it's the best way to start the day. Unless you are a can't-function-before-coffee person, then it's the second best way. Followed closely by a mimosa kinda morning. Cause who doesn't love a little champagne to kick things off on the weekend?!
Back to the nachos at hand though.
Nachos for breakfast. It's a thing. And you should get in on it.
I use turkey sausage, but you can definitely use regular sausage or chorizo. I add some tomatoes and jalapeño for color and oomph, plenty of cheese of course (these are nachos after all), and then dress it up - sour cream, salsa, avocado, olives - however you take yours!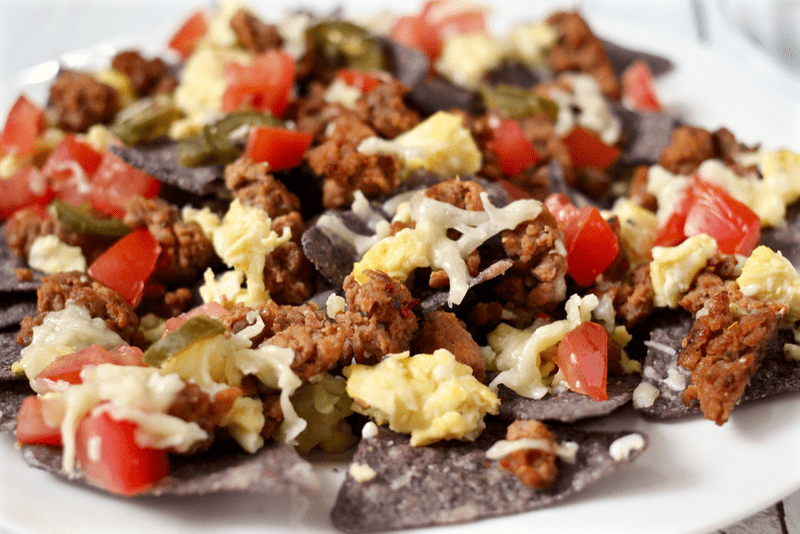 Grab your coffee mug, champagne flute, whatever you got going and dig into some nachos this weekend.
Enjoy!
XO,
Kathryn
P.S. If you are a nachos fan like we are, check out these loaded chicken nachos that are great for game days - or just an easy Friday night dinner!
Yield: 3-4 servings
Breakfast nachos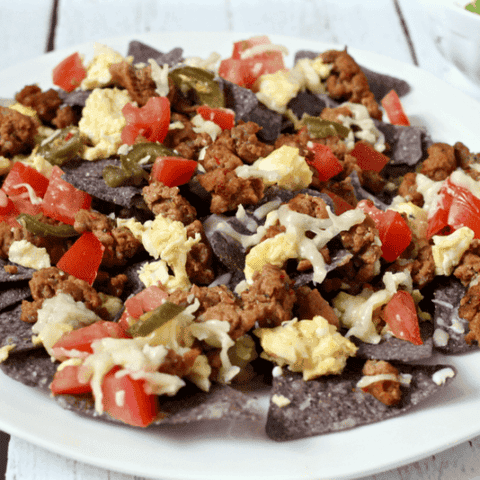 Breakfast nachos are a great way to start the day! (Also delicious for dinner!)
Ingredients
1 pound Italian turkey sausage (hot or mild, depending your preference), removed from casing. You could also use regular sausage or chorizo, if you'd rather.
5 eggs, lightly beaten
2 tomatoes, chopped
1 jalapeno, seeded and finely chopped (or about ¼ cup chopped jarred jalapeños)
8 oz package tortilla chips (we prefer blue, but any kind works)
1 ½ cups shredded cheddar cheese (or Monterey or Pepper Jack)
Optional toppings: sour cream or Greek yogurt, green onions, salsa, avocado, olives, etc
Instructions
Preheat oven to 350.
Cook turkey sausage in skillet, breaking it up with a spoon or spatula as it cooks. Once cooked through and no longer pink, remove with a slotted spoon to paper towels to drain.
Check your skillet. With turkey sausage, there's a perfect amount of leftover grease to cook the eggs and remaining ingredients. If you've got a lot of grease, drain some of it out or use a paper towel to soak up some. If your pan is pretty dry, add a teaspoon or two of olive oil. Add your eggs and jalapeño and scramble until eggs are soft and mostly cooked. (They will continue to cook in the oven.) Stir in the tomatoes.
Layer tortilla chips on a baking sheet, top with sausage, egg and tomato mixture and cover with cheese.
Bake at 350 for 7-10 minutes, until cheese is melted. Serve with your favorite nacho toppings!
Nutrition Information:
Yield:
4
Serving Size:
1
Amount Per Serving:
Calories:

964
Total Fat:

60g
Saturated Fat:

18g
Trans Fat:

1g
Unsaturated Fat:

34g
Cholesterol:

399mg
Sodium:

1628mg
Carbohydrates:

50g
Fiber:

8g
Sugar:

5g
Protein:

59g