Make-ahead oatmeal squares make for an easy, customizable breakfast!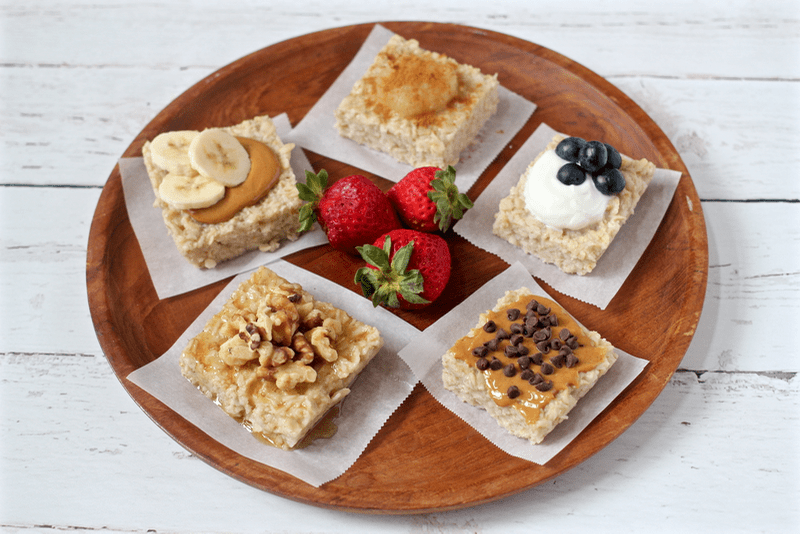 We love these breakfast oatmeal squares! Or you can make them circles. Or hearts. Just get a cookie cutter instead of a knife.
Whatever shape, this make-ahead breakfast means you've got something ready to go on those busy mornings. I don't know about you, but they're pretty much all busy around here!
We love our 3-minute easy microwave oatmeal, but sometimes I like to make big batches and have them on hand and ready to go. Plus, the way these set up, you can send them into school for snack or lunch. And you can freeze some of these oatmeal squares to have for travel or back-up.
I've written the recipe below plain so you can dress up the squares however you like.
If you like a little sweetness with your morning oats, you can cook the oats in half water, half milk and then add a little honey (or maple syrup or even brown sugar) to the oats after they cook, while they're sitting in the pot. For my kids, I sometimes stir in a little applesauce (plain or peach) before I chill these. Or a bit of pumpkin and then we top them with peanut butter.
You also can top these oatmeal squares with a drizzle of honey, a sprinkle of cinnamon, some fresh berries, a smear of peanut butter, a dollop of yogurt - whatever you fancy!
If you like your oatmeal savory, keep it plain as instructed below and then top it off with your favorites - I'm partial to eggs and soy sauce, but there's also cheese, veggies and nuts as good savory toppings.
You can serve these cold (my kids sometimes want them that way) or warm them up in the microwave for 20-30 seconds.
You'll love having these on hand to customize for your crew!
Yield: 9 large oatmeal squares
Breakfast oatmeal squares
Make-ahead oatmeal squares make for an easy, customizable breakfast!
Ingredients
2 cups oats (I use old-fashioned oats)
4 cups water
Instructions
Bring water to a boil in a large pot. Add oats and reduce heat to medium.

Cook for 5 minutes, then cover and let sit for 3-5 minutes.

Pour oatmeal into a greased 8x8 or 9x9 pan. Cool then cover and refrigerate overnight.

Cut a square - or circle or whatever shape you like - and add desired toppings.
Notes
Flavor variations:

Stir in applesauce and cinnamon after oats are cooked.

Stir in pumpkin after oats are cooked and after set, top with peanut butter.

Stir in peanut butter and top with jam or chocolate drizzle.

Stir in honey (or maple syrup or brown sugar) and top with fruit and/or yogurt.

Serve savory with eggs and soy sauce, or cheese and veggies.
Nutrition Information:
Yield:
9
Serving Size:
1
Amount Per Serving:
Calories:

68
Total Fat:

1g
Saturated Fat:

0g
Trans Fat:

0g
Unsaturated Fat:

1g
Cholesterol:

0mg
Sodium:

5mg
Carbohydrates:

12g
Fiber:

2g
Sugar:

0g
Protein:

2g
** What are you favorite flavors for oatmeal?