Overnight oatmeal jars are an easy, healthy make-ahead breakfast. Check out how to make them with this easy base recipe and get some ideas for delicious flavor combinations!
Overnight oatmeal jars are a weekly staple in our house!
My kiddos adore them and I love having an easy, make-ahead breakfast that's just ready and waiting in the morning. (I'm already up and working when the kids get up during the week, so we have no time for fancy breakfasts.)
Today I'm sharing with you my base recipe for oatmeal in a jar and 3 of our go-to flavor combinations.
You can also check out my strawberry overnight oats (2 flavors of those) as well as my chocolate overnight oats, cause you can't go wrong with a little chocolate at breakfast time!
I put a batch of at least 6 oatmeal jars together on Sunday and each of my kids have a jar for three breakfasts all set to go for the week.
And every few weeks, I treat my husband and I to a couple of jars as well. 😊
(It's nice that they're so portable – he can take it in to work or just grab a spoon and eat it in the car. I've also been known to pack these for the kids when we go on trips.)
We always seem to go back to these three favorite flavor combinations, but you can certainly mix this up and make them your own – I've shared some extra ideas below. 😊
Note: I use 8 oz. (half-pint) canning jars that I got as a set from Amazon. They are great for these oatmeal jars and I also use them all the time for homemade dressings.
I also like these plastic lids because they're easier to clean than those metal ones that come with the jars.
Our 3 go-to flavors for overnight oatmeal jars:
Cinnamon and applesauce
Peanut butter and pumpkin (my kids' favorite, year-round!)
Mango and blueberry (I usually go for fresh, but frozen, thawed, would work too)
Some other good flavor combinations for overnight oats:
Peanut butter and banana
Strawberry and banana
Blueberry and pineapple
Shredded carrots and raisins (use maple syrup instead of honey – it's like carrot cake!)
Peanut butter and chocolate (with a teaspoon or so of cocoa powder)
I also like adding some toppings at the top of the jar after I've stirred everything together.
My kids especially love an extra dollop of peanut butter in the PB-pumpkin jars. I just have to be careful that they look exactly the same so we don't have a fight in the morning over who has a bigger peanut butter dollop. 🙄
You could also add some chopped fresh apple or other fresh fruit, a sprinkle of coconut or a few mini chocolate chips in as a topping for your oatmeal jar.
Oh but word to the wise when using banana — add your banana slices to the mason jar oatmeal in the morning so they don't get brown and yucky.
It's the same basic process for all of these jars and it's as easy as just layering them up and then mixing everything together. 👍
Notes on overnight oatmeal jars:
Yes, the oats really do go in raw for refrigerator oatmeal. It seems strange, but all the milk and yogurt helps to soften them as they sit in the fridge overnight, so that by morning, they are no longer raw and are ready to eat.
Also, we do eat these cold straight from the fridge. It's not at all like eating cold oatmeal (which would not be very tasty). It's more like a yogurt-oat-fruit parfait of sorts – creamy and wholesome and scrape-the-jar good!
These 8 oz. jars are a fairly small serving size. It's plenty for my young kids, but my husband and I usually pair it with some other fresh fruit or small morning snack. You could also double the recipe and use a larger mason jar to make a bigger serving.
I hope you'll try out a few different flavors and find your favorites. You can also recruit your family to come up with topping ideas so everyone gets what they want. 🙌
Enjoy!
XO,
Kathryn
P.S. Here's my video showing you how easy they are to make:

Yield: as many jars as you want to make
Overnight oatmeal jars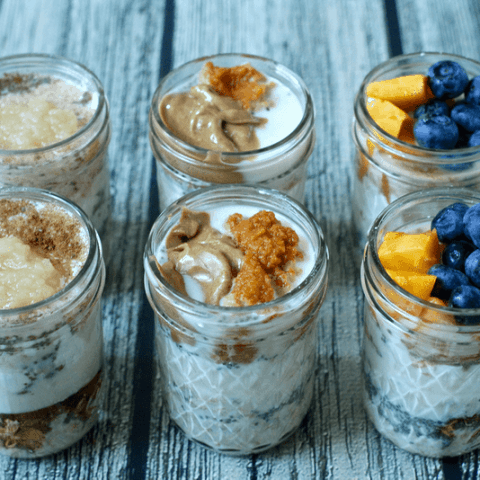 An easy base recipe and 3 delicious options for overnight oats. Breakfast is served!
Ingredients
For each jar:
1/4 cup oats (old-fashioned)
1/3 cup milk* (see notes)
1/4 cup plain Greek yogurt
1 teaspoon chia seeds
1 teaspoon honey* (see notes)
For cinnamon-applesauce:
1/2 teaspoon cinnamon
1/4 cup applesauce
For pumpkin-peanut butter:
2-3 tablespoons pumpkin puree (not pie filling)
1 heaping tablespoon peanut butter
For mango-blueberry:
1/2 teaspoon vanilla extract
2-3 tablespoons small diced mango
2-3 tablespoons blueberries (fresh or frozen)
Instructions
Pour the main ingredients into the bottom of each jar. I line mine up and knock out 6 at a time.
Add the topping ingredients on the top, filling to the top of your jar.
Carefully mix everything together very well.
Put the lid on and store in the refrigerator for up to a week.
Notes
You can use any milk. We have used soy (because we have it and my daughter had a milk allergy) as well as 2% and skim milk. Almond milk and whole milk would be fine here as well.
For the milk allergic, I used goat milk yogurt for my daughter when she still had an allergy, instead of Greek yogurt. Everything else is the same.
Recommended Products
As an Amazon Associate and member of other affiliate programs, I earn from qualifying purchases.
Nutrition Information:
Amount Per Serving:
Calories:

127
Total Fat:

5g
Saturated Fat:

1g
Cholesterol:

4mg
Carbohydrates:

16g
Fiber:

3g
Sugar:

9g
Protein:

6g