An easy make-ahead cold barley salad with chicken and a creamy pesto-yogurt mixture — a great recipe for a fresh and healthy lunch or dinner!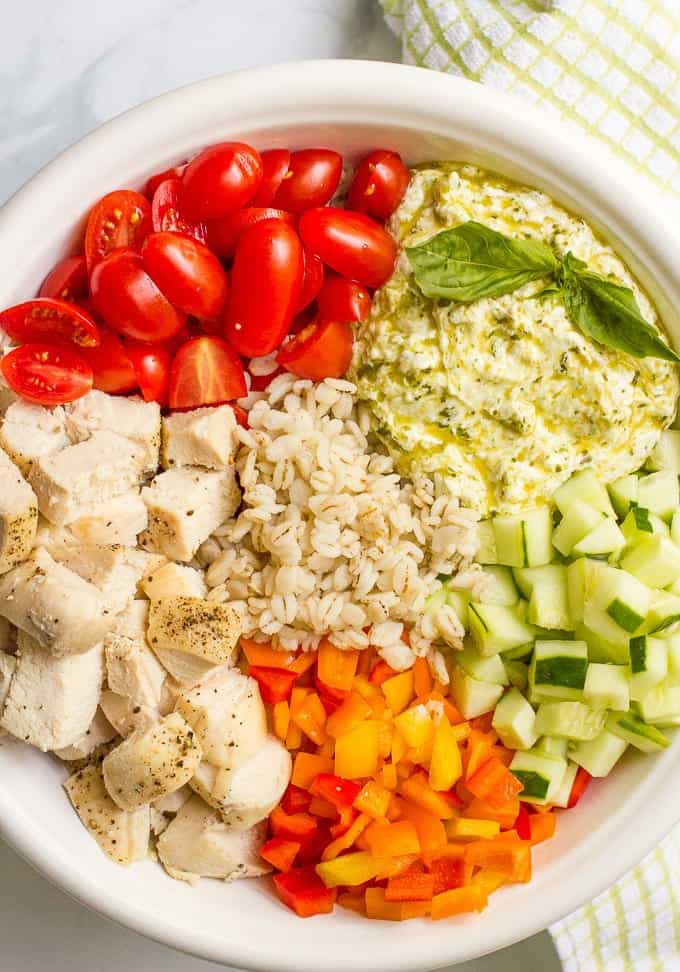 Today marks M's first official day of kindergarten. (Cue heavy sigh...)
She had a test run earlier this week, with a small group, so the teachers could do assessments of all of the kids throughout the week. Today is their first day all together in their actual class.
I'm excited and happy for her, but I'm also a bit of a hot mess. It's hard and scary to see your first-born head off to school for a full day all by themselves. Whole different ball game than the half-day preschool we're used to.
On top of that, it's Labor Day weekend and that means the unofficial bye-bye to summer. (Though, thankfully, there's a holiday and long weekend to soften the blow.)
But on the upside, it was a pretty fantastic summer.
Several beach trips, lots of pool time, going for walks, enjoying the symphony at the park, M getting good at her bike and learning tennis, J turning 3 and potty training, a few baseball games, and all manners of delicious food.
So I can't be too sad.
And I can also be sure to LIVE IT UP this weekend. Which means spending as much time as possible with my family, running around the house, playing play-doh or trucks or building towers, snuggling and reading, getting outside to play ball or do chases or go to the pool, and soaking in the special moments.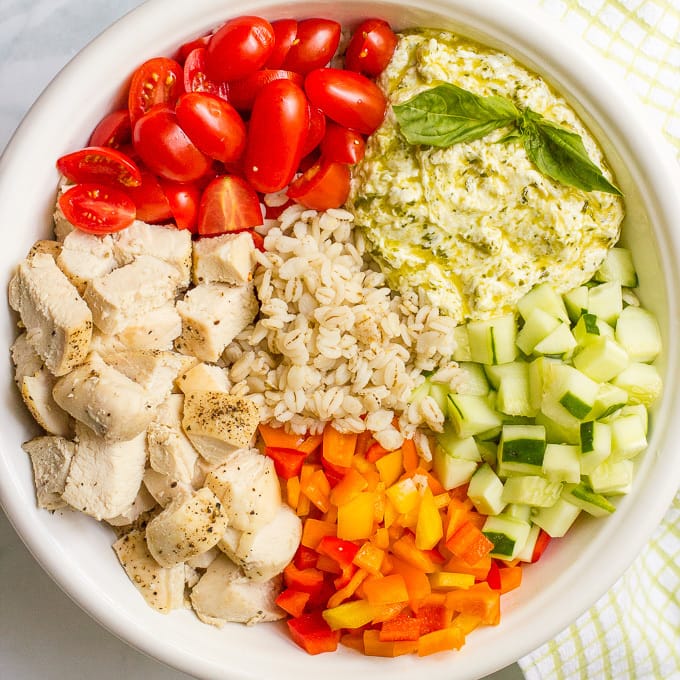 And, as much as I love food and cooking, that might mean staying out of the kitchen. (Well, for the most part. Let's not get crazy - it's me we're talking about!)
But one way to get ahead of the game is to whip up this cold barley salad with chicken and creamy pesto - easy to prep, portable, completely make-ahead, and delicious for lunch or dinner. Whenever you want to pull it out.
Plus, it's just 7 ingredients!
Truth be told, I've been fixing this salad all summer long - it's great for picnics, cookouts, potlucks or just staying at the pool a little longer and knowing it's all set in the fridge for us when we get home.
And realizing that summer is almost up, I figured I'd better go on and share this recipe with you!
A few quick notes on this cold barley salad with chicken and creamy pesto:
Feel free to customize the veggies you use in here to suit your tastes. You can add corn, carrots or zucchini, skip the cucumber, use any color bell pepper you like, substitute heirloom tomatoes - make it your own!
If you are making this day-of, you can mix everything together and just let it sit in the fridge. If you're making it more in advance, keep the creamy pesto separate and mix everything together at least 30 minutes before serving.
Leftovers keep in the fridge for 3-4 days.
Plenty of fresh flavors, plenty of great crunch from the veggies and chewiness from the barley, plus the simple creamy pesto mixture that coats it all and really melds the salad together.
And even if school is back and summer is ending, I have a feeling I'll be making this on a regular basis to have on hand for lunch.
My husband loves when I mix up hearty salads like this for him to take to the office and I love when my lunch is waiting for me in the fridge amid my deadlines from my home office. My basil chicken salad with walnuts and chicken and quinoa salad with salsa hummus are some recent favorites.
Next time you need a bit of a break from the kitchen, a little extra time to enjoy the afternoon or a dinner that's ready to go for you ahead of time, give this easy cold barley salad a try.
And have a wonderful Labor Day weekend!
Enjoy!
~ Kathryn
Yield: 4-6 servings
Chicken and barley salad with creamy pesto
An easy make-ahead chicken and barley salad with a creamy pesto-yogurt mixture!
Ingredients
1 (11 oz.) bag quick-cooking barley, cooked and cooled
3 cups cooked, diced chicken breasts (from a rotisserie or oven-roasted chicken)
1 medium cucumber, peeled and diced
1 medium bell pepper (or 4-5 small sweet peppers), seeded and diced
1 pint cherry tomatoes, halved
¾ cup plain Greek yogurt (I use non-fat)
¾ cup basil pesto (homemade or store bought)
Instructions
The barley and chicken need to be cooked and cooled, so please plan accordingly.

Combine barley, chicken, cucumber, bell pepper and tomatoes in a large bowl and stir to combine.

In a separate small bowl, combine the Greek yogurt and pesto until smooth and well-mixed.

Add the yogurt-pesto mixture to the salad and stir to get everything well-coated.

Let sit for at least 15 minutes to allow the flavors to blend together.

Serve cold or at room temperature.
Notes
Leftovers keep in the fridge for 3-4 days.
Nutrition Information:
Yield:
4
Serving Size:
1
Amount Per Serving:
Calories:

518
Total Fat:

28g
Saturated Fat:

6g
Trans Fat:

0g
Unsaturated Fat:

20g
Cholesterol:

103mg
Sodium:

336mg
Carbohydrates:

23g
Fiber:

3g
Sugar:

5g
Protein:

44g