Folded wraps, the viral TikTok tortilla hack, are easy to make and endlessly customizable! Get the how-to and 25 combinations for breakfast, lunch and even dessert.
This post is sponsored by the American Dairy Association Mideast. As always, as thoughts and opinions are my own.
Today's post is a little difference since it's not a recipe and instead is a how-to and TONS of ideas.
We're tackling the TikTok tortilla hack trend that went viral and then moved over to Instagram and has stayed popular ever since.
These folded wraps are endlessly customizable, which makes them super fun to get creative with. You can mix and match your favorites and come up with your own versions.
But sometimes, I need a few ideas to get going. Or to come back and remember.
So if that's you, too, you are in the right place!
We've got ideas below for 25 combinations of folded wraps that you can enjoy at breakfast or lunch and even for a snack or dessert.
It's pretty much all day eating with these folded wraps!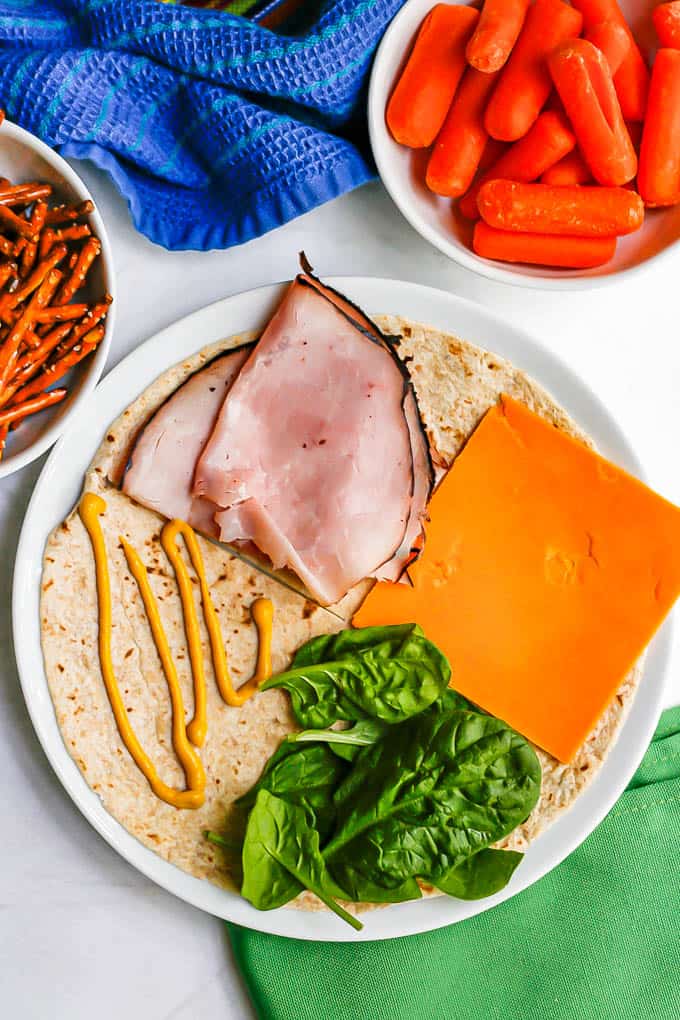 And that's a great thing for this summer, when the kids are home and we're all on the move for camps and activities and pool days. Making a quick wrap and being able to run out the door or maybe just steal a quiet moment on the porch, that's just what I need.
(Also, I definitely think about my busy mom friends and moms of littles, who might only have the one hand to be able to eat with. This will help. And hang in there, it gets easier.)
Oh, and if your family is like mine and seems to survive summer with all-day snacking, check out these 20+ healthy summer snacks. It's got both sweet and savory ideas.
Or if you're just a go-go-go family all year long, check out these 29 healthy snacks on the go and these 16 easy, healthy grab-and-go breakfasts.
Before we tackle the how-to of making folded wraps and before we get to the list of ideas, I've got a quick call-out.
I'm so happy to be partnering again this year with the American Dairy Association Mideast.
The dairy community in the U.S. supports more than 3 million total jobs, directly employing almost one million people and indirectly supporting more than 2 million.
And they are on the front lines of sustainability, too. The carbon footprint of a glass of milk today is two-thirds less than it was 70 years ago, and it still has the same nutritional benefits and great taste. Plus, the dairy community is working to achieve greenhouse gas neutrality, optimize water usage and improve water quality by 2050.
Not to mention that dairy is a nutritional powerhouse.
Dairy foods are one of the most affordable and accessible sources of high-quality proteins and of often under-consumed nutrients like calcium, vitamin D and potassium.
So much to love about dairy. OK, let's get to using and enjoying it!
Now, in case you haven't seen the viral videos, I'll give you the (super simple) run down of how to make folded tortillas.
How to make folded wraps:
Place a tortilla flat on a plate or work surface. Cut from the center of the tortilla straight out to one side. This single cut is the only one you need to make.
Layer your ingredients into each of the four quadrants.
Fold the wrap up then over then down to fold the tortilla into one triangle.
Serve as is or heat before serving, depending on your fillings.
To heat, heat a small non-stick pan over medium-high heat and spray with cooking spray. Place folded tortilla in and heat on both sides until browned and heated through, a couple minutes per side. Serve immediately.
Basically, this can be ready in less than 5 minutes. That's my kind of quick meal-time solution!
OK, let's move right along to the ideas.
I've organized it below by breakfast, lunch and dessert ideas for folded wraps. Feel free to just scroll to the category you're interested in or check them all out.
You can also see my Google web story.
Ideas for breakfast folded wraps:
- Scrambled eggs, bacon, cheddar or American cheese, avocado
- Scrambled eggs, crumbled sausage, shredded cheese, salsa
- Scrambled eggs, sautéed mushrooms and spinach, shredded cheese
- Hard boiled egg slices, shredded cheese, bacon, lettuce
- Cream cheese, smoked salmon, red onion, capers
- Cream cheese, strawberry jam, strawberry slices
- Peanut butter, banana slices (2 quadrants for each or could add mini chocolate chips)
I myself love a little chocolate at breakfast. 😉
OK, let's move on to lunch.
Endless opportunities here. Use these ideas exactly or borrow from them and make your own lunch creations.
Cause you've got lots and lots of choices to customize.
For instance, you can use spinach or romaine or leaf lettuce. You can use any of your favorite condiments.
Swap out the type of beans. Use a plain or flavored hummus.
Get creative with your cheese choices.
Use ham, turkey, chicken or a combination. Add bacon.
Use whole wheat, plain, gluten free or even spinach tortillas for the wraps.
In other words, have fun with it!
Lunch ideas for folded wraps:
- Ham, cheddar, mustard (or mustard and mayo), lettuce
- Turkey, cheddar or American cheese, mustard (or mustard and mayo), lettuce
- Rotisserie chicken, Mexican blend cheese, black beans, avocado
- Veggie - Black beans, sautéed zucchini, sautéed pepper and onions, cheese
- Black beans, spinach, Mex cheese, salsa or chopped tomatoes
- Hummus, spinach, tomatoes, mozzarella
- Hummus, cucumber, peppers, Pepper Jack cheese
- Hummus, olives, peppers, goat cheese or feta cheese
- Quesadilla - spread of refried beans, black beans or chicken, cheese, salsa
- Fajita - Chicken or steak strips, sautéed bell pepper and onions, cheese, salsa
- Greek - Chicken strips, roasted red pepper strips, lettuce and olives, feta cheese
- Pizza - Marinara, pepperoni, mozzarella cheese, sliced green peppers
- Pulled pork, American cheese, coleslaw, pickles
- Chicken salad, lettuce, grapes, walnuts
- Egg salad, lettuce, red onion slices, tomato
As you can see, there are just so many ways to add your lunchtime favorites to a wrap.
Also, depending on your fillings and your preferences, many of these can be heated and served warm.
(You might also want to check out these chicken quesadillas, with 9 different variations, for more warm lunch-time options!)
Once you fold your wrap, you'll just sear it in a non-stick pan sprayed with cooking spray on both sides until golden brown. Takes just a few minutes.
The quesadilla, fajita and pizza ones are definite ones you'll want to heat. The cheese gets all melty and seals the wrap. So, so good.
But we are not done yet.
We're also making some sweet treats and serving these folded wraps for dessert or an afternoon snack.
Again, you can heat some of these if you like to melt the chocolate. And use any fruit or other mix-ins you'd like to try.
Folded wraps for dessert:
- S'mores - graham cracker crumbles, mini chocolate chips, mini marshmallows, Nutella
- Fruit and chocolate - sliced strawberries, banana slices, mini chocolate chips, Nutella
- PB chocolate - peanut butter, Nutella, mini chocolate chips, peanut butter chips
Add a glass of milk and you've got yourself a killer snack or dessert treat!
And there you have it!
Whether you have held off on trying this trend or it's been a staple at your house and you just need some new ideas to try, I hope this list is helpful.
Feel free to pin one of the collages on this page so you can come back and reference it later.
Oh, and if you have other combinations or ideas, please share them in the comments below. We can all use more inspiration!
Happy folding and enjoy!
XO,
Kathryn