Healthy snacks on-the-go will give you new, fun, delicious ideas of ways to pack snacks for busy days. Includes a list of ideas and specific recipes to check out as well.
If you've been around here with me for very long, you know that snacks are my life.
I am a big believer in snacks. Always have been.
I'm that person who always has a snack in her bag. In every bag.
We pack snacks for 3-hour road trips as if we might get stranded for 3 days.
And don't even get me started on the snacks I bring when we go for a weekend camping trip. There is no way we will ever be hungry.
Yup, snacks are a must have in my life. My husband and kiddos, too. Team snacks all the way. 🙌
And that means I've shared a TON of our favorite snacks with you over the years.
I've also shared some of my favorite snack ideas for kids, which is especially useful for toddlers and preschoolers. There's even a free printable. No getting into a snack rut here!
And I've got these 20 healthy summer snacks that are great for some lightened up snacking when it's hot outside but you're also hungry.
Also, this kids charcuterie board is perfect for a fun group snack to share.
(Or if you like hand-held things, check out these 25 combinations for folded wraps.)
Today though, we're taking a slightly different approach to our snacking.
These healthy snacks on-the-go are intended for those days when you are running around, packing a kid off to day camp, spending the afternoon by the lake or pool, heading out for a road trip and more.
In other words, these are snacks to fit our busy lives.
They are portable. They are mostly mess-free. They won't melt. (The few that I included below that could be at risk are clearly marked.)
Cause whether you're hiking or boating or driving around or just sending your kids out and telling them not to come back until dinner (anyone do that anymore? Or was that just my childhood?) — we all need healthy portable snacks we can take with us.
So let's jump right in.
I've got a mega list of ideas coming up that will hopefully give you some inspiration. These are just general ideas that you can customize to your tastes and make work for you and your family.
We've got all kinds, here, too.
Road trip snacks, school snacks, camp snacks, kid snacks, high-protein snacks, non perishable snacks - you can find something to fit your needs.
But don't stop there.
Keep reading because under that main list, I've got a ton of individual, specific recipes for you that you might want to check out as well.
Those include some of our favorites that I make again and again.
And down towards the bottom, I'm sharing a few of our favorite snack containers. Because no one likes a smushed snack.
First up, simple ideas for snacks you can pack and take with.
Healthy snacks on the go:
Fresh fruit (bananas, apples, oranges, clementines, grapes, etc.)
Fresh veggies (baby carrots, cucumbers, celery, etc.)
Fruit cups (mandarin oranges, peaches, pears, applesauce, etc.)
Dried fruit (raisins, dried cranberries, dried apricots, etc.)
Nuts (peanuts, pistachios, walnuts, mixed nuts, etc.)
Fruit leathers
Trail mix
Seeds (like sunflower seeds)
Granola
Granola bars
Snack bars
Cereal
Chips
Pretzels
Peanut butter pretzels
Popcorn
Rice cakes
Pita chips
Energy balls/cookie balls
Muffins or mini muffins
Cookies (healthier ones, see below)
Jerky
Roasted chickpeas
String cheese
Greek yogurt
Hard boiled eggs
Mini bagel sandwiches
Small roll-ups or wraps
Dips (hummus, etc) in small container and things for dipping
And here's an image of that list in case you want to Pin it to save. 👆
OK, that should get you through the rest of the summer I think!
(This is also a list I pull out around back-to-school time cause it's great for after-school activities, sports and all the running around that comes with that time of year.)
Now, I've got some specific recipes for energy balls, granola and granola bars, cookie bars, snack bars, healthy cookies, muffins and more coming up that are great for all ages.
Hopefully, you can find some new favorites to add to your snacking mix!
Recipes for healthy snacks on the go
Energy balls —
Many of these are kept stored in the refrigerator, but I find they travel really well too. We put them in a small container (details down below) and take them right along with us.
Granola and granola bars —
Full disclosure - that last one was our favorite healthy trail mix when the kids were little. These days I make a more traditional trail mix with Cheerios, M&Ms, pretzels and peanuts.
Cookie bars and breakfast bars —
These also are usually kept cold and stored in the refrigerator. However, you can wrap them up and take them with.
Just be warned some of these may fall apart a bit more or get a little messier than the others. (The no bake granola bars and breakfast bars are the biggest culprits in my opinion.) But if we're not going far, or we have a cooler, they are top of the list and some of our faves!
Snack bars and cakes —

Healthy cookies —
Who says cookies can't be healthy? These whole grain and naturally sweetened cookies pack great and are healthy enough to eat any time of day!
Savory snacks on the go —
Just be sure to pack any dippers (pretzels, pita chips, veggies, etc.) to go with your dips.
Healthy muffins —
Or check out my large and always growing list of healthy muffin recipes.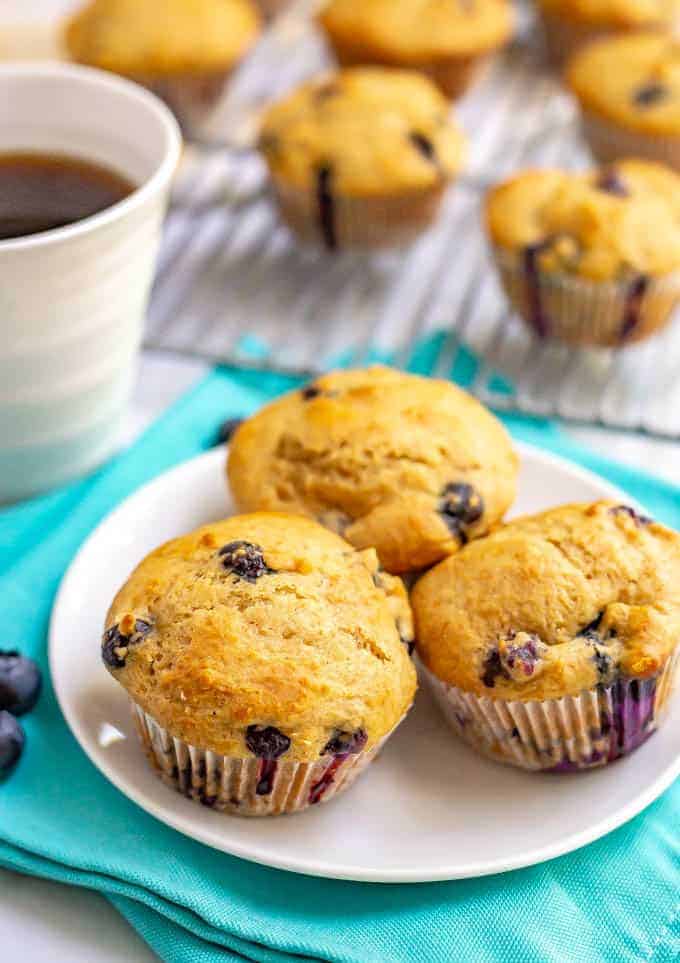 Whew, that's a lot of snack recipes. I like to share. 😂
OK, I also promised I would share some of our favorite containers.
Many of these are ones I got when my kids were babies and toddlers. But those small sizes are great for things like nuts, trail mix, raisins, etc.
And having a container can help snacks like cereal and popcorn not get all smashed to bits, compared with being in a plastic bag.
(Same goes for protecting muffins or sandwiches from getting smushed.)
No smashing, no smushing of snacks, please.
So here are some of our faves.
On the go snack containers:
- Green Sprouts or OXO storage cubes: These are tiny and perfect for small servings of food (grapes, raisins, trail mix, etc.) to travel with.
- Rubbermaid small round containers with lids (perfect size for muffins)
- Small bowls with lids (great for cereal, nuts, dried fruit, granola, pretzels, etc.)
And of course, we also have ziplock snack bags and all manner of plastic Tupperware and containers that work well, too. You can find plenty of options at Target or Walmart. Just consider your sizes and maybe have a selection.
Finally, if you love snacking like I do, stay tuned because you know I'm just going to keep sharing more and more healthy snacks.
You can sign up for my free e-newsletter to get all of my new recipes delivered straight to your inbox so you never miss a thing. I'll even send you my free e-cookbook, Healthy Weeknight Dinners, as a thank you!
If you have any favorite snacks I've missed, please leave a comment below. We can all use more ideas!
XO,
Kathryn