An easy, light homemade granola with just 5 basic ingredients (and no oil needed)! Perfect for breakfast or snacking and great for on-the-go!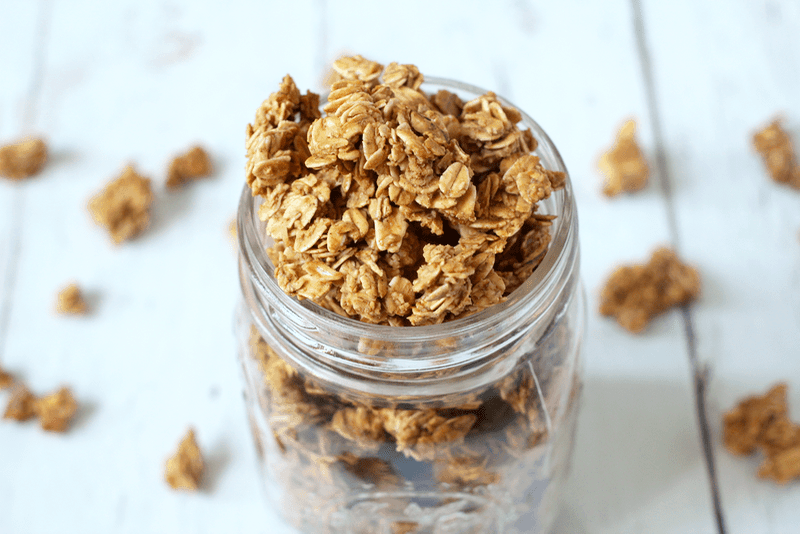 Granola to me means wholesome goodness. It's crunchy, it's sweet, it's oh so satisfying. It works for breakfast, for snacking, for travel. We love the stuff!
However, store-bought versions can be expensive and loaded with fat and calories.
No bueno in my book.
And store-bought varieties can have some funky, less than wholesome stuff in it. Check those labels, y'all.
So I make my own and keep it pretty simple. Just five basic pantry ingredients and lots of ways to use it.
Ideas for homemade granola:
Top your morning yogurt with some fruit and granola for an easy parfait.
Pack some for school lunch or in a small container to have at the office for a mid-day snack.
Take it on road trips, to kids sports events or to the pool. It travels great!
Make healthy granola muffins - so tasty!
Add it to some frozen yogurt or ice cream for a crunchy dessert topping!
Tips on how to make homemade granola:
* You'll need to watch your oven, as granola can go from golden brown to burnt pretty quickly. I've lowered the temp on this recipe over the years and that helps, but I recommend you check it at 25 minutes and keep a close eye on it. (Particularly the first time you make this. You'll get a feel for it after that.)
* You can get big granola clusters if you flip the granola carefully halfway through the cook time. The more of it that stays stuck together, the more clusters you'll get.
* The granola is still soft when it comes out of the oven. It hardens up as it cools.
* You can store granola in a covered container in the pantry for 2-3 weeks.
My kids love this granola too! I waited until about age 2 to introduce it to M since it's so crunchy.
It took her a full 30 minutes to eat the very small bowl I gave her, but she was determined. 😂
We started taking it with us when we'd go out to brunch because we knew she'd be well occupied. I call that a #momwin!
As for my husband and I, we use this easy peanut butter granola for a little yogurt parfait in the morning. Spoon up your Greek yogurt, drizzle with honey if desired, top with blueberries (or fruit of choice) and sprinkle with granola.
And by sprinkle, I mean I add fistful after fistful of granola, sneaking side bites along the way.
There's usually more granola than yogurt in my parfaits. 😂
Of course, you can also use this as a basic granola recipe and tailor it to your tastes.
Granola add-in ideas:
Dried fruit, such as raisins, dried cranberries, dried cherries, dried blueberries or chopped dried apricots
Chopped nuts, such as peanuts, walnuts or pecans.
Unsweetened shredded coconut
Chocolate chips (mini or regular) or peanut butter chips
It's all about you. Make it your way. ❤️
But do try this healthy homemade granola. It's so easy to make and so much more budget-friendly and wholesome than what you can buy.
Enjoy!
XO,
Kathryn
P.S. Check out these other great granola recipes:
Cranberry white chocolate granola
Yield: about 3 cups
5-ingredient homemade granola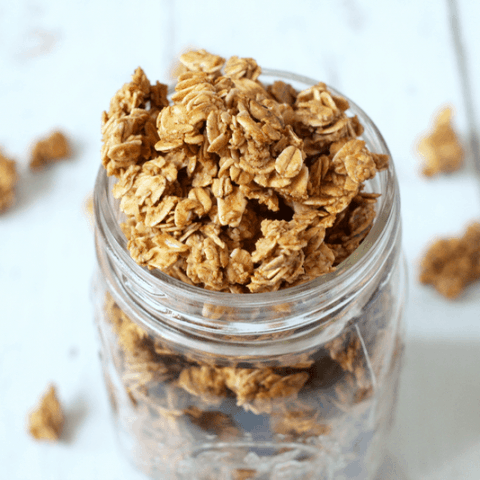 An easy, light homemade granola with just 5 basic ingredients (and no oil needed)!
Ingredients
⅓ cup creamy peanut butter
⅓ cup honey
1 heaping teaspoon pure vanilla extract
½ teaspoon ground cinnamon
2 ½ cups oats (I use old-fashioned)
Instructions
Preheat oven to 300 degrees. Line a baking sheet with parchment paper and set aside.
Mix together peanut butter and honey in a medium bowl, until smooth. Stir in vanilla and cinnamon until well-incorporated. Add oats and stir until they are well coated.
Spread mixture onto parchment paper in an even layer.
Bake at 300 for 25-30 minutes, flipping the pieces over halfway through. This helps it get crunchy all over. If you flip carefully and leave lots of it stuck together, you'll get really huge clusters.
Let cool completely to firm up. (It can be soft out of the oven but it does get hard and crunchy. Just wait for it.) Store in an airtight container and enjoy!
Notes
Be sure to watch the granola near the end of the cooking time to make sure it doesn't burn. I've reduced the oven temperature for this recipe over the years to help prevent that but you'll need to keep an eye on it in your oven the first time you make it.
This granola keeps in the pantry for 2-3 weeks.
Recipe adapted from Peanut Butter Fingers.
Nutrition Information:
Serving Size:
¼ cup
Amount Per Serving:
Calories:

199
Total Fat:

6g
Saturated Fat:

1g
Trans Fat:

0g
Cholesterol:

0mg
Carbohydrates:

31g
Fiber:

4g
Sugar:

9g
Protein:

7g