This easy banana chocolate chip snack cake is fluffy, moist and full of chocolate chips! It's whole wheat and naturally sweetened and makes a great sweet treat any time of day!

Happy Friday, friends! I hope you've had a good week, but you'll have to excuse me if I'm an emotional mess today.
M had her preschool graduation last night. Cue the tears.
I literally started crying as soon as she started walking down the aisle. They sang a song, went back out while the next class sang and came back in with graduation caps on, tassels and all. Oh the tears.
She's been with some of the friends in her preschool class since they were 3-4 months old. We've grown up with these families, navigated the world of parenting together. And now it's time to say goodbye.
I tried not to bawl uncontrollably because M still doesn't understand that she won't have any of her same friends in her class come kindergarten in the fall; they're all going to different schools. It will be an adjustment for sure.
Sniffle, sniffle.
The best cure for feeling like time is flying by? Slowing down to savor it.
And we are - we've got a beach vacation next week and I'm so excited to lounge in the sun, chase my little ones in the sand, splash in the ocean and just drink in summer.
(I'm definitely making bourbon slush, too, so I'll literally be drinking in summer ;))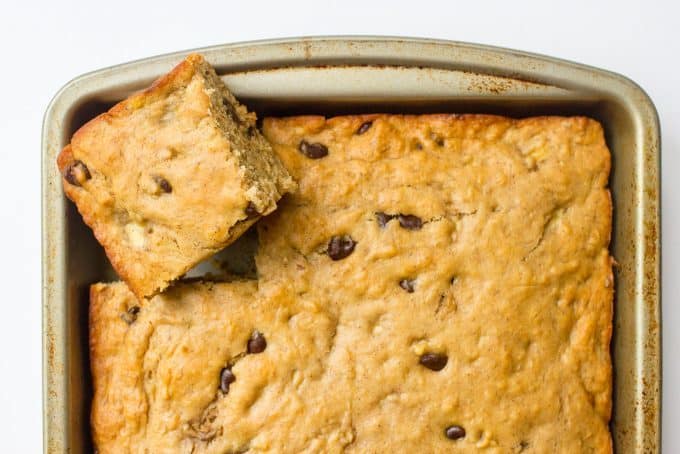 I'm also packing some overnight oatmeal jars and some of today's banana chocolate chip snack cake to have ready-to-go breakfasts and snacks on hand next week. Gives us more time in the sun!
Cake, of course, is a dessert. Snack cake, however, is an anytime kind of affair. Breakfast, late morning, post-lunch, after dinner - anytime you need it!
It's moist and fluffy and sweet and just the right hint of banana. It's also got plenty of chocolate chips scattered throughout so you get a bit of gooey chocolate with every bite.
I have discovered I have zero self-control around this snack cake.
I had three for breakfast one day a couple of weeks ago. And um, that was after I ate breakfast. They were the small squares at least.
OK, not true. They were the super big ones. #horribleliar
A few notes on this banana chocolate chip snack cake:
I have tried this with less honey and fewer chocolate chips and it just wasn't sweet enough. The recipe below is perfectly indulgent but still decently healthy.

I've also tried this using butter or substituting applesauce in its place. Both turn out really good (though of course the butter adds a bit more richness) in case you need that substitution to make this dairy free or vegan.
After these are cooked and cooled, they can be kept, covered, at room temperature for up to 2 days. After that, I keep them in the fridge (for another 2-3 days) or freeze them. You can pop them straight into the microwave to warm up for a quick breakfast or snack on the go.
M says it's time to eat! 👆 And the preschool graduate gets what she wants this week!
Oh, and if you need more inspiration, check out these 25 ripe banana recipes.
I hope you give this snack cake a try, whatever the time of day. And I'll be stopping in with a couple of recipes next week, while we get our beach week on.
Have a wonderful weekend, and enjoy!
XO,
Kathryn
P.S. I made a new video to show you how easy this snack cake is to make!
Yield: 9 large squares or 16 small squares
Banana chocolate chip snack cake
This whole wheat, naturally sweetened snack cake hits the spot ANY time of day!
Ingredients
2 large ripe bananas (or 3 small bananas)
⅓ cup honey (or substitute maple syrup)
½ cup milk (regular, soy, almond - whatever you use)
¼ cup melted unsalted butter (or sub unsweetened applesauce)
2 teaspoons vanilla
2 cups white whole wheat flour
1 teaspoon baking powder
½ teaspoon baking soda
½ teaspoon cinnamon
¼ teaspoon salt
1 cup semisweet chocolate chips
Instructions
Preheat the oven to 350. Grease an 8x8 baking pan with nonstick cooking spray.
In a small bowl, mash the bananas with a fork and add the honey, milk, butter and vanilla. Mix until well combined.
In a large bowl, combine the flour, baking powder, baking soda, cinnamon and salt.
Add the wet mixture to the dry ingredients and stir until just combined. Fold in the chocolate chips.
Pour the batter into prepared baking pan and smooth the top so its even.
Bake at 350 for 22-26 minutes, until a toothpick inserted in the center comes out clean.
Let the snack cake cool for a few minutes in the pan before slicing into squares.
Notes
Milk: You can use skim milk (or 1% or 2%) or an alternative milk like soy or almond milk for this recipe.
Butter: The butter adds just a touch of richness, but I've made these with applesauce and that worked well too. It can be a good option if you need these to be vegan or dairy-free.
Flour: I use white whole wheat flour to make these whole grain, but you can also substitute all-purpose flour. Or you can use a mixture of all-purpose and whole wheat flour.
Leftovers: Extras can be kept, covered, at room temperature for up to 2 days. After that, store them in the fridge (for another 2-3 days) or freeze them. You can pop them straight from the fridge or freezer into the microwave to warm up for a quick breakfast on the go.
Nutrition Information:
Yield:
9
Serving Size:
1
Amount Per Serving:
Calories:

304
Total Fat:

12g
Saturated Fat:

7g
Trans Fat:

0g
Unsaturated Fat:

4g
Cholesterol:

15mg
Sodium:

194mg
Carbohydrates:

50g
Fiber:

5g
Sugar:

25g
Protein:

5g