A slushy, sweet, boozy drink, perfect for summer sipping!
Welcome to your new favorite summer drink!
I loved this bourbon slush before I became a bourbon lover. You don't really taste it, so don't let that deter you.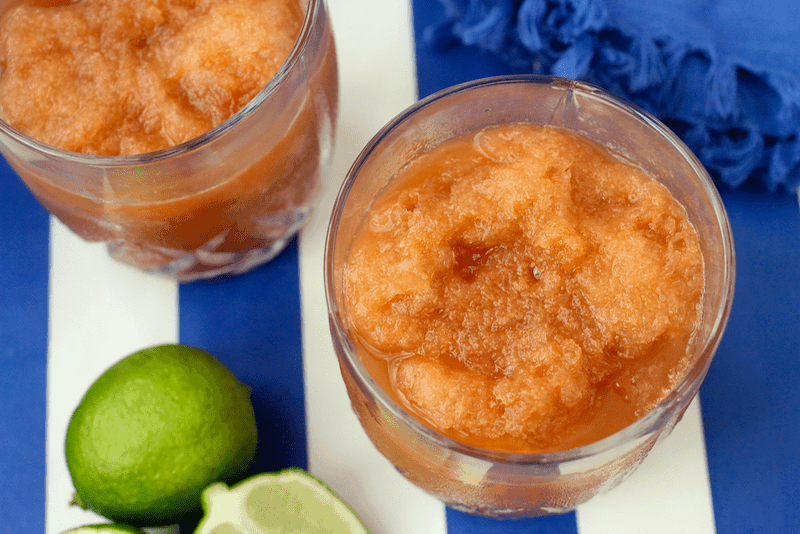 But you guys, this drink. Oh. My. My mom passed this recipe on to me. Bourbon slush was a classic 1970s drink, she said. She and my dad used to make it when we'd go on family beach week vacations in the summer when I was growing up. No wonder they were so relaxed and fun!
It's slushy, it's sweet, it's a perfect combination of afternoon flavors.

Bourbon slush is also amazingly addictive! You'll just want to sip it, spoon it, gulp it down all afternoon. And I'm not gonna stop ya. I'll just encourage you to swim in the shallow end of the pool.
Mix this up, let it freeze, then scoop it out, top it off and relax in a rocking chair or lounge chair or adirondack chair – or shoot, your front stoop – and taste some summer.
P.S. Get some plastic cups, cause you're gonna wanna take this drink for a summer stroll. Cheers!
Yield: Lots! And somehow, never enough.
Bourbon slush
A slushy, sweet, boozy drink, perfect for summer sipping!
Inactive Time
23 hours
50 minutes
Ingredients
2 12oz. cans frozen lemonade
1 12 oz. can frozen orange juice
7 cups water
7 teaspoons instant tea
1/3 cup sugar (can be omitted altogether)
2 cups bourbon (see notes)
For serving: diet Sprite or diet Ginger Ale
Instructions
Mix all ingredients (except soda) until well combined. Store covered in an airtight container in the freezer for at least 24 hours.
Use a spoon to scrape and scoop the bourbon slush into a glass. Fill about 2/3rds full and top with diet Sprite or diet Ginger Ale. Mix with the spoon to get it to a slushy consistency. Enjoy!
Notes
Normally, I like really good bourbon. I have all my favorites for different types of drinks. But honestly, this does not require quality bourbon. Any cheap kind will do here.
Nutrition Information:
Amount Per Serving:
Calories:

1625
Total Fat:

1gg
Carbohydrates:

129gg
Sugar:

121gg
Protein:

2gg