These ripe banana recipes include banana bread, muffins, oatmeal, cookies, cakes and more! Plus, tips on how to ripen bananas quickly and how to freeze ripe bananas.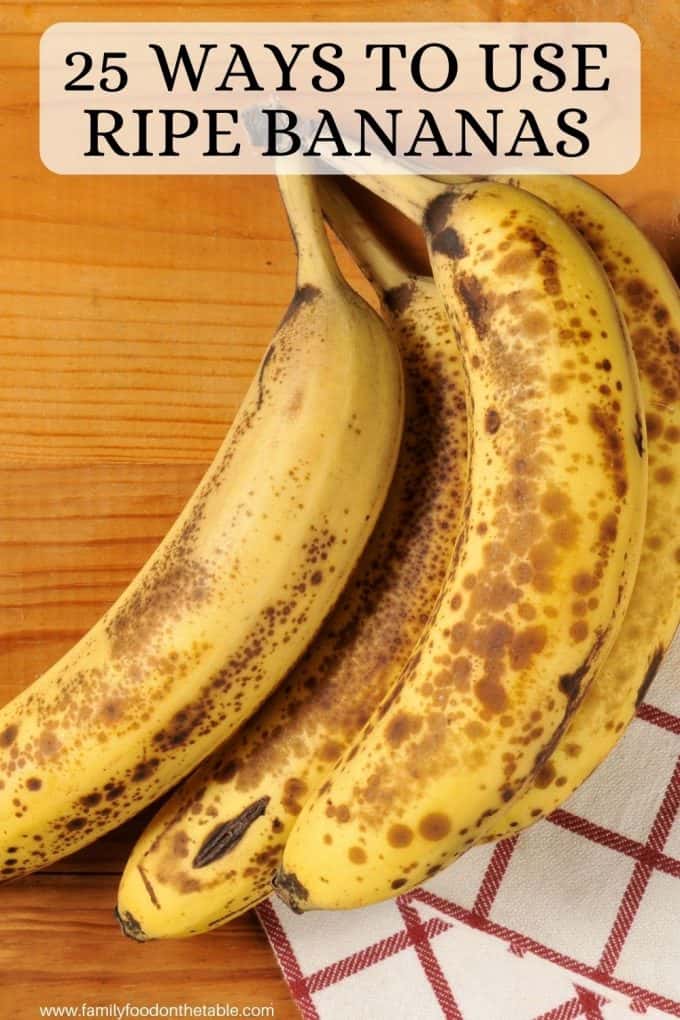 We eat a ton of bananas in my house, whether that's for breakfast or snacking.
(Peanut butter slathered on a banana is a great quick breakfast or snack. Sometimes I substitute Nutella for an afternoon chocolate fix.)
Some weeks though, we just don't seem to get around to eating them all.
And then it's the weekend and I have a one, two, three, four or more ripe bananas that need to be used before they go bad.
So years ago I started a list for myself of what to do with ripe bananas.
Of course, there's the standard banana bread. But there are so many more options! And sometimes I need a list to remind me of them.
Today, I'm finally sorting through and sharing that list of ripe banana recipes so you can get some new inspiration as well!
Cause we've all been there with a bunch of brown, soft bananas that no one wants to eat. And that I really don't want to have to toss.
Or, you might have the opposite problem.
Maybe you need some ripe bananas for a recipe but yours are decidedly yellow or even still a bit green.
Have no fear, there are a few different methods to help ripen bananas quickly. All the details on that are below.
For now, let's move along to all the delicious recipes.
These are organized below by category, such as breads, muffins, oatmeal, pancakes, cookies, cakes, etc. Hopefully that'll make browsing a little bit easier.
Many of the recipes below are from my site, but I've also included some favorite recipes from others.
To note: Many of my recipes use white whole wheat flour and are whole wheat or whole grain. However, you can just substitute all-purpose flour in any of those recipes and it will work fine. 👍
Finally, because this is how I like to review things myself, you'll notice each recipe has a number beside it.
That's how many ripe bananas are called for in the recipe. If the recipe says 2 medium bananas, I've listed a (2) after the recipe name.
(Yes, I'm a total type A. Why do you ask? 😜)
You'll notice there are a couple of instances where I've listed 2-3. That means the recipe calls for 2 large ripe bananas, but you could also use 3 small ones.
This can help you narrow down what to make, based on how many ripe bananas you have to use up. 🙌
And keep reading below these specific recipes because I've also got tips on how to freeze ripe bananas. That can be a great option when you don't feel like making anything - or you have more bananas than you need for a recipe.
Alright, let's dive in!
Ripe banana recipes
Breads
- Best healthy banana bread, with or without chocolate chips (2-3)
- Whole wheat peanut butter banana bread (3)
- Whole grain banana applesauce bread (2)
- Healthy zucchini banana bread (2)
Muffins
- Peanut butter banana muffins (2)
- Healthy strawberry banana muffins (1)
- Healthy double chocolate banana muffins (2-3)
- Quinoa banana mini muffins (2)
- Banana blueberry muffins (2)
- Spinach banana mini muffins (2)
Oatmeal
- Banana bread baked oatmeal (2)
- Peanut butter banana baked oatmeal (2)
- Chocolate PB cup baked oatmeal (1)
Pancakes
- Banana chocolate chip pancakes (1)
Cookies
- Banana oat cookies (2)
- Baby banana cookies (2)
- Pumpkin banana oatmeal cookies (2)
- Skinny chunky monkey cookies (3)
Cakes
- Banana pumpkin chocolate chip cake (2-3)
- Banana chocolate chip snack cake (2-3)
- Banana chocolate chip bars (5)
Other
We've got popsicles, smoothies, pudding and ice cream in this section.
- Breakfast popsicles (2)
- Peanut butter, banana and spinach smoothie (2)
- Healthy chocolate pudding (1)
- Banana "nice" cream (2+)
So many yummy recipes to choose from!
Now, as promised, I've got a few different ways you can get your bananas to ripen more quickly.
The best way, of course, is the natural time it takes for the banana to get all the way ripe. That develops the sweetness and the softness the best.
But I get it, I'm impatient too. And sometimes we need to help nature along.
How to ripen bananas quickly:
Technique #1: Paper bag
- Place your banana in a paper bag and roll the top down to seal it in. This helps trap in the ethylene gas that bananas release and that help speed ripening.
- To speed it up even more, add an apple, pear, apricot or avocado to the paper bag along with the banana. Those fruits also release ethylene gas and can further speed ripening.
- This method can take 1-3 days, depending on your starting point. So you might need a different option that's a bit faster.
Technique #2: Oven
- You can bake bananas in the oven to help them ripen.
- Place the unpeeled bananas on a baking sheet lined with parchment paper, with a little space between them.
- Bake in the oven at 300 degrees Fahrenheit for 30-40 minutes, checking every 15 minutes or so.
- Note: The banana peels will turn black. That's OK. The banana inside will get super soft and almost mushy - perfect for baking. (However, I don't recommend this method if you're looking to eat the bananas raw.)
Technique #3: Microwave
- You can use the microwave to soften bananas in just a few minutes, if you're really in a pinch.
- Pierce the unpeeled bananas with a fork several times. Place on a microwave-safe plate or on a paper towel and microwave on high in 30 second intervals, until soft and ready to use.
- These will be soft and ready for mashing, but just a heads up that they don't develop the same sweetness as naturally ripened bananas or the other methods. You might need to adjust your recipe accordingly to add some extra sweetness.
OK, hopefully you are all set with your ripe bananas and ready to start using them!
But like I mentioned, sometimes you don't actually feel like baking. Or maybe you have 6 ripe bananas and just need 2 for a recipe. Definitely been there myself.
Freezing extra ripe bananas is a great way to avoid food waste. And you'll have some ready to go next time you want to make banana bread or baked oatmeal.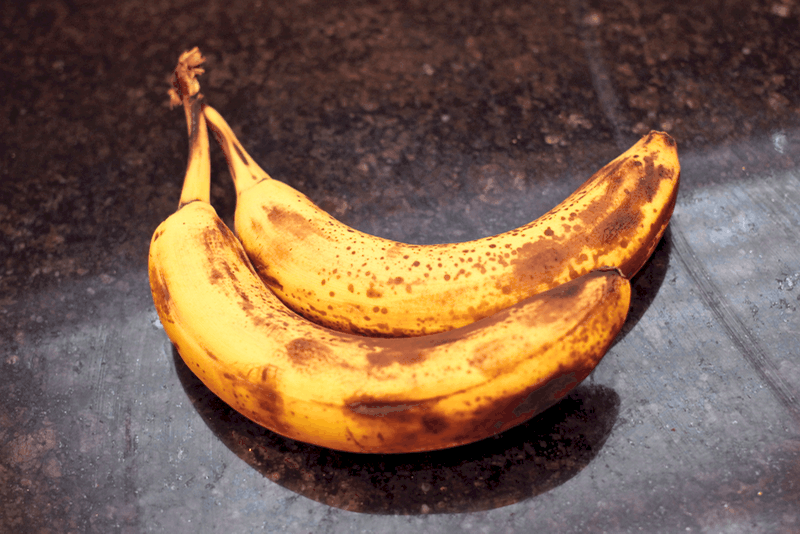 Here's some tips and tricks on how to do it.
How to freeze ripe bananas:
Peel your ripe bananas and place the bananas in a freezer-safe plastic bag. Make sure to label and date it.
You can freeze the bananas whole or cut them into chunks. If you want the pieces separate, freeze on a parchment paper lined tray first then add to a bag all together.
Freeze for 6-8 months for best results. (You can freeze for longer, but the flavors may dull over time.)
How to thaw and use frozen bananas:
- Let the frozen bananas thaw completely. Drain any excess liquid before mashing then proceed with the recipe.
- If using the bananas for smoothies, ice cream or blended recipes, you can add the frozen bananas straight into the blender without thawing.
That was a lot of banana love, but I hope it was helpful and answers all your questions and gives you lots of ripe banana recipes to check out!
Oh, and stay tuned because I will surely be bringing you more and more recipes that use ripe bananas, since we just won't stop with them at my house!
You can sign up for my free e-newsletter to get all of my new recipes delivered straight to your inbox so you never miss a thing. I'll even send you my free e-cookbook, Healthy Weeknight Dinners, as a thank you!
And if you've got a favorite recipe that uses ripe bananas, feel free to drop it in the comments below to share with the rest of us. I'm always up for new ideas!
Enjoy!
XO,
Kathryn