A slightly healthier banana pumpkin chocolate chip cake recipe with rich chocolate flavor, a hint of cinnamon and tall thick slices - a delicious fall dessert!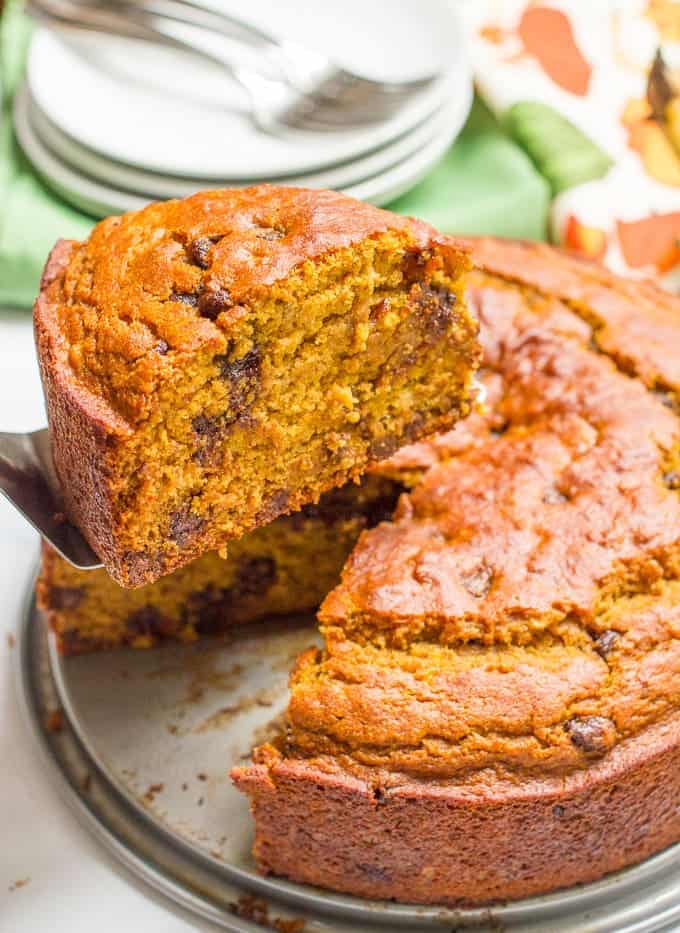 Happy Friday friends!
I hope you've had a great week! The weather is starting to cool off here, so I pulled out some of my fall clothes and I'm feeling very ready for cooler days ahead! I also got a case for my new iPhone 7 and couldn't be more happy with it. It's the little things, right?
Mainly I love it because it's purple and I'm a bit purple obsessed. 💜💜💜 It's been my favorite color since high school. Maybe middle school. We don't need to count the years so let's just say a very long time. 😉
(In fact, when I chose Northwestern University for college, whose colors are purple and white, my friends thought that was the reason. It was because they had the best journalism school, but the purple factor sure didn't hurt!)
But I digress...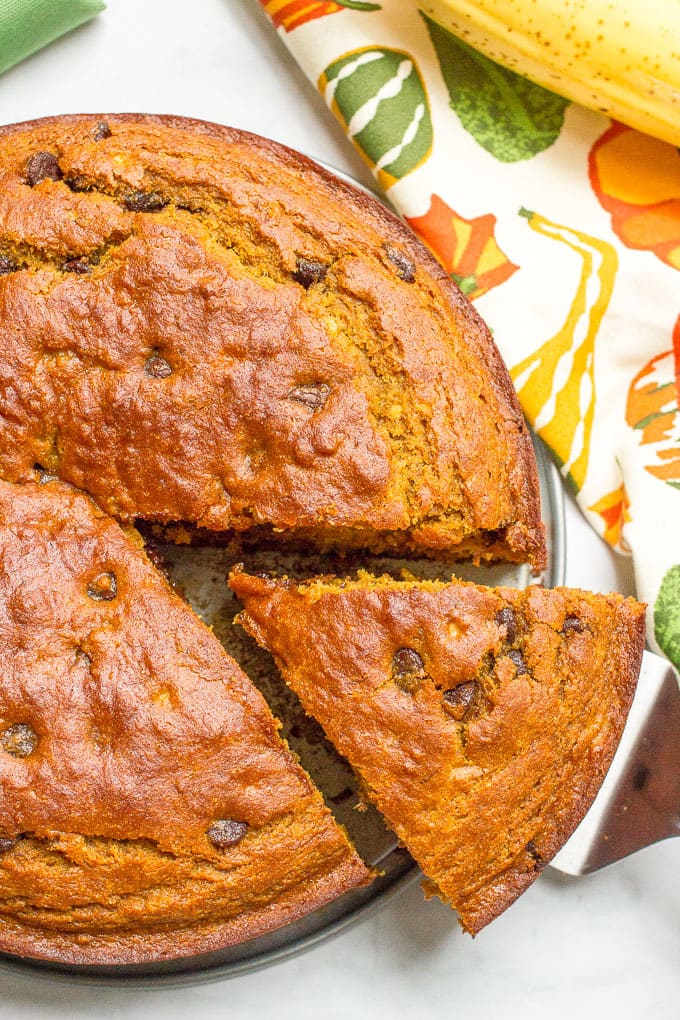 I told you with my pumpkin baked oatmeal with chocolate chips recipe that I'd be bringing you more pumpkin+ chocolate recipes, didn't I? Here's #2. (And one more to go, my chocolate pumpkin granola, coming at ya next week!)
Today, we eat cake. Pumpkin chocolate chip cake. Banana pumpkin chocolate chip cake.
Warm, rich pumpkin-infused chocolate flavor with hints of cinnamon spice in every bite. It's sweet, it's moist and the slices are OH so tall!
This cake is your fall baking project homework. You just gotta make it!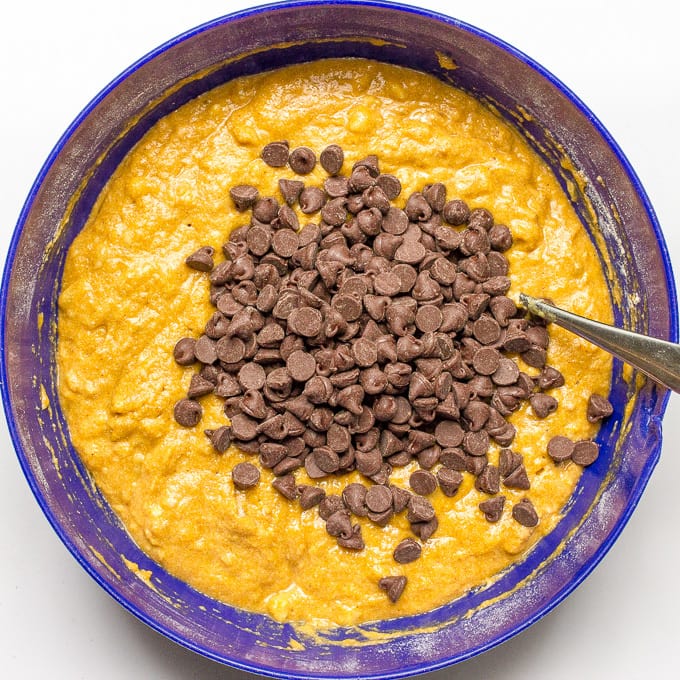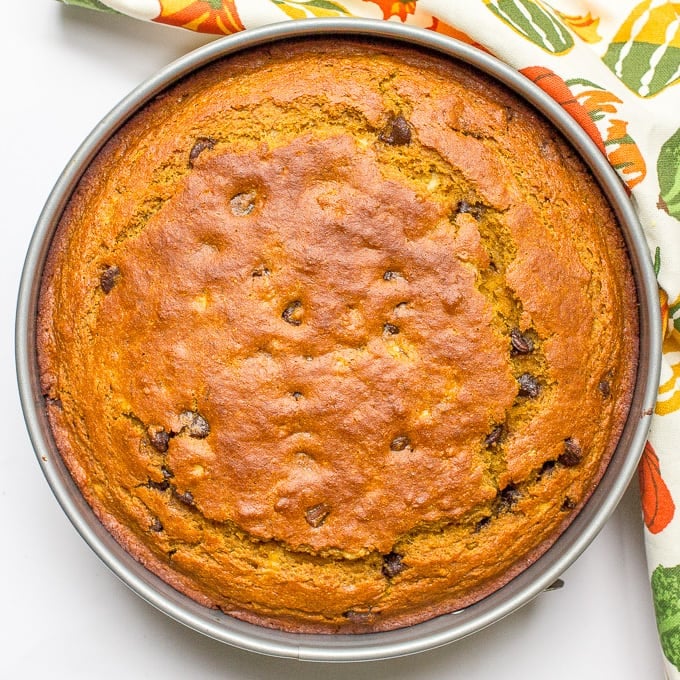 I did. A couple of times. I had to send half of the second cake with my husband to his office so I wouldn't keep eating it at all hours of the day! He said they scarfed it up. 😀
Though of course, I healthified this cake a bit:
It uses whole wheat flour. I always opt for white whole wheat flour - all the healthy and whole grain benefits of whole wheat flour but it's lighter and not that big of a taste difference from all-purpose flour.

It's naturally sweetened, with banana and honey.
There's just ¼ cup of butter for the entire cake. Not bad.

A few other quick notes for you on this banana pumpkin chocolate chip cake:
You don't really taste the banana in the cake. It just adds sweetness and texture and helps keep this lightened up a bit.

Don't sub applesauce for the butter. I tried this — cause I do that often in baking -- and the texture came out a little funny. I think the triple combo of banana, pumpkin and applesauce was just too much.
This cake should be stored in the refrigerator after the first day. (I tend to do this with all baked goods containing banana; they can get a funky taste if they sit out too long.)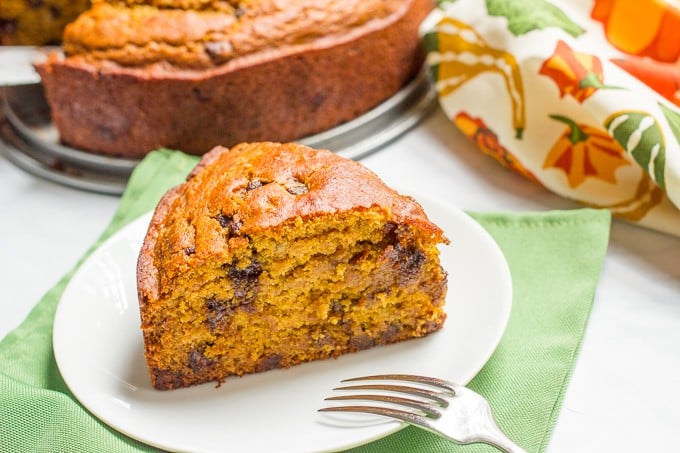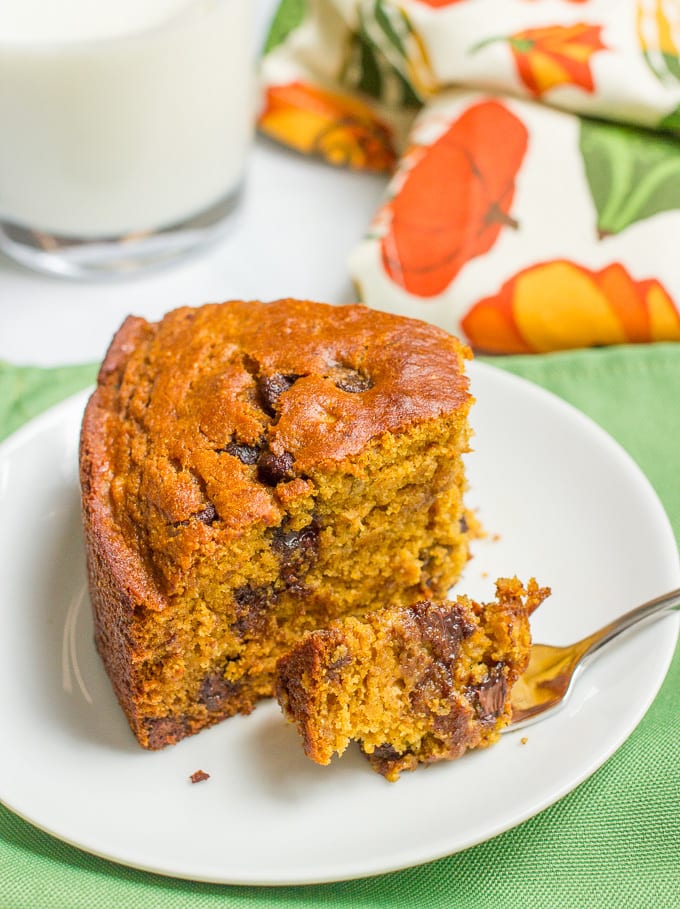 I hope fall is treating you well. And I hope your weekend is full of some fun baking projects. Like this one. 😉
Enjoy!
~ Kathryn
Yield: 1 9-inch round cake
Banana pumpkin chocolate chip cake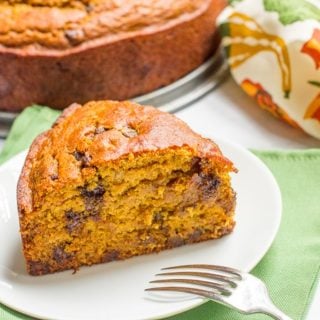 This (slightly) healthier banana pumpkin chocolate chip cake is a delicious fall dessert!
Ingredients
2 ½ cups white whole wheat flour
1 ½ teaspoons ground cinnamon
1 ½ teaspoon baking soda
¼ teaspoon baking powder
½ teaspoon salt
2 large ripe bananas, mashed
3 large eggs, beaten
1 heaping cup pumpkin puree
¾ cup honey
¼ cup milk (any kind)
¼ cup unsalted butter, melted
2 teaspoons vanilla extract
1 ¼ cups semi-sweet chocolate chips
Instructions
Preheat oven to 350.

In a large bowl, mix the flour, cinnamon, baking soda, baking powder and salt.

In a separate medium bowl, mash the bananas with a fork. Add the eggs and whisk together. Then add pumpkin puree, honey, milk, butter and vanilla and stir well to combine.

Add the wet ingredients to the dry ingredients and stir until just combined. Fold in the chocolate chips.

Pour the batter into a well-greased 9-inch springform pan.

Bake at 350 for 40 minutes, or until a toothpick inserted into the center comes out clean.

Remove the outer ring of the springform pan and let the cake cool before slicing and serving.
Notes
This cake should be stored in the refrigerator after the first day. (I tend to do this with all baked goods containing banana; they can get a strange taste if they sit out too long.)
Nutrition Information:
Yield:
8
Serving Size:
1
Amount Per Serving:
Calories:

481
Total Fat:

17g
Saturated Fat:

9g
Trans Fat:

0g
Unsaturated Fat:

7g
Cholesterol:

86mg
Sodium:

422mg
Carbohydrates:

82g
Fiber:

8g
Sugar:

46g
Protein:

10g