These healthy dessert recipes and ideas include everything from fruity treats to chocolate delights for some lightened up ways to satisfy your sweet tooth.
Dessert every day!
There's something to be said for a little sweet treat after dinner, but it doesn't have to be a big production or a huge indulgence.
Sometimes less is more. So let's tackle some healthy dessert recipes and ideas that'll have your sweet tooth satisfied more often!
First up, some easy ideas for making a late night sweet treat that really doesn't require a recipe.
Below that are some specific recipes that you'll definitely want to check out, too.
Healthy Dessert Ideas
Banana or apple slices with PB or Nutella
Whole grain bread with Nutella
Fresh fruit with cottage cheese and honey (or with whipped cream)
Fresh fruit dipped in Greek yogurt and frozen
Fruit salad or fruit kabobs
Pudding cups or pudding pops
Dark chocolate and almonds
Chocolate covered strawberries or bananas
Sorbet or frozen fruit pops
Baked or stewed apples
Grilled fruit with whipped cream
Healthy Dessert Recipes
Healthy Chocolate Chip Muffins
Healthy chocolate chip muffins are 100% whole grain, low in sugar and can be made dairy-free. They're soft, fluffy and seriously loaded with chocolate chips. They're great for a fun breakfast or lunchbox treat or an afternoon or late-night snack!
5-ingredient Raw Date Brownies
Raw date brownies require just 5 ingredients and 10 minutes for a healthier treat that's perfect as an afternoon snack or on-the-go energy bar!
Healthy No Bake Mini Cheesecake Bites
Healthy no bake mini cheesecake bites are naturally sweetened and made with lower-fat cream cheese and Greek yogurt for a lightened up but super creamy and delicious cheesecake dessert!
This Healthy Mug Cake is a single-serve chocolate cake with only 106 kcal per serving for a quick and easy snack. Plus, this delicious healthy chocolate mug cake is egg-free, dairy-free and sugar-free. By the Healthy Conscious Plant Kitchen.
No Bake Chocolate Chip Cookie Balls
These 4-ingredient no-bake chocolate chip cookie balls take less than 10 minutes to make and are a great, wholesome healthy snack anytime of day!
Learn how to make a healthy fruit pizza with a grain-free sugar cookie crust and a delicious lemony Greek yogurt filling — the perfect healthy treat for summer! By Fit Foodie Finds.
Enjoy sweet and delicious chia seed pudding as a healthy snack or breakfast. It's packed with good nutrition and tastes great. By Rachel Cooks.
No Bake Oatmeal Raisin Cookie Balls
These no-bake treats taste just like chewy oatmeal raisin cookies but are full of only wholesome ingredients! They're also nut-free, gluten-free, vegan and have no added sugar.
Chocolate Chip Zucchini Brownies
Chocolate chip zucchini brownies are rich, decadent and delicious – no one will realize they are secretly healthy! Whole wheat and loaded with zucchini, these brownies make a perfect chocolate treat!
This strawberry yogurt cake is luscious and deliciously light (with no butter or oil) and perfect for a spring or summer dessert! Serve as is or top with whipped cream, a cream cheese frosting or vanilla glaze.
Banana ice cream, also called nice cream, is a healthy ice cream that's quick and easy to prepare, with only 1 main ingredient required. By Detoxinista.
These thick, chewy and fudgy bars require no baking and taste like the classic sugar cookie…minus the sugar! It even comes with a thick frosting which can be protein packed or using coconut cream! A paleo, vegan, gluten free and grain free delight! By The Big Man's World.
5 Minute Healthy Chocolate Pudding
A healthy, no-cook chocolate pudding that is naturally sweetened with honey. It's also dairy-free, gluten-free and can be vegan!
These healthy blueberry oat cookies are whole grain and naturally sweetened and perfect for snacking! They're easy to make and travel great, too.
These thick and goodie-packed low calorie oatmeal cookies are made from wholesome ingredients, yet they taste like a true treat! By Well Plated.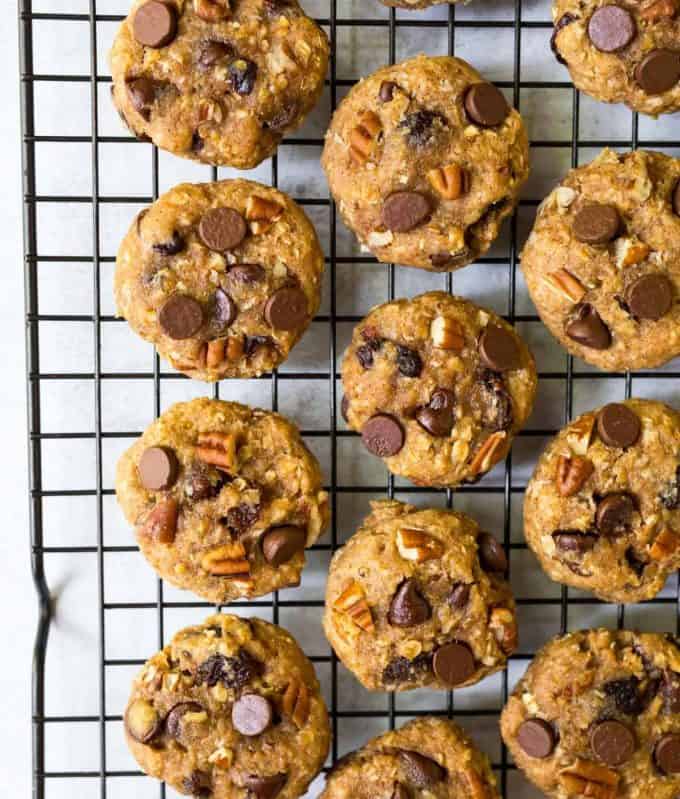 Baby banana cookies are just 5 wholesome ingredients and come out so soft and perfectly sweet (with no added sweeteners). A great healthy snack and finger food for toddlers and kids!
Flourless Black Bean Brownie Muffins
Incredible, flourless black bean muffins that taste like a delicious, cakey brownie. That's right, the secret ingredient in these easy, fiber packed brownie muffins is black beans! They're dairy, gluten and grain free and the perfect healthy treat or snack. By Ambitious Kitchen.
And if you need more inspiration, check out my entire category of healthy desserts for more yummy recipes!
One disclaimer: Everyone has a different idea of what "healthy" means.
Some people might be here looking for low-calorie options. Others might want wholesome, whole foods and from scratch recipes.
Some people believe in low-carb, others need gluten-free. You might care about naturally sweetened or whole grains and the next person couldn't care less.
I've aimed to include a wide variety of dessert ideas and recipes in this round-up that could fall somewhere on the healthy spectrum for a variety of people.
Feel free to just use what works for you and skip the rest.
If you have other recipes or ideas to add, that's great! Please leave a comment below and share with us.
Enjoy!
XO,
Kathryn