A healthy, no-cook chocolate pudding, naturally sweetened with honey. It's also dairy-free, gluten-free and can be vegan!
I feel like I accidentally re-invented pudding.
I threw this together one weekday afternoon when I realized I had a single ripe banana in the pantry that needed to be used. Just one banana.
Oh, and I didn't want to bake anything because we were gonna head out as soon as the kids had snack. And I was feeling lazy. Also, it had been at least a day since I'd had something chocolate, which is a cruelly long time in my book.
So I threw all of this in my little immersion blender and blended it up.
I licked the spoon and knew I had done good. I wasn't sure what it was, but I liked it. Really liked it.
I licked the spoon several more times and managed to finally pour the rest into a bowl and stick it in the fridge. At which point, I licked the immersion blender clean, except for the blades. I know, aren't you impressed with my self-restraint?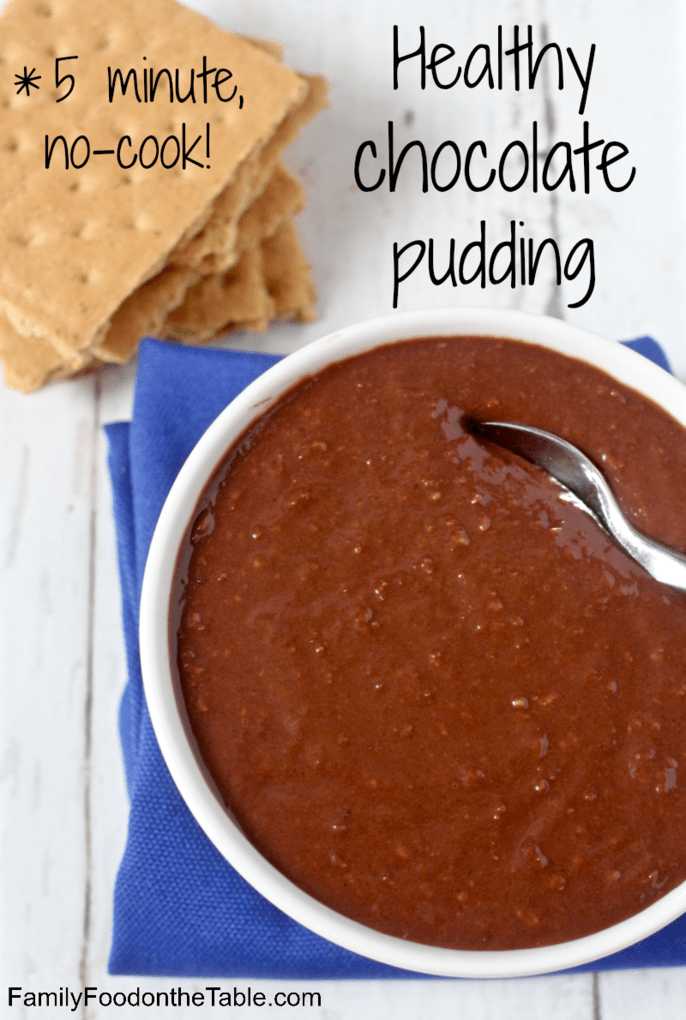 When I checked it later, it had thickened into a deliciously rich, deliciously thick pudding.
Magic!
Healthy chocolate pudding was born. Though I did consider calling this "When you've only got one ripe banana and don't know what to do with it" or "Chocolate must happen immediately," but pudding seems *slightly* more descriptive.
As I wrote down what I'd done - and three days later, remade it to plunge my face into, er, photograph - I realized this is dairy-free and gluten-free (use certified gluten-free oats), naturally sweetened and can be vegan (sub maple syrup for the honey).
You could probably sub almond butter or another nut butter, too, if you need it to be peanut-free.
Pudding for everyone! Cause everyone should have some of this.
(Oh and if you love healthy dessert recipes and ideas like me, check out that link to a collection for more inspiration.)
Blend up this easy pudding next time you find yourself with a ripe banana. Or two - just double the recipe! But please, be careful with those blender blades.
Enjoy!
Yield: 2 ½-cup servings
5-minute healthy chocolate pudding
A healthy, no-cook chocolate pudding, naturally sweetened with honey.
Ingredients
1 ripe banana
¼ cup cocoa powder
¼ cup peanut butter
¼ cup honey
¼ cup oats (I use old-fashioned oats)
½ teaspoon vanilla
pinch of salt
Instructions
Put all of the ingredients into a blender or food processor (I used my hand blender, since it's a small batch) and blend very well, scraping down the sides if necessary.

Pour into a bowl and cover and chill. I'm not patient either but it's even better cold. The pudding thickens and sets up in 25-30 minutes.

To make this recipe vegan, substitute maple syrup for the honey. Just as delicious!
Notes
* You an easily double or triple this recipe to make more.

* You can sub almond butter or another nut butter for the peanut butter if you prefer.
Nutrition Information:
Yield:
2
Serving Size:
1
Amount Per Serving:
Calories:

454
Total Fat:

18g
Saturated Fat:

3g
Trans Fat:

0g
Unsaturated Fat:

11g
Cholesterol:

0mg
Sodium:

223mg
Carbohydrates:

69g
Fiber:

6g
Sugar:

44g
Protein:

11g