This strawberry yogurt cake is luscious and deliciously light (with no butter or oil) and perfect for a spring or summer dessert! Serve as is or top with a cream cheese frosting or vanilla glaze.
And I don't know about you, but I can't get enough of fresh strawberries when they are in season. 🍓🍓🍓
So bright, so juicy, so sweet.
We buy them in large quantities, go pick them straight from the fields, and generally try and consume as many as possible while they are at their peak.
And I also really love healthy dessert recipes and ideas. Get my sweet tooth fix and still feel good.
So today, I made you an ultra moist, ultra light, ultra fluffy strawberry yogurt cake! And I did it without any butter or oil. 🙌
You know I like my light desserts. ❤️
It means I can have a piece as big as my face and not feel one smidge bad about it. Even if I'm having that ginormous piece of cake for breakfast. And again for afternoon snack. And maybe another sliver for dessert.
I can't resist!
This cake is really easy, too.
Just mix up the dry ingredients, the wet ingredients, combine and fold in those pretty strawberries.
Then pop it in the oven and wait for the magic to happen. And enjoy the wafting aroma of homemade cake cause it smells heavenly as it bakes!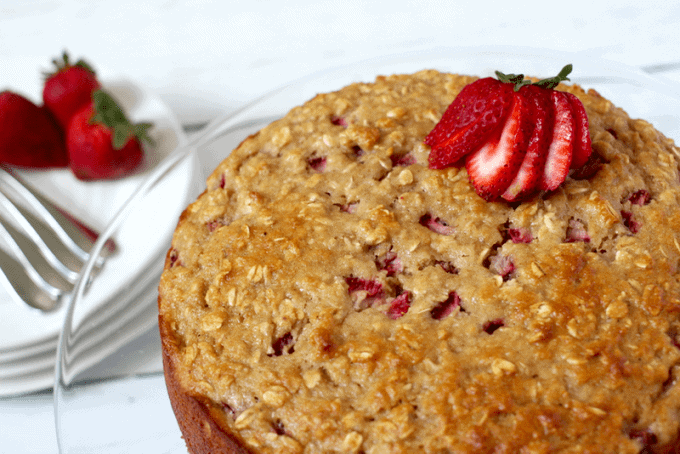 This strawberry yogurt cake makes a wonderful light dessert in spring and summer all on its own.
But you can dress it up and take it out dancing, too. 💃
Serving Ideas:
Serve with vanilla ice cream or whipped cream.
Make a cream cheese frosting to ice the cake.
Top it with some sweetened Greek yogurt or a drizzle of vanilla glaze.
Drizzle individual pieces with honey or some melted chocolate.
Basically, you can't go wrong with this cake 😍
An easy, healthy strawberry yogurt cake. Dive into the freshness with your fork and enjoy!
XO,
Kathryn
P.S. Are you overloaded with strawberries too? Check out my strawberry oat bread with chocolate chips and my easy freezer strawberry jam, naturally sweetened with honey. They both freeze great so you can enjoy strawberries long after the season ends!
Yield: 1 cake. I'll let you decide how many it serves.
Strawberry yogurt cake
Luscious and deliciously light (no butter or oil) strawberry yogurt cake!
Ingredients
2 cups whole wheat flour (I use white whole wheat flour)
2 cups oats (I use old fashioned)
1 cup granulated white sugar
2 teaspoons baking powder
½ teaspoon baking soda
½ teaspoon salt
2 cups plain yogurt (low-fat or fat-free)
½ cup unsweetened applesauce
2 large eggs
2 teaspoons vanilla
1 ½ cups strawberries, chopped pretty small
Instructions
Preheat the oven to 350. Spray a 9-inch round springform cake pan with cooking spray and set aside.

In a large bowl, whisk together the flour, oats, sugar, baking powder, baking soda and salt.

In a separate bowl, whisk together the yogurt, applesauce, vanilla and eggs until well combined.

Make a well in the bowl of the dry ingredients and add the wet ingredients. Stir to combine but don't over mix.

Fold in the strawberries but again, be careful not to over mix.

Pour the batter into the pan and bake at 350 for 45-55 minutes, until golden brown and a toothpick inserted in the center comes out clean.

Let cool and slice big!
Notes
After the first couple of days, if it somehow makes it that long in your house, this is best stored in the fridge.
Nutrition Information:
Yield:
12
Serving Size:
1
Amount Per Serving:
Calories:

233
Total Fat:

3g
Saturated Fat:

1g
Trans Fat:

0g
Unsaturated Fat:

2g
Cholesterol:

33mg
Sodium:

262mg
Carbohydrates:

46g
Fiber:

4g
Sugar:

22g
Protein:

8g