These yummy breakfast popsicles are naturally sweetened and made with just 5 healthy ingredients. The creamy peanut butter and banana flavor is addictive and the crushed cereal (or granola) brings a fun texture!
I am happy this week is wrapping up!
We are headed for a visit with my brother and his family and then to the beach with my parents for part of July 4th week. Even though I'll be working from there, it'll be nice to have a little get-away and some fun family time! ❤️
Oh, and I'm having a little girls night tonight with some friends in the neighborhood. 🍷🍷 Cause the laundry and packing can wait right? 😉
You guys though, I'm really excited to share today's recipe with you.
Breakfast popsicles.
Yup, you read that right.
I've been making smoothies for my kids for years, we've dabbled in some fun smoothie bowls and then I started freezing their smoothies to make popsicles. (Mango yogurt popsicles are a fun, fruity favorite!)
And then I started adding "toppings" to the bottom of our popsicle molds to give our popsicles some fun flavors and textures. It was usually just fresh fruit, but when I thought to do crushed cereal or granola, I knew I had to make a healthy breakfast popsicle.
And this peanut butter banana popsicle has been a huge hit in our house!
It's oh so creamy, so flavorful and so addictive!
(It's kinda like my peanut butter banana smoothie with spinach, minus the spinach. And frozen.)
Just a heads up though: if you do a little taste test of the blended material, these may never become popsicles. It's so delicious on its own!
And honestly, this would make a seriously great smoothie by itself. You certainly can serve it like that for a quick last-minute breakfast or snack if you don't have time to freeze them.
But for a hot summer day, there's nothing like a frozen treat! And I'm a big fan of a healthy, all natural one where I can pronounce all the ingredients and know what they are.
I mean: bananas, peanut butter, Greek yogurt, milk and honey.
Bam! That's what I'm talking about! 🙌
They would even be a good option for a healthy popsicle for toddlers because they're so clean and have no added sugar. (Not for babies under age 1 though because they aren't supposed to have honey.)
Notes on making breakfast popsicles:
I usually use an "O" cereal or some granola (we have my 5-ingredient granola on hand a lot) in the bottom of these molds. You could really use any kind of cereal – just crush it up if it's on the larger size. Or use mini chocolate chips for a little treat!
It helps to tap the popsicle molds after you fill them so the mixture really settles in around the cereal/granola.
The freeze time will depend on your freezer. I list a minimum of 4 hours but I usually leave mine for at least 6-8 hours (or overnight).
These make a great afternoon snack too.
You could try making these with almond butter if you need them to be peanut-free.
I use and love these popsicle molds. (Bonus, they're under $10!)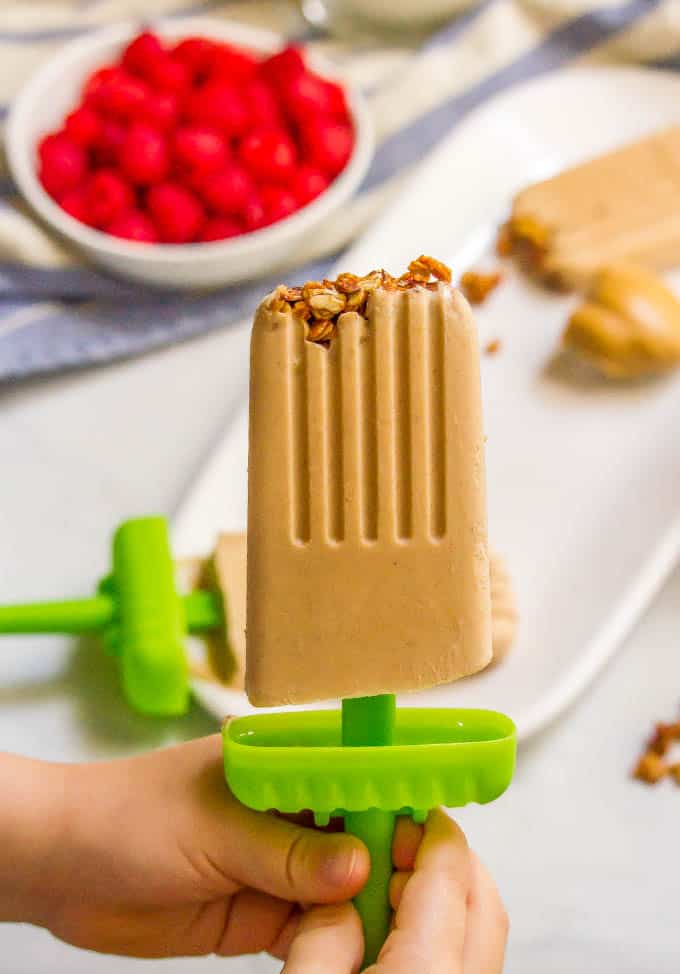 I hope you join me on the yogurt breakfast popsicle bandwagon. It's a fun place to be and you'll score major mom points!
Enjoy!
XO,
Kathryn
Check out these other fun popsicle flavors from friends:
Be sure to check out my VIDEO for this recipe. Press play! 👇

Yield: 6 large popsicles
Breakfast popsicles
These fun breakfast popsicles are naturally sweetened and made with just 5 healthy ingredients!

Prep Time 10 minutes

Cook Time 4 hours

Total Time 4 hours 10 minutes
Ingredients
2 medium ripe bananas
1/3 cup creamy peanut butter
1/2 cup plain nonfat Greek yogurt
1/2 to 3/4 cup milk of choice
2 tablespoons honey
Optional: Crushed cereal or granola to put in the bottom of the popsicle molds
Instructions
Combine all ingredients in a blender, starting with 1/2 cup of milk, and blend until smooth. Add extra milk if the mixture is too thick. (You just want a nice pouring consistency.)
Divide the mixture evenly among your popsicle molds, leaving 1/2 inch at the top. Insert the popsicle sticks and place in the freezer. Freeze for at least 4-6 hours before removing to eat.
If the popsicles won't release from the mold, just run it under some warm water for a minute or two to loosen it.
Notes
I usually use an "O" cereal or some granola (we have my 5-ingredient granola on hand a lot) in the bottom of these molds. You could really use any kind of cereal - just crush it up if it's on the larger size. Or use mini chocolate chips for a little treat!

It helps to tap the popsicle molds after you fill them so the mixture really settles in around the cereal/granola.

The freeze time will depend on your freezer. I list a minimum of 4 hours but I usually leave mine for at least 6-8 (or overnight).

You could try making these with almond butter if you need them to be peanut-free.

I use and love these popsicle molds. (Bonus, they're under $10!)
Nutrition Information:
Yield:
6
Amount Per Serving: Calories: 166Total Fat: 8gSaturated Fat: 2gCholesterol: 4mgSodium: 83mgFiber: 2gSugar: 14gProtein: 7g