These whole grain, naturally sweetened banana blueberry muffins are creamy, moist and bursting with fresh fruit flavor! They make a great healthy breakfast or snack.
(UPDATE: You can watch my daughter and I make these muffins on our Facebook Live video. 💕)
I've got a choose-your-own-adventure recipe for you today.
These banana blueberry muffins can be made big or small or both. (I do both. We like options around here.)
If you haven't noticed, I've got some serious muffin munchkins in my house. We have muffins at breakfast, snack, school lunch, sometimes even a savory variety for dinner.
There was a time, when M was a toddler, that I could get her to eat anything if it came in muffin form.
I whipped up some seriously crazy concoctions and she took them down! J, my little boy, has followed suit and loves pretty much anything I serve in muffin form.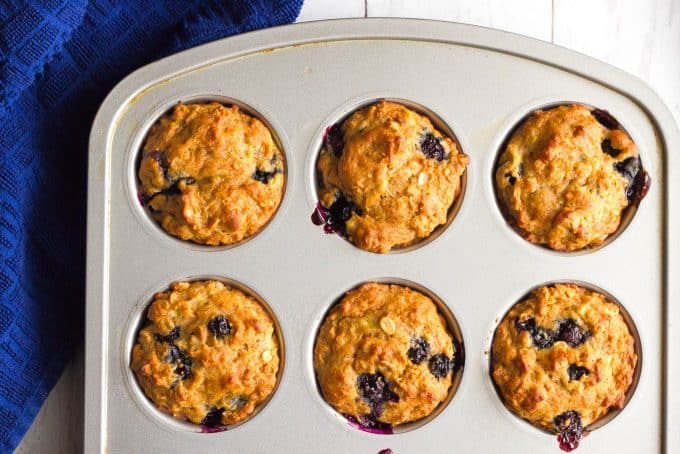 And if you think muffins can be unhealthy, well, you're right. But not done my way. My muffins are always whole wheat/whole grain and mostly naturally sweetened - just like these ones are. I even have lots of options that are made without butter or oil for a super light indulgence.
Given our muffin craze, I made you a whole muffin category so you can share in the fun! Check it out!
And then whip up a batch of these light, bright banana blueberry muffins because they are seriously tasty. Full of fresh fruit and tangy Greek yogurt, these muffins are perfect for breakfast time or an afternoon pick-me-up.
And the extras freeze beautifully, so you can stash some away in your freezer for busy mornings. I love when breakfast is already made for me!
They are also great for snack time or for sending in for a school lunch. Muffins all day long 🙌
A few quick tips, tricks and substitutions for you...
Notes on banana blueberry muffins:
I use whole wheat flour but as I mentioned, you can also use white wheat flour, a gluten-free baking flour or regular all-purpose flour. (Or mix all-purpose and whole wheat flour if you'd like.)
You'll need about 2 medium ripe bananas for this recipe. The more ripe, the better.
I recommend using muffin liners AND spraying them with nonstick cooking spray. This ensure all of your muffin goodness stays together and doesn't get stuck on the paper. For mini muffin tins, if you don't have liners, just spray the little cups and that will work fine to prevent sticking.
You can substitute thawed, frozen blueberries for the fresh in this recipe. Be sure to drain them and pat them dry so they don't have a lot of extra moisture that could affect the muffins. Also note that they might bleed into the batter and affect the color of the muffins.
Finally, since we are making lots, let's talk what to do with the leftovers.
Storage tips for healthy banana blueberry muffins:
– These muffins will keep covered, on the counter, for up to 2 days.
– After that, as with all baked recipes that have banana in them, I recommend you move them to the refrigerator. They will keep there for another 2-3 days.
– You can also freeze the extras. Let the muffins cool completely. Place them in a freezer-safe ziptop bag (that's labeled!) and freeze for up to 6 months.
– I like to wrap them individually in aluminum foil before putting them into the bag. It adds an extra layer of protection from freezer burn.
– To thaw, just place one or more muffins in the refrigerator overnight. Serve cold from the fridge or warm in the microwave for about 15-20 seconds.
– You can also warm a muffin in the microwave straight from the freezer in a pinch. Start with 45 seconds and add time (and possibly turn it upside down) as needed.
Hope you give these a try and enjoy!
XO,
Kathryn
P.S. I'm headed out for spring break with my family this weekend. (We will be beaching it up in Florida with my in-laws and I am SO excited!)
But don't worry, I have plenty of deliciousness planned for you so you won't go hungry. And I have plenty of food packed for us — including a baggie of these muffins -- so we'll be all set on vacation, too. Happy spring, friends!
Yield: 9 regular and 24 mini muffins
Banana blueberry muffins
Whole grain banana blueberry muffins are moist and bursting with fresh fruit flavor! They're a great healthy breakfast or snack.
Ingredients
2 ripe bananas, mashed
¾ cup plain Greek yogurt (I use non-fat)
½ cup honey
⅔ cup canola oil (or substitute coconut oil)
1 ½ tablespoons vanilla extract
2 cups white whole wheat flour
1 ½ cups oats (I use old fashioned)
4 teaspoons baking powder
2 teaspoons cinnamon
1 teaspoon baking soda
1 teaspoon salt
1 heaping cup fresh blueberries
Instructions
Preheat the oven to 375. Prepare muffin tins: Spray mini muffin tins with cooking spray and/or line regular-size muffin tins with muffin liners and spray the liners with cooking spray. (This helps avoid any sticking when you peel off the liners.)
Mash the bananas in a medium bowl. Add Greek yogurt, honey, oil and vanilla and stir well to combine.
In a large bowl, combine the flour, oats, baking powder, cinnamon, baking soda and salt.
Add the wet ingredients to the dry ingredients and stir just until combined.
Fold in the blueberries gently, so you don't break them. Be careful not to overmix the batter.
Bake at 375 for 9-10 minutes for mini muffins or for 18-20 minutes for regular-sized muffins.
Let cool for a couple of minutes in the pan, then remove and cool completely.
Extras can be kept in the refrigerator for up to 5 days or stored in the freezer for up to 3 months.
Notes
You can make 24 mini muffins and 9 large muffins or 18 mini muffins and 12 large muffins. Or you can do all of one size or the other — you'll get about 42-44 mini muffins or about 18-20 regular muffins.
Recommended Products
As an Amazon Associate and member of other affiliate programs, I earn from qualifying purchases.
Nutrition Information:
Yield:
20
Serving Size:
1 regular muffin
Amount Per Serving:
Calories:

178
Total Fat:

8g
Saturated Fat:

1g
Trans Fat:

0g
Unsaturated Fat:

7g
Cholesterol:

0mg
Sodium:

271mg
Carbohydrates:

24g
Fiber:

3g
Sugar:

10g
Protein:

3g