Easy, healthy snacks for kids that they'll want to eat! Tons of fuss-free and wholesome snack ideas that are perfect for fueling busy kids.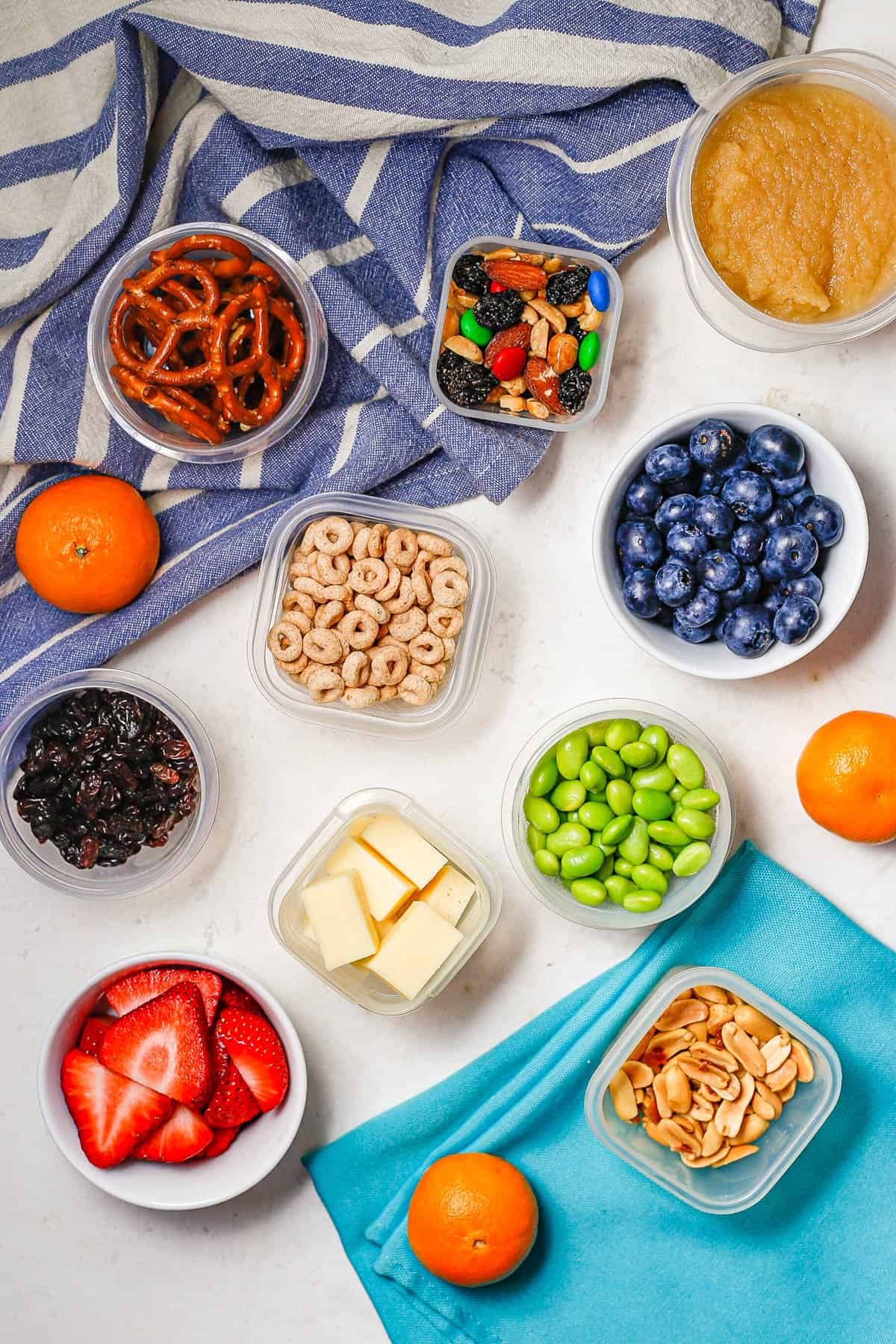 From one mom to another, snack time can be a bit of a nightmare.
I've been all over the place with my kids, especially when they were little. Having to battle a 3- or 4-year-old over snacks when they're just getting up from a nap is no fun.
And even older kids go through stages and phases of what they will and won't eat, and it's not always convenient - or healthy!
So today I'm sharing a BIG list of easy, healthy kids snacks that they will want to eat and that you'll feel good about serving up.
We're not getting overly cutesy with our food, we're not spending hours in the kitchen making something just for snacking (cause guess what, dinner isn't far off!), we're just stocking a few favorites and having a good rotation of healthy options available.
No getting stuck in a rut with all of these ideas!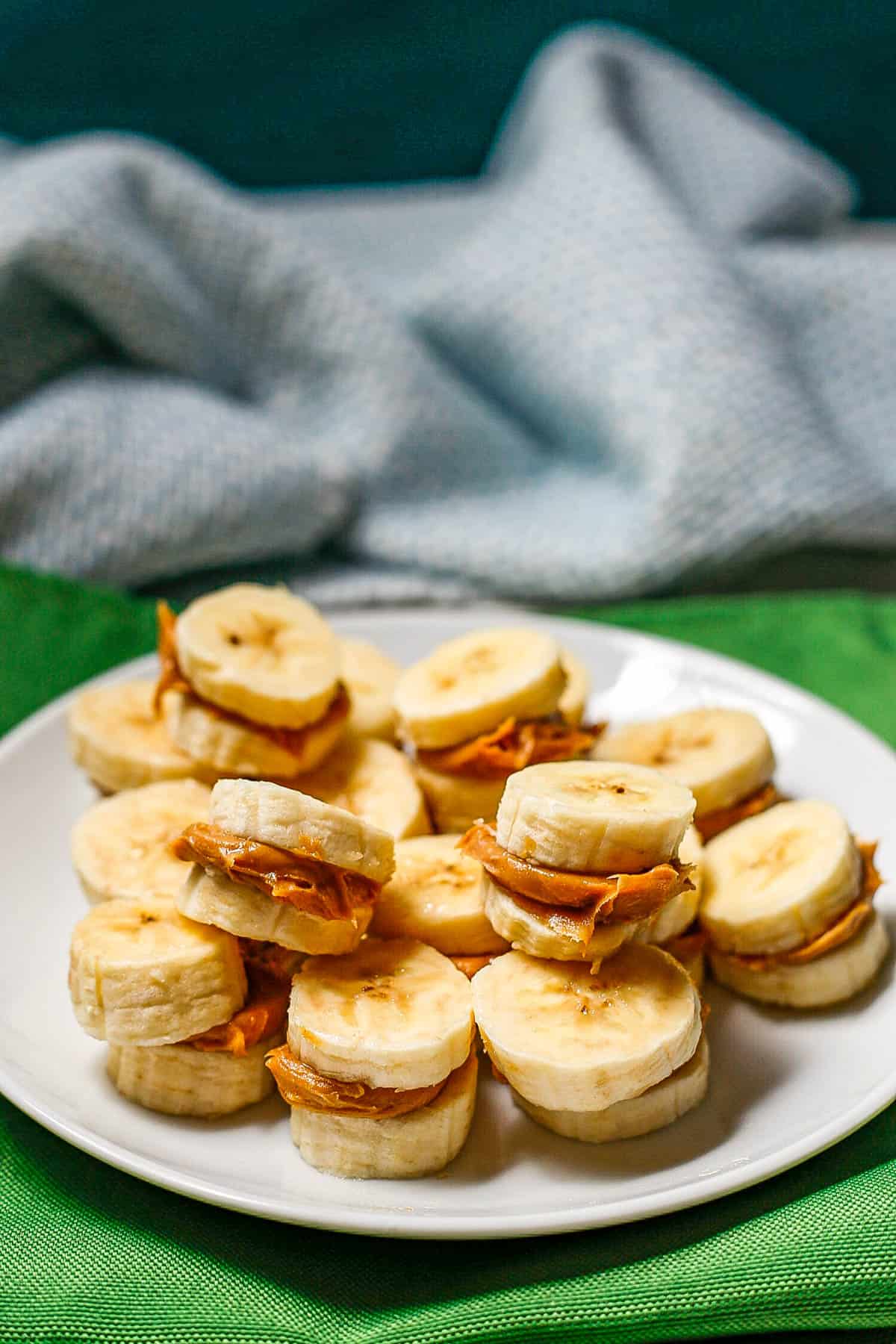 Also, to note, you won't see a lot of vegetables on this list. (Really only as a possible dipping agent.)
Sure, that would be a great healthy snack. It's just not a practical one in my house.
(We mostly save vegetables for meal time. If you can get your kiddos to snack on veggies, too, that's amazing and keep it up!)
I've got a main list below, as well as a break-out of snacks for babies and toddlers, since there are some different considerations at those ages.
And back when I first published this post (it's been updated several times), I had also created a free printable, too, on snacks for babies, toddlers and preschoolers. All of those work for older kids, too.
You can download that PDF and print it out to keep some healthy snack ideas handy. Or copy and print the list below.
And you might also want to check out these healthy snacks on the go for both kids and adults on those days where you're just running all over town.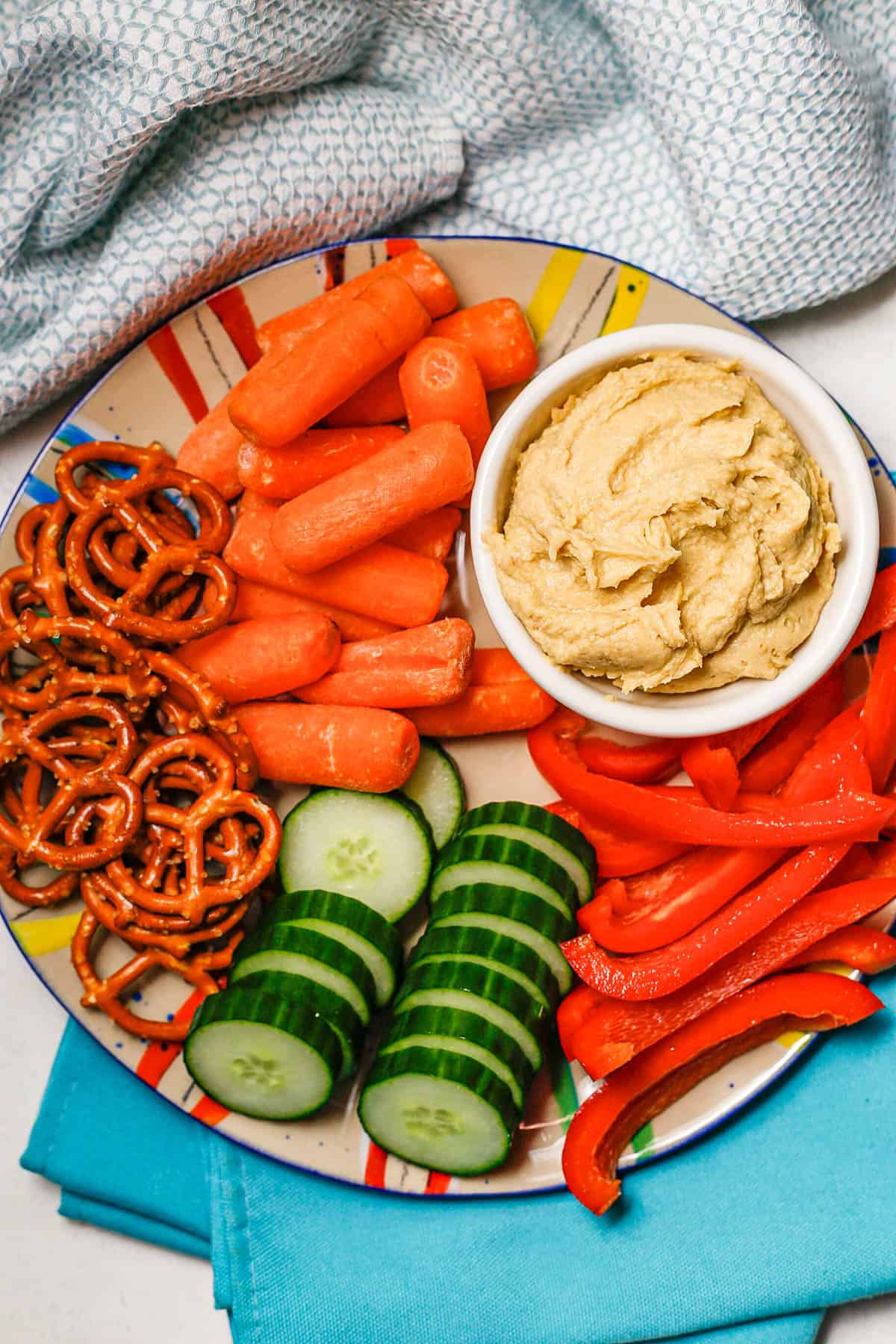 30 Healthy Kids Snacks
Yogurt (plain or flavored, Greek or regular)
Applesauce (plain or flavored)
Cheese and crackers
Toast and spread (peanut butter, smashed avocado, etc)
Peanut butter and banana
Fruit (fresh or dried or canned) - apples, oranges, grapes, watermelon, pears, etc.
Smoothies (fruit, green, yogurt, etc)
Popcorn
Rice cakes
Hummus with pita, pretzels, crackers, veggies, etc
Mini bagels with cream cheese
Cereal
Trail mix or granola
Pudding or pudding pops
Popsicles (especially fruit based ones)
Granola bars
Fruit bars or fruit leathers
Wraps (with hummus and turkey, cream cheese and jam, peanut butter and banana, etc.)
Banana bread
Healthy cookies/breakfast cookies
Muffin or mini muffins
Fruit and dip
Chips and dip (salsa, guac, etc)
English muffin pizzas
Nuts - peanuts, walnuts, cashews, almonds, pistachios, etc.
Seeds (such as sunflower seeds)
Energy balls/cookie balls/date balls
Hard boiled eggs
Carrot sticks and Ranch dressing
Mini waffles or pancakes with nut butter or fruit spread
Graham crackers or animal crackers
So, so many options to choose from! And keep reading for some additional ideas and specific recipes.
And here's a handy list to pin and save for later. 👇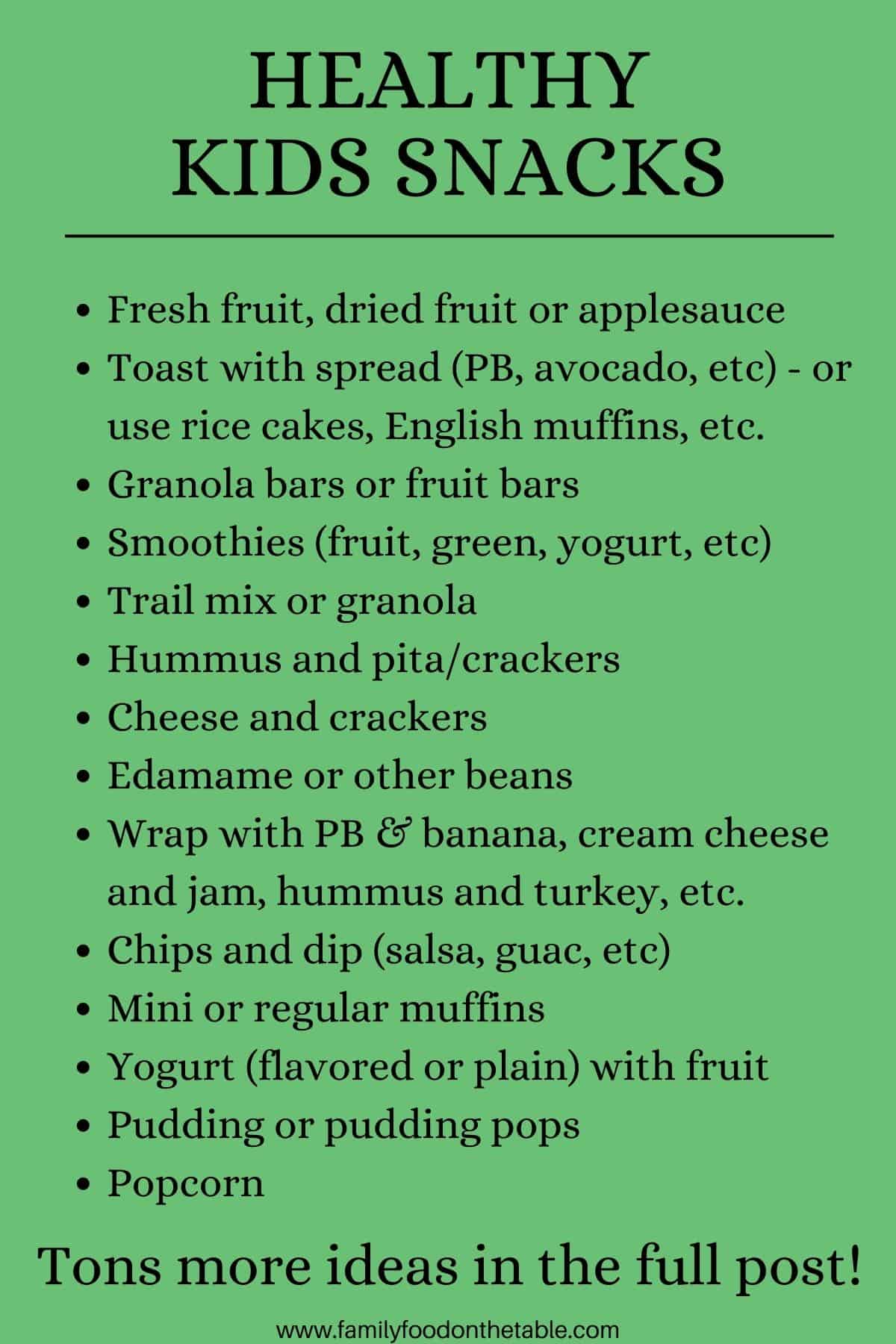 But as I mentioned, I wanted to break out some snacks for our littles.
Healthy Baby Snacks
~ No added sugar/sweeteners, no choking hazards
* Cut pieces of ripe banana, pear, avocado, blueberry, mango, strawberry, grapes, peaches, mandarin oranges
* Applesauce (look for one where the only ingredient is apples)
* Beans: black beans, cannellini beans, pinto beans, refried beans
* Whole wheat bread or toast with a spread of applesauce or mashed avocado or pureed beans (or any pureed baby food) or hummus or peanut butter (if no risk of allergies and OK with pediatrician) or canned pumpkin and a bit of cinnamon
* Or use mini whole wheat bagels or pita bread instead of bread or toast
* O cereal (We buy Trader Joe's brand)
* Baby banana cookies – just 5 wholesome ingredients
* Cheese (shredded for little ones, cubes or slices or string cheese when older)
* Soft fruit bar or Lara bar (make sure there aren't any large nut chunks)
* Banana slices with peanut butter (I make little sandwiches)
* Smoothies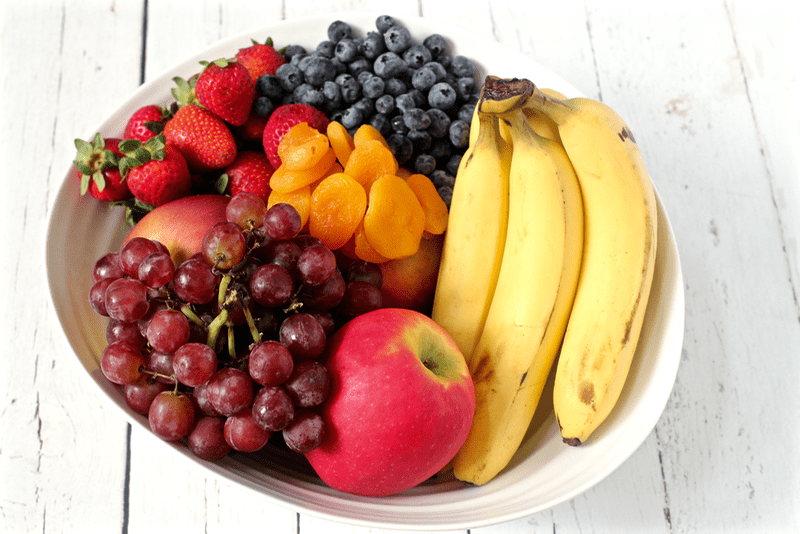 Healthy Toddler Snacks
~ Limited added sugar/sweeteners, no choking hazards
All of the above and also:
* Raisins (I waited until about 18 months with both of mine; check with your pediatrician) - also dried blueberries, cranberries, apricots and prunes
* Trail mix
* Fruit cups (preferably in 100% fruit juice, not heavy syrup and not no sugar added, which means they used artificial sweeteners)
* Animal crackers (Trader Joe's has some good ones)
* Rice cake (made with brown rice) spread with peanut butter and raisins or cream cheese and jam
* Crackers with spread, such as peanut butter, hummus or a soft cheese
* Fruit leathers (we buy ours at Trader Joe's)
* Edamame
* Blueberry oat cookies
* Whole wheat wrap spread with peanut butter or hummus or guacamole - can fold it over or roll it up and cut it into slices
Don't forget to get your free printable so you can keep these lists handy for reference!
Also, I've got this very big list of healthy finger foods for toddlers that might give you some more ideas for meals and snacks.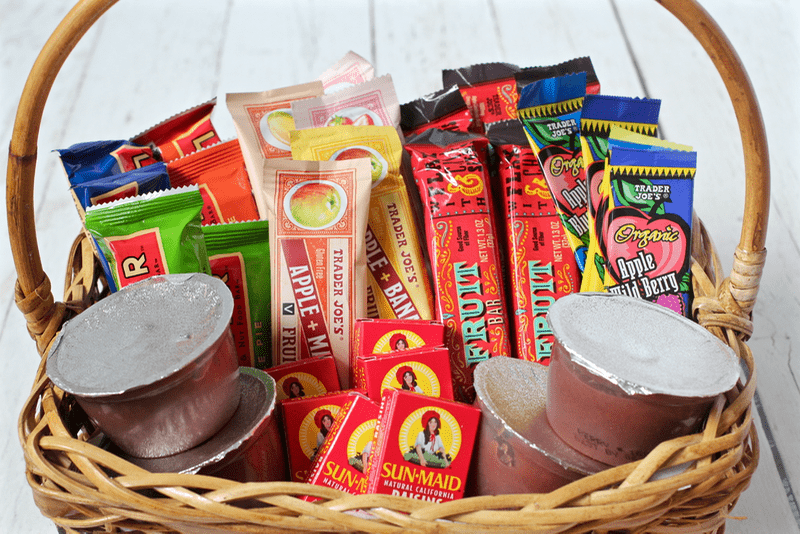 Last but not least, here are some of our favorite recipes if you're looking to make one or two things a week to have on hand for snacking.
Healthy Snack Recipes
I hope this gives you some ideas of some new healthy kids snacks.
And if you've got a crowd of kids, make a kids charcuterie board (tons of ways to customize and vary this) - so fun and they feel so fancy!
Also, please share your own go-to snacks in the comments below! Or anything that you would add to this list. We can all use more ideas.
XO,
Kathryn