A round-up of easy, healthy snack ideas for kids, particularly babies, toddlers and preschoolers, with a focus on no fuss, minimal prep, real and wholesome foods. Plus a free printable!
I have to confess, I kind of let snack time get away from me.
It wasn't intentional. It just sorta happened over time.
It started when I would give M two choices of what was for snack. She was hitting those terrible 2s (early, at around 18 months), so I wanted to allow her to have some sense of control over her world.
It was certainly helpful, but over time, it devolved into her just choosing her own snack each day. She knew what the regular options were (and I would tell her about any special extras or seasonal things we had on hand). She also knew it couldn't be what she had just had in the past couple of days.
She was pretty good at picking her snack, so I sorta let her go for it. It worked for a while.
Fast forward to M at 4 years old, and it had become a problem.
Her naps were shorter, so she was waking up while I was still finishing work, leaving me short on time and shorter on focus. She started to wander into the pantry, sucking her thumb, saying she didn't want anything. I would make some suggestions and these were promptly rebuffed. I would tell her she could pick something, or not, it was fine either way.
And then one day she came downstairs from nap, searched high and low for a suitable snack, snapped at each and every idea I offered (including some favorites, none of which she was in the mood for, apparently) and ended up breaking down, sobbing, in the pantry.
Cue mama. I held her, hugged her, waited for her to catch her breath. Then I told her it was just too much, too overwhelming, for her to pick the snack each day. All those choices! Particularly when she was still waking up.
"From now on, Mama will tell you what the snack is each day. And you can decide if you want to eat it and how much you want to eat. OK?"
"OK," she sniffled, wiping the tears from her eyes. She was relieved, you guys. She didn't want that control after all. It was just too much.
So now I'm back to planning snacks.
It hasn't eliminated all the tears. J cried the other day when I offered him a popsicle. No, seriously. Ten minutes later, he was chowing down, but there were tears initially.
M, too. Just last week, she had hummus toast for snack one afternoon. I'd even gotten it ready for her so it was waiting when she came downstairs. Drama, drama, drama. She didn't like that kind of hummus (the plain/regular kind), she only liked beet hummus. She didn't want hummus toast, she just wanted regular toast. Tears were rampant.
I waited it out. Told her that was the snack, she got to choose if she wanted to eat it (no problem if she wanted to skip snack) and how much. She settled down a couple minutes later and plowed through a full piece and a half of toast. She even asked for more, but I cut her off so she'd be at least a little hungry for dinner.
Bottom line, there's no easy answer. We do the best we can and we try and survive the rough patches. This is where we are now, but who knows what snack time will look like in another year. I may even get rid of it entirely at some point to see if it makes them more eager to eat at dinner. Who knows. You roll with the punches and learn as you go, right?
And now for the specifics… below are some of our favorite snack ideas for kids, with a focus on baby to toddler to preschool years. Though really, they could work for older kids too.
With each age and phase, I try to stick to real foods, minimal processing and also minimal prep time. Some of these are our store-bought favorites. I make all of their breakfasts, lunches and dinners, as well as all of our food, so I'm not getting crazy creative with snacks.
Bless those moms who tell stories with their food and make fish scenes and teddy bears. I love you and envy you and my children are deprived by comparison. But I just don't have the time or energy for that.
I've also stuck to the foods my kids really eat for snack. You won't see a lot of vegetables on the list. They get plenty of veggies at meal time, don't worry, but they don't make much of an appearance at our snack time. Keeping it real folks. If I could convince my children that carrot, pepper and cucumber slices were a suitable snack, I'd totally do it. It just doesn't work around here. At least not yet.
So below are my best shortcut, wholesome snacks for kids. I hope you find some new ideas, remember some old ones and are reinvigorated to tackle snack time. We got this!
And you've got a handy free printable right here, too.
** Do you pick snack or do your kids pick it themselves?
** What are your go-to snacks? What would you add to this list? Share your snack ideas for kids in the comments - we can all benefit!
Baby snack ideas
~ No added sugar/sweeteners, no choking hazards
* Cut pieces of ripe banana, pear, avocado, blueberry, mango, strawberry, grapes, peaches, mandarin oranges
* Applesauce (look for one where the only ingredient is apples)
* Beans: black beans, cannellini beans, pinto beans, refried beans
* Whole wheat bread or toast with a spread of applesauce or mashed avocado or pureed beans (or any pureed baby food) or hummus or peanut butter (if no risk of allergies and OK with pediatrician) or canned pumpkin and a bit of cinnamon
* Or use mini whole wheat bagels or pita bread instead of bread or toast
* O cereal (We buy Trader Joe's brand)

* Baby banana cookies – just 5 wholesome ingredients
* Cheese (shredded for little ones, cubes or slices or string cheese when older)
* Soft fruit bar or Lara bar (make sure there aren't any large nut chunks)
* Banana slices with peanut butter (I make little sandwiches)
* Smoothies
Toddler snack ideas
~ Limited added sugar/sweeteners, no choking hazards
All of the above and also:
* Raisins (I waited until about 18 months with both of mine; check with your pediatrician) - also dried blueberries, cranberries, apricots and prunes
* Trail mix

* Fruit cups (preferably in 100% fruit juice, not heavy syrup and not no sugar added, which means they used artificial sweeteners)
* Animal crackers (Trader Joe's has some good ones)
* Rice cake (made with brown rice) spread with peanut butter and raisins or cream cheese and jam
* Crackers with spread, such as peanut butter, hummus or a soft cheese
* Fruit leathers (we buy ours at Trader Joe's)
* Edamame
* Blueberry oat cookies

* Whole wheat wrap spread with peanut butter or hummus or guacamole - can fold it over or roll it up and cut it into slices
Preschool snack ideas
~ Healthy but sometimes more indulgent, using whatever extra treats we have on hand
All of the above and also:
* Mini muffins (such as spinach-banana mini muffins)
* Popcorn (homemade and topped with regular butter and a little salt, or with Parmesan cheese or even a butter/honey/cinnamon mix)
* Smoothies or popsicles (I make ours from our fruit mixes for yogurt)
* Pudding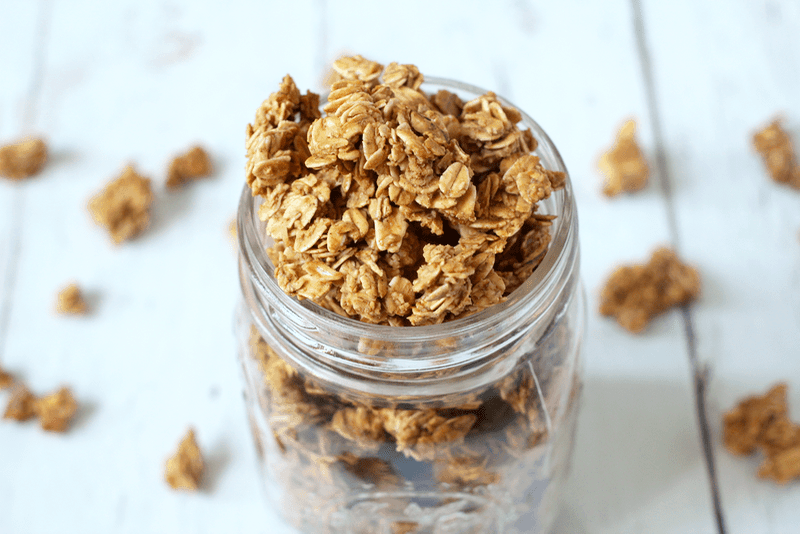 * 5-ingredient granola
* Wraps with peanut butter and a drizzle of honey or a few mini chocolate chips
* Banana oat cookies
* Pumpkin or banana snack cake
* 5-minute granola bites
* 10-minute chocolate cookie balls

* Whole grain blueberry yogurt bread
* Whole wheat chocolate chip zucchini bread
I hope this gives you some ideas of some new healthy snack ideas for kids. Don't forget to get your free printable so you can keep this list handy for reference!
XO,
Kathryn