These 1-bowl whole wheat pumpkin muffins are moist and delicious! They are naturally sweetened, 100% whole wheat and perfect for a healthy fall breakfast or snack!
My kids have been eating these since I don't know when.
Well, let's see. You can't give honey to a baby before age 1 — nor would I dream of letting an infant have honey or sugar — but I let M have sweetened things starting around 18 months. J a little earlier. Second baby 😉 So that's when.
Still, it feels like I've been making batches of these for ages and ages. It's one of their very favorites and I know why.
These are loaded with pumpkin and lovely spices and have a wonderful moistness to them. The oil makes them nice and hearty, too, and I feel good about giving them some healthy fats.
And they make your house smell AMAZING!
Another great fall muffin recipe you might want to check out is these apple cider muffins that are also whole grain and naturally sweetened.
A few notes on these whole wheat pumpkin muffins:
I use canola oil for these muffins. You could substitute vegetable oil or coconut oil if you prefer.
If you want a lighter version for adults, you can sub part or all of the oil with unsweetened applesauce.
If you want to bake this as pumpkin bread, instead of muffins, just pour the batter into a greased 9×5 bread pan and bake for 30-40 minutes, until a toothpick inserted in the middle comes out clean.
You can add 1/2 cup chopped walnuts or pecans to the batter if you'd like.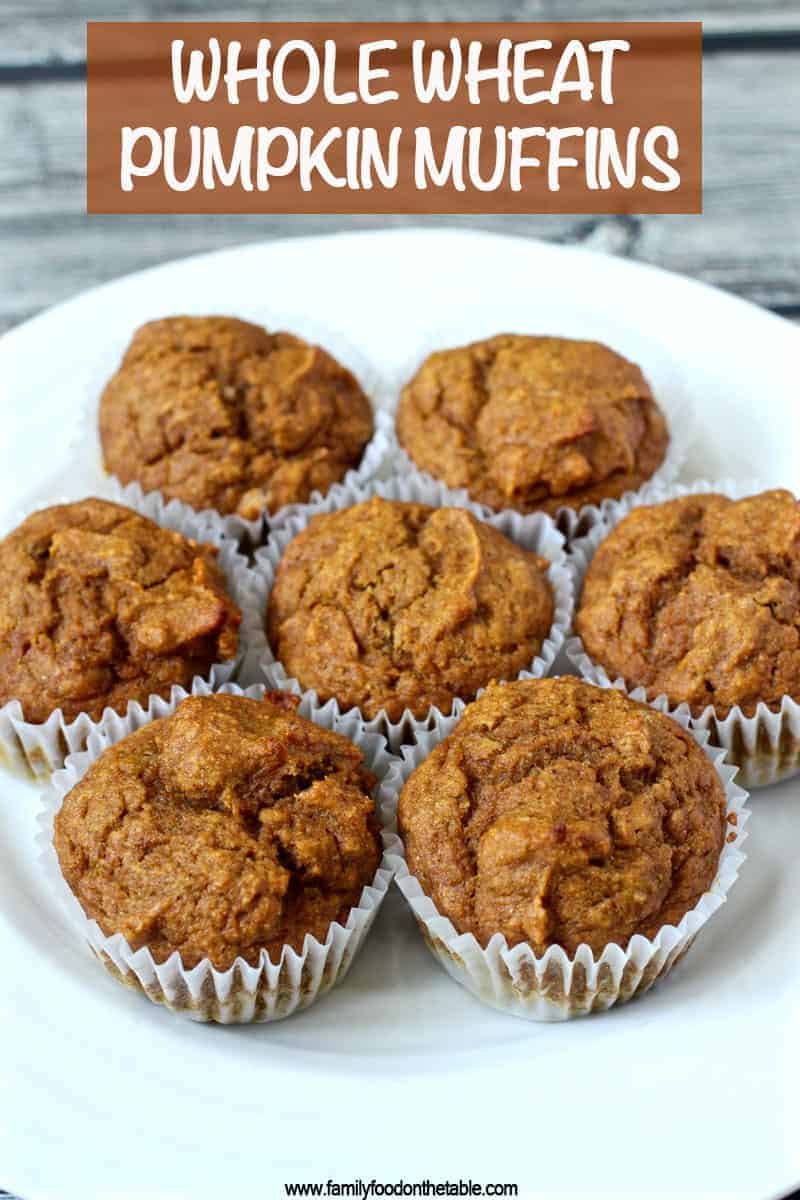 Pumpkin is a year-round thing in our house, not at all reserved for autumn. See pumpkin chocolate chip oat bars. A fave!
And these whole wheat pumpkin muffins are one of our "restaurant/weekend" lunches for the kids. We know it will make them happy and eating, so we can enjoy our food, too. Beet hummus does the trick, as well.
I've also got a peanut butter pumpkin muffin recipe, with optional chocolate chips, for a different twist!
Plus, they freeze great. It's so helpful to have healthy, homemade food like this on hand to make packing school lunch that much easier.
Hope you get as addicted to these as we are!
Enjoy!
~ Kathryn
Yield: 12 muffins
Whole wheat pumpkin muffins
These 1-bowl whole wheat pumpkin muffins are moist and delicious!
Ingredients
1 1/2 cups white whole wheat flour
1 1/2 teaspoons cinnamon
1 teaspoon ground ginger
1/2 teaspoon nutmeg
1/8 teaspoon cloves
1 teaspoon baking soda
1/4 teaspoon baking powder
1/2 teaspoon salt
2 eggs
1/2 cup oil (see notes)
1/2 cup honey
1 teaspoon vanilla
1 heaping cup pumpkin puree
Instructions
Preheat oven to 350.

In a large bowl, combine the dry ingredients - the flour through the salt.

Make a well in the center and add the eggs, oil, honey, vanilla and pumpkin. Stir wet mix together in the well and then stir together with the dry ingredients until combined. Don't overmix.

Line a muffin tin with muffin liners and distribute the batter evenly. They will be about 2/3 full.

Bake for 18-22 minutes, until a toothpick comes out clean.

Let cool and store at room temperature for 3-4 days or wrap in aluminum foil and store in the freezer for up to 3 months.
Notes
You can sub applesauce for part or all of the oil if you want to cut some calories. I used canola oil but you can use coconut oil if you prefer.
Adapted from 100 Days of Real Food.
Nutrition Information:
Yield:
12
Serving Size:
1
Amount Per Serving:
Calories:

198
Total Fat:

11g
Saturated Fat:

1g
Trans Fat:

0g
Unsaturated Fat:

9g
Cholesterol:

31mg
Sodium:

217mg
Carbohydrates:

25g
Fiber:

2g
Sugar:

12g
Protein:

3g