Do you ever get in a rut with your vegetables for dinner? End up cooking the same few things as a side every other night? I know I do. Sometimes it's laziness and I just default to something I know is quick and easy. Sometimes I don't want to fuss over something I'm less familiar with or that I think needs a lot of time and attention to make into a satisfying dish.
And sometimes, I swear it's like I've forgotten there are other vegetables out there. Like broccolini. We love the stuff and I'll go weeks without buying it because I simply forget about it. I blame it on the fact that it's on the highest shelf in the produce department at my local grocery store. Bok choy is the same way. Easy, yummy, we rarely have it.
But I'm a veggie addict and always up for incorporating new veggies in our rotation or reviving old favorites in new ways. It keeps things interesting, it gives us variety and it makes dinner — cooking and eating it — more fun. Three cheers for veggies! Now, just that little issue of inspiration…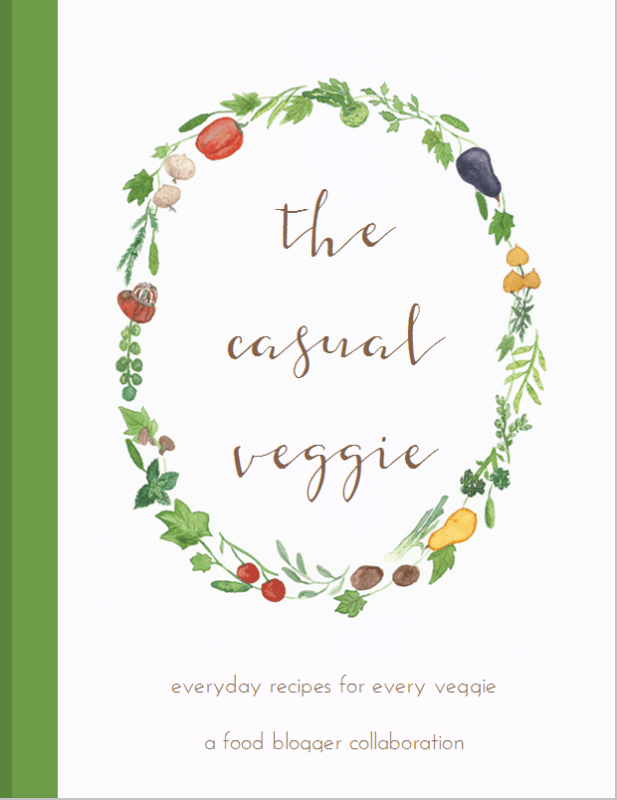 Well, good news folks. I have teamed up with a group of more than 45 amazingly talented bloggers to bring you The Casual Veggie Cookbook, all about veggies! And not just any veggie cookbook. This one is broken down into sections by vegetable so you can easily find ideas of how to use that new veggie you've been eyeing at the grocery store or that old stand-by that you want to make in a different way. Or that extra zucchini or tomato or potato you've got laying around and need to use up. We've got your veggie needs covered.
With this cookbook, you'll get 166 recipes to help you eat healthy and live healthy. The book features 29 different vegetables, with information on nutrition, how it's grown, what to look for when buying, tips on storing and preparing the vegetable, and of course, recipes! The cookbook features a wide variety so everyone can find something: vegan, vegetarian, carnivore, paleo, gluten-free, etc., and all types of food are covered: breakfast, lunch, dinner, desserts and snacks. Bring on the veggies!
The e-cookbook goes on sale later this month and as part of the virtual launch party, I'd love for you to check out the other contributors. You'll find lots of yummy recipes waiting for you. (Note: Check back if all of the links are working right now; the posts will go live throughout the morning.)
Stay tuned for more details on The Casual Veggie Cookbook. You won't want to miss it! (Psst… you can sign up for my free newsletter here to never miss a recipe – or an announcement about this awesome cookbook!)
** What are your fall-back vegetables to eat as a side for dinner?
** What new vegetables are you curious to try?