Check out these 10 fun and cozy gifts for moms that will make her feel loved and appreciated and maybe even a bit pampered too!
Anyone else have SO much trouble every year getting something special, something personal, something just perfect for the people on your list?
And not just at the holidays - there's also birthdays, Mother's Day and other occasions to shop for as well.
I run out of ideas fast!
So today I thought I'd share some of my favorite cozy gift ideas for moms.
These can hopefully inspire you and guide you to find something that will make her feel loved and appreciated. Every mom could use more of that! 💕
There are 10 categories below and tons of ideas in each one so you can get her just the right present.
Happy browsing!
Cozy gifts for moms

Bath accessories
The bathroom needs to be a cozy place for mom! You can help her make it special with these fun additions.
I love having a little tray and display area in my bathroom as part of my vanity.
I use this mini dish to store jewelry but it'd be great for hair accessories as well. And they come in each birth month, so you can personalize it for her!
I've had my eye on these Pottery Barn glass canisters for years. (Hint, hint, family.)
They come in assorted sizes and they'd be great for storing q-tips, cotton pads, mini soaps and other bath goodies.
And for what it's worth, I think an assortment of 3 different sizes and shapes looks best on display. 👍
A bath brush is something I had never heard of until a few years ago and what do you know, now I have two!
They are great for smoothing skin and removing dead skin cells. They also help promote good circulation. (A masseuse was the first person to tell me about these.)
Loofahs are another bathroom nice-to-have that can make her feel pampered!
This set of 3 Egyptian all natural loofahs look lovely, but they also make flat ones that act as loofah pads.
And finally, in the "I'm dreaming category," how amazing would it be to have a towel warmer in your bathroom?!
They make all different kinds and sizes and styles, but she would surely feel luxurious with one of these to warm her towels every day!
Soaps
What woman doesn't love a beautiful soap?
They make baths and showers just a little bit more special. I even love sitting out pretty ones for display!
I have a set of these pretty wine soaps from Uncommon Goods in my bathroom right now and they smell amazing! 👉
(They are a great resource for ALL kinds of gifts by the way... lots of creative and personalized options. It's my secret shopping weapon when I need to find a really good gift for someone on my list!)
I also have several of these L'Occitane soaps. My mom gives me one most every Christmas.
I usually stick it in a drawer (like with undies or socks) and use them as a freshener for a few months before using the soap.
I also love a Crabtree & Evelyn bar soap. Such a good classic.
I especially like the calming lavender soap - I love that scent and also just love it cause it's purple. 💜
You could also get her a charcoal body bar, which is so in right now.
And these bath bombs are such a pretty gift - and fun to use!
Candles
Candles are another great display item for a bathroom and I love lighting them for a bath or just on a dark, dreary day when I'm getting ready in the bathroom.
One that I love - and have given as gifts several times myself - are these recycled wine bottle candles.
Aren't they so cool?!
They have all different kinds but Pinot Noir and their Champagne are my faves.
For helping her to unwind after a long day, this La Jolie Muse aromatherapy stress relief candle would help.
And this Mrs. Meyer's Clean day soy candle is something I want in every room of my house!
If she is a garden lover, I think these soaps are super cute!
Finally, if you have really little kids or just otherwise want a flameless candle, these rustic ones are good looking!
Chocolates
Picture this: She's got a bath drawn, a book on the side, some candles lit, a lovely soap to wash with and some pretty accessories all around in her bathroom.
What else does she need?
If you said coffee for mornings or wine for evenings, you'd be correct. ☕️🍷
But also, chocolate!
Give the gift of sweetness with one of these chocolate box collections.
This Godiva one I have actually gifted before. I like that it's smaller (ie, not 100 chocolates) and it came really nicely packaged.
This Lindt box, Ferrero assorted box of chocolates and Ghirardelli bag would also be nice options.
Lotions
After her luxurious bath or shower, mom needs some amazing lotion! Here are a few to try:
Crabtree & Evelyn scented lotion. Again, you can't go wrong with a classic.
Archipelago oat milk body lotion would be great for sensitive skin.
Molton Brown is another fave. It definitely feels luxurious!
Elizabeth Arden green tea lotion is good for the tea lover in your life!
Also, Aveda has great products and some good collections to have as a stand-alone gift.
I also love their Hand Relief cream; it's so great for dry hands in the winter to prevent cracking. It smells good too and is a perfect stocking stuffer!
Cozy slippers
I wear slippers every morning when I first get up - even in the summer!
It just feels warm and cozy and makes those early morning hours easier to bear.
My favorite style is a slip-in-and-go kinda shoe. These ones have a thick memory foam inside which sounds lovely!
You can't go wrong with a classic moccasin style slipper.
But you could also get a little fancy and splurge on some Ugg slippers for her. They make all different styles and colors. (I kind-of want to upgrade!)
You could also try these fun slipper boots or get her some cute slipper socks. (I love those polka dots!)
Cozy bathrobe
What does she need to go with her slippers? A soft and cozy bathrobe, of course!
Here's a soft plush microfiber robe that would keep her warm.
I also love this fleece robe with it's satin trim. Subtle but makes it look really nice!
For an everyday, lightweight casual robe, J. Crew has a cute stripped one. It's a good option for warmer locales and for the summertime.
Or you can go romantic and get a matching set of "His" and "Hers" robes!
Comfy lounge clothes
At some point in the day, most days at least, she will have to get dressed. Sigh…
For those of us who work from home or stay home with kids, formal attire just isn't needed. Thankfully!
And even my friends who work in an office, I know most of them change into their comfy lounge clothes approximately 0.2 seconds after walking in the door.
It's just nice to be comfortable!
prAna is one of my new favorite comfy-clothes companies. I love that they are stylish but relaxed.
I recently got their Frosene top, which is made with organic cotton and super duper soft, and their Crestland pullover, which is a wool blend and OH so comfy and cozy!
I also love their leggings and I'm a sucker for a cute flannel shirt.
(Bonus: You can get a 15% discount with this code at checkout: WPKDF18 🙌)
Other good lounge clothes to find for mom are a cute pullover or sweatshirt. I love Athleta brand clothes. Or you could find something from her alma mater or favorite sports team or maybe a city-themed sweatshirt.
She might also love some comfy wool socks, a scarf or wrap to keep warm or even just some comfy PJs that she can wear around the house.
Also, yoga pants are a must have and a can-never-have-enough in my opinion. I'm partial to the stretchy kind with a fold-over waistband.
Oh, and make sure to tell her how beautiful she looks, even when she's not all done up. 😉
Coffee mug
Does she love coffee? Need it to function?
A new lovely coffee mug can start her day off right!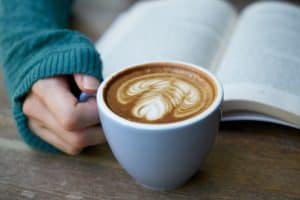 This is a really cute one with "Bliss" in colored letters.
And this one about adulting cracked me up! 🤣
Crate & Barrel has an ever rotating array of coffee mugs with some pretty ones. I have a large green one I bought from there in college and still adore!
You can also get customized mugs from Etsy and add your own design!
And if she's already got a favorite mug, you could get her a travel mug so she can take her coffee on the go. We are partial to Yeti in my house. 👍
Books
Books might be one of my most favorite things to receive as a gift.
It's a present that opens up a whole new world, takes you out of the day-to-day and whisks you away to be caught up in a story.
I also love seeing the types of books people pick out for me, too. There's nothing like someone picking out a perfect-for-you book to make you feel known and understood.
Here's the 2018 list of top books of the year. Explore away.
And here's the book I told my husband to get me. (I keep hearing about it and have to have it!)
Not sure what to pick?
Check around at what books she's been reading lately, or ones you know she has read and loved in the past, and take those titles to your nearest bookstore so they can recommend something similar.
You can also browse the recent releases (hardcover or paperback) at the bookstores and read the book excerpts to find something you think she might enjoy.
And that's a wrap, folks!
Whether for the holidays or Mother's Day or her birthday, I hope you found some new ideas for cozy gifts for moms to spoil a woman in your life!
I know she deserves it! 💕
I would love to hear any other great cozy gift ideas for moms you might have - leave me a comment below!
XO,
Kathryn
P.S. Be sure to pin this post so you can come back to these ideas later! 👇
Disclosure: Several companies sent me items to try and test as part of this gift guide. Several are featured here and others didn't make the cut. As always, all thoughts and opinions are my own.