This one-pot chicken tortellini soup with kale is light, fresh and ready in just 20 minutes! It's perfect for a quick weeknight dinner that's healthy and hearty!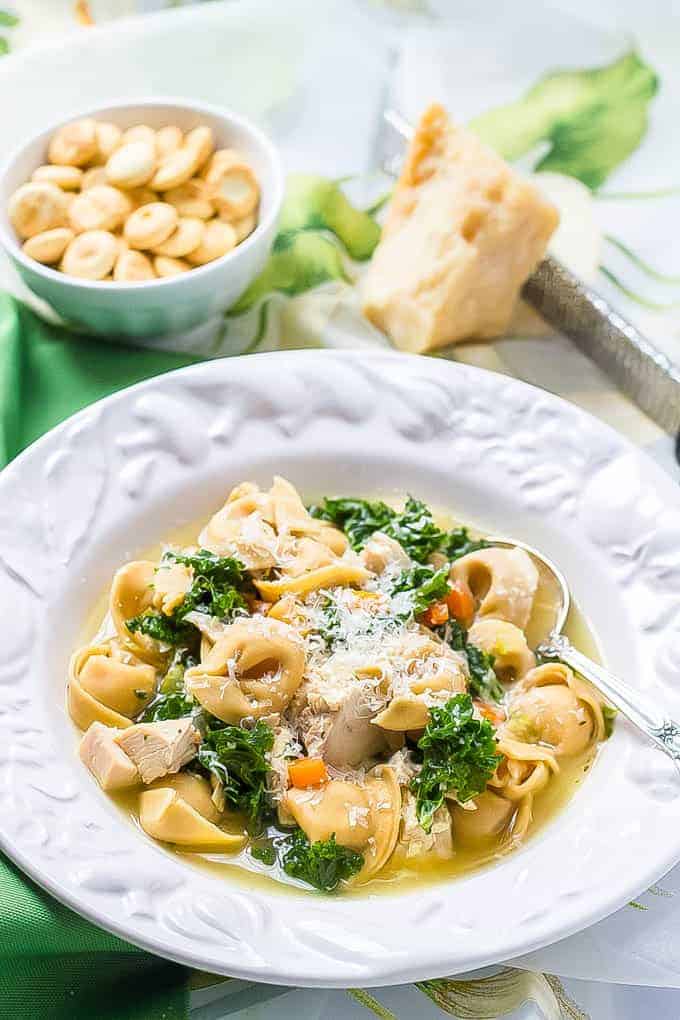 Three out of four times a year, I love the transition between seasons.
From spring, warming into the hot days of summer, from summer into the cooler autumn breezes, from fall into the chilly days of winter.
But, and you probably saw this coming, I don't especially enjoy the transition from winter to spring.
It drags on too long, usually. I'm not a fan of the flip-flop between really cold days and really warm ones. Make up your mind weather!
And by the time spring starts peeking out, I'm ready for it, so I hate when we slide back into chilly winter days here and there.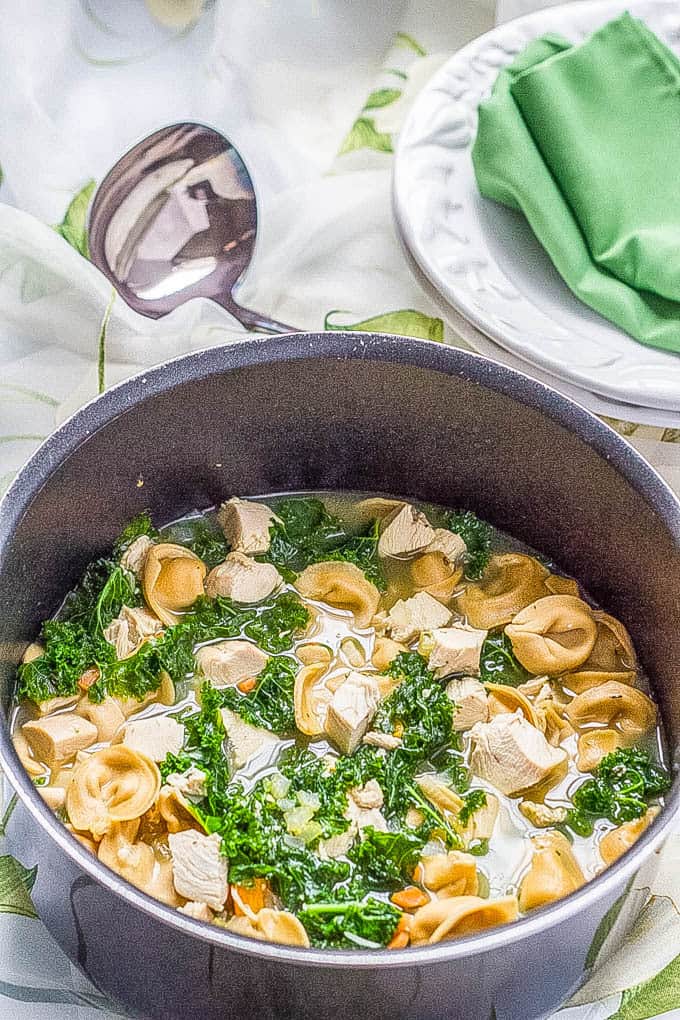 It doesn't even get that cold here in N.C., so I think this dislike must be a remnant from my time in Chicago where the first hint of spring was so late and so slow in coming. I'm not a patient person, could ya tell? 😉
This one-pot chicken tortellini soup makes the transition a little easier though.
It's warming and comforting, but it's also light, brothy and fresh tasting. You get the cozy feeling of soup but none of the heaviness. Perfect for when I'm already dreaming of short sleeves and flip flops.
And it's ready in 20 minutes (see, no patience) with just a few simple ingredients needed from the store. 🙌
You should also check out Italian wedding soup, which has mini chicken meatballs, pasta and spinach. Oh, and turkey white bean soup with kale, which is simple but so hearty and delicious. Very similar to the flavors here.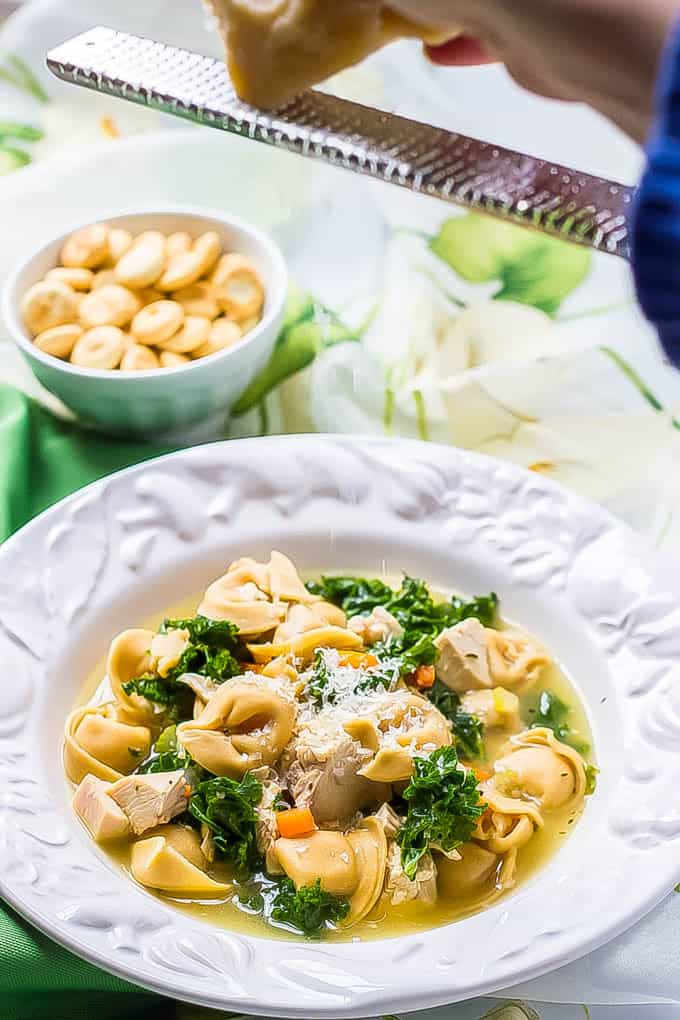 I have to say though, my kids don't really get soup. They've always liked chili — especially my white turkey chili - but it's so thick that it just seems like a great big bowl of yummy ingredients put together. Who could resist?
M (4 ½) is starting to catch on and this chicken tortellini soup is her favorite soup so far. She mostly goes for the tortellini and chicken pieces, but that's OK by me.
J, at 2 ½, just doesn't get the concept. I try picking out the chicken and pasta pieces from the bowl for him and that usually just makes him mad. Last time, I served the individual chicken, tortellini and kale pieces on a plate for him - no bowl or resemblance to soup at all - and he went for it. Hmm...
Regardless, hubby and I both really love this for a light, flavorful dinner.
The tortellini cooks in the broth to be perfectly tender and oh so melt-in-your-mouth soft. The chicken gets warmed through at the very end so it is tender and juicy. The kale is optional but I highly recommend. It wilts into the soup and brings a good oomph of heartiness.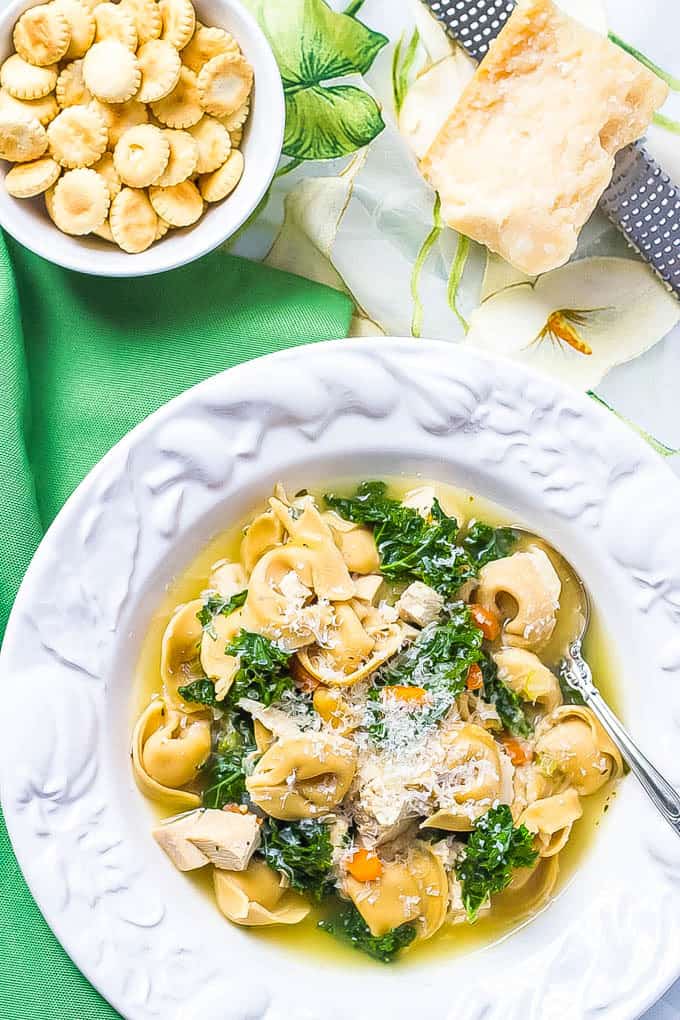 Notes on chicken tortellini soup with kale:
You can use leftover cooked boneless skinless chicken breasts or a rotisserie chicken from the store. You could also sub in 2 cups of shredded chicken here if you have that on hand.
I use kale here, obviously, but you could also substitute spinach. You'll want to use a little more since it wilts down so much, and just add it at the very end.
I use a cheese tortellini and I always try to get a whole wheat kind, but you can substitute your favorite flavor. If yours is frozen, it will need to be thawed for this recipe.

We serve this soup with some freshly grated Parmesan and a few shakes of hot sauce.

And if you are like my husband, oyster crackers are a must with every single soup, every single time. Don't mess with the oyster crackers.
Such a lovely dinner, whatever the weather outside decides to do. Still, here's hoping spring comes swiftly and decisively this year. 💚
Enjoy!
XO,
Kathryn
P.S. Check out my new VIDEO for this recipe!
Yield: 4 servings
20-minute chicken and tortellini soup with kale
A one-pot chicken and tortellini soup that's light, fresh and ready in 20 minutes!
Ingredients
2 teaspoons extra virgin olive oil
½ cup onion, finely chopped
¼ cup celery, finely chopped
¼ cup carrots, finely chopped
2 cloves garlic, minced
½ teaspoon dried thyme
½ teaspoon salt
¼ teaspoon black pepper
6 cups good quality chicken broth
1 (9 oz.) package fresh tortellini pasta - I use a whole wheat 3-cheese tortellini
2-3 big handfuls of kale leaves, roughly chopped (optional)
2 cups cooked chicken, chopped in bite-size pieces (see notes)
For serving (optional):
Freshly grated Parmesan cheese, chopped fresh parsley or basil
Instructions
Heat olive oil in a large pot over medium heat.
Add onion, celery and carrots and saute for 3-4 minutes, until softened. Add garlic and saute another 30 seconds. Add thyme, salt and pepper and stir to combine.
Add chicken broth, turn the heat up to high and bring to a boil. (I cover the pot to speed this up.)
Add the tortellini and cook for 7-8 minutes.
Add spinach/kale if using, and cook an additional minute.
Stir in cooked, chopped chicken and turn off the heat.
Serve and top with fresh herbs and Parmesan cheese, if desired.
Notes
You can use leftover cooked boneless skinless chicken breasts or a rotisserie chicken from the store. You could also sub in 2 cups of shredded chicken here if you have that on hand.
Nutrition Information:
Yield:
4
Serving Size:
1
Amount Per Serving:
Calories:

535
Total Fat:

15g
Saturated Fat:

6g
Trans Fat:

0g
Unsaturated Fat:

7g
Cholesterol:

106mg
Sodium:

1676mg
Carbohydrates:

65g
Fiber:

9g
Sugar:

5g
Protein:

34g