Broccoli cheese quinoa bites are an easy, wholesome finger food for toddlers — and adults! They go great with Ranch and are perfect for school lunches!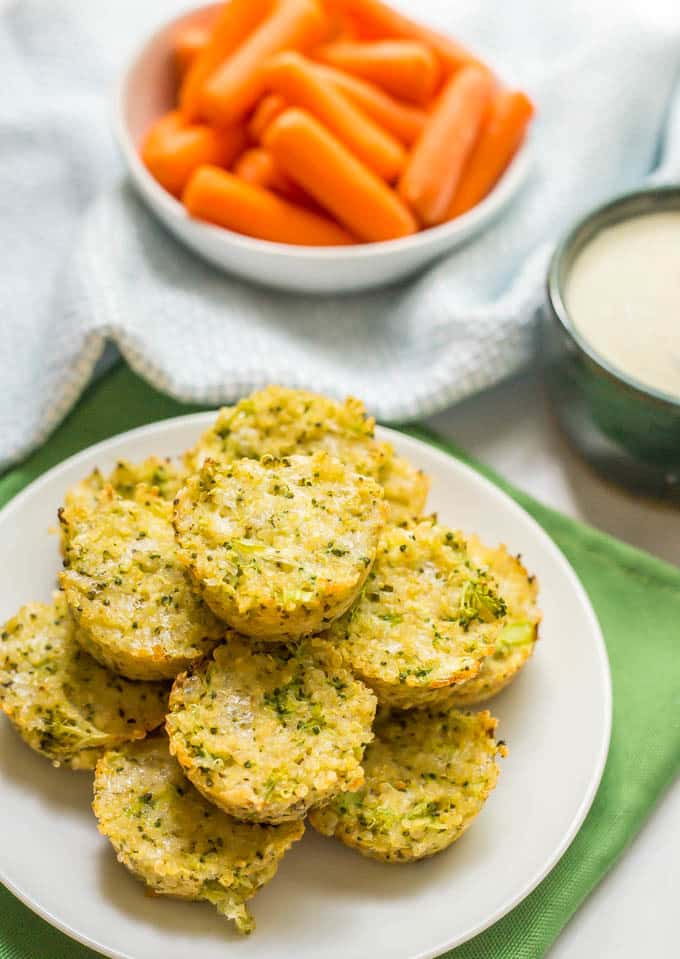 I have partnered with Produce for Kids on this post. As always, all thoughts and opinions are my own.
Just a quick intro today to say that I am BEACH bound with my girl friends and ready to get in the car, um, 10 minutes ago. 😂
It's our annual trip and I can't wait to kick back and relax with some of my very favorite people! I'll be sure to give you a fun recap next week! ☀️🌊🍹
OK, so when my little ones turned into toddlers and started feeding themselves more, I sorta panicked.
I had mastered homemade baby food and they were both BIG eaters! But I was suddenly short on wholesome finger foods they would actually pick up and eat themselves.
Anyone but me have that experience?
Mine would chow down on some homemade pureed peas, broccoli and cauliflower, combinations of chicken and pears, salmon and sweet potato, and on and on.
But when you make bite-size portions of those real foods and they won't even put it in their mouth to realize how much they like it? Well, you gotta get creative.
I did just that with some of my ways to use leftover baby food (tons of ideas there if you got stuck with extra purees too!)
And I know you have to keep offering foods. I'm talking about a dozen times or more before they will give a try to what looks to be a new food – but is actually an old favorite. It's proven. No really, there's scientific research. Plus, I've lived it.
I found that muffins and most things shaped like muffins got at least a bite in my house with each of my kiddos.
And more often than not, that's all it took. One bite and they started to chow down on whatever concoction I served. (Like these meatloaf muffins that they love and us adults do, too!)
These little broccoli cheese quinoa bites were an instant favorite!
And they still are years later. M and J, who are 6 and 4 now, still happily chow down on these for dinner. Especially when dipped in a little Ranch, which is a new favorite for them.
I'll also send them in for lunch because they are delicious cold as well (I know, because I eat them, too!)
And today, I'm thrilled to partner with Produce for Kids for their Power Your Lunchbox campaign, which aims to encourage families and classrooms to eat healthier lunches, snacks and weekday dinners this school year.
This year the campaign is partnering with Avocados from Mexico, Bee Sweet Citrus, Crispy Green®, Eat Smart, Earthbound Farm®, Eric Carle®, NatureFresh™, Pero Family Farms, Sun World®, Vegy Vida® and Zespri®.
You can sign up for the pledge to pack a healthier lunchbox at www.PowerYourLunchbox.com. The campaign runs August 7 through Sept. 22 and benefits Feeding America. Such a great cause!
You can also find more recipes developed as part of the campaign — to power YOUR lunchbox this school year! I know I can always use some new ideas!
And be sure to follow along with Produce for Kids on Twitter and Instagram for more recipe ideas and healthy eating information. (And tag them with your creations using the #PowerYourLunchbox hashtag! It's so fun to see what everyone else is making!)
Now, a few notes on these broccoli cheese quinoa bites:
I usually make these with white cheddar cheese, but mozzarella works too - or a mixture. I also used goat's milk cheddar when my daughter was younger and still had a milk allergy.
These quinoa bites can be reheated in the microwave for a quick snack. They can also be eaten cold.
They freeze great, too! Once cooked and cooled, pop the quinoa bites into a freezer bag and keep for up to 5 months.
I always make these with quinoa so I can get some of that grain into my kids, but you could try using brown rice.
You can add in ½ cup of finely chopped cooked chicken for some protein.
You can add in ½ cup of finely grated carrot - it adds just a hint of sweetness and looks like cheese! (If you do both of those add-ins, you may need another egg as a binder).
(That's my now 6-year-old reaching for one. She still adores these! 👆)
And to round out the meal, you can add some NatureSmart cut bell pepper strips (also great for dipping into ranch), some chicken strips or chicken nuggets, and some slices of Bee Sweet Citrus oranges or Sun World grapes. 👍
I hope you give these cheesy broccoli quinoa bites a try if you need a new idea for packing a healthy lunchbox (or just as a dinnertime dish) that the kids will love!
Have a wonderful weekend!
XO,
Kathryn
P.S. Don't forget to sign up for the Power Your Lunchbox pledge and start the school year off right!
Yield: 24-30 mini muffins
Broccoli cheese quinoa bites
Broccoli cheese quinoa bites are an easy, wholesome finger food for toddlers — and adults! They go great with Ranch and are perfect for school lunches!
Ingredients
2 cups cooked quinoa (from about ¾ cup dry quinoa - but I usually cook more and save the extra for another dish or to have on hand)
1 ½ cups raw broccoli, finely chopped
1 heaping cup cheddar cheese, shredded (mozzarella works, too)
2 large eggs
2 cloves garlic, minced
½ teaspoon salt
½ teaspoon black pepper
Instructions
Preheat oven to 350.
Mix all of the ingredients until well combined.
Spoon into a mini-muffin tray sprayed with cooking spray. Pack down the mixture - this helps them hold together once baked.
Bake at 350 for 20 minutes, until golden brown.
Serve warm or store for later. (See notes below.)
Notes
These freeze beautifully, too! Once cooled, just pop them into a freezer bag and you'll have them on hand for school lunches or quick dinners. You can thaw overnight in the fridge or warm them in the microwave.
You can substitute goat cheddar for the cheddar. (I did this for my daughter when she had a cow's milk allergy.)
Nutrition Information:
Yield:
15
Serving Size:
2 quinoa bites
Amount Per Serving:
Calories:

73
Total Fat:

4g
Saturated Fat:

2g
Trans Fat:

0g
Unsaturated Fat:

2g
Cholesterol:

32mg
Sodium:

134mg
Carbohydrates:

6g
Fiber:

1g
Sugar:

0g
Protein:

4g