Skillet seared chicken breasts are covered in a jalapeño cheddar sauce for an easy, flavorful dinner that's great for a weeknight or for company!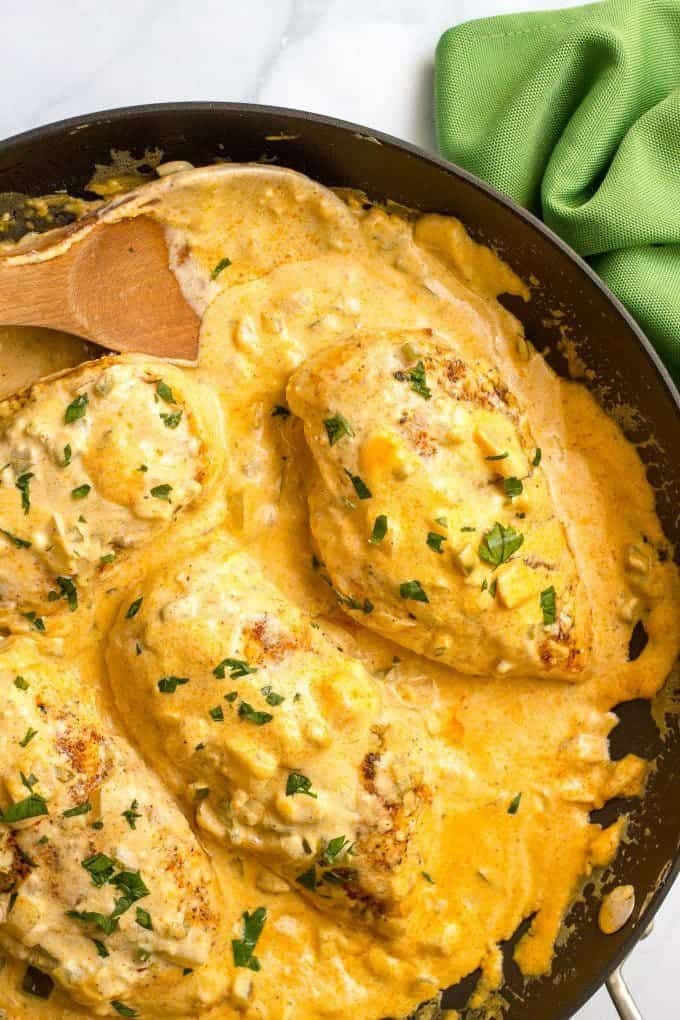 (Updated with a new VIDEO!)
How was your July 4th weekend? We had a really great one, full of sunshine and lots of pool time with the kiddos. Even a bowling night, bike parade and some fireworks crafts. Some really good all American fun! 🇺🇸
And now for today's confession: I have a strange obsession with jalapeños. I can't seem to stop planting them in my garden.
My first year, it's because I didn't know any better. I bought two (or was it three?) jalapeño plants.
I figured, we like spicy food, we'll want to have lots of jalapeños. 🌶🌶🌶
Oh, silly novice gardener.
A couple of months later, when I literally had about 30 jalapeños coming in at a time, for weeks on end, I had to get creative quick.
Jalapeño pepper jelly and some canning fun. Stuffed jalapeños. Some wrapped with bacon, some not. (Eaten immediately and extras frozen.) Lots of tacos and salsa and my Mississippi caviar too.
I took bags full of jalapeños to my kids' preschool teachers and even passed some out to our veterinarian and mail carrier.
Spreading the jalapeño love! 🌶💃❤️
I also made my 10-minute jalapeño cream cheese dip to eat as an appetizer with some chips. Cause melty cheese and a spicy kick is a sure-fire hit!
I also love keeping some of my easy fresh jalapeño relish on hand for tacos, rice bowls, even eggs!
And here, I've added some chicken to make a quick and easy main course chicken jalapeño dish that's got just a hint of spice and loads of creamy, cheesy sauce to coat every slice of perfectly cooked chicken.
Flavor central my friends!
(And if you love this dish like we do, you should also check out this Cajun chicken pasta recipe for an easy all-in-one dinner.)
OK, let's get cooking.
Now, I've got some notes and tips coming up below on how to make creamy chicken jalapeño. Just tryin' to be helpful.
If you want to jump on down to the recipe, simply scroll right on through the rest of the text. The recipe card is near the bottom of the page, above the comments section.
How to make cheesy chicken

jalapeño

:
- You sear the seasoned chicken breasts first and then remove them from the pan.
- Next, sauté the onion and jalapeño and garlic. Stir in the chicken broth and cheese until it's all melted and mixed.
- Return the chicken breasts to the pan, turning to get them coated in the sauce.
- Cover the pan and cook everything until the sauce is thickened up and the chicken is perfectly juicy tender. Done!
This recipe is enough for a weeknight, but delicious and impressive enough to make for company.
I love serving it over steamed brown rice to soak up all those delicious juices.
Cauliflower rice or quinoa would work too. Even mashed potatoes, grits or polenta would be a great pairing here.
Then add your favorite vegetable and dinner is served! 🙌
This year, I restricted myself to just one jalapeño plant in my garden. So my overload will be somewhat more manageable.
Or so I hope...
Either way, I'll be putting this chicken jalapeño skillet supper on the weekly menu and not complaining one bit.
So whether you grow your jalapeño peppers, pick them up from a farmers market or snag a few at the grocery store, I hope you give this cheesy chicken jalapeño dinner a try.
It's creamy, comforting, completely full of flavor and sure to be a hit.
Enjoy!
XO,
Kathryn
P.S. I made you a VIDEO for this yummy recipe! Check it out!
Yield: 4 servings
Chicken breasts with jalapeño cheese sauce
Skillet seared chicken breasts are covered in a jalapeño cheddar sauce for an easy, flavorful dinner that's great for a weeknight or for company!
Ingredients
4 teaspoons olive oil, divided
4 (5-6 oz.) boneless, skinless chicken breasts
½ teaspoon kosher salt
½ teaspoon black pepper
¾ teaspoon chili powder
¾ teaspoon cumin
½ cup onion, finely diced
3 medium jalapeños, seeds and membranes removed, finely diced
2 cloves garlic, minced
½ cup low-sodium chicken broth
4 oz. cream cheese (I use ⅓ less fat)
1 heaping cup shredded cheddar cheese
Instructions
Heat 2 teaspoons of the olive oil in a large skillet over medium-high heat. Meanwhile, season chicken breasts with the salt, pepper, chili powder and cumin. Add to pan and sear for 4 minutes on each side, until golden brown.
Remove chicken breasts from the skillet to a plate and cover with aluminum foil to keep warm. (They will finish cooking later.)
Reduce heat to medium and add remaining two teaspoons olive oil to pan.
Add diced onion and jalapeño and cook, stirring occasionally, for 4-5 minutes, until softened. Add garlic and saute for 30 more seconds.
Add chicken broth and cream cheese and stir until melted. Stir in shredded cheddar cheese and stir until melted and mixture is simmering.
Return the chicken breasts to the skillet, along with any accumulated juices, and turn to coat in the cheese sauce.
Cover the pan, reduce the heat to medium-low and cook for 7-9 minutes, until chicken is cooked through. (It will depend on how thick your chicken breasts are.) I like to spoon some of the sauce over the chicken breasts halfway through the cooking time.
Serve chicken breasts with extra sauce spooned over the top, and enjoy!
Notes
We love serving this with rice to soak up some of that amazing sauce. It would also be great with cauliflower rice, quinoa, polenta, even mashed potatoes.
Nutrition Information:
Yield:
4
Serving Size:
1
Amount Per Serving:
Calories:

576
Total Fat:

31g
Saturated Fat:

14g
Trans Fat:

0g
Unsaturated Fat:

14g
Cholesterol:

210mg
Sodium:

697mg
Carbohydrates:

7g
Fiber:

1g
Sugar:

3g
Protein:

65g