My mom's classic spaghetti salad with tomatoes, cucumber, green pepper, carrots and Italian dressing is a great summer side and perfect for sharing!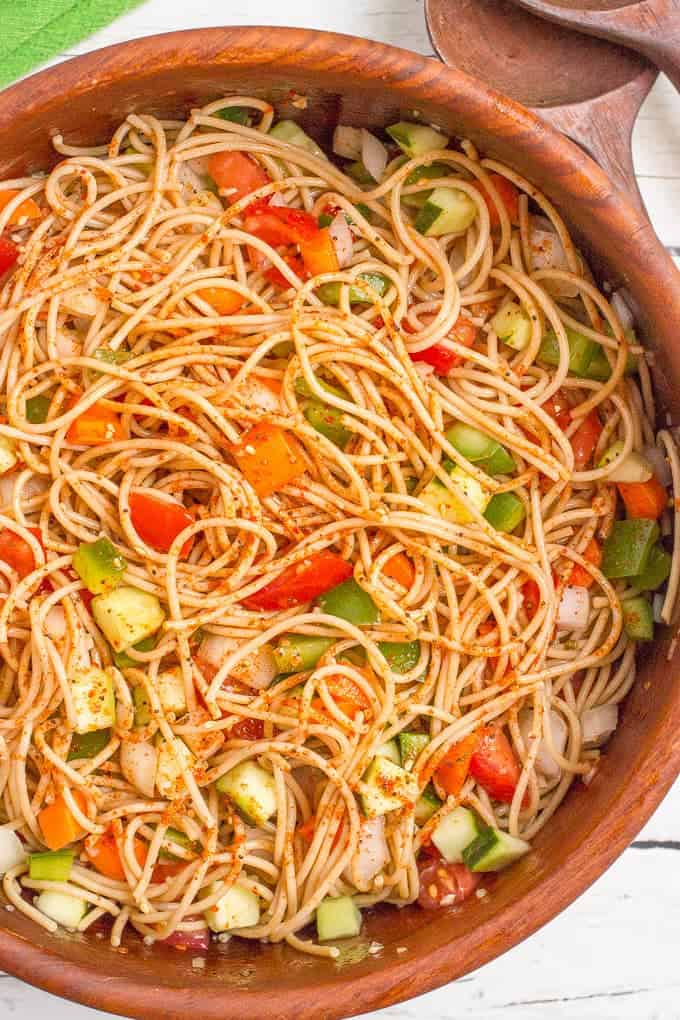 Happiest of Fridays here! I'm currently at the beach (yes, again!), this time with my best girl buddies.
Our annual beach trip is something we plan months and months in advance, which is necessary with all of our crazy schedules, but it's also a good excuse to have something to look forward to the whole year.
We rent a house on the ocean, usually with a pool, and hole up for a long weekend together. We park our butts on the beach all day long, talking, listening to music, sipping on our drinks and soaking in the sun with our toes in the sand.
No, it doesn't get much better than this!
So I'm keeping this short today and jumping right into this recipe, designed to get you ready for your Labor Day festivities!
My mom's spaghetti salad is a classic in our family. We loved it growing up and it's one of the recipes my mom wrote up for me when I moved out of the dorms and into an apartment in college. (Yes, that's in the picture down below near the recipe.)
I thought I'd be cooking more. So I have all these handwritten recipes from my mom of some of the easy, classic recipes she'd made that I could replicate on my own.
But I didn't end up cooking much in college.
My serious dive into home cooking came after I graduated and moved to D.C. And let's be honest, after I met my now-husband and we took turns cooking dinner for each other when we first started dating.
I had to step up my game, you know? 😉
Anyway, this spaghetti salad is a classic for a reason. It's picnic perfect, crowd-pleasing and easy to throw together in advance. All things I love for a summer side dish.
Notes on making classic spaghetti salad:
Use your favorite veggies. You can add to or omit from the recipe below to suit your tastes.
I usually add an extra tomato if they're good summer fresh ones, whether heirloom or regular.
I like my spaghetti salad heavily dressed and heavily seasoned. In the recipe, I started you with an initial baseline amount and you can add as you go from there.
Spaghetti noodles are the classic way to go for this salad, but you can substitute any other type of pasta you prefer. Rotini would be great here!
I have an easy homemade Italian dressing that I love using now, but you can use store-bought if you want a shortcut to make this even easier to throw together. A regular or zesty Italian will work well for this recipe
Oh, and leftovers, if you have any, keep in the fridge for 2-3 days. They make a great, light lunch!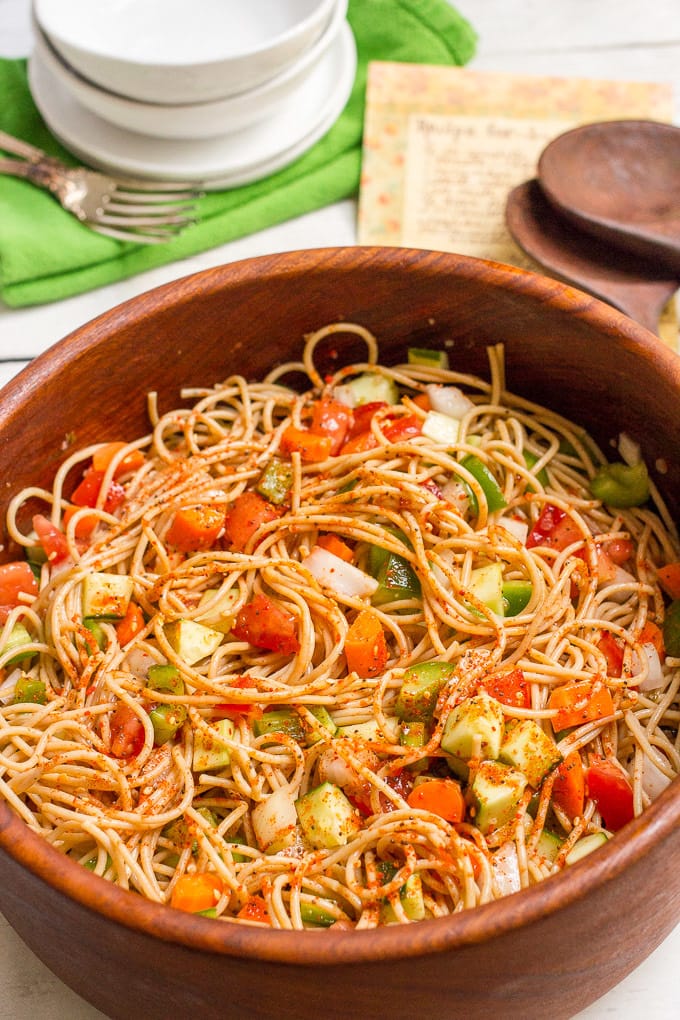 Much like my gazpacho recipe from earlier in the week, spaghetti salad is a summer must-have for me. Make it for your family or for a crowd, it's sure to be a hit.
I hope you have a wonderful weekend!
XO,
Kathryn
P.S. Check out all of my other healthy summer salads for more delicious recipes!
Yield: 6 servings
Classic spaghetti salad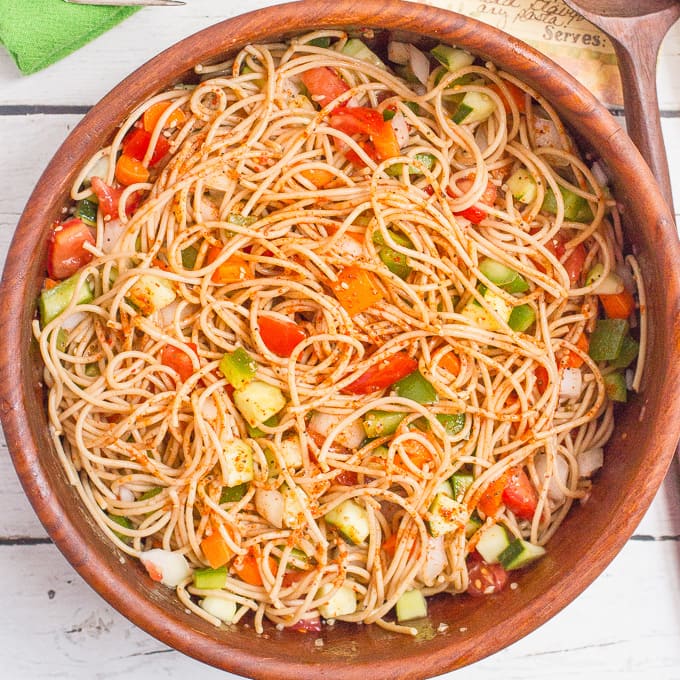 My mom's classic spaghetti salad is great for picnics, cookouts and parties!
Ingredients
½ lb. spaghetti (I use whole wheat)
1 medium tomato, chopped
1 medium cucumber, peeled and chopped
1 small sweet onion, chopped
½ green pepper, chopped
5-6 baby carrots, chopped
1+ cup Italian dressing
1 ½-2 ½ tablespoons dried salad seasoning (such as McCormick's Salad Supreme)
Instructions
Cook spaghetti according to package directions, then drain and let cool slightly. (You can rinse them with cool water to speed this up.)
Meanwhile, chop your veggies.
Combine cooled spaghetti and veggies in a large bowl. Add Italian dressing, starting with ¾ cup and increasing until everything is moist. Sprinkle on salad seasoning, starting with 1 ½ tablespoons and adding more to your liking
Stir to mix everything together well.
Cover and refrigerate for at least 45 minutes to let the flavors blend.
Notes
You can substitute another type of pasta if you prefer. You can also omit or add other vegetables.
You can easily double or triple the recipe to serve a bigger crowd.
Leftovers keep in the fridge for about 3 days.
Nutrition Information:
Yield:
6
Serving Size:
1
Amount Per Serving:
Calories:

193
Total Fat:

9g
Saturated Fat:

1g
Trans Fat:

0g
Unsaturated Fat:

7g
Cholesterol:

0mg
Sodium:

499mg
Carbohydrates:

25g
Fiber:

2g
Sugar:

10g
Protein:

3g