A Southern soul food staple, crowder peas are easy to cook and great with fresh tomatoes!

You know those baggies of peas you see at the farmers market? (Here in the South at least.) Sometimes they are sitting out on display, sometimes they're in a cooler on the floor. Sometimes they're hidden behind the stall and only people "in the know" know to ask about them. Those are little bags of gems. Many places offer a variety of different kinds of peas and we always go for the crowder peas. They sell out fast, so you have to be there early!
Crowder peas, also called field peas or Southern peas, are related to black-eyed peas and are part of the family of cowpeas. They got their name because they are closely crowded together in their pods. Which I may never see since those little baggies come with the peas already prepped. It's OK, I'm thankful for the help.
These "peas" are actually beans that originated in Africa. They were brought to America and grown in the South starting back in the 1600s. They've been good soul food ever since.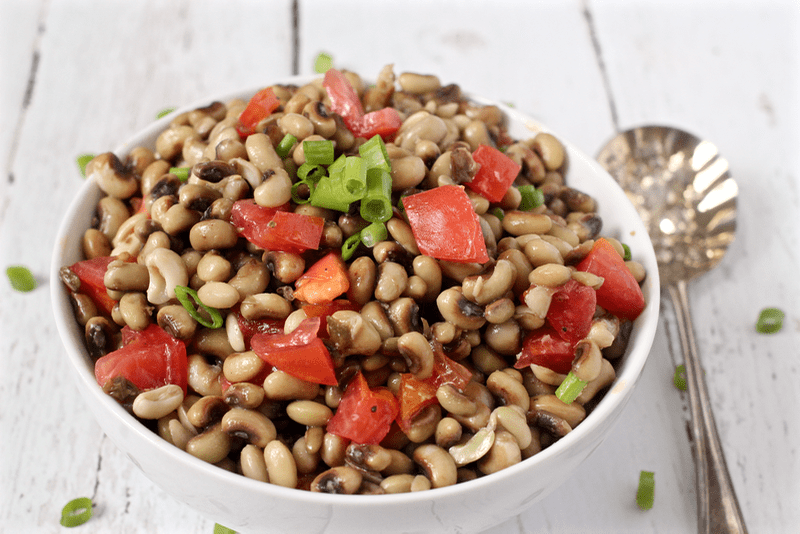 Like a lot of old Southern dishes, the only meat here is some used for flavoring; the vegetables are the stars of the show. You can use some leftover bacon grease, which I try to always save when we cook bacon because it keeps forever in the fridge and adds a good punch of flavor to so many dishes. Or you can a small piece of salt pork or fat back. Or jarred ham base, which I've used here before. Or you can fry some bacon, use the grease and then add the crumbled bacon on top of this dish - always a good idea!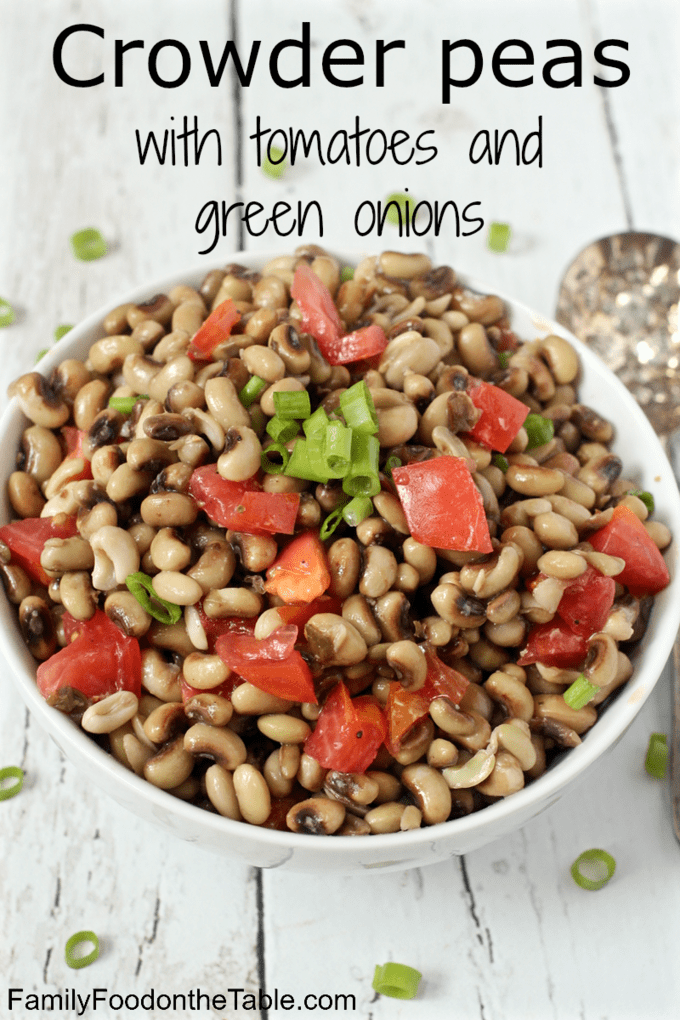 Anyway, you cook the crowder peas, mix them with some juicy tomatoes — I recommend some lovely heirloom ones if you can get them — and the green onions and serve them up. We like ours with hot sauce. (I like mine with LOTS of hot sauce!) Some cornbread on the side is a great way to go, too.
Psst. You can also drizzle some Italian dressing over these crowder peas and tomatoes. It's maybe not traditional, but it's pretty darn tasty! (Particularly to freshen up any leftovers later in the week.)
Enjoy!
Yield: 4 servings as a side, 2 as a main dinner
Crowder peas with tomatoes and green onions
A Southern soul food staple, crowder peas are easy to cook and great with fresh tomatoes!
Ingredients
For the crowder peas:
2 cups crowder peas
4 cups chicken broth
Fat of choice: 1 tablespoon bacon grease OR 1 oz. salt pork OR 1 tablespoon jarred ham base
¼ teaspoon dried thyme
Kosher salt and black pepper, to taste
For the salad:
Cooked crowder peas
½ cup tomatoes (heirloom if you can get them), chopped
¼ cup green onions, thinly sliced (light green and green parts only)
Kosher salt and black pepper, to taste
Hot sauce, to taste (optional)
Instructions
To cook the crowder peas:

Put the crowder peas in a pot and cover with chicken broth.

Add in your fat (bacon grease or salt pork or ham base) and the dried thyme.

Bring the mixture to a boil over medium-high heat then reduce heat to low and simmer for 15 to 20 minutes, until peas are tender but not overcooked. (See notes.)

Drain and place in a bowl. Taste and add salt and black pepper as needed. (Note: You can save the cooking liquid to use in soups or to cook rice.)

Once the beans have cooled slightly, add in the chopped tomatoes and green onions, then taste and add salt and pepper if needed. Serve with hot sauce.
Notes
Start checking the crowder peas 15 minutes into the cooking time to see if they're tender and keep an eye on them after that. Also keep in mind they'll keep cooking for a bit off the heat, so make sure to remove them once they're tender so they don't get mushy.
Nutrition Information:
Yield:
4
Serving Size:
1
Amount Per Serving:
Calories:

210
Total Fat:

10g
Saturated Fat:

3g
Trans Fat:

0g
Unsaturated Fat:

5g
Cholesterol:

15mg
Sodium:

1467mg
Carbohydrates:

22g
Fiber:

7g
Sugar:

9g
Protein:

9g
** Have you ever tried crowder peas?