This easy whole wheat cinnamon raisin bread recipe requires no yeast, no kneading, no bread machine. It's lightened up, soft and so delicious!
Cinnamon raisin bread just speaks family to me.
I guess it started with my Dad, who loves cinnamon raisin bagels, cinnamon raisin bagel chips, cinnamon raisin English muffins – you name it.
Cinnamon raisin bread, too, but he prefers it toasted so it gets a little crispy. He spreads it with butter while still warm, so it melts right into the bread (or bagel or muffin) and crunches on into it.
And so it happened one day that I saw cinnamon raisin bagels in the grocery store, while pushing my little ones around aisle by aisle, that I became nostalgic and wanted to share that with them.
One look at the ingredient list though, and, well, didn't buy anything that day.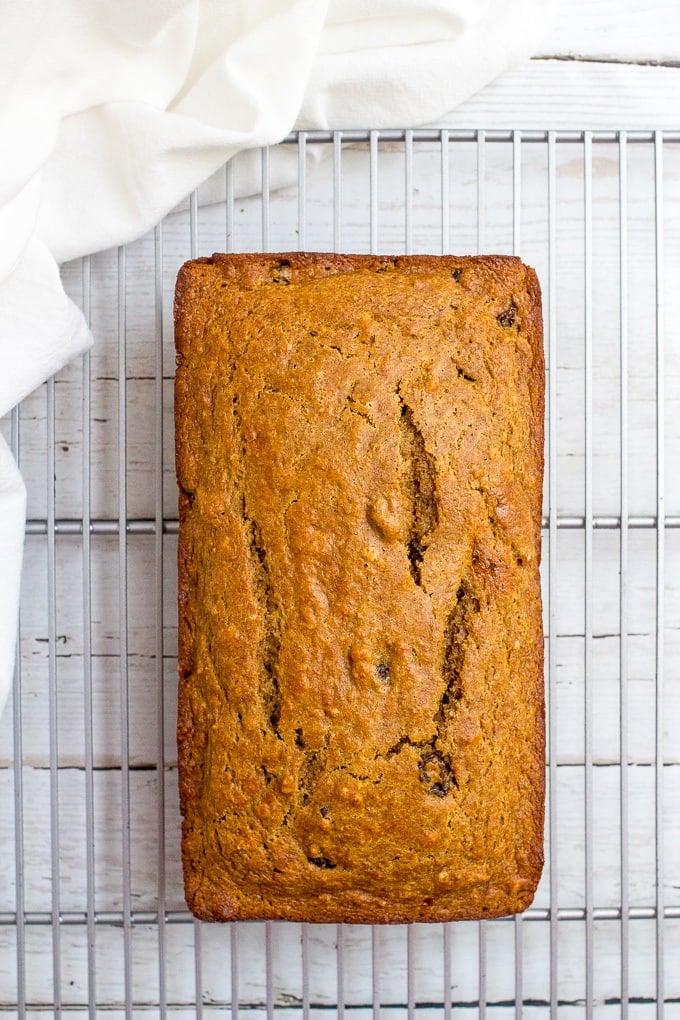 I did find a brand of cinnamon raisin bread at Trader Joe's that was whole wheat and not half bad. We tried it out that weekend.
I topped it with peanut butter for the kids and they gobbled it up, taking after their Pops (as they call my Dad).
The loaf was super sturdy, which was great for storing it, but it always made me think it was a bit stale.
So of course I came up with my own homemade recipe. You know me. 😉
I've also shared with you whole wheat peanut butter banana bread, whole grain banana applesauce bread and banana bread baked oatmeal, other breakfast and snack favorites in our house!
And today's cinnamon raisin bread is whole wheat, naturally sweetened and full of real food ingredients.
And oh wow, what a difference from store-bought! No hard bread here, no indestructible loaves that can sit around for ages.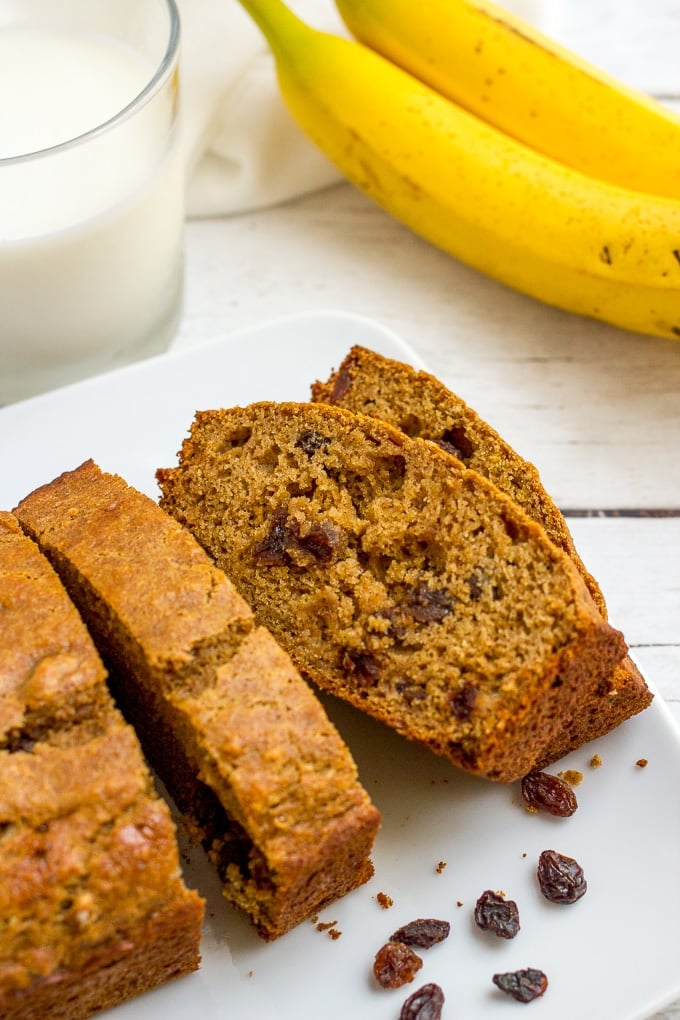 This whole wheat cinnamon raisin bread is unbelievably soft and moist. It melts in your mouth and just floods you with warm, comforting flavors.
I now make this bread almost every 2 weeks. My kids inhale at least half of a loaf each Sunday for their breakfast. (Still topped with peanut butter of course!)
I freeze and save the other half of the loaf for the next weekend – unless my husband and I devour it that same day – and so I'm quickly back to making more.
So now I've started doubling the recipe to make two loaves at once. 🙌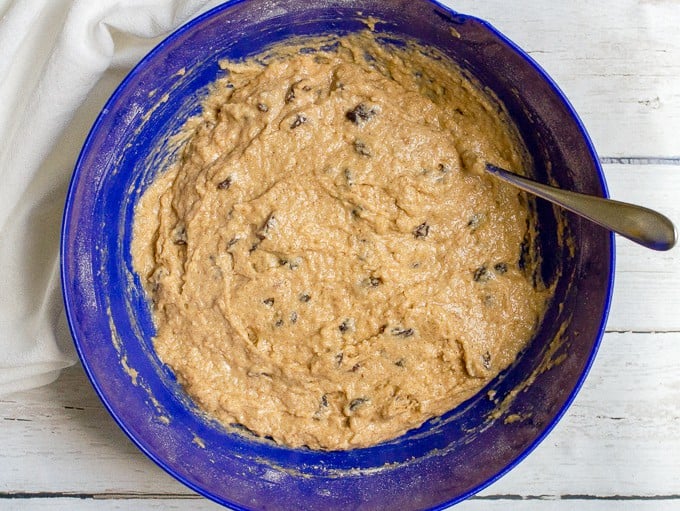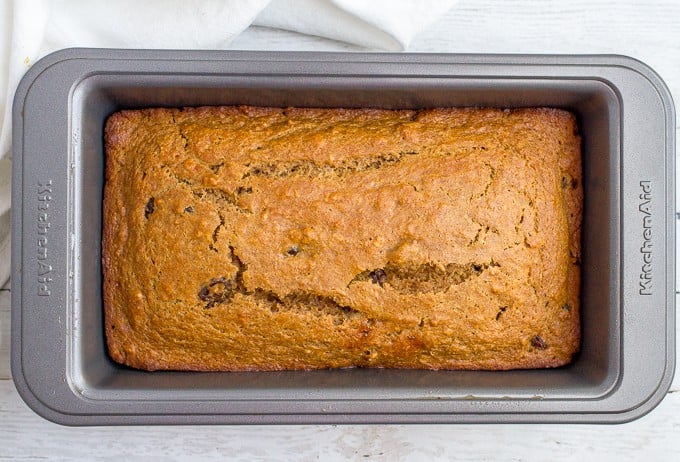 Now, I've got some notes and substitutions coming up for this recipe. Just tryin' to be helpful.
If you want to jump on down to the recipe, simply scroll right on through the rest of the text. The recipe card is near the bottom of the page, above the comments section.
Notes on whole wheat cinnamon raisin bread:
I'm lazy so I use one bowl to make this bread. If you make a well in the center of the flour mixture and stir together the wet ingredients there before mixing them with the dry mixture, you'll be fine.
I use white whole wheat flour for my baking. You could also use whole wheat flour or all-purpose flour — or a combination — if you prefer.
This bread has a lot of raisins. Raisins running throughout it. No bites without raisins. You can reduce the amount of raisins to 3/4 cup if you'd prefer.
Be sure to break up the raisins as you measure and add them – you don't want huge clumps of raisins stuck together in your bread.
Want to make a vegan cinnamon raisin bread? Totally do-able with this recipe.
How to make vegan cinnamon raisin bread:
– Substitute flax eggs for the eggs in this recipe.
– Use agave nectar or maple syrup in place of honey as the sweetener.
– Use a vegan butter, melted coconut oil or canola oil in place of the butter for this recipe. (You can also substitute applesauce for some of the butter/oil if you prefer.)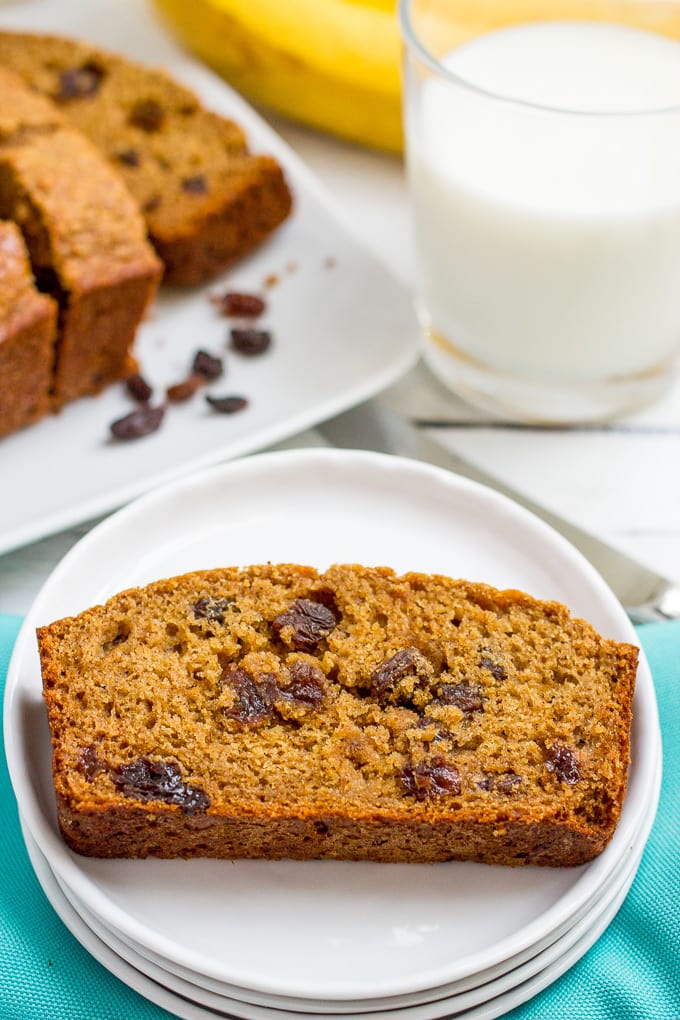 Other tips on homemade cinnamon raisin bread from our family:
* My children highly recommend you top this with peanut butter for an extra hearty breakfast. (Plus then you've got carbs, protein and fruit all in one to start the day strong!)
* I highly recommend you double the recipe so you can make two loaves at once. Freeze the extra (see below for details) or give the extra loaf to a friend or neighbor!
Storage tips on whole wheat cinnamon raisin bread:
This bread will keep, wrapped, at room temperature for 4-5 days.
You can also freeze this bread! Wrap it first in plastic wrap and then in aluminum foil. (This helps protect it from freezer burn.) Write the recipe name and the date on the aluminum foil with a sharpie marker and pop it in the freezer.
The bread will keep in the freezer for up to 6 months. (Just move it to the fridge to defrost overnight – breakfast is ready to go!)
Also, I like freezing half loafs, instead of a full extra loaf, so I can just defrost what we need.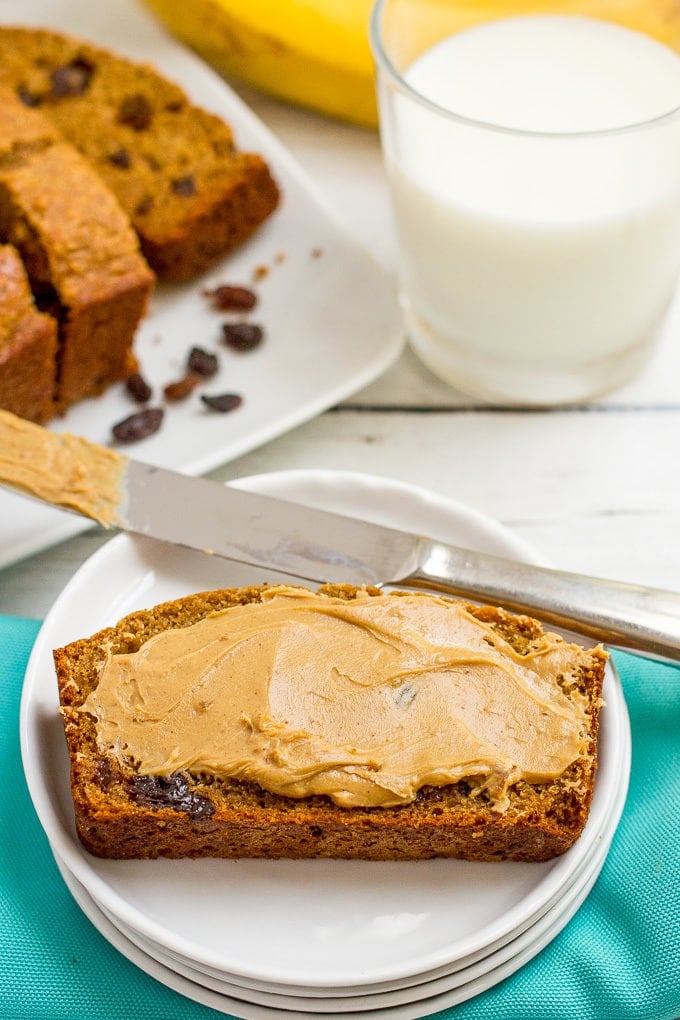 If you've ever been intimidated by homemade bread, this is a great starter recipe.
Quick breads like this that don't use yeast, don't need kneading and don't require a bread machine will show you how simple it is.
And it's light years beyond what you can buy at the store in terms of taste. 👌
I'm gonna have to toast some up and take it to my Dad 😉
Happy weekend to all of you, and I hope it includes some of this whole wheat cinnamon raisin bread. You know it's what we'll be having Sunday morning!
Enjoy!
XO,
Kathryn
Yield: 1 loaf
Easy whole wheat cinnamon raisin bread
An easy no-yeast, no-kneading whole wheat cinnamon raisin bread recipe!

Prep Time 15 minutes

Cook Time 45 minutes

Total Time 1 hour
Ingredients
1 1/2 cups white whole wheat flour
2 teaspoons ground cinnamon
1 teaspoon baking soda
1/4 teaspoon baking powder
1/2 teaspoon salt
2 large eggs
1 cup unsweetened applesauce
1/3 cup honey
1/3 cup unsalted butter, melted
1 teaspoon vanilla
1 cup raisins
Instructions
Preheat oven to 325. Grease a 9x5 bread pan and set aside.
Combine flour, cinnamon, baking soda, baking powder and salt in a large bowl and stir well.
Make a well in the center and add the eggs, applesauce, honey, butter and vanilla. Stir the dry ingredients together a bit, then mix into the flour mixture until everything is well combined. Don't overmix.
Fold in the raisins.
Pour the batter into the bread pan and smooth the top.
Bake at 325 for 40-50 minutes, until a toothpick inserted in the center comes out clean and the top is golden brown. (Mine takes 45 minutes, but ovens can vary.)
Let cool in the pan for 5-10 minutes, then invert onto a cooling rack and let cool completely before storing.
Notes
I use white whole wheat flour for baking. You could use regular whole wheat or all-purpose flour - or a combination - if you prefer.

The bread will keep on the counter for 3-5 days, in the fridge for a week or in the freezer for up to 5-6 months. (Wrap it in plastic wrap and aluminum foil to prevent freezer burn. Defrost in the fridge overnight and it'll be ready to use.)

This bread has a lot of raisins. You can reduce the amount of raisins to 3/4 cup if you'd prefer.

Be sure to break up the raisins as you measure and add them - you don't want huge clumps of raisins stuck together in your bread.

My kids love this served with a smear of peanut butter on top.

I love doubling the recipe and keeping the extra in the freezer for an easy breakfast another day. (You can freeze half-loaves so you only need to take out how much you plan to eat.)
Nutrition Information:
Yield:
12
Serving Size:
1 slice
Amount Per Serving: Calories: 185Total Fat: 6gSaturated Fat: 3gTrans Fat: 0gUnsaturated Fat: 2gCholesterol: 44mgSodium: 218mgCarbohydrates: 31gFiber: 3gSugar: 17gProtein: 4g